Hiya dearies……
How are you all…Today I am going to review Cosmopolitan Blend Perfection Sponge
This is said to be an exact dupe of beauty blender sponge….
What does Cosmopolitan claim about Blend Perfection Sponge
For amazingly flawless foundation application.
The Cosmopolitan Beauty Expert Blend Perfection Sponge allows for flawless application of foundation, using a bouncing or 'stippling' method to blend make-up which leaves an airbrushed looking finish.
How to use the Cosmopolitan Beauty Expert Blend Perfection Sponge for amazing results:
1. Wet the sponge and squeeze out excess water.
2. Apply foundation to the back of hand or on sponge and dot around the face, then gently bounce the sponge onto the make-up, blending with a patting motion for an airbrush effect.
3. The pointed part of the sponge allows for flawless application in hard to reach areas such as around the eyes and nose whilst the round base is great for seamless blending on the larger parts of your face.
4. The bouncing or 'stippling' method results in the blending of your make-up without texture or tone change in your skin.
5. Wash after use.
Packaging & Price
Comes in a packaging as shown in the picture…
Price: 4.99 GBP; Can be purchased from FeelUnique
My experience using Cosmopolitan Blend Perfection Sponge
The sponge is latex free and hypoallergic too…
I used this to apply Solid foundation stick! My kryolan foundation stick 🙂 I sprayed a lil water on it and then use that damp sponge to feather out my foudation….One thing which I am so impressed with this is that it gives the most natural coverage without making the face look cakey!
It almost make the foundation so light weight and doesn't give a feeling that its thicker…I love how effortlessly this can be used to blend in the product to give the natural looking feel…

You can get the Cosmopolitan Blend Perfection Sponge from FeelUnique for 4.99 Pounds

which makes it three times cheaper than the Beauty Blender too..Also, its easy to clean..I prefer to clean it after each use..I use my regular hand wash plus a drop of tea tree oil to clean it…
However you use it, either wet or dry, the secret behind every beauty blending sponge is to bounce, bounce, bounce the sponge across your face; the motion of which means you're not dragging your skin., Its so soft and smooth on the skin…It gives that airbrushed
I am so impressed with this lil cute thing!!! Here's a picture of me where in I blended my kryolan foundation on my skin 🙂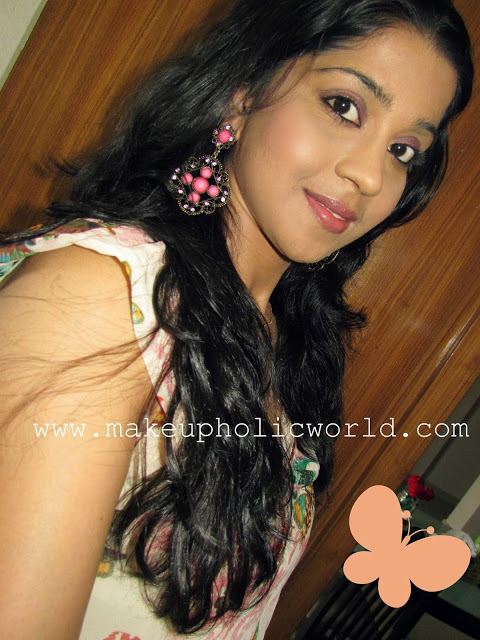 I definitely recommend this to all who are looking for a perfect sponge, which is cheaper and effective for effortless foundation application!!!
Pros
cheaper

very effective and perfect dupe for beauty blender

gives an airbrushed effect

gives perfect even application of product on skin

easy to wash and dry
Cons
I didn't notice any con

availability might be an issue…I have seen it only online
Hope you liked the review,….
Have you tried Cosmopolitan Blend Perfection Sponge..Did you like it?