Hiya dearies….I am really excited to do this blog post!! Today, In my office We had a great Talent Show, and so, I choose to wear this pretty floral print shirt which I bought from FashionAndYou…
I made my look very simple and wearable….
A Spring ready Day time look!!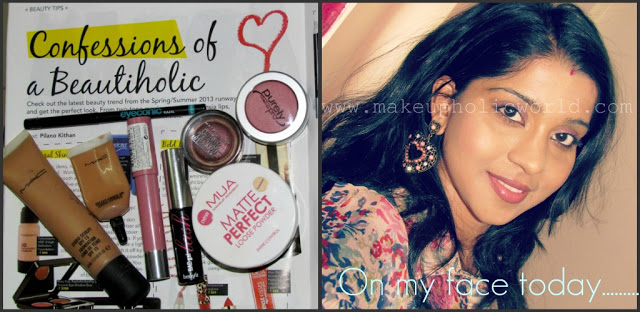 Here is the complete list of products I used for creating this look!!!
First I washed my face using Forest Essentials cleanser and then sprayed FE Panchpushp facial toner. Then I waited for a minute and applied FE sunscreen to my entire face and neck..Then using my sigma blending brush I applied concealer around my under eye circles, around nose etc…
waited for a minute again for the concealer to set and I set it using MUA Loose Powder…
Then I took my favourite MAC foundation and using real techniques brush I buffed it on areas where I needed coverage.
Then I again set it with powder…
For Eyes I took Maybelline Pomegranate Punk Color Tattoo and dabbed the color onto my eye lids…and applied Lakme Kajal on my waterline and tightline….
I topped off using Benefit Mascara, applied Purely Pro Pink Blush onto the apples of my cheeks and I applied my favorite Lipblam Honey Douce from Revlon!!
and here is the finished look….
I left the eyebrows untouched…didn't even filled, I'm growing my eyebrows…Last time the Parlour girl spoiled my eyeborw shape, so , I am waiting for it to be back again!!!
Hope you butterflies enjoyed the finished look!!! This is a wearable day time look and Can be created easily by anyone!!!
MAC Studio Sculpt SPF15 Foundation- NC44

MAC Select Cover Up Concealer- NC45

MUA Matte Perfect Loose Powder

Benefit Bad Girl Lash Mascara

Lakme Eyeconic Kajal

Revlon Kissable Lip Balm Stain Honey Douce -3-4 swipes

Maybelline Pomegranate Punk Color Tattoo

Purely Pro Blush
Hope you all enjoyed this look !! I would love to hear your comments on the look I created!!!
Comment below what U most liked about the look!!!


Hugs dolls!!!