By contributor: Agnirupa
As promised, I am back here to chew up your brains and bring for you some keepers from my vanity
J
yes that's right it's a MAC day yet again 😛 and when it comes to real work I cant be made to leave my bed before 11 am on a regular morning. However if I have an agenda of going around to MAC to disturb the S.A s I am out like a bullet within 9.30 am from my house and at the gate of the mall by 10.15 where a suspicious guard moves aside and observes yet again my sprint inside MAC 😛 kinda mad you think? Naww….its kinda sexy 😉 And, that's the name of my lippie today!
What MAC Says-
MAC describes Kinda Sexy as Neutral pinky-rose in a matte finish
J
Price- 990/- INR for their regular 3gm *permanent range*
My experience using MAC Kinda Sexy Lipstick
Being from the regular range, this lipstick comes in the very familiar black and silver MAC packaging with a tight click cap- travel friendly and quite sturdy
J
The texture is the famous matte *oh MAC you should much rather go for cremesheen finishes for your nudes!* and being such a light color does tend to highlight fine lines/ dry patches on lips :-/ so exfoliating, prepping is a must 😀 otherwise the lipstick applies easily and smoothly on lips
J
without a balm though it does dry up as time wears on.
The color as per MAC 's description is a pinky rose which I do not agree with 😛 its more of a peachy nude you know..very very suitable for ladies with fair-medium skin <3 being cool toned I always found most nudes either too brown on me or the lighter ones too pale and grey! Kinda Sexy is indeed a very sexy balance of neutral peachy pink which covers my natural lip color yet never washes me out! Pop a little dab of clear gloss and ta-da! You are sexy *_*
The pigmentation is of course excellent and a single light swipe is enough to obtain the true opaque color on lips
J
in spite of being a pale nude shade it lasts awesomely on my lips for 4+ hours with food and drinks but after that, it's the touch up route!
Pros
Classic travel friendly MAC packaging, travel friendly and with a tight click cap.

Smooth matte finish, applies easily but fares better with a balm underneath

J

A lovely neutral peachy pink color, will act as a MLBB shade amazingly for fair-medium complexioned beauties 😀 will especially complement a smoky eye!

Excellent pigmentation and gives its opaque color in just a light single swipe <3

Lasts for quite a decent amount of time, 4 hours approx with food and drinks

J

Yummy vanilla fragrance
Cons
Being of a matte finish and a nude peachy shade it does tend to highlight lip flaws if they are not exfoliated or hydrated :-/
Swatches, LOTD,FOTDs….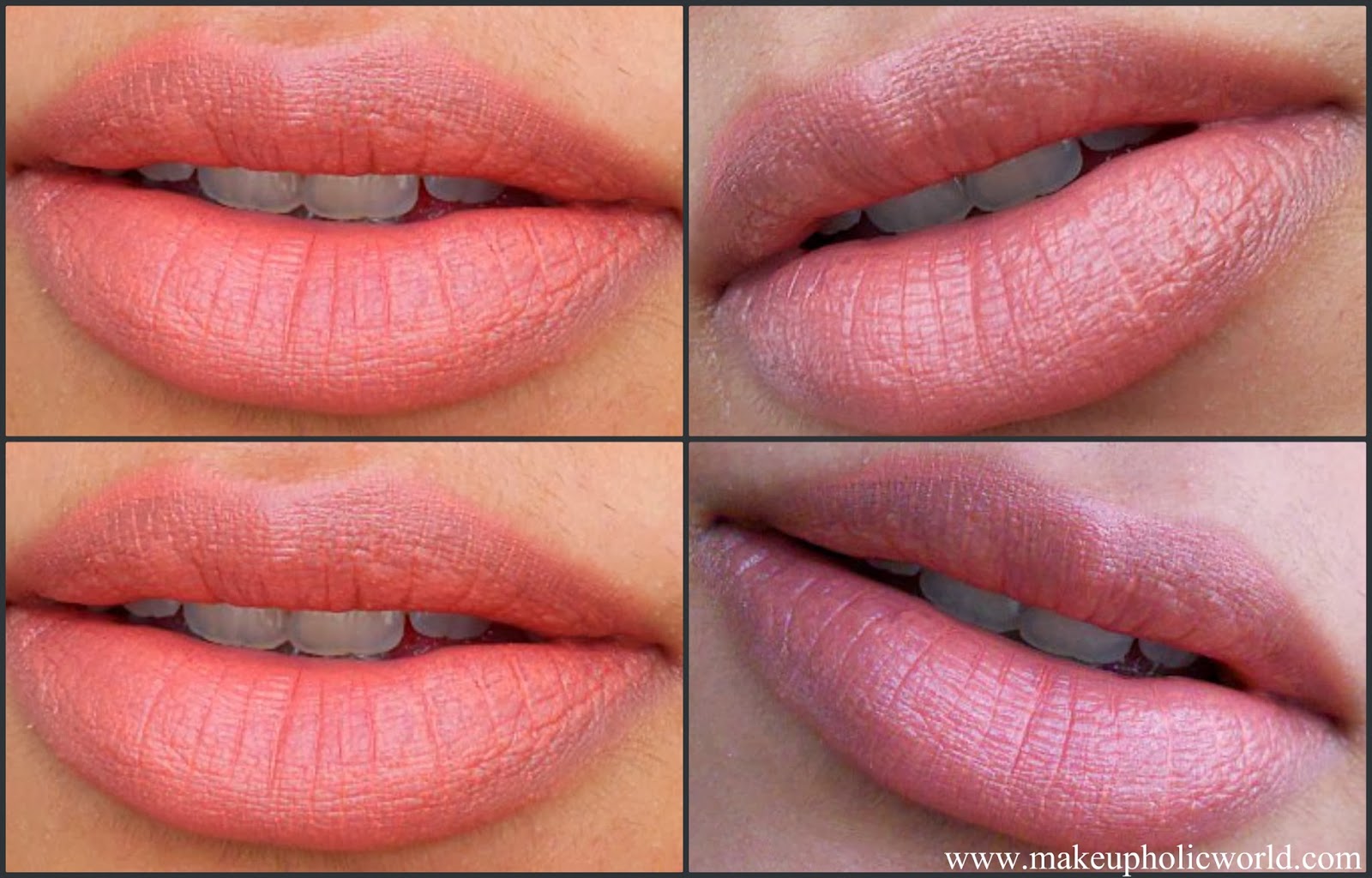 How it looks on me- *pardon the unmade tired face :-/ I was just back after a long day*
My rating : 4.5/5!
Do I recommend?
This has turned into one of my most loved and regularly worn lipsticks as its easy to wear and carry off with simply anything since it neither washes me out nor has very dark tones to make me look older <3 it gives my lips a very balanced healthy MLBB look and I adore it for that 😀 fair-medium ladies you must try this out the next time you visit MAC! Dusky beauties do try it out under different lights before buying
J
So that's enough of testing your patience my beautiful readers <3
do miss me till I am back! Asta lavista darlings! muahh
Makeupholic World: Agni…..Awesome review and great Swatches and u look super cute 🙂
Love your skin!!