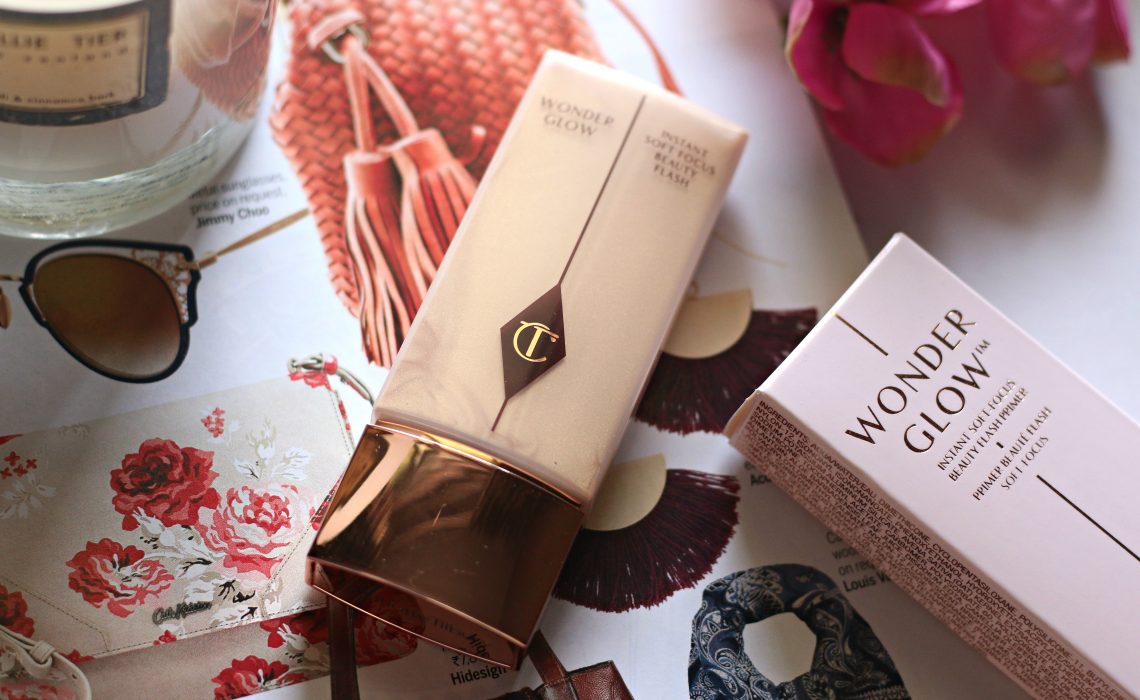 I love dewy looking skin and when I select makeup primers, My primary focus would be to select a product that gives a luminous finish to my face. Ever since I got this wonderful Wonderglow face primer from Charlotte Tilbury – I have been using it religiously.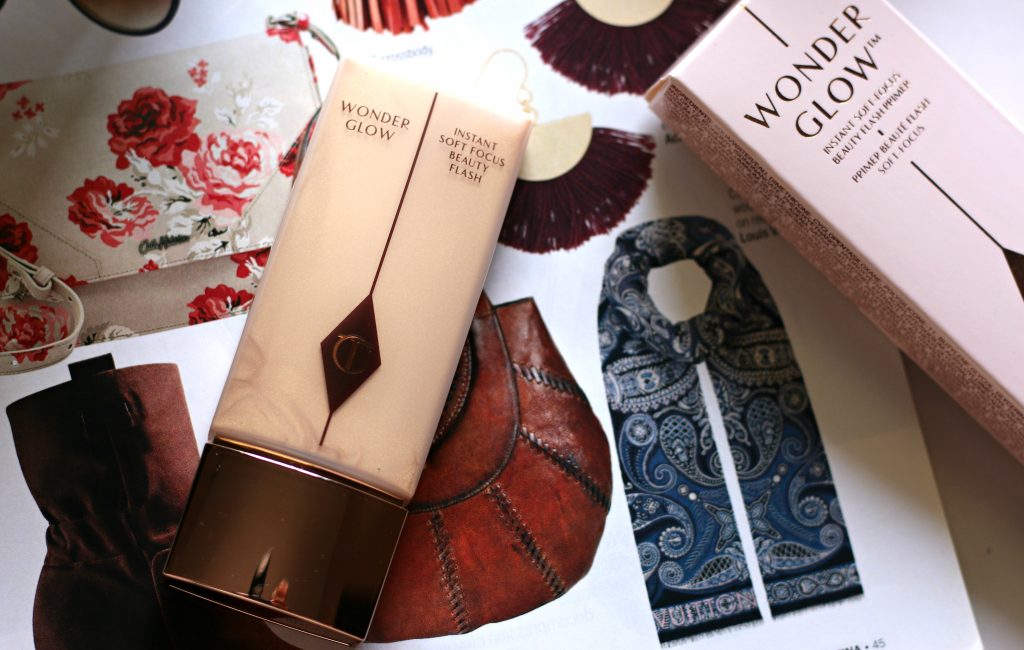 I always get so many compliments whenever I use wonderglow underneath my foundation. Especially with my most favorite foundation, Giorgio Armani – this pairs the best.
From the fluorescent core light diffuser to the soft-focus ceramic microspheres, the Wonderglow face primer is full of ingredients to help create an illuminated complexion.
let's look into the story of this glow boosting, light- reflecting Wonderglow primer from Charlotte Tilbury

Nt Wt. 40ml ; Price – £38.50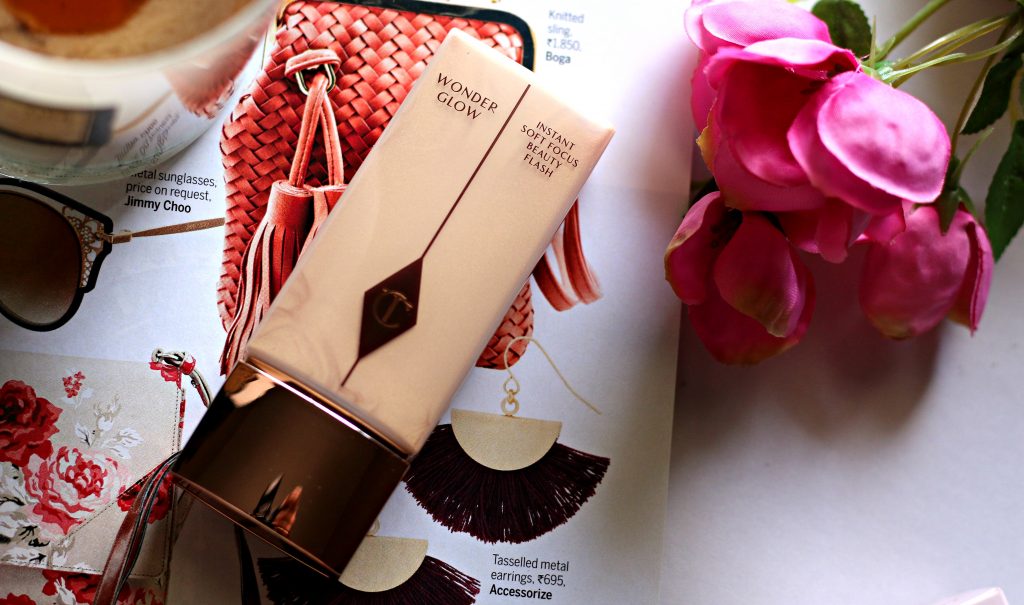 Wonderglow is Charlotte's "miracle fix" for tired, dull, or dehydrated skin. A clever cross between an anti-aging elixir and a skin-enhancing primer, this magical perfector uses hydrating botanicals and light-diffusing technology to create effortlessly dewy skin with a soft-focus finish.
Why it's special
Discover skin that appears bathed in ultra-flattering light, thanks to breakthrough Fluorescent Core Light Diffusers
Reveal an even, youthful complexion instantly as soft-focus microspheres smooth over skin and scatter light to create the ultimate anti-aging optical illusion
BioNymph Peptide Complex stimulates collagen production, improves elasticity, and fights free radicals
Hyaluronic acid, wild pansy, rosehip, and camellia seal in moisture to regenerate and renew dry, dull skin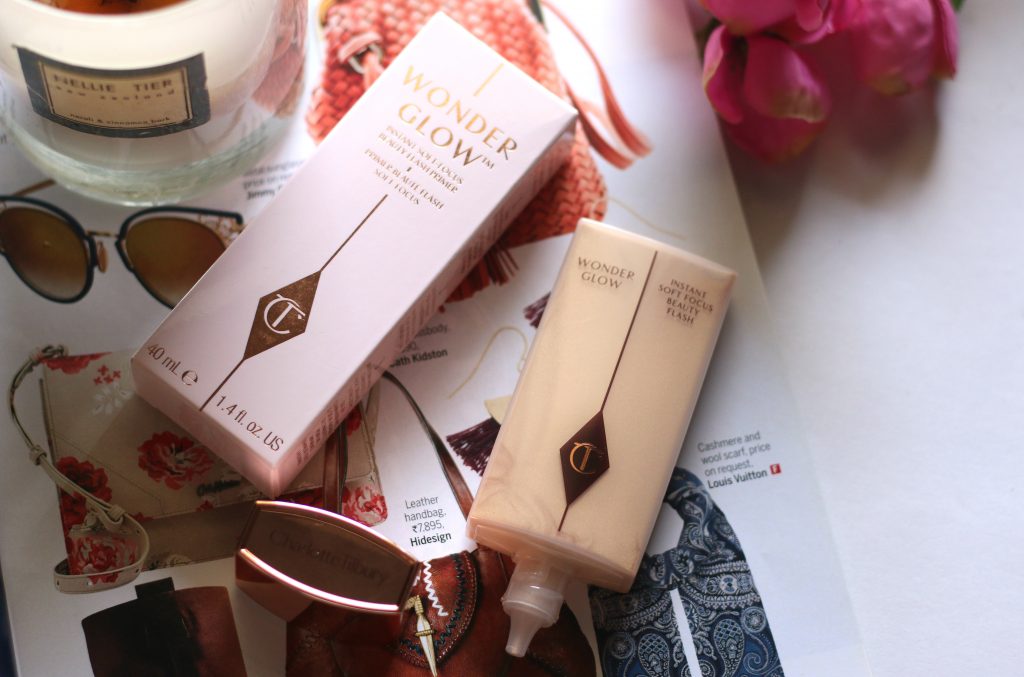 Packaging is great! Especially, the thin nozzle delivers the right amount. The sleek transparent tube with the thin nozzle allows you to squeeze the right amount during every application. The bottle gives you an idea on how much product is left. This soft focus primer can used under your foundation or in place of foundation.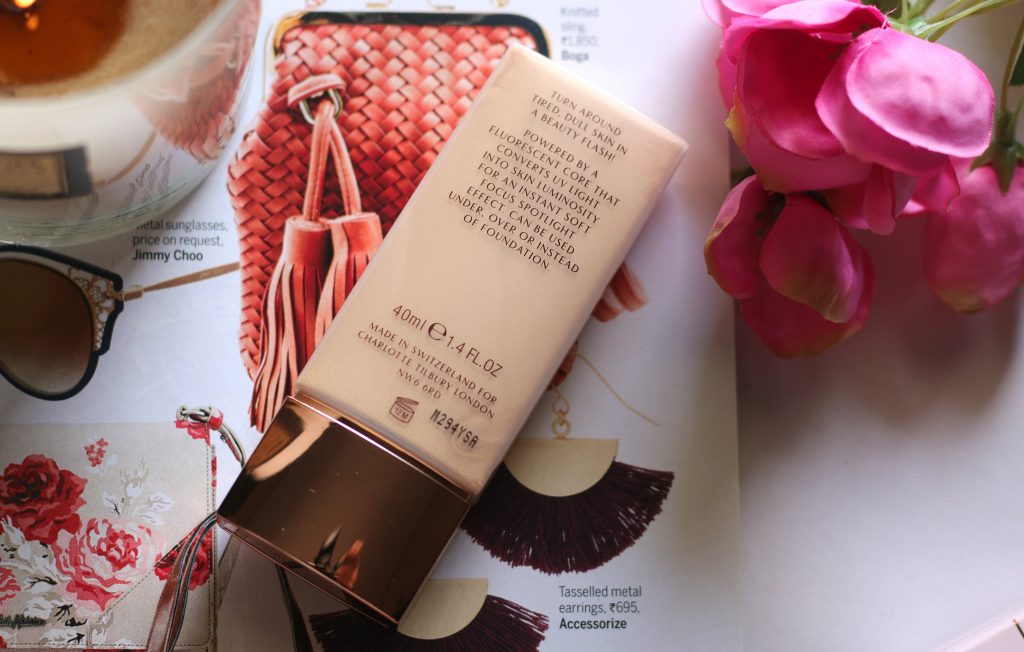 Once you apply wonderglow. It really create that smooth, luminous effect evening out our skintone. Wrinkles and smile lines appear blurry. It creates the optical illusion for a flawless, poreless complexion.
There are different ways that you can apply it – From a face primer to a glow booster that can be applied on top of your makeup ; the formula is spectacular.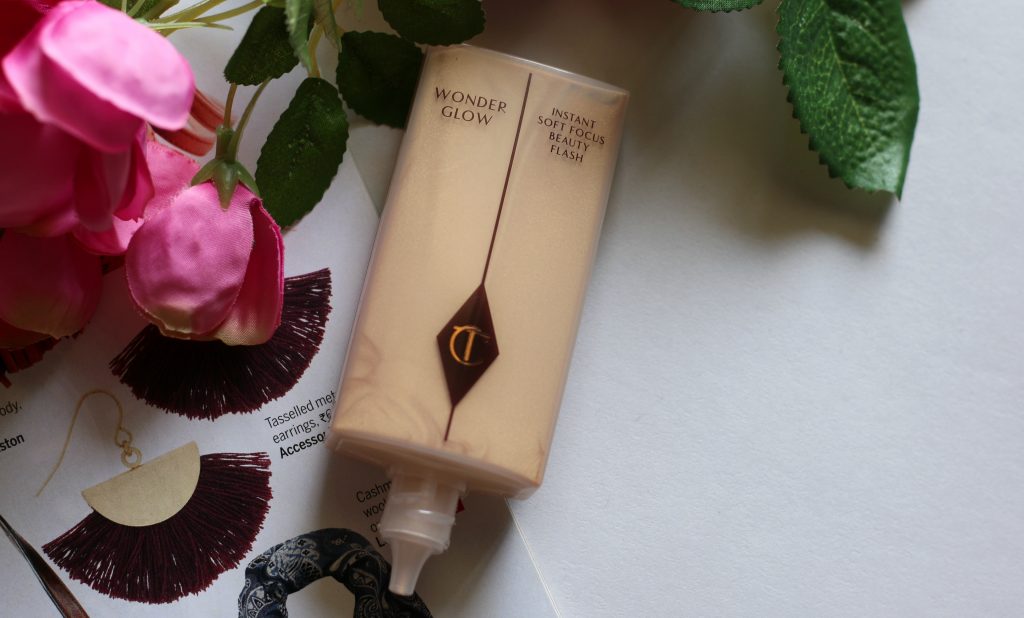 You just need a teeny amount to spread all over your face and this creates the perfect luminous canvas. It can be applied on its own for a relaxed, natural makeup look as well. In case you want extra coverage- You may apply your concealer and conceal the blemishes or dark circles etc.
As a primer, apply all over your face using clean fingers, focusing on your cheekbones as how Charlotte Tilbury suggest –  for that extra GLOW.
Follow up by applying your foundation, buffing in the product using a buffer face brush or a oval brush for the perfect, flawless application. If you choose to apply it over your foundation, You may add Wonderglow along your cheekbones and blending using your fingers for that beautiful glow.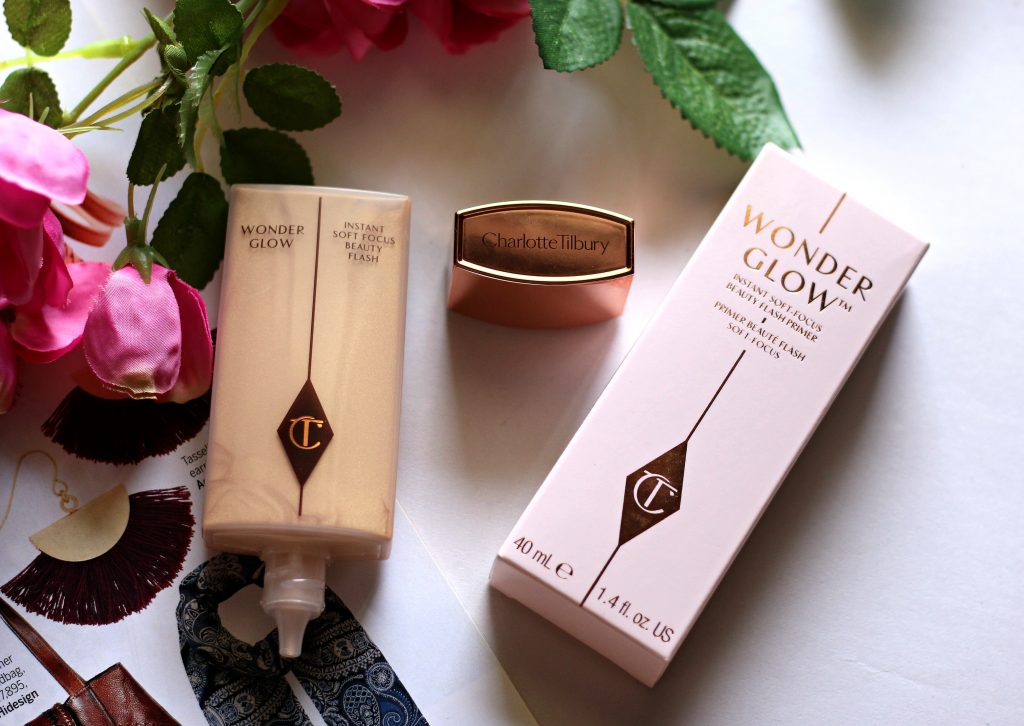 Here are the swatches. When you swatch – there is a golden sheen. Once you blend in the product, the sheen or sparkles don't show up. It blends in fully.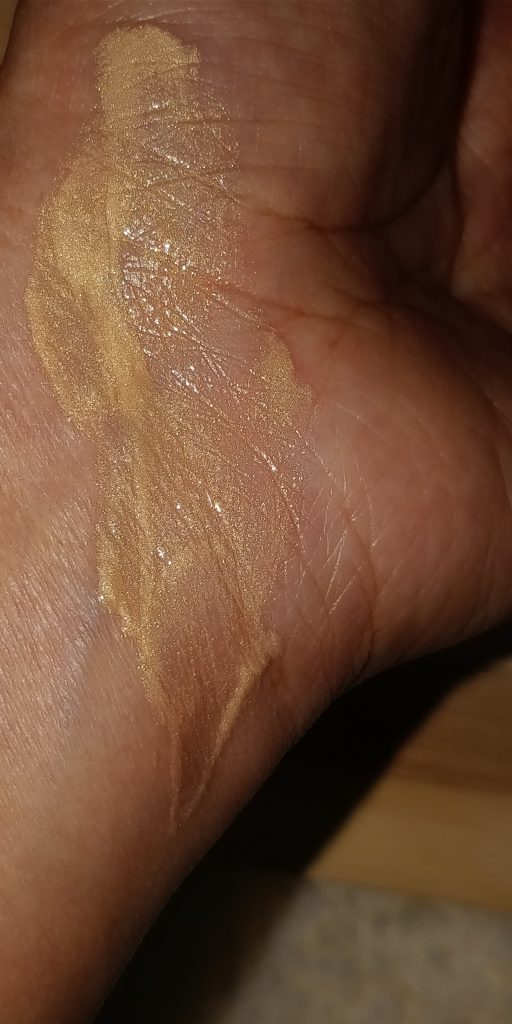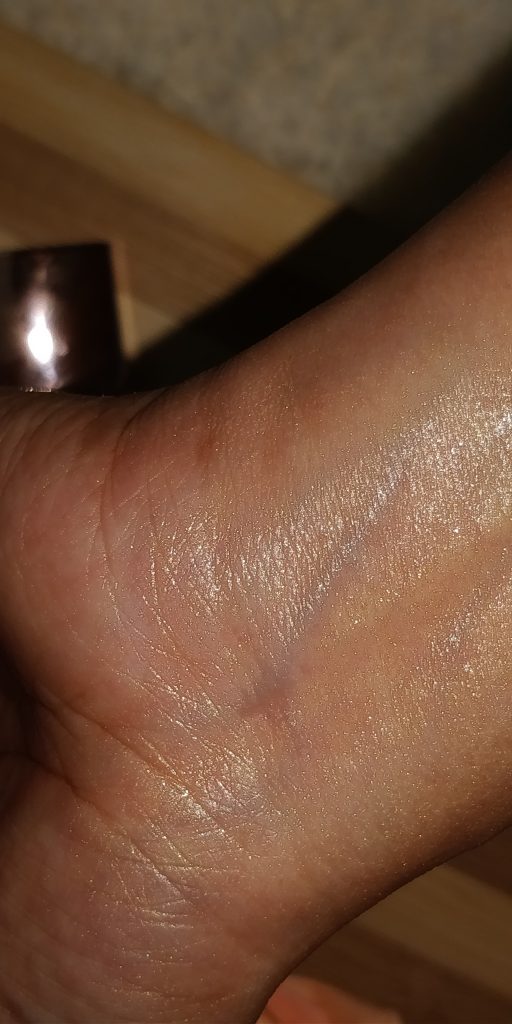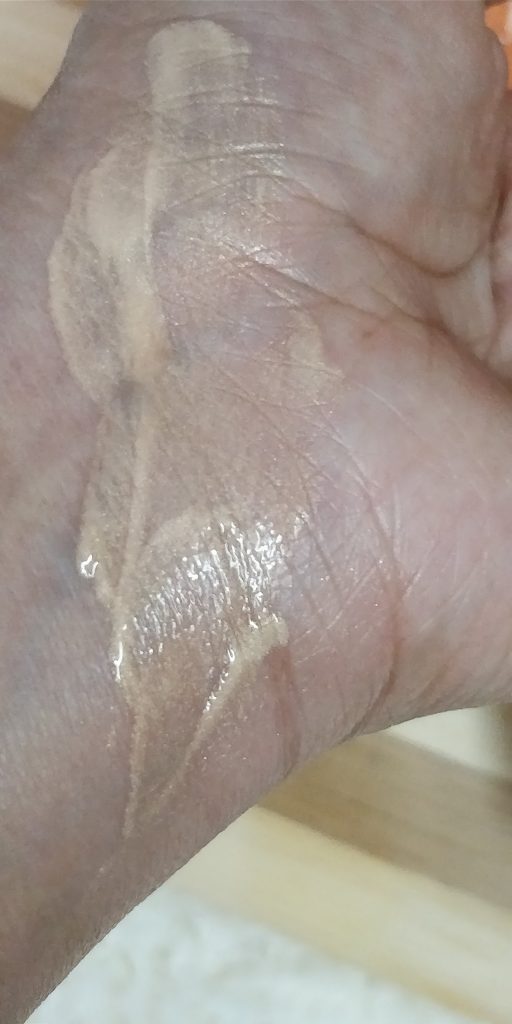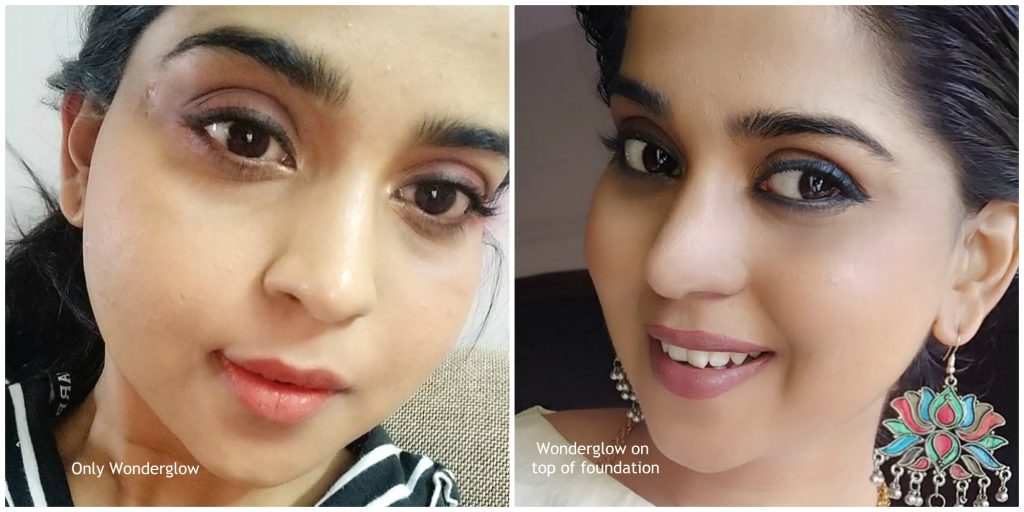 Overall, It's a good primer that gives a luminous sheen to the face. When you apply foundation on top of this – It appears dewy. It can also be used alone or on top of your foundation for a beautiful glow. However, I didn't notice it increasing the wear time of my foundation. If you are all about the shimmering, flawless golden complexions that you see in the fashion looks- You can give this a try. It delivers the perfect sheen without any sparkles. Use this as a dewy face primer – apply all over your face with your fingertips focusing ion cheek area to deliver that glow and top it up with your foundation OR Use it just to illuminate your cheekbones and blend using your fingers for a beautiful 'No Makeup Makeup Glow' OR use as a topper over your foundation for a dewy luminous sheen ; great way to make your face glow throughout the day.
** Product sent by brand PR. However my review is honest and unbiased as always.