This review is rather very special for me. I have always always wanted to try the luxurious Pat McGrath Lipsticks. Having created some of fashion's iconic runway looks, Pat McGrath is celebrated as one of the world's most influential makeup artists. Having created endless beauty looks for world's best runway looks, the renowned makeup artist Pat McGrath knows well there's no time for touch-ups on the runway.
Matte Trance Lipsticks are formulated to provide maximum color payout with a single swipe. In this post I am featuring four shades from this range. Elson, Mc Menamy, Flesh 3 & Omi.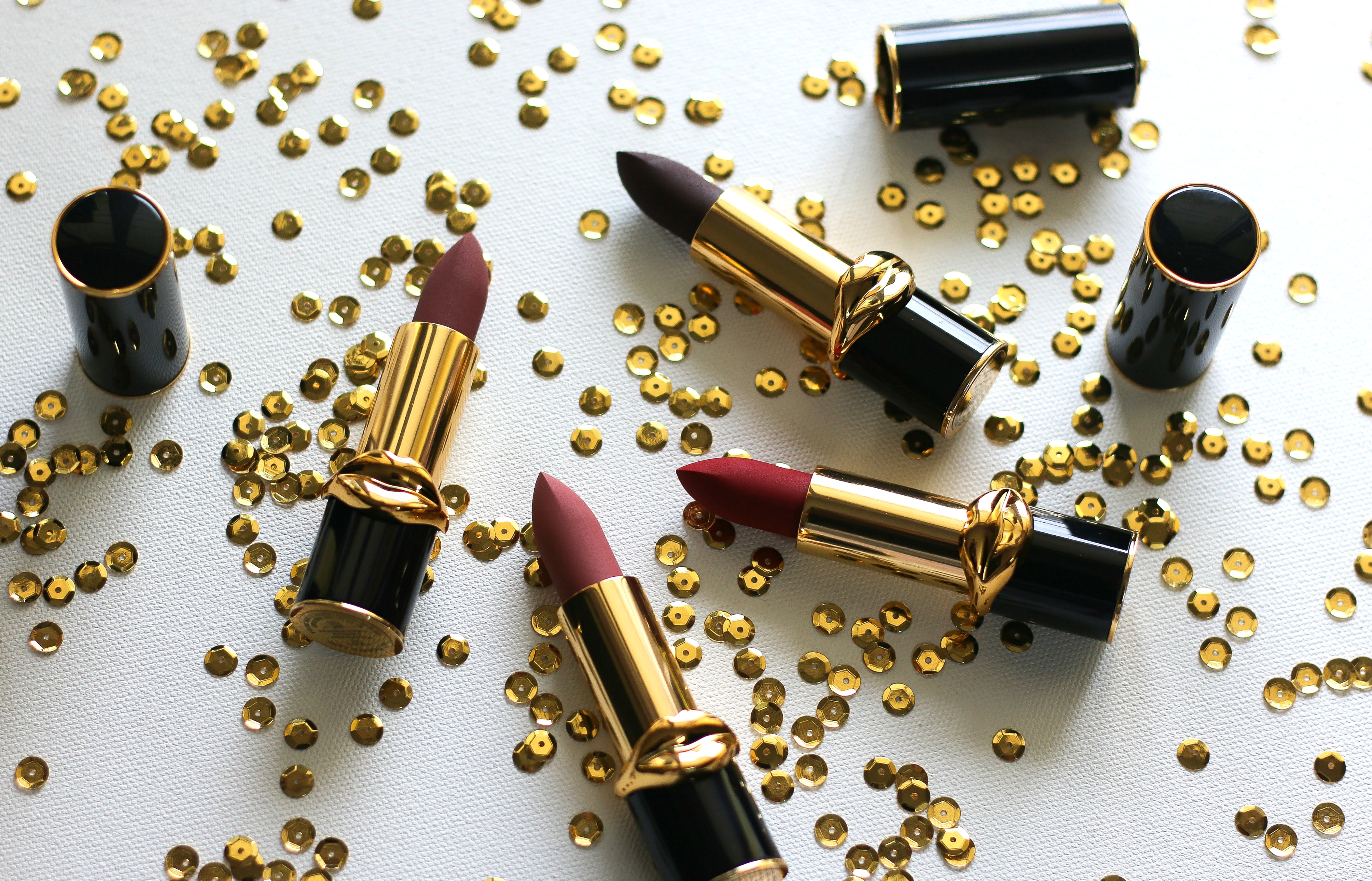 Pat McGrath MatteTrance Lipsticks are priced at $38.00 each and it contains 0.14 oz. of product. They come in a beautiful packaging! A packaging with a lot of sequins as below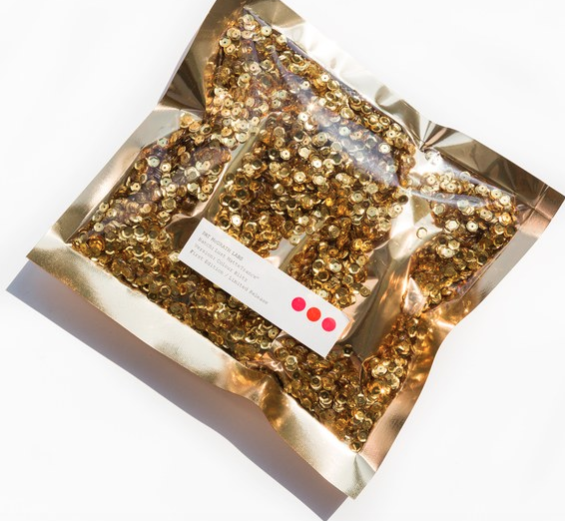 MatteTrance is a highly pigmented lipstick with a creamy, powerful pigment that evokes screen siren glamour with every application. Each shade is presented like a jewel in a black-lacquered couture case fashioned with a sensually surrealist golden lip that's destined to be a cult-status collectable.
Packaging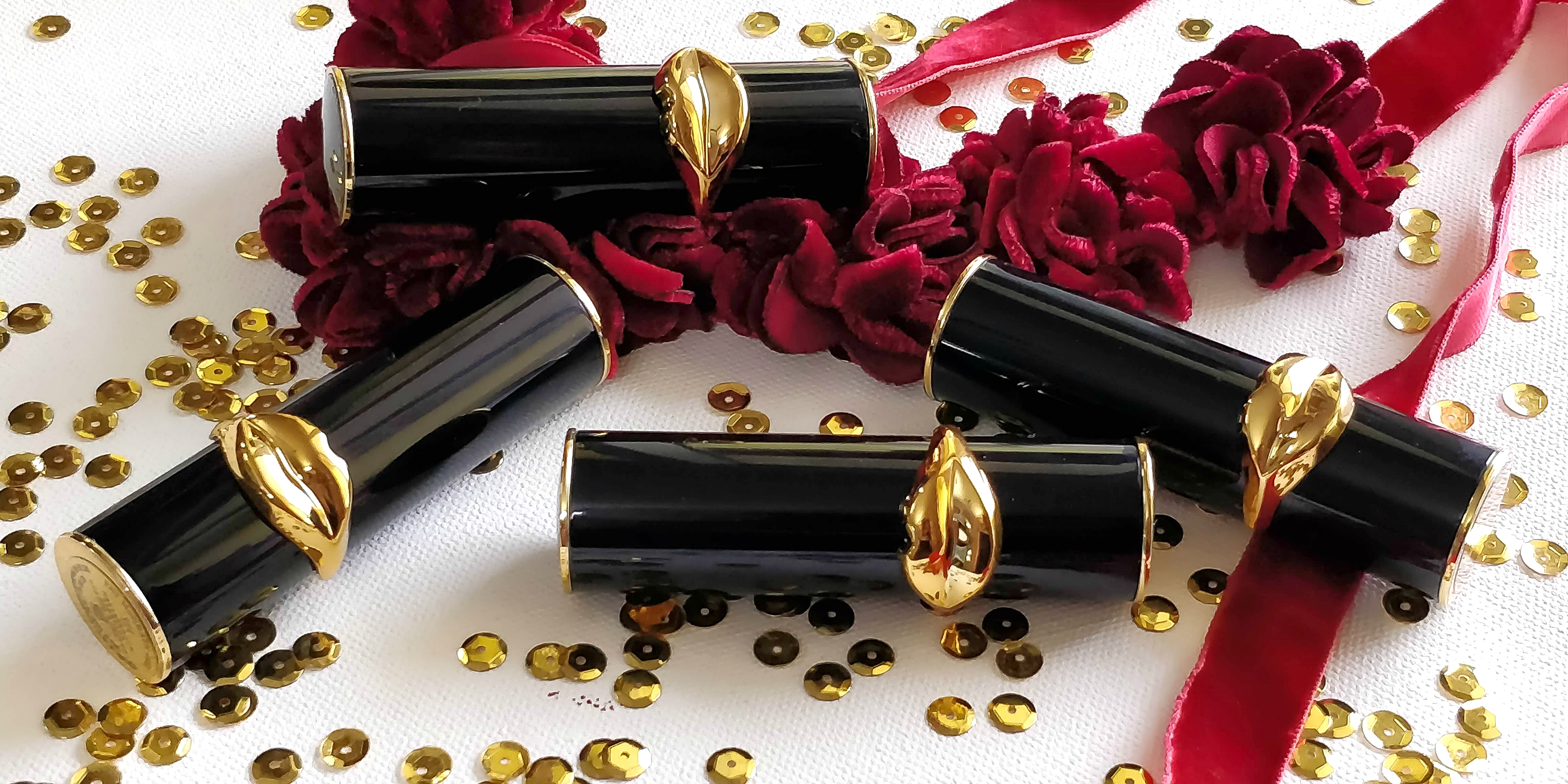 The stunning black bullet with a gold lip packaging – It is a luxury in itself! Love them a lot. I have never seen so much detailing for a lipstick packaging. MatteTrance's bullet point remains aligned at the central point of the three-dimensional lips—regardless of which way you twist—a detail McGrath was insistent upon and that took two years to engineer.
Wonderful, isn't it? Imagine, you are putting lipstick straight by looking on to the camera or a mirror or may be in front of someone. All they see is – Either way you twist or the style in which you put on the lipstick – They can see the three dimensional gold adorned lip from front side! Amazing in my opinion. Shade name is printed on the base as well.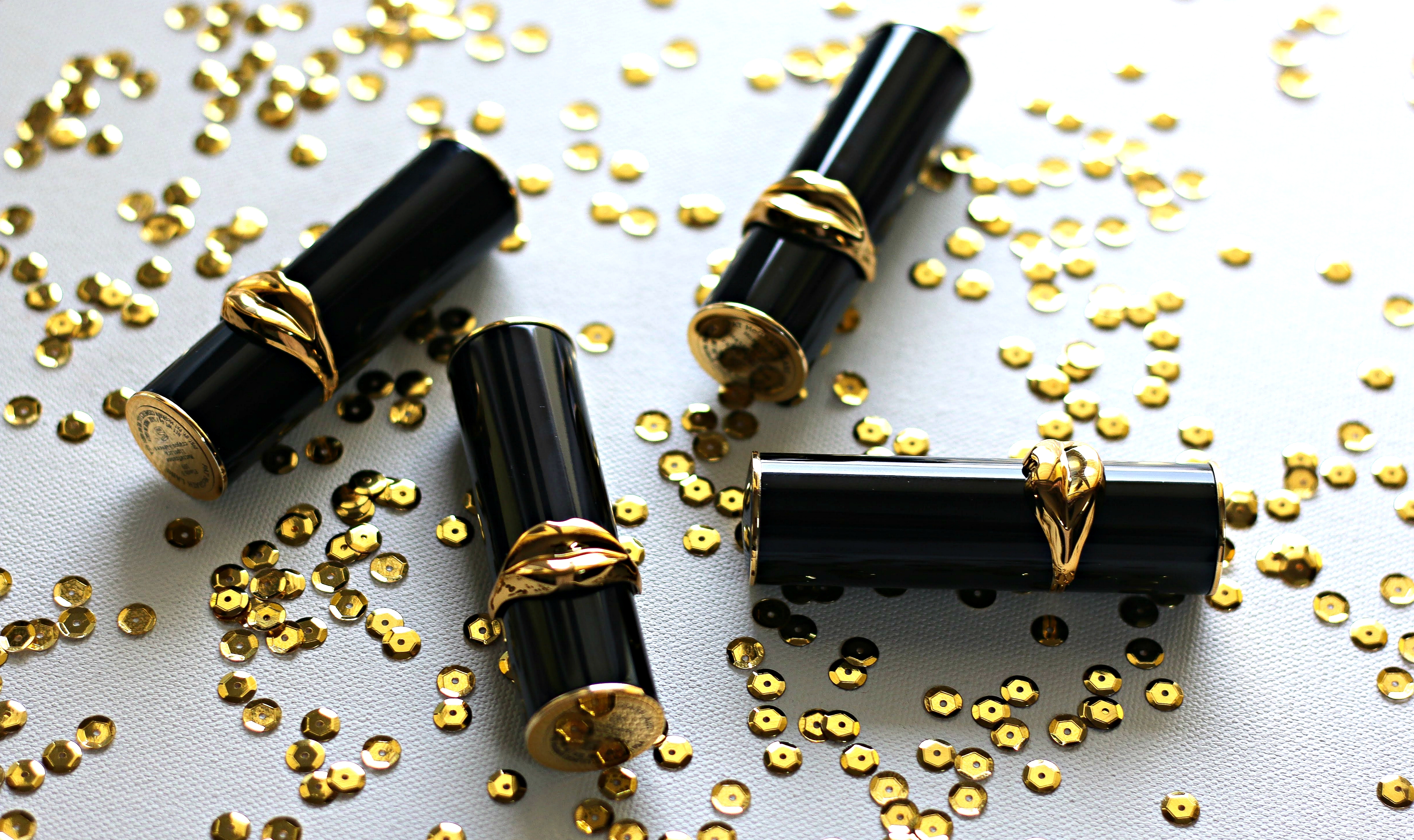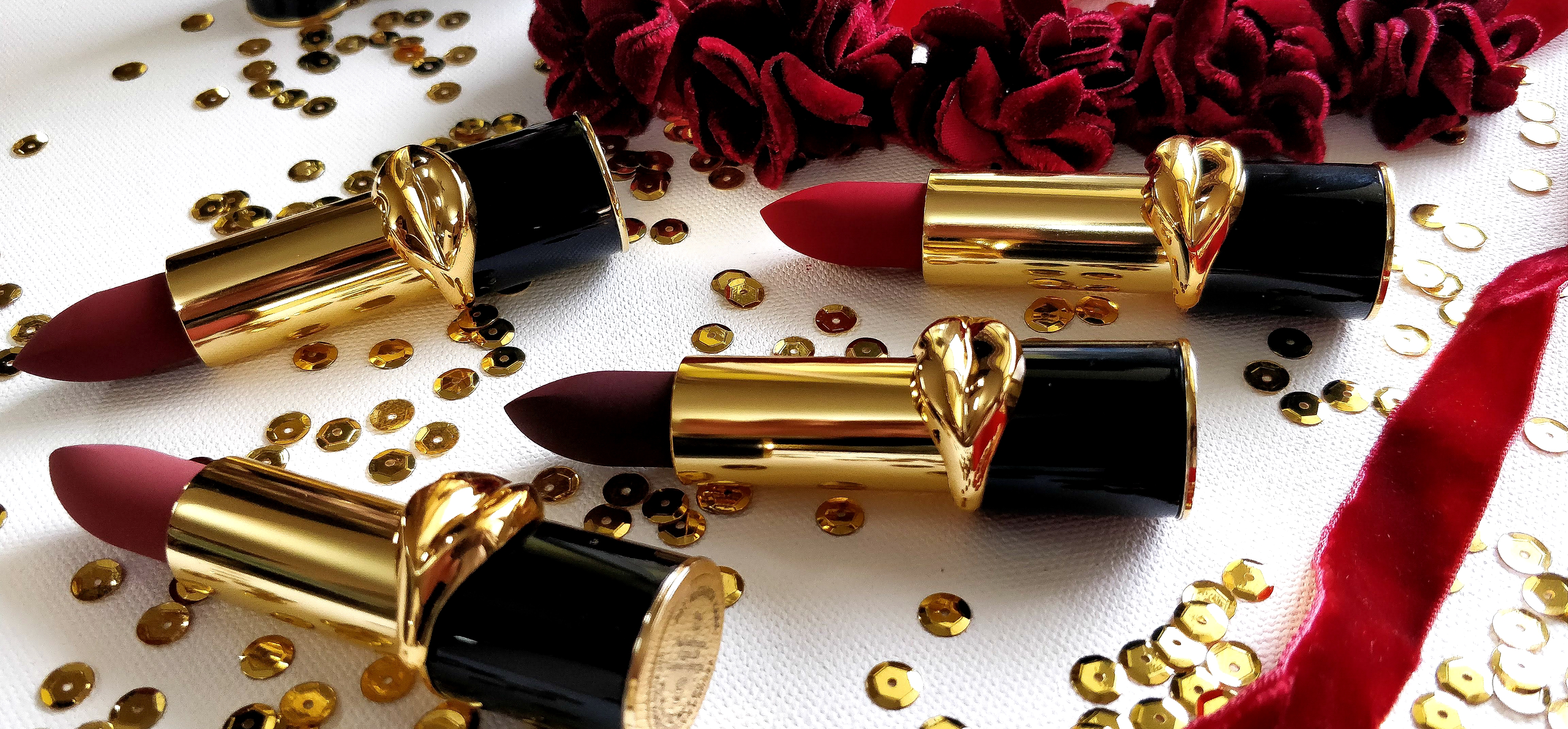 Shade, Formula & Pigmentation
Once you open the bullet, all you see is — a soft, velvet looking lipstick. It has an opaque coverage and the texture is NOT a drying velvet matte as how you see it in the bullet. It's infused with optical diffusers that blur the appearance of your lip imperfections, combined with a blend of polymers to provide flexibility and adherence. The advanced formulation of spherical particles ensure a creamy soft texture too.
It applies creamy and lightweight, delivers perfect coverage in a single swipe. They have no added fragrance. They are of SATIN finish and applies super smooth and has a beautiful sheen when applied. Each shade is universally flattering. They are not at all drying on the lips. Sits comfortably on lips without accentuating fine lines on lips. Neither does it cling onto dry patches of your lips. Formula is hydrating too.
Longevity
Pat McGrath MatteTrance Lipsticks are highly pigmented. As always, prep your lips before applying. They have a satin finish with a sheen to it. The colors apply smoothly on lips leaving the lips feeling luscious and smooth, with a supple, cushiony feel. Definitely not transfer proof. They did transfer to my glass etc. I noticed that the color remained intense throughout the wear. It didn't fade or made my lips look dry or patchy. The sheen kind of lasts for about a hour and little more after which it sets to matte. If you want a full matte finish, blot using a tissue and set using a translucent powder after application.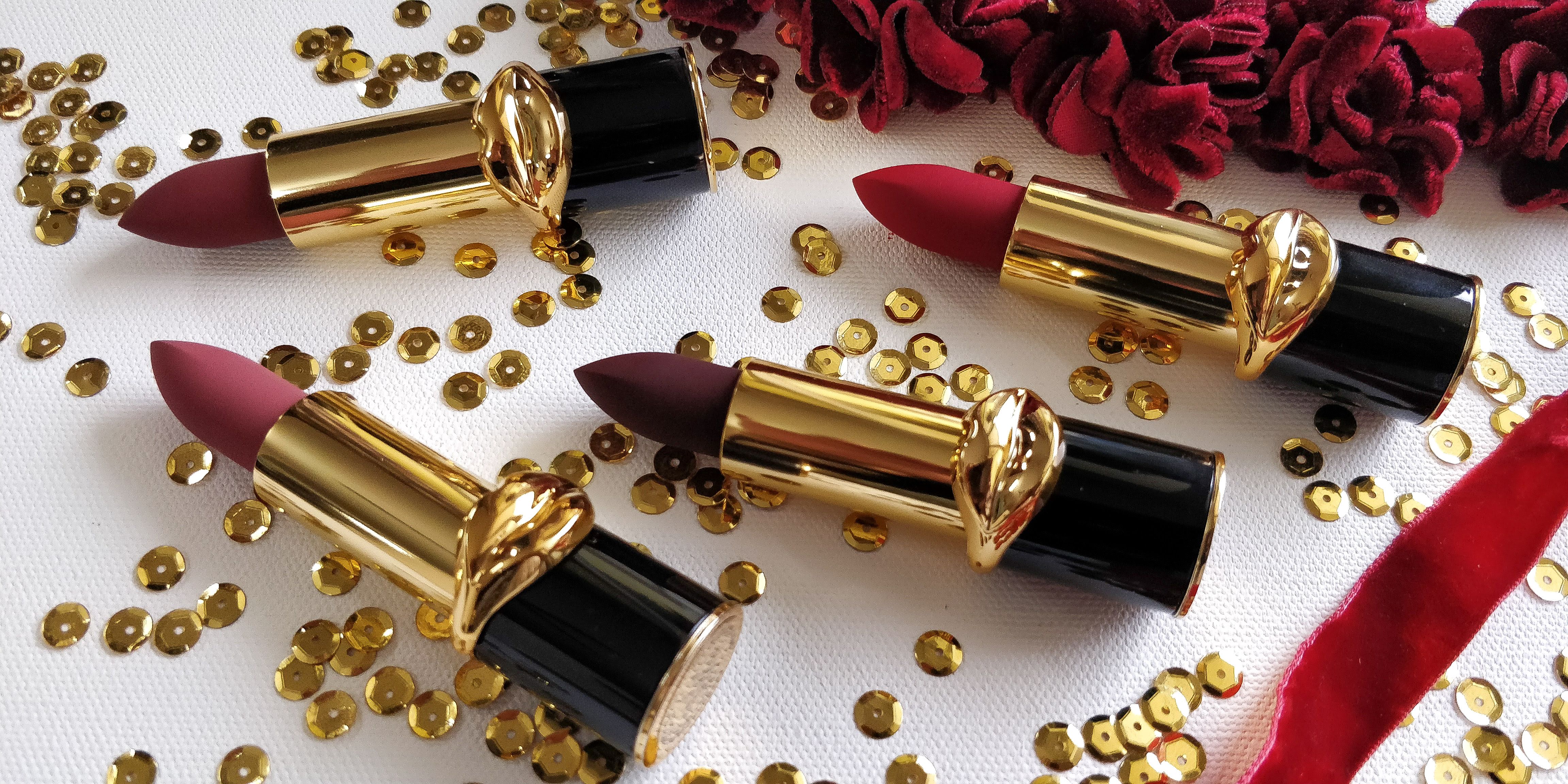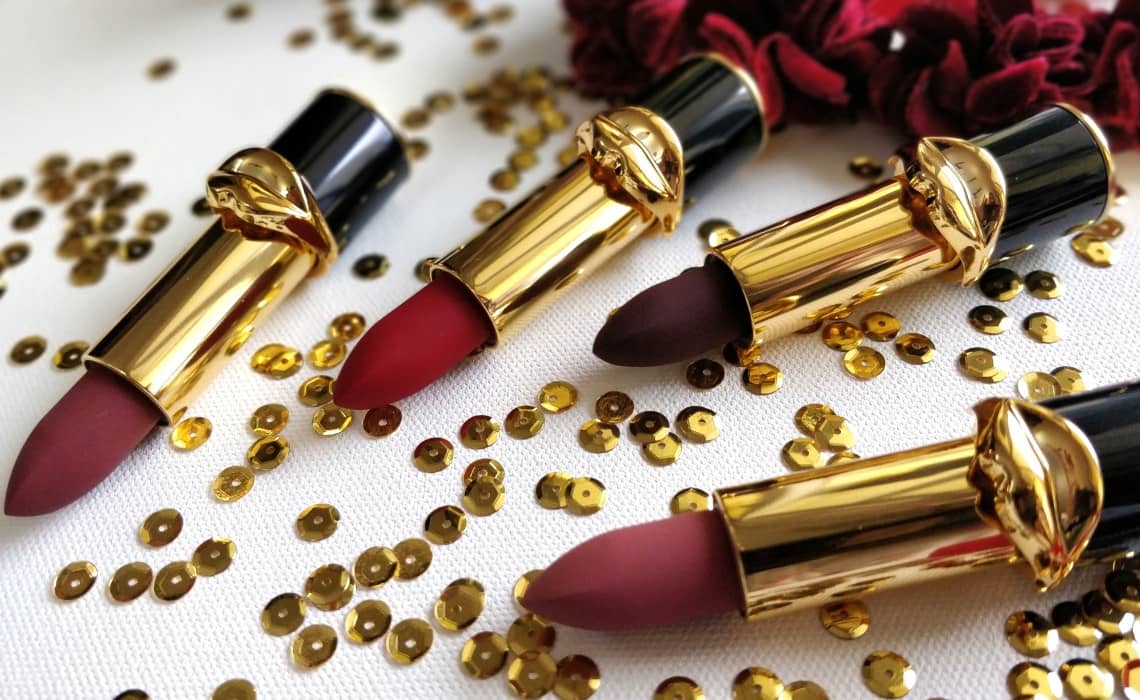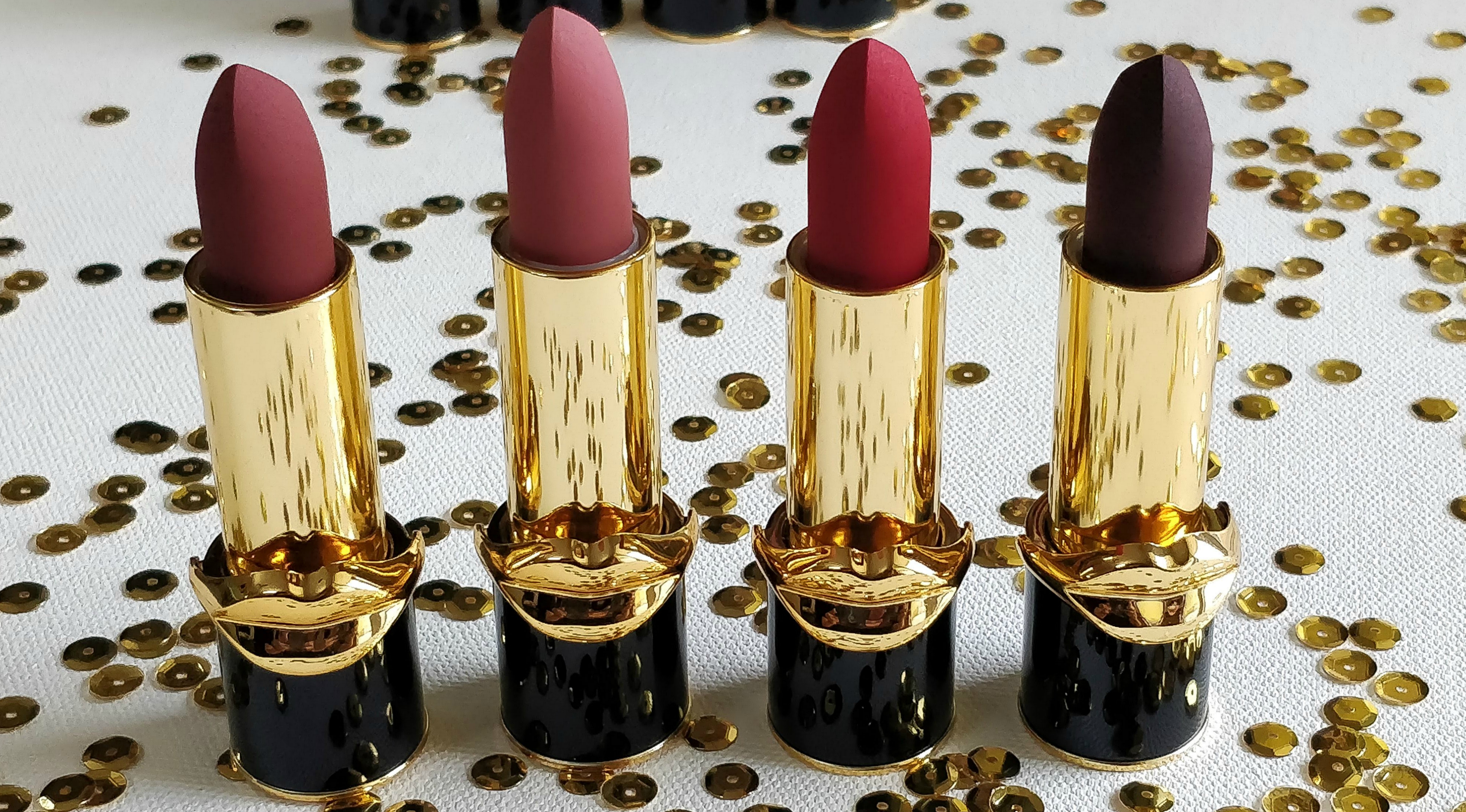 Swatches & LOTDs
Pat McGrath MatteTrance Lipstick – Omi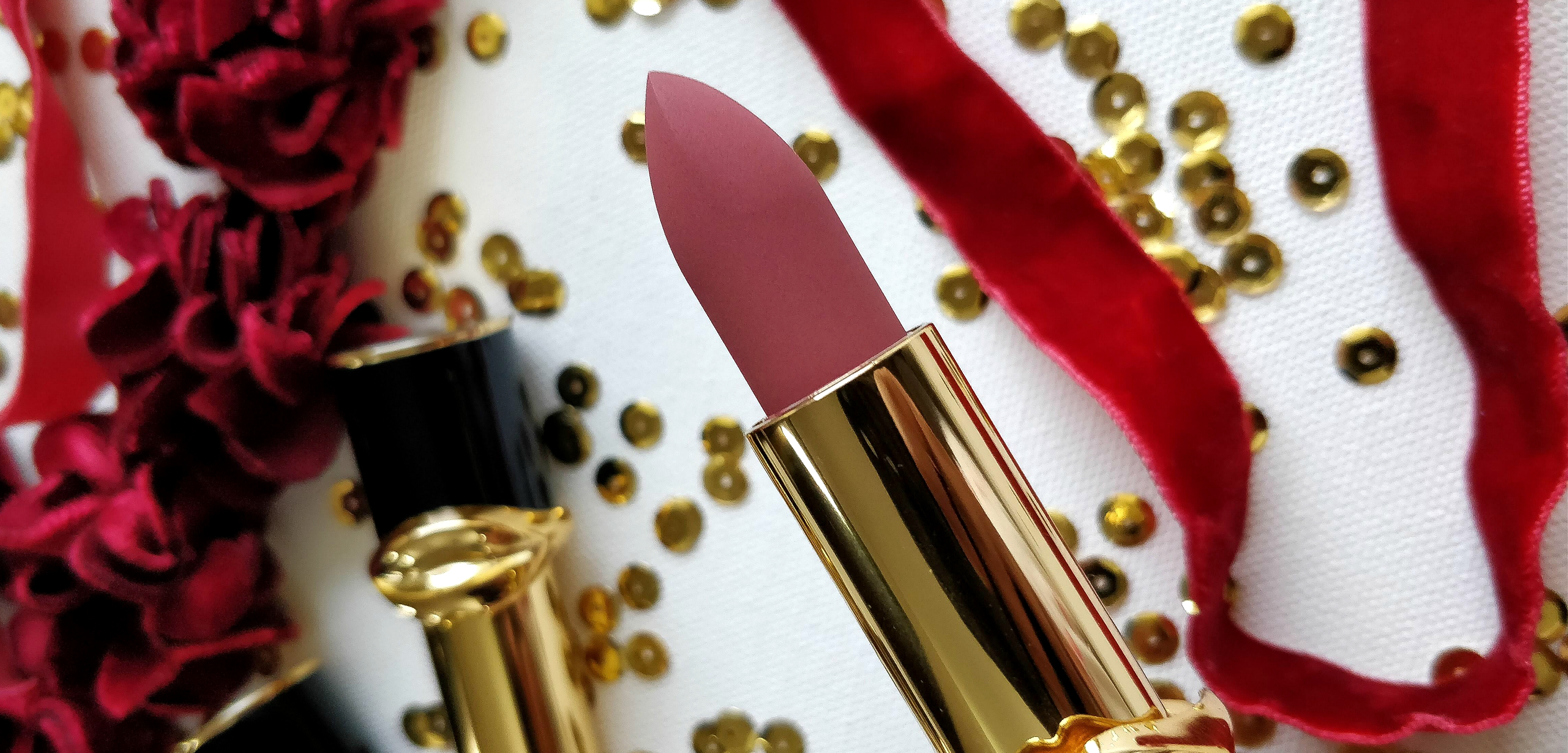 Pat McGrath MatteTrance Lipstick – Omi is a lovely rose nude color and it is a kind of everyday peachy pink nude on my skintone. I like how creamy it applies. It delivers full blown color in a single swipe itself. This is how it looks on me.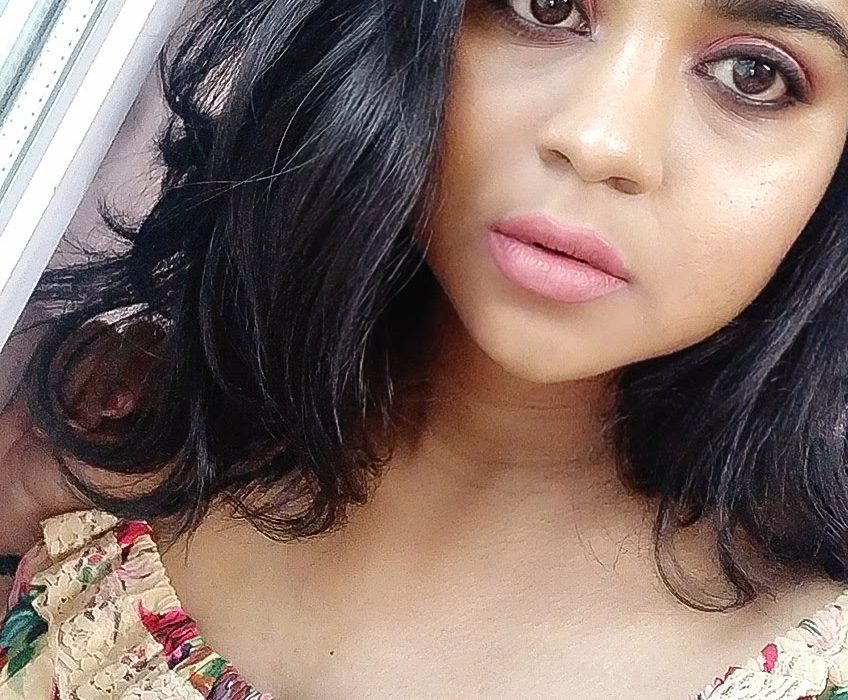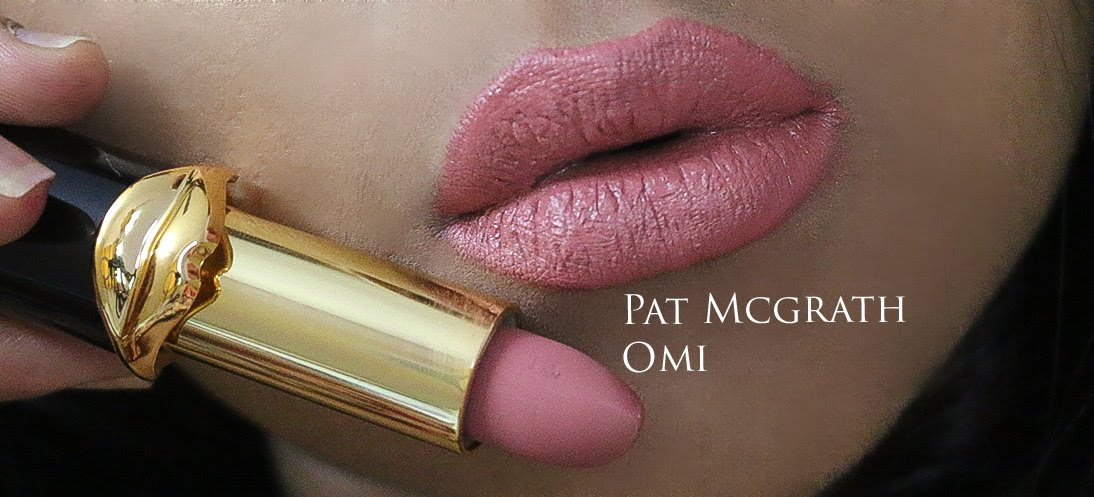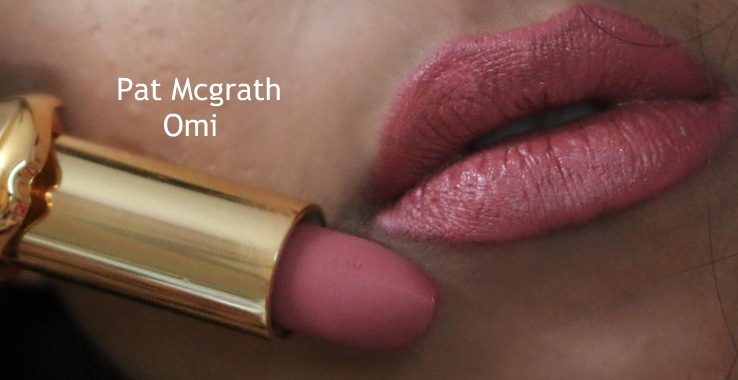 Pat McGrath MatteTrance Lipstick – Elson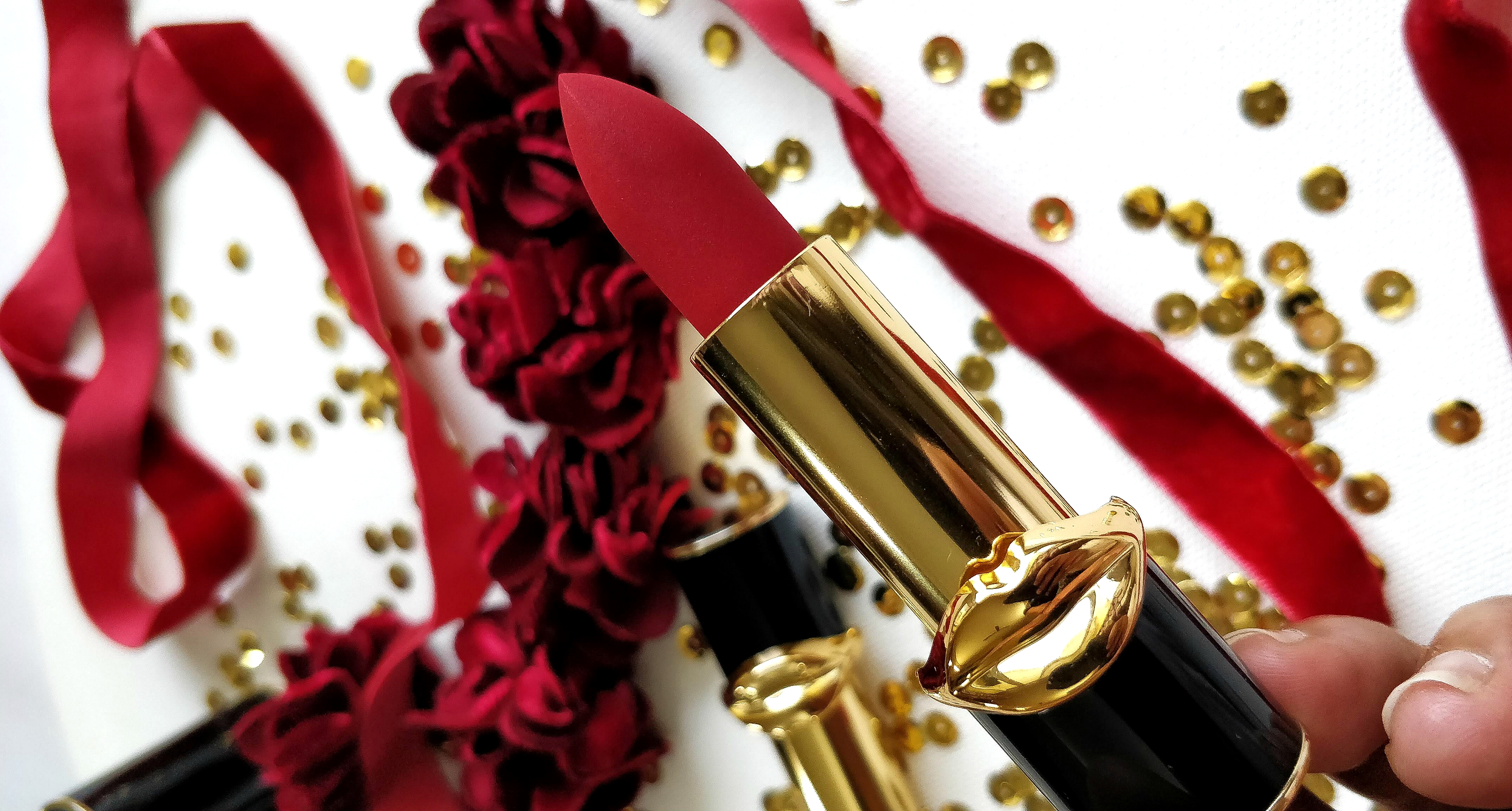 Pat McGrath MatteTrance Lipstick – Elson is a gorgeous red color with blue undertones. One of my favorite shade from the collection. The satin smooth finish applies beautifully on lips. These have a perfect sheen to it when applied. Universally flattering shade and see how it looks on me below.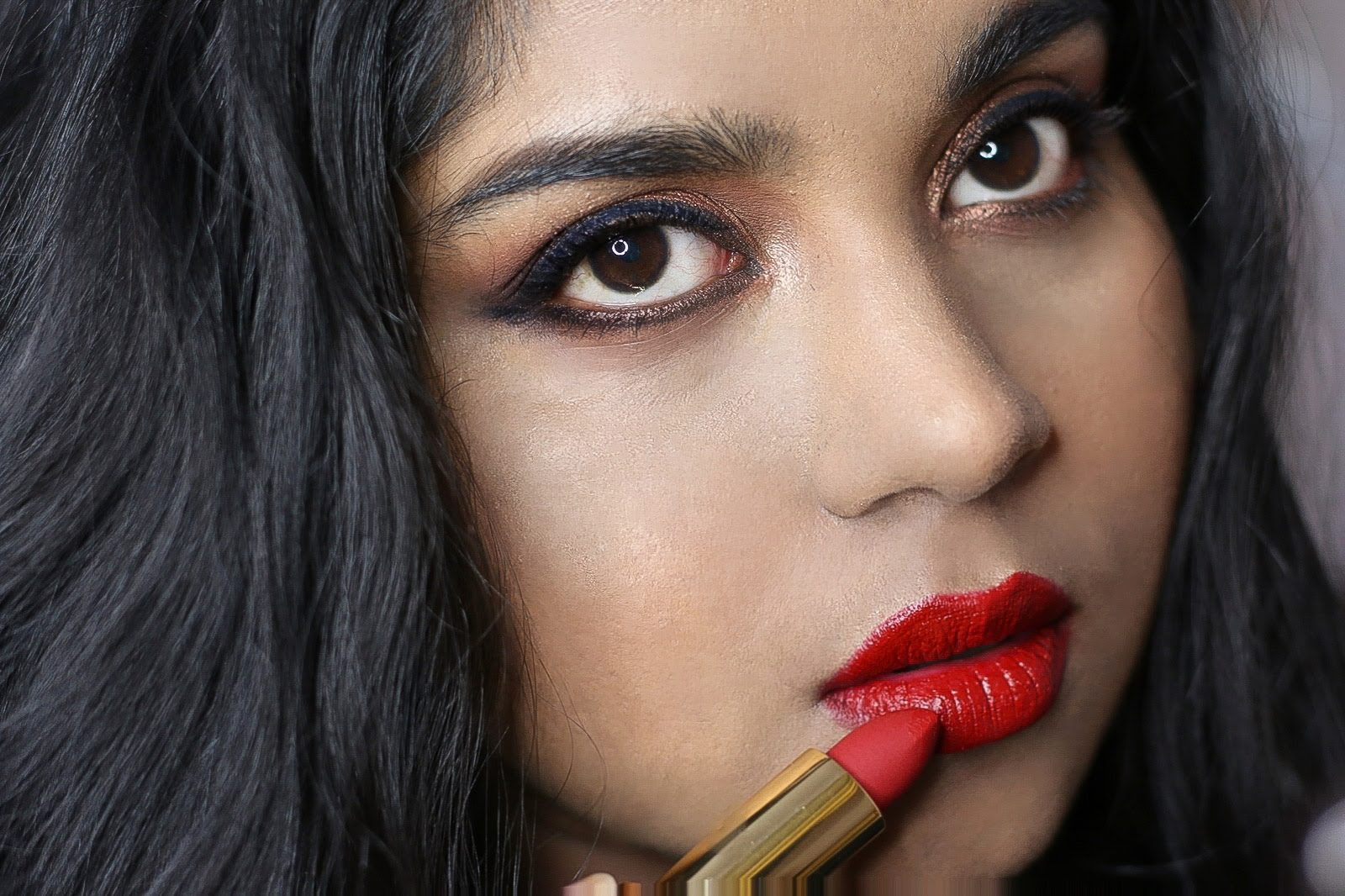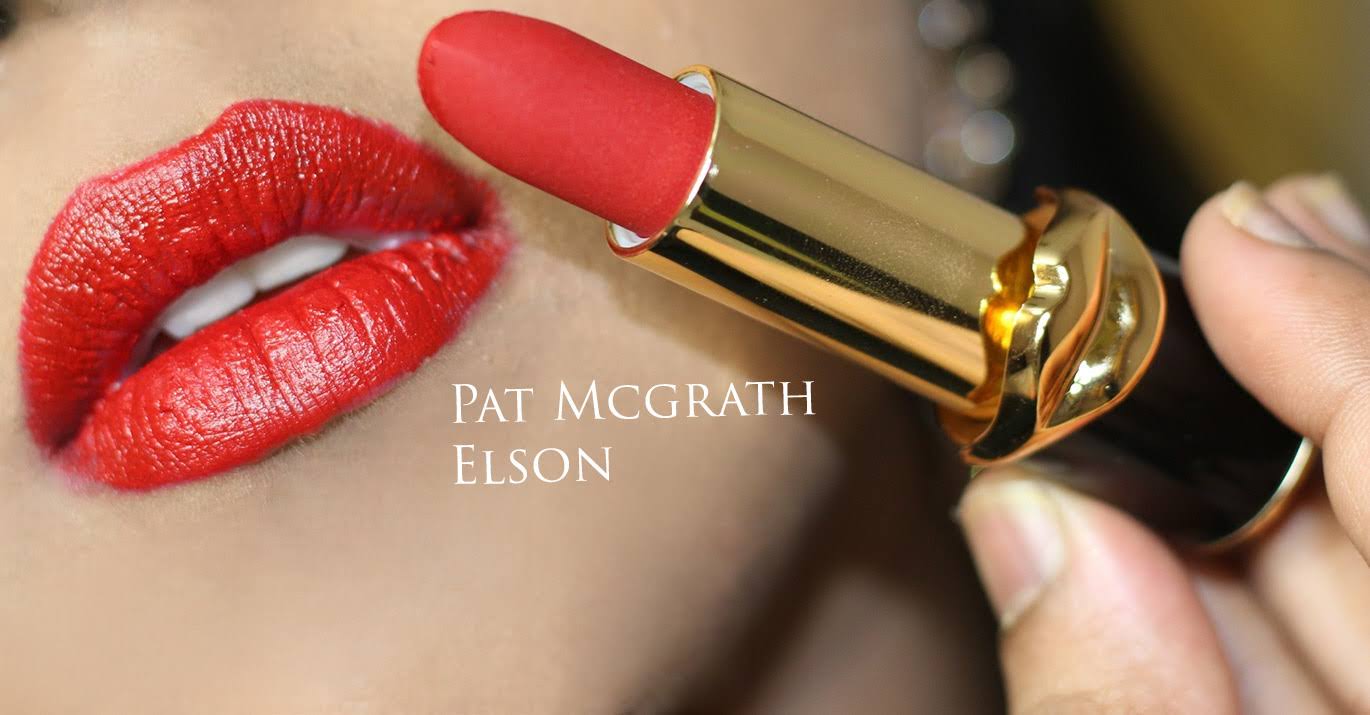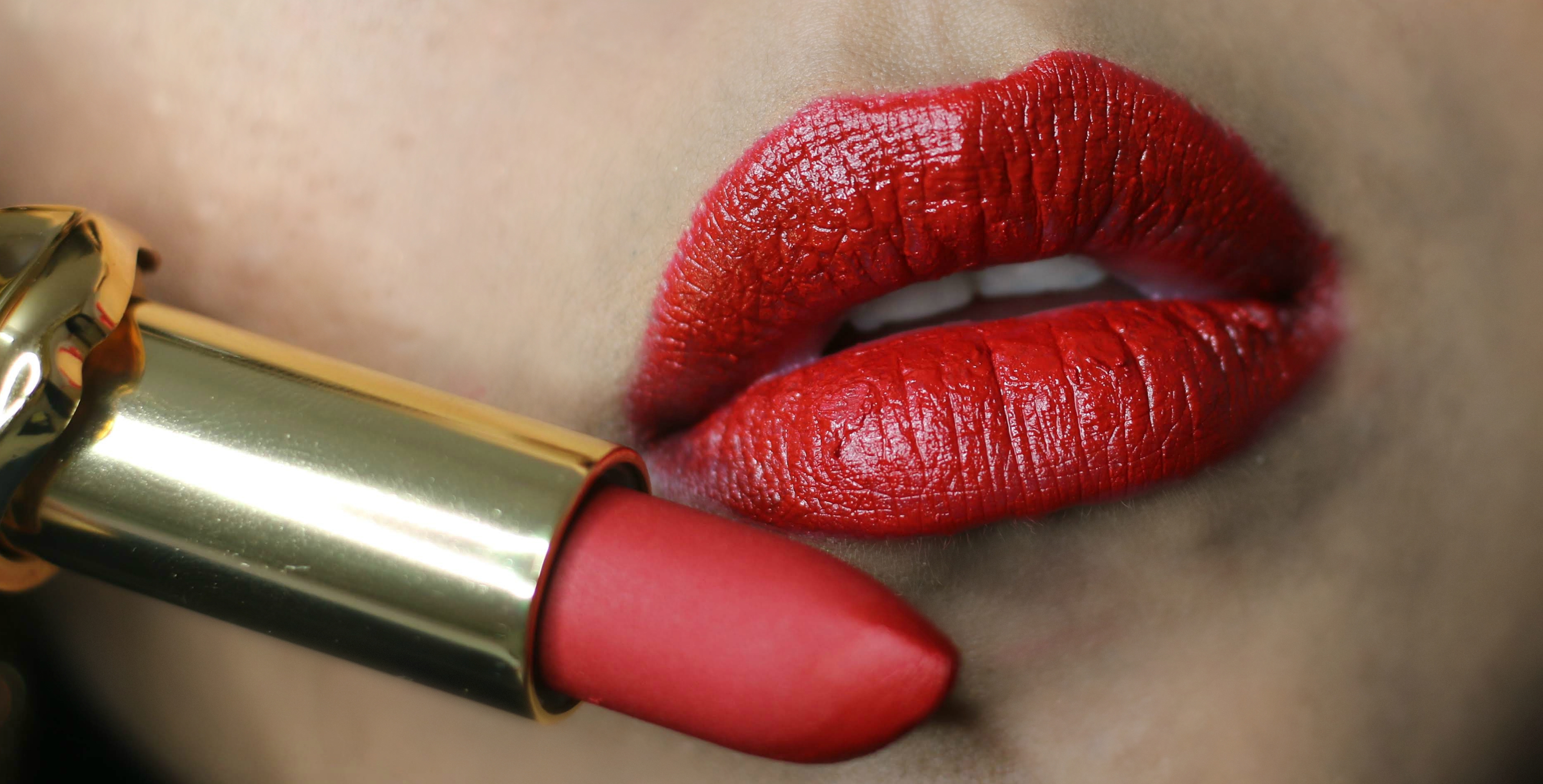 Pat McGrath MatteTrance Lipstick – Flesh 3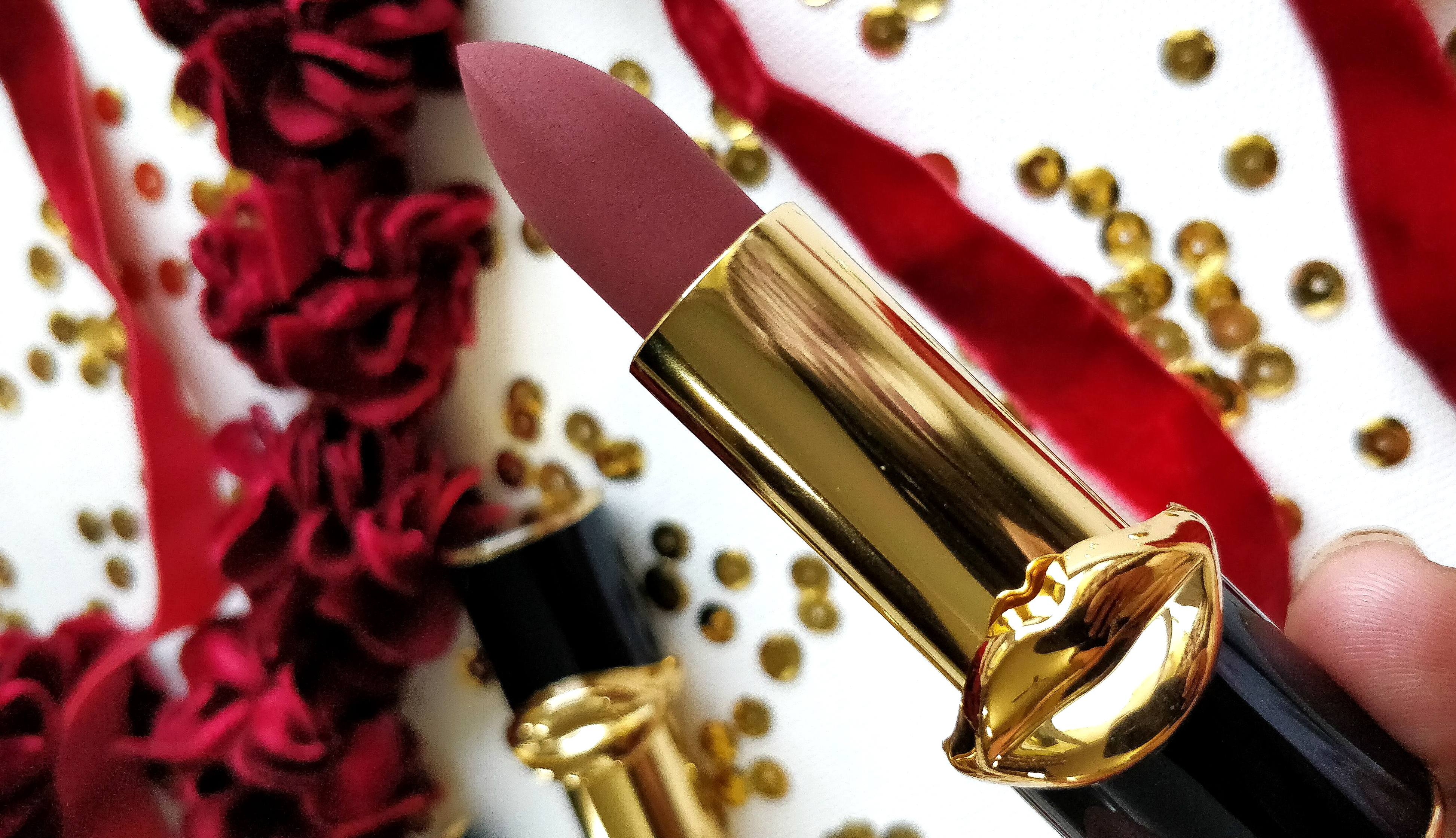 Pat McGrath MatteTrance Lipstick – Flesh 3 is a gorgeous warm peach brown color. Undoubtedly my most favorite from the colors I own from this collection. If you are looking to buy a single color from MatteTrance range by Pat McGrath – Go for this! This shade won't disappoint you at all.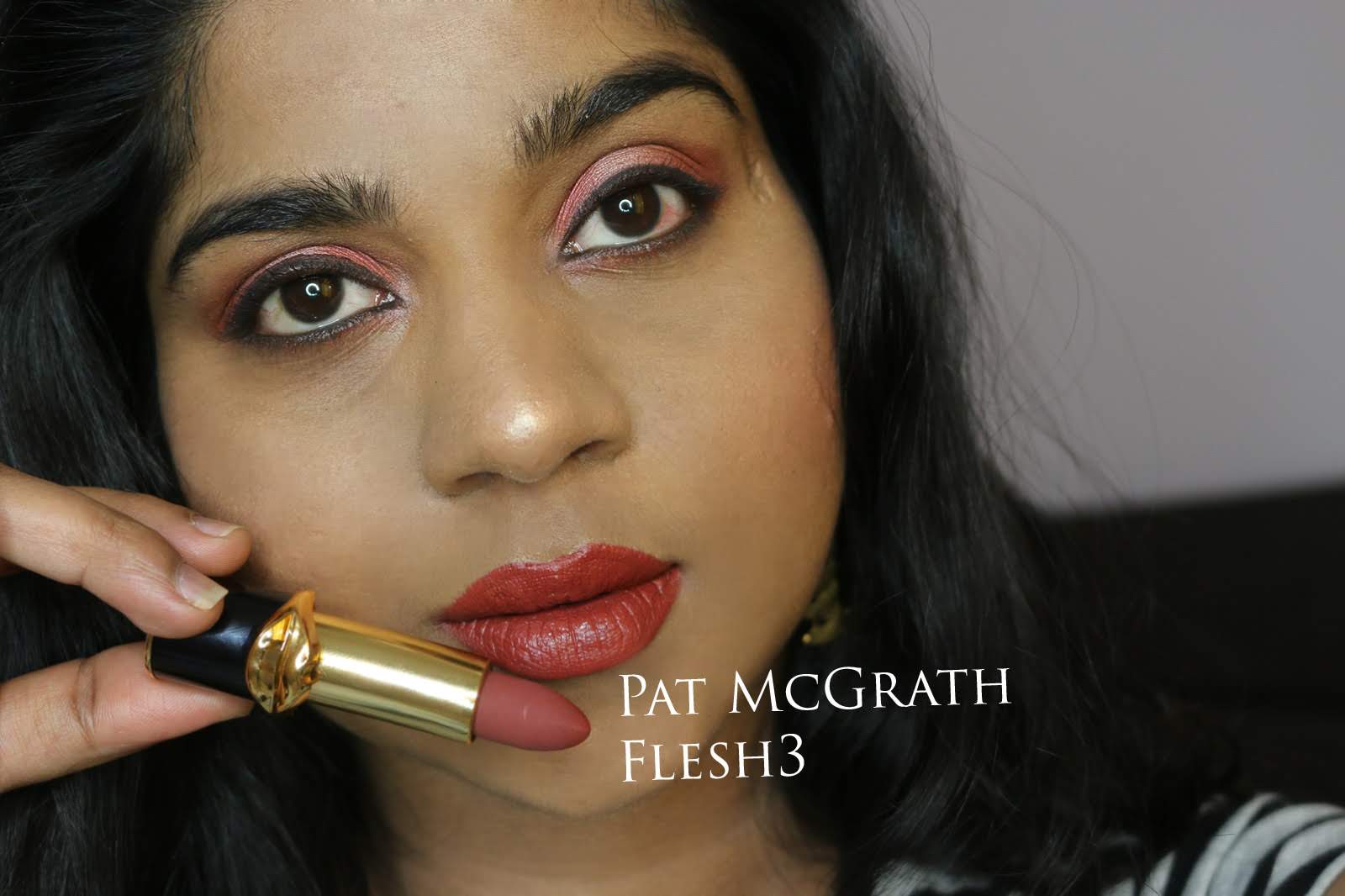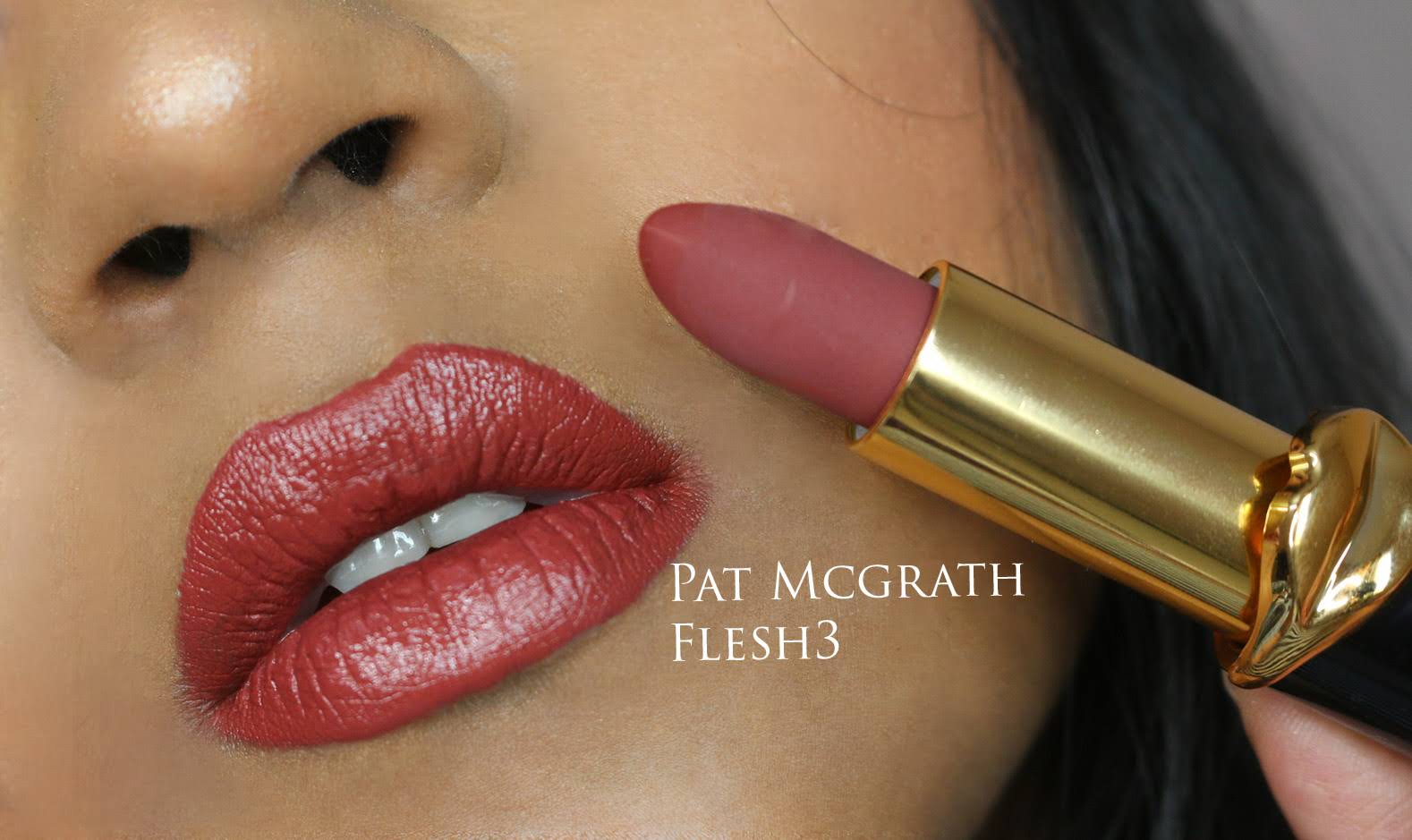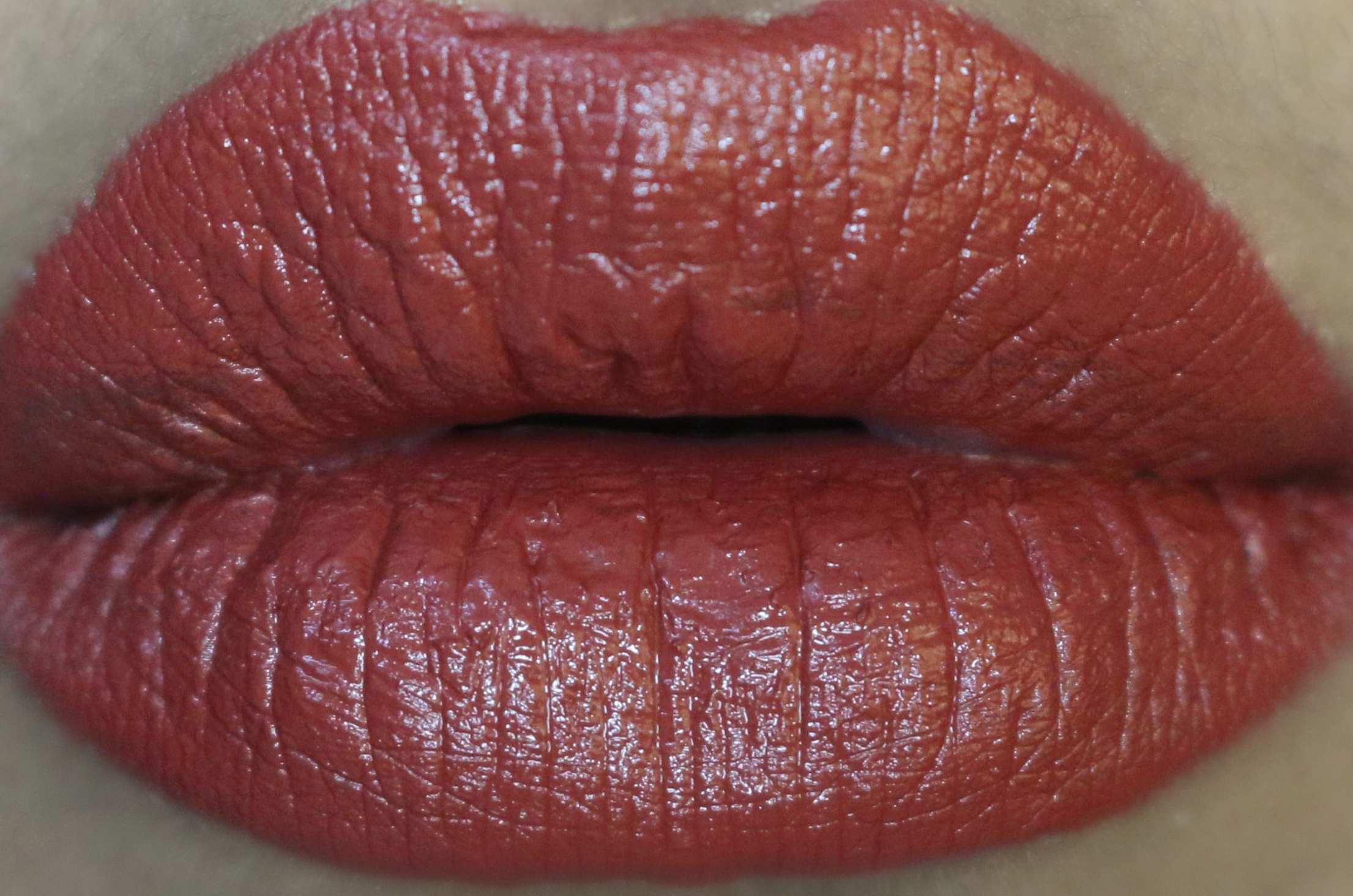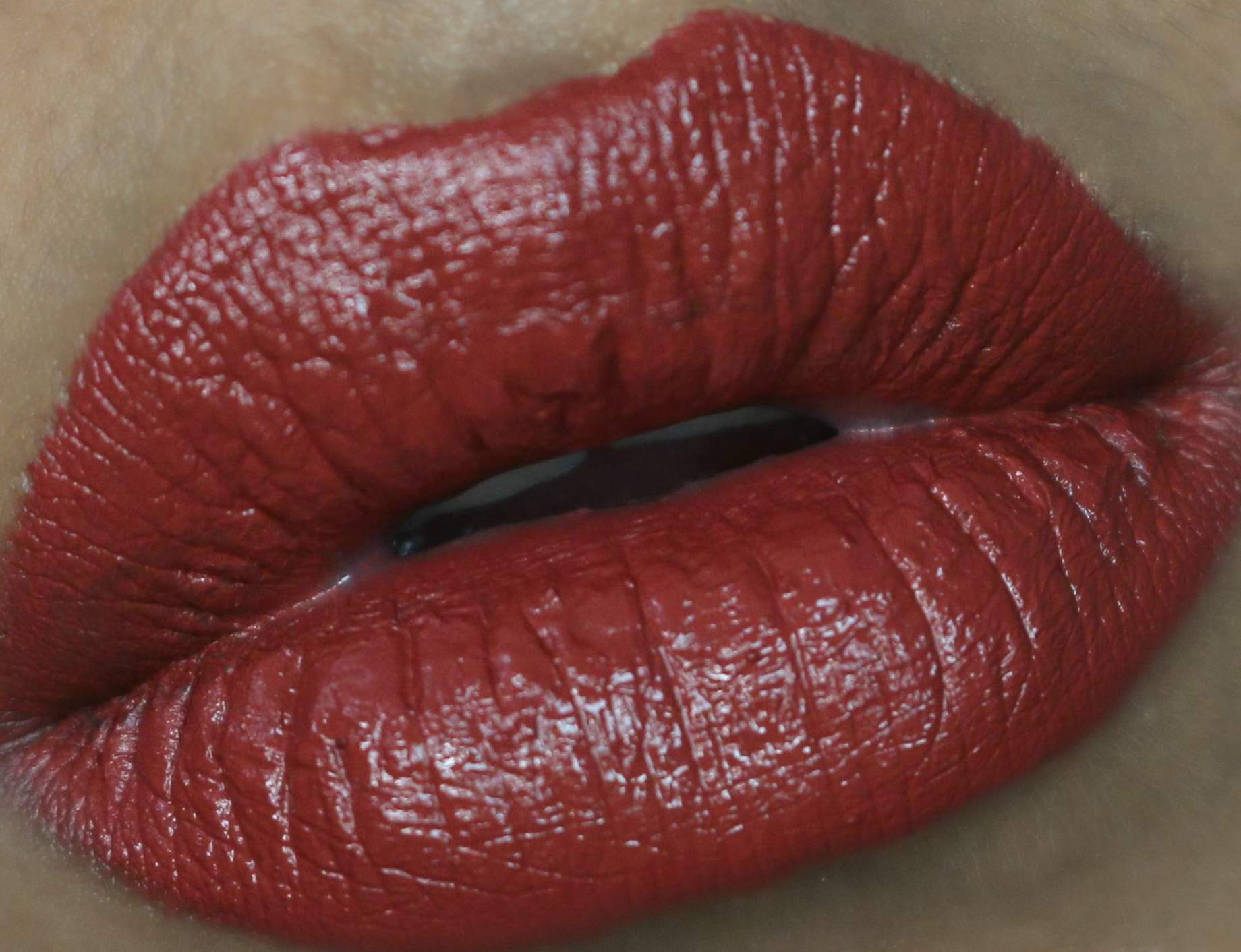 Pat McGrath MatteTrance Lipstick – Mc Menamy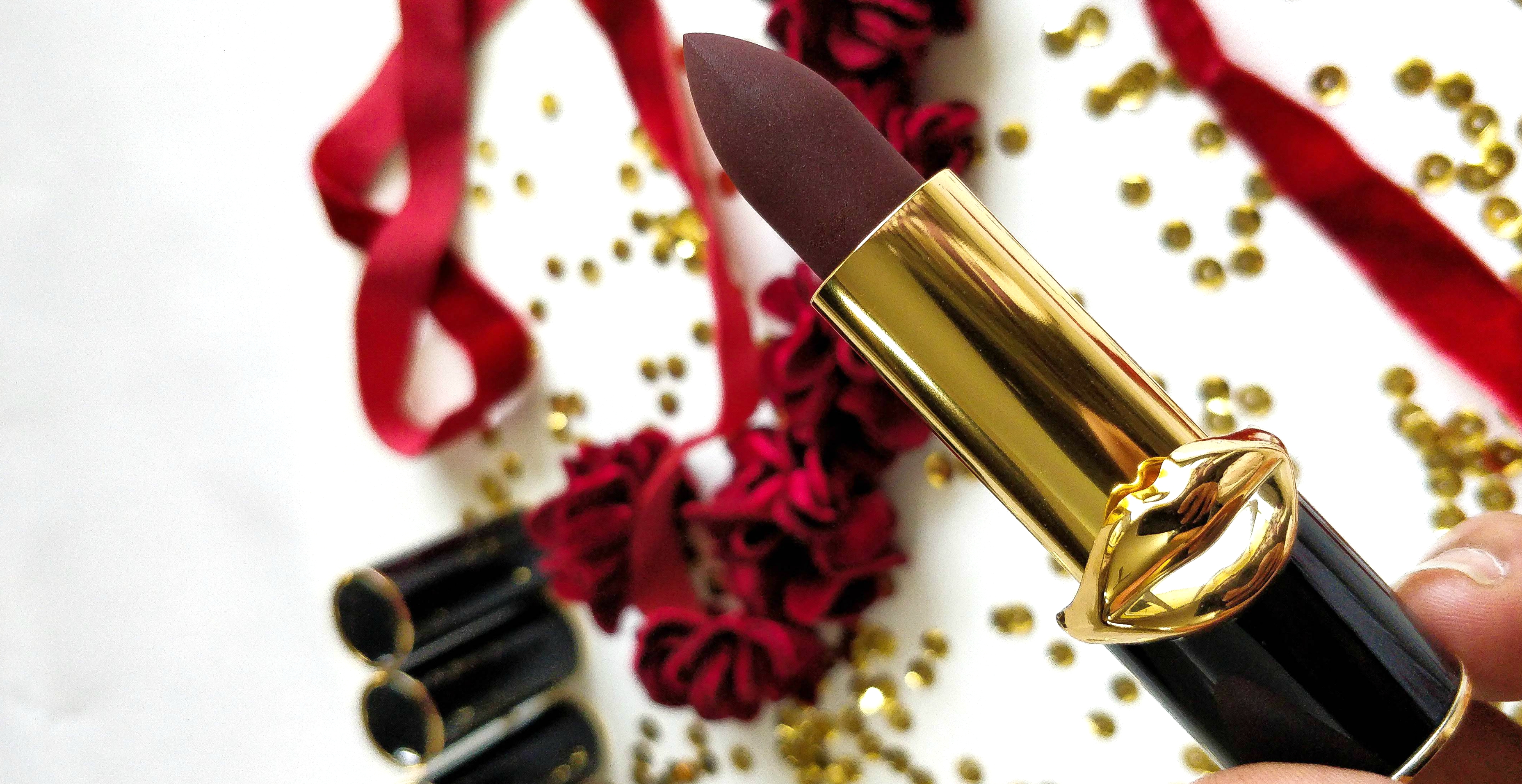 Pat McGrath MatteTrance Lipstick – Mc Menamy is a dark burgundy shade. If you know me and if you've been a long time reader of my blog – You guys might probably know by this time, I am a huge fan of dark vampy colors. And, I think this shade is a perfect fall shade. I love how beautiful it is on my complexion. Again, with darker colors. You guys be careful to prep and exfoliate your lips prior to applying.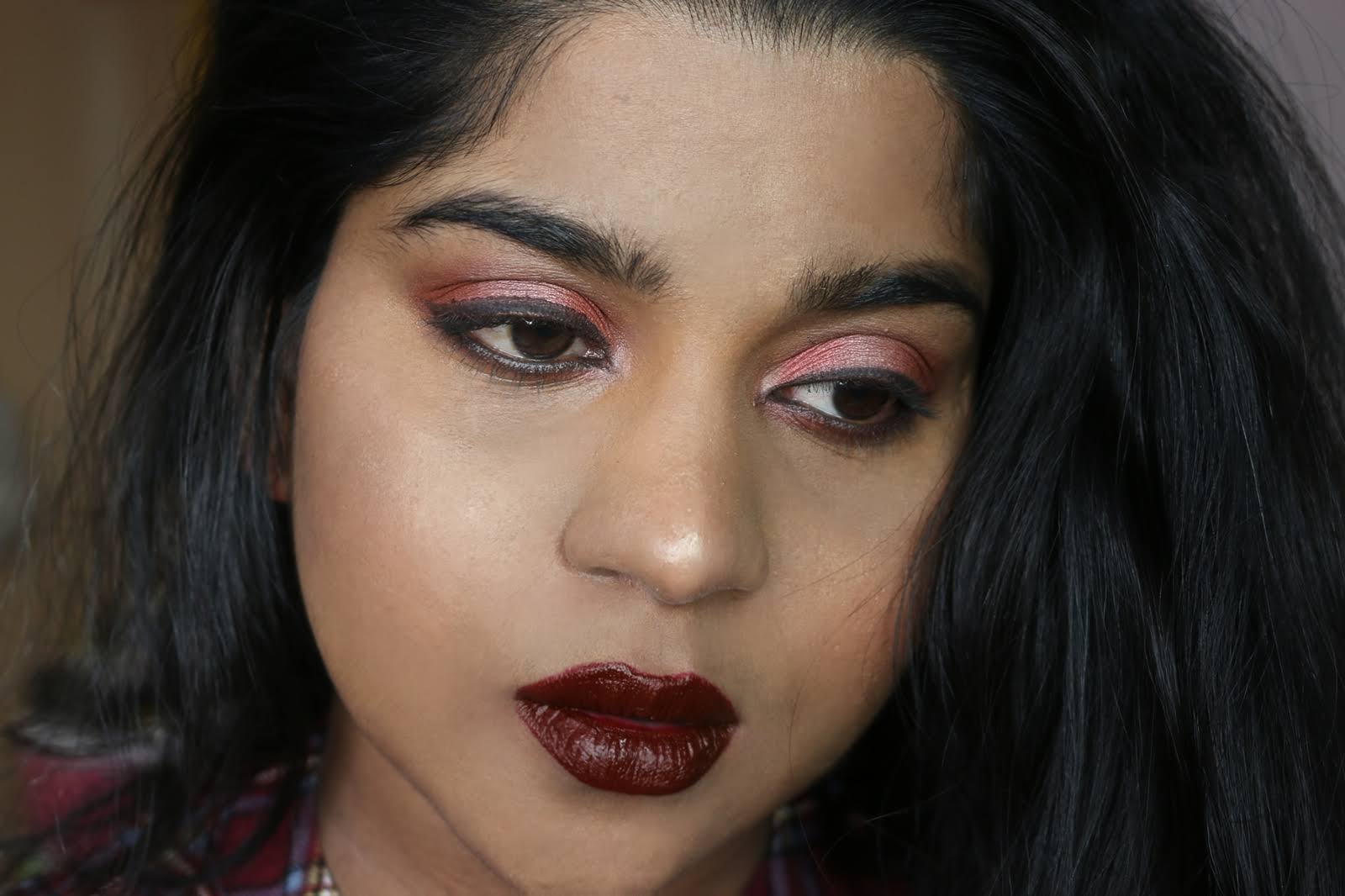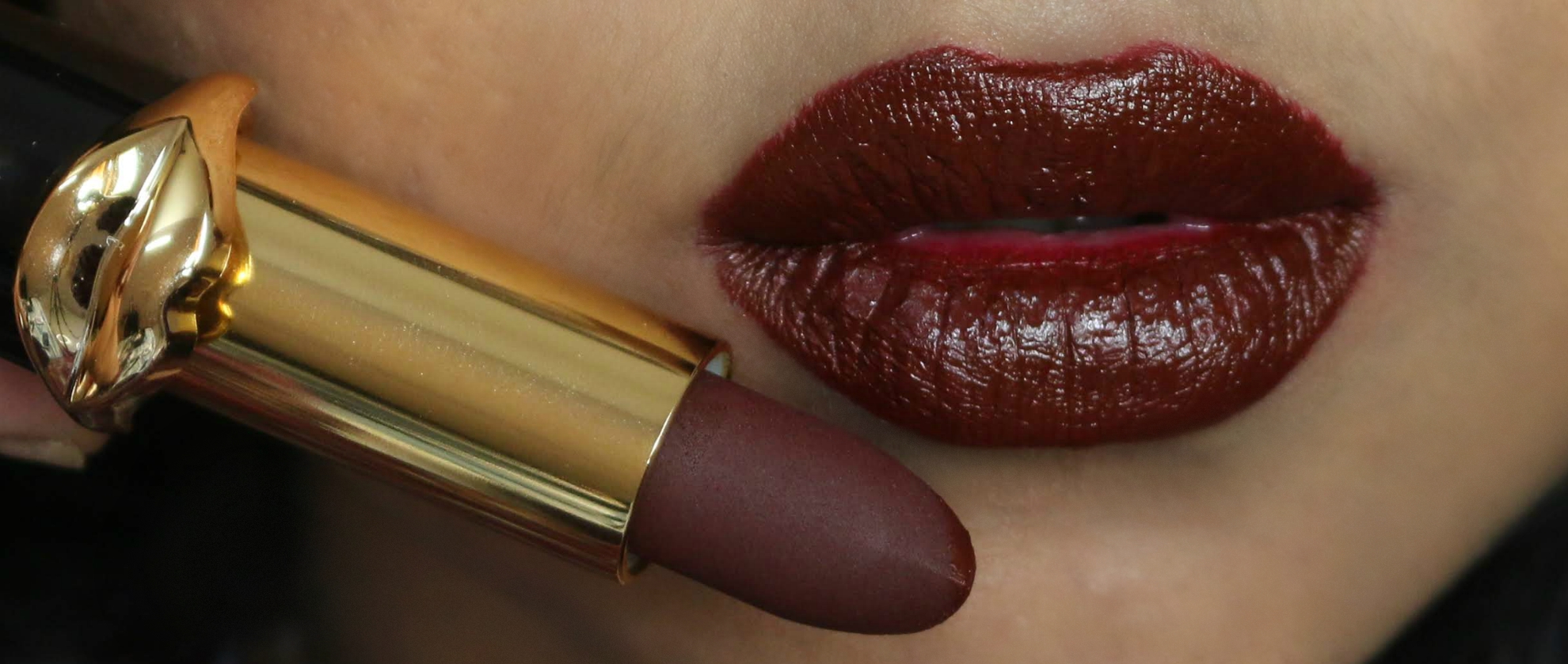 All of these colors stayed on my lips for over 7 hours. Of course the creamy sheen makes them transfer to cups and glasses. But, they stay non-drying on lips. No fading or clinging onto dry areas or fine lines of lips. The Satin finish is great while applying. The beautiful sheen add the richness to the lipstick. Within 1-2 hours, they settle to a matte finish. There is no particular fragrance or scent to the formula and that's one of my favorite part.
Next, comes the hand swatches! I have included pictures taken in natural day light with and without flash so that you get to see the true color of the lipstick.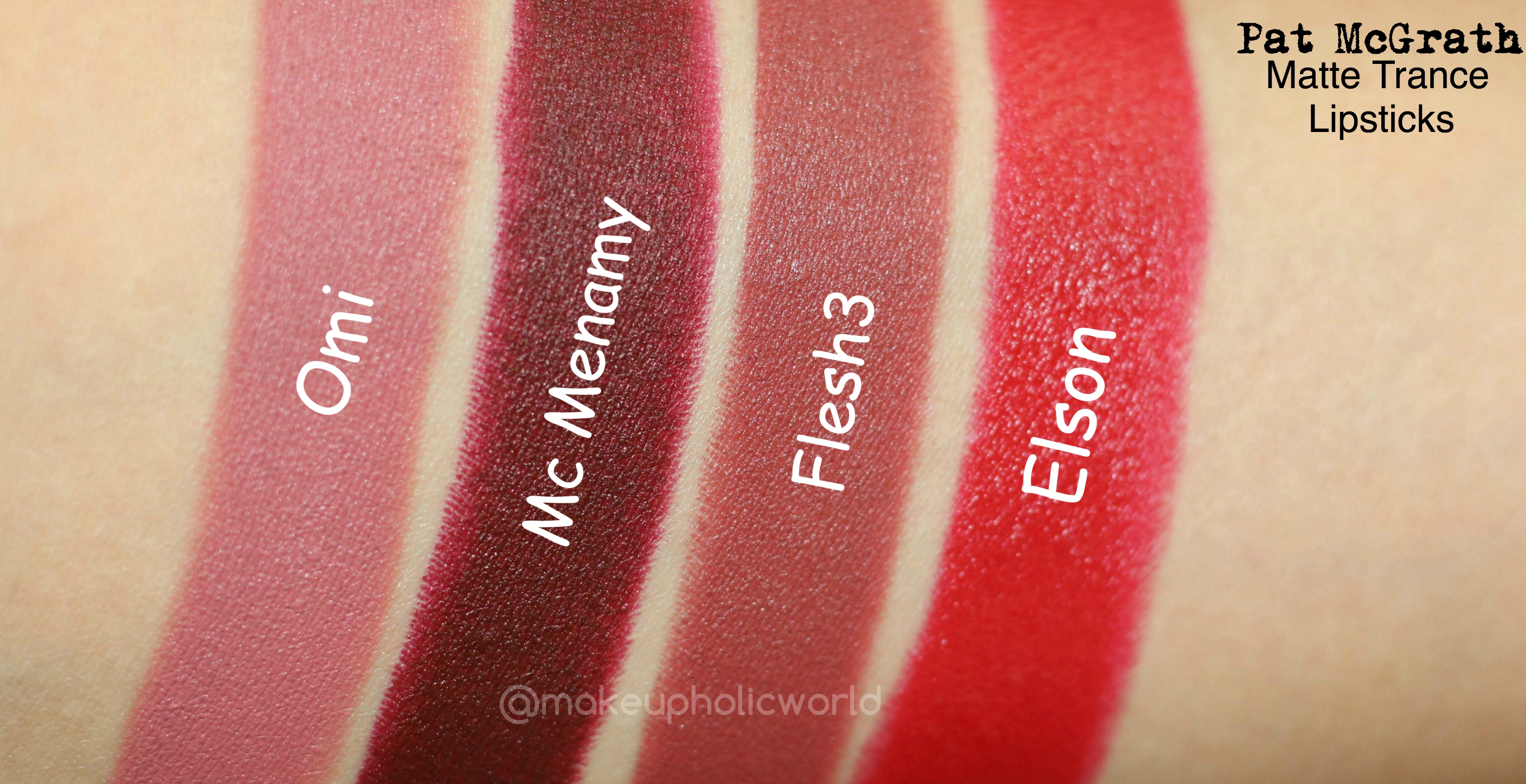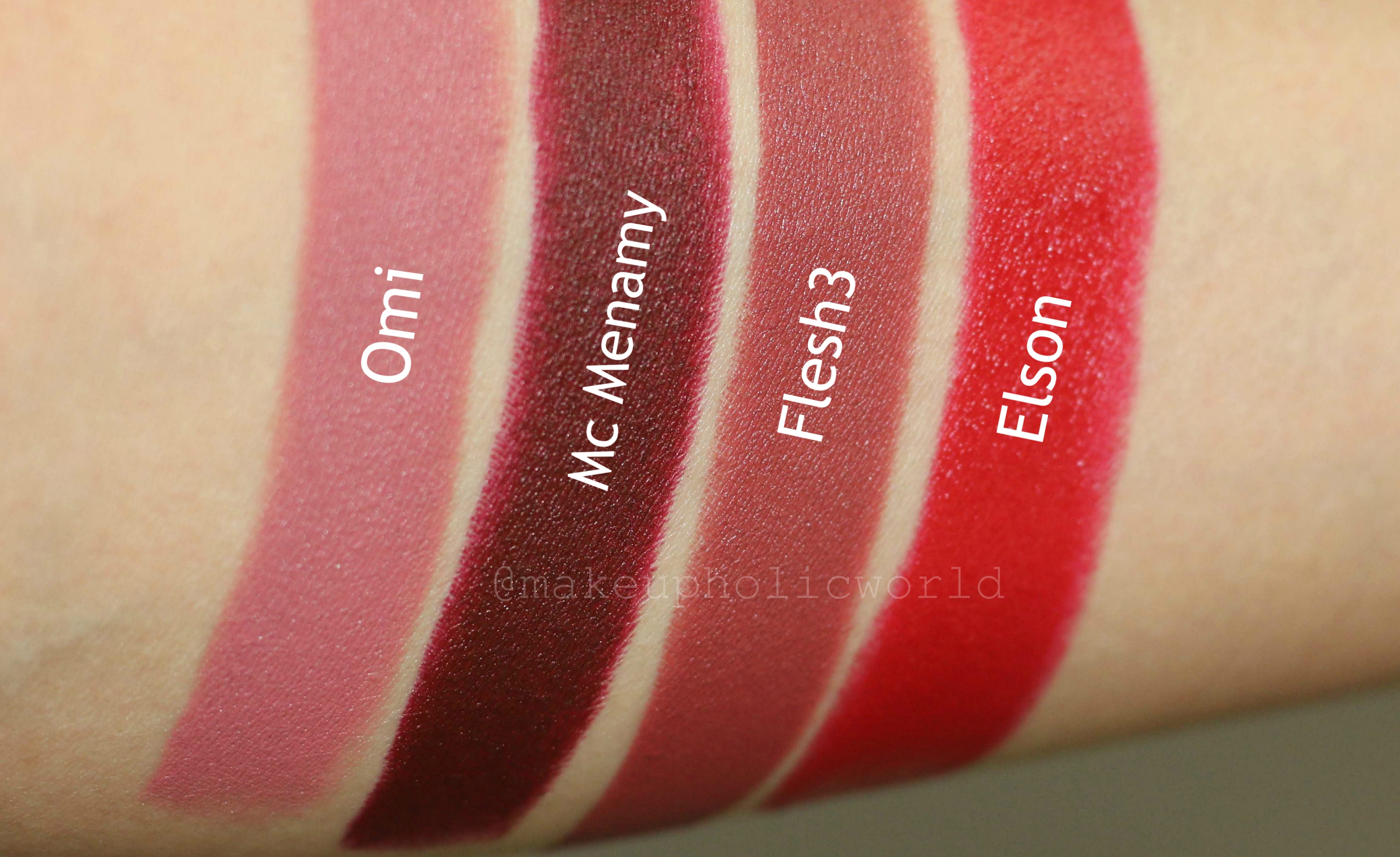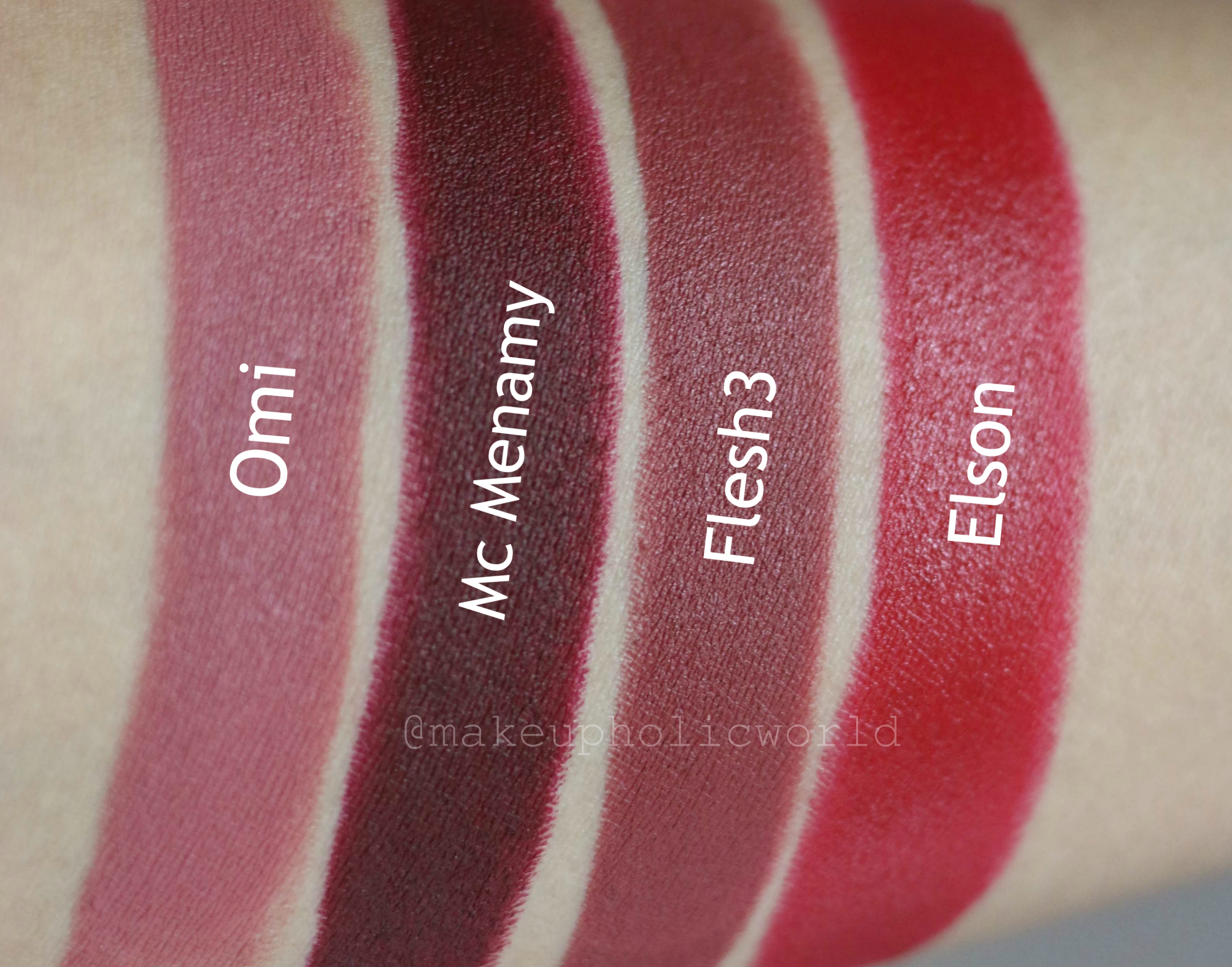 Overall, MatteTrance Lipsticks from Pat McGrath are beautiful with a luxury packaging, color selection and formula. These are not drying on lips. Finish is sheen satin and applies creamy and settle to a matte finish after about 1-2 hours. If you want to get that matte look when applied itself, be sure to blot them and set with a translucent powder. They are not transfer-proof though. Formula feels comfortable on lips and they don't cling on to the dry areas of your lips or settle to fine lines on lips. They don't have any added fragrance or scent to them and I love that factor too.

If you are looking for a satin finish that settles to a non drying matte. creamy coverage in a single swipe, something that feels light-weight on lips – Don't look back! Pat McGrath got you covered! Variety of shades to choose from!
Availability – The Pat McGrath Labs Lust MatteTrance lipsticks ($38 each) and trios ($95 each) are available on patmcgrath website and on sephora online and select Sephora stores. Pat Mcgrath ships worldwide.