Hi my sweet butterflies…… This is going to be a Tag post….Our sweet Aliya of shetoday have tagged me for this post…..
This post is going to be about my

favourite Beauty products under 5 GBP

as well as a
£10 Make up challenge !!

I have created a makeup look using the products mentioned in this post………….

The Products featured in this post are
1. Tips and Toes Waterproof Eyeliner- <1 GBP
2. MUA Glitter Ball Eye Shadow Palette– 4 GBP
3. MUA Lipstick- 1 GBP
4. ELF Tinted Moisturiser in the Shade Beige– 3.50 GBP
5. Tips and Toes Velvette Pressed Powder in the shade Tropical Sunset- < 1 GBP

I applied elf tinted moisturiser all over my face… it covered up the lil blemishes and dark circles I have..and then, I topped it up wd Velvette pressed powder from Tips and toes…Created an eye look using MUA Glitterball palette, lined up my eyes using Tips and toes eyeliner….and applied the natural lip shade 16 from MUA on my lips….
I also dabbed the pinkish shade from eye shadow palette on my cheek bones 🙂

Click on the link to read the reviews of products…
So altogether 10 GBP………

Here's a look which I created using the products mentioned in the post….
A closer look of the eyes I created using MUA Glitterball palette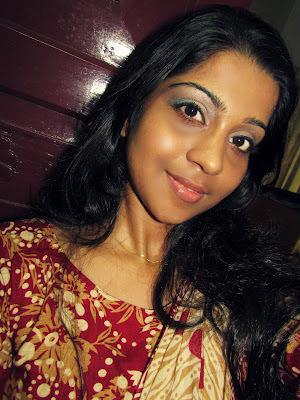 10 GBP Makeup Challenge…..
I am tagging
Hope you all enjoyed reading this…:)