Hi dearies…Hope you are all doing fine….I am here with a Hair Spray review this time….
The Body Shop Rainforest Radiance Detangling Spray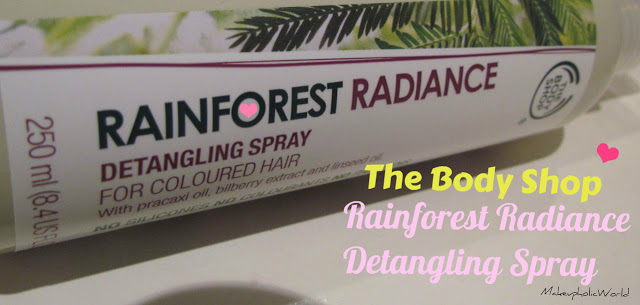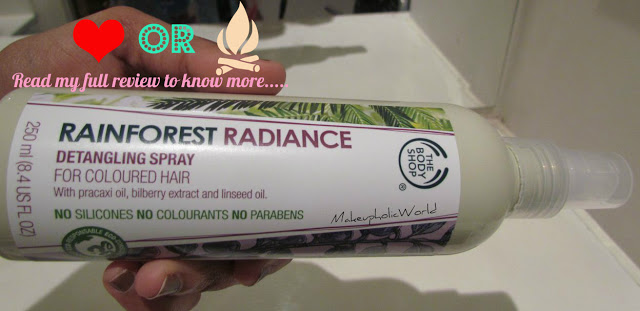 What do Body Shop Claim about them
Leave-in conditioner to soften, add shine and protect vibrancy of colour-treated hair.
Contains UV filter. With pracaxi oil, bilberry extract, linseed oil and Community Trade aloe vera.

No silicones, no parabens and no colourants.

For coloured hair.
FULL INGREDIENTS
Aqua (Solvent/Diluent), Alcohol Denat. (Solvent/Diluent), Glycerin (Humectant), Polyglyceryl-4 Caprate (Skin-Conditioning Agent), Sucrose Laurate (Skin-Conditioning Agent), Parfum (Fragrance), Sodium Benzoate (Preservative), Quaternium-87 (Hair Conditioning Agent), Salicylic Acid (Preservative/Hair Conditioner), Propylene Glycol (Humectant), Aloe Barbadensis Leaf Juice (Skin Conditioning Agent), Ethylhexyl Methoxycinnamate (Sunscreen), Linum Usitatissimum Seed Oil (Fragrance Ingredient), Pentaclethra Macroloba Seed Oil (Skin-Conditioning Agent), Vaccinium Myrtillus Fruit Extract (Skin-Conditioning Agent), Sodium Hydroxide (pH Adjuster), Tocopherol (Antioxidant).
Packaging and Price
Packaging as shown in the snap; Price: 6.50 GBP, Qty: 250 ml;Shell Life: 12 months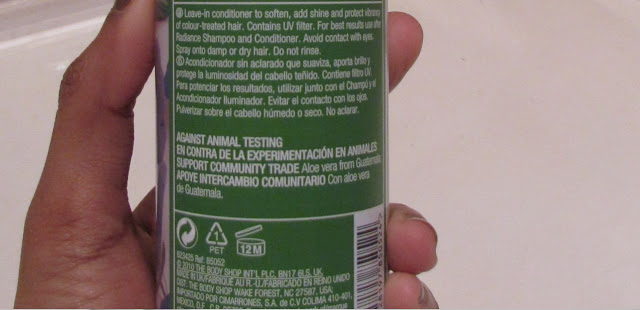 How to use
After shampooing, spray onto damp or dry hair. Do not rinse. For best results use after washing with Rainforest Radiance Shampoo.

My opinion about the detangling Spray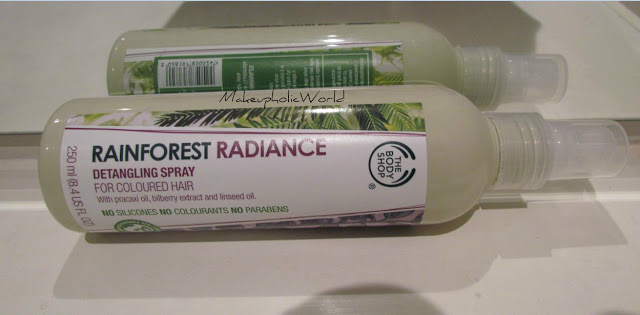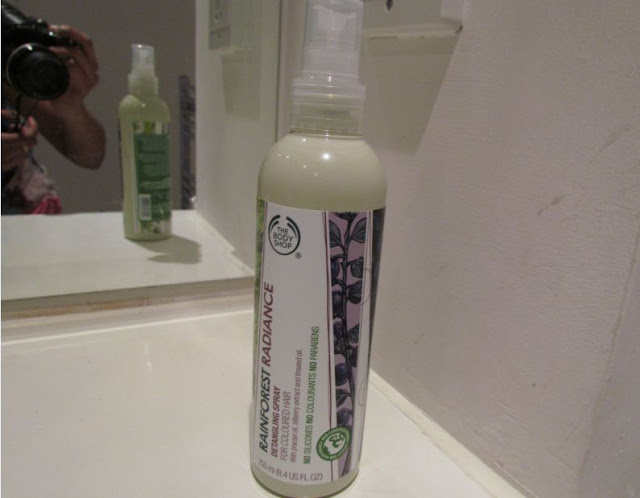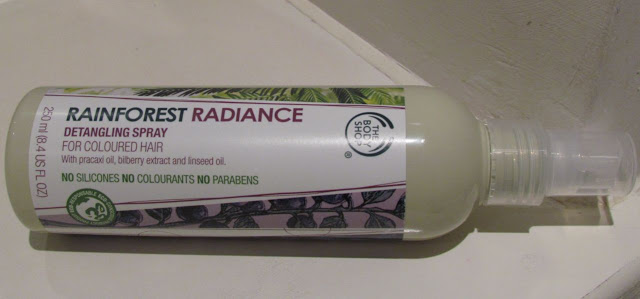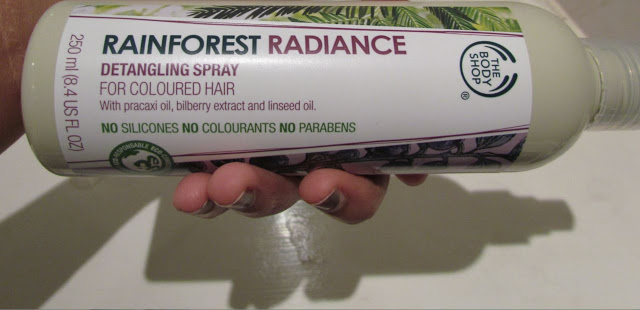 I can undoubtedly say that this has disappointed me to the core…I hate this…I had high expectations about this….The smell is so strong and overpowering It might upset some of you…Everytime I have used it since then it makes their hair sticky, greasy and very unpleasant to touch. It actually created MORE tangles then it was supposed to help minimize.
In the end had to  re-wash my hair to get it out.My hair is quite think, and needs something moisturising & this just does not deliver. I have wasted good money on this.I do not recommend this at all, it is an expensive alternative leave in spray. I will not buy this again. I won't recommend this to anyone…It is an expensive alternative leave in spray.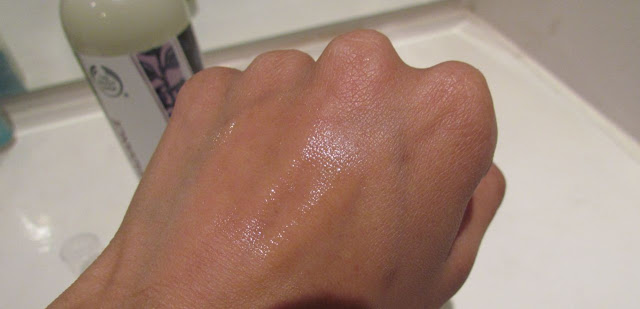 Pros


no pros….It doesn't do what it claims
A total wastage of money….
Have you tried The Body Shop Rainforest Radiance Detangling Spray. Do you like it

Hope you liked my review:) Comments are most welcome…If you like my blog, Follow my blog using gfc and like my fb page:)) Links are given on the right side bar….:)

Hugs dearies…