Hi dearies:) Today I am going to discuss with you all how I treated my acne and my Face steaming Procedures:) Before that let me first summarize some of the benefits of facial steaming 🙂
Facial steaming is still used as one of the basic methods to detox our pores. It is one of the most efficient means to offer a deep cleansing for your skin. Whether you opt for a cosmetic or only a simple homemade treatment the best way is to make it properly in order to eliminate all the toxins from your complexion.It prevent the formation of blackheads and pimples.
Note:
Highlighted area from Link
So, Today I am going to introduce
my favourite Product
to all beauties out here…
I use this oil while steaming my face:) Its the miraculous
Superdrug Tea Tree Essential Oil
What does the company claim about Tea Tree Essential Oil

This Tea Tree 100% Essential Oil is a natural antibacterial and purifying oil with a wie range of uses for skin protection. Tea Tree Oil originates from Australia and is particularly effective on spots and blemishes, helping to promote clear and healthier looking skin
TEA TREE- THE NATURAL SOLUTION FOR EVERYDAY SKINCARE PROBLEMS

Packaging and Price
Comes in a small bottle as shown in the snap. Qty: 5ml; price: 2.99 GBP;
shelf life: 12 months
I bought mine from Superdrug

CARE AND SAFETY ADVICE
It is not recommended to use neat tea tree oil directly on the skin. Always dilute it as instructed. For external use only. Don't swallow.
Keep out of the reach if children.
Discontinue use if irritation occurs. Store in a cool, dark place.

Ingredients
Melaleuca Alternifolia(tea tree), Leaf Oil, Limonene, Linalool
Suitable for vegetarians and vegans. Superdrug is against animal testing

Directions For Use
Although Tea Tree oil is completely natural, it is an essential oil and it is
recommended that you should always dilute one ml of oil in a hundred mls of carrier oil, such as sweet almond oil. You can then apply the diluted oil to the affected area. Use regularly morning and evening.
To keep your Tea Tree oil in best condition, Store in a cool, dark place
My opinion about Tea Tree Essential Oil
I had huge break outs when I didn't care much about my skin. However I sorted the problem out by following facial steaming as part of my skin care regime. I suffer from Nose block all the time and this method also helped me to an extend in getting rid of my nose block problem as well….I add a few drops to a bowl of boiling water, and cover my head and inhale. It cleared my airways as well as it calmed down my problematic skin. I now follow this method of inhaling once a week. It really helped me get rid of my acne problem. I use this in conjunction with other Tea Tree products from the range…You can also mix a drop to ur carrier oil, I used sweet almond oil from aloe veda. and apply it instead of night cream during winters or Put 3 drops of blended Tea Tree oil on a Q-tip and apply the oil on each pimple. whatever is comfortable, you can use it that way…
Its adviced to mix the essential oil and use.. Essential oil is not to be used directly on skin.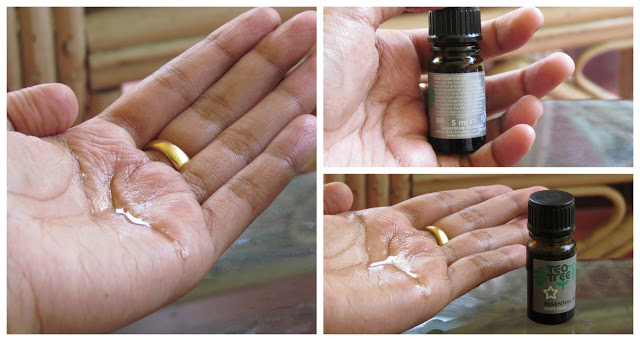 I love the inhaling method a lot..
Pros
treats acne safely

multiple uses

cruelty free

easily available

good tea tree fragrance

soothes and calms down problematic skin
Cons
As its essential oil, needs to be blended, can't apply directly onto the skin
Do you follow the facial steaming method. What oil do you use for that.
Have you tried essential tea tree oil. Do you like it..share your opinion

Luv you all Guys!!!