Guest Post 3
Author: Rajalekshmi
Find her blog Voiceofrm
In this post, I am going to review
Maybelline Colorsensational Lipstick in golden brown
I am the kind of a girl who cannot sport bright shades at all. I just cannot carry them well. I use Colorbar's Bare for my regular use alternated by few tinted lip balms from Maybelline. But as these were not sufficient for evening parties and functions I started searching for some shimmery kind of neutral color and zeroed on this.
Packaging and Price
Comes in a silver bullet packing with a semi transparent brown plastic cap. The cap fits well and will not result in any hand bag disasters.
Price: 299 INR ; Qty:1.6 gm.
What do the company claim about Color Sensational Lipstick
CRISP COLOR CREATED BY OUR PIGMENT TECHNOLOGY.
CREAMY FEEL.
ENRICHED WITH HONEY NECTAR.
My opinion about the product
I would describe the shade Golden brown as honey brown with mild golden shimmer. The shimmer is so fine that it is not at all obvious. And its texture is creamy.
I love this color very much. It will look fabulous in fair-dusky skinned girls. The lipstick is moderately pigmented and to cover my mildly pigmented lips, it took two swipes. The lipstick feels creamy, smooth and moisturizing on lips. As it is creamy, you can jolly well skip the lip balm beneath it.
The lipstick, mainly due to its creamy texture transfers a lot and stays barely for 2-3 hours. When it fades, it leaves a metallic sheen behind which is not at all flattering. I tried increasing its staying power by applying a lip pencil beneath it. Though this did not help in increasing the lipstick's staying power, it did help with making the metallic sheen less obvious. The lipstick has some kind of chocolaty smell that goes off once applied on lips. The lipstick melts here in Chennai and hence I store it in my refrigerator.
Now its Swatch time beauties:)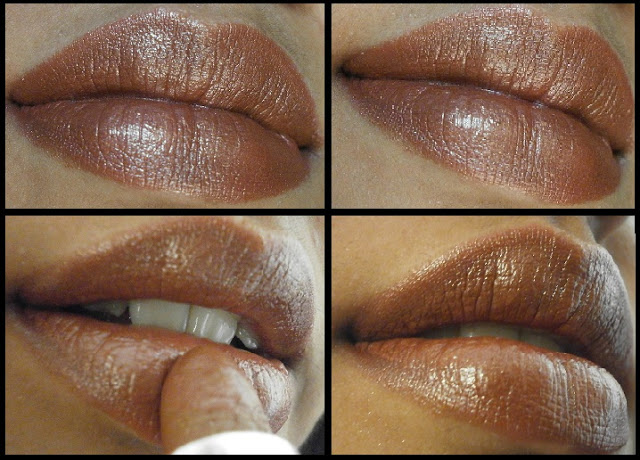 Let me summarize its Pros and Cons before going on with the verdict.
Pros
Gorgeous brown color.

Pocket friendly.

Creamy texture.

Travel friendly.
Cons
Transfers a lot.

Staying power is very average.

Leaves a metallic sheen behind.

Melts in hot climate. Needs to be stored in refrigerator.
My Final Verdict
It is a very nice pocket friendly evening shade. Recommended to girls who don't mind re-application. I will take really long time to finish this one and if I do or if the lipstick expires I might re-purchase.
MakeupholicWorld Edit>>>>>>
Hi Raji, love the review as always:) amazing shade and u have gorgeous lips I must say, excellent swatches:) Also I love the pink nail art..If you don't mind..share some nail art tips too 🙂
Note: This is a guest post. The review is based solely upon the author's experience.