Hi to all my lovely butterflies…..Today's post is going to be my favourite favourite one….One of my follower asked me to help her suggest a simple, evening date look!!! I am not disclosing her name as she don't want that:) Lets call her "Fairy White"
So Fairy White's concern:
Hi Renji…I am a silent follower of ur blog and I love huv simply you have coorinated everything ..Starting from Blog Header, design, layout, product reviews, hauls…Everything is amazing…So , I thought U 'd be the best person to tell my concern…
I have to dress up for a romantic evening with my guy…. I wore only kurtas and salwars…I am not bold enough to wear a gown or frock 🙁  The one which I selected to wear is a off white anarkali ….My guy is a mallu and he loves only sof tmakeup and he loves Kajal too…So definitely a no to smokey eyes….I have a dusky complexion like you….Can you help me suggest a makeup look which I can opt for my candle light dinner evening!!! It would be nice if you could illustrate the final out come rather than tutorial:)
Hi Fairy White….First of all thank you soo much for liking my blog and many thanks once again for choosing me to tell your concern….Here  I have done a makeup look specially for you….I am sure your guy is going to love this look….:) Don't forget to mail me whether you loved the look 🙂
I used only minimal products in creating this look…:) I am also wearing a off white kurta for you to actually see huv it will look if wearing a off white dress…
Here is the complete set of products I used for this look; 
Left to right: Swatch of eye shadow, Lipstick and nude gloss


1) Apply Moisturiser all over the face(I used  Yon ka Pamplemousee Moisturiser) …Dab some lipbalm (Body Shop Born lippie Balm in Guava) onto lips…
2) I always do Eye makeup first, I applied NYX Eye Shadow base in skin tone as a base to my eye shadows.
I wanted minimal eye makeup, So I used a single shade from my Jesse's Girl Eye shadow Palette( I selected a gorgeous Golden mixed with bronze baked eye shadow, Ist eye shadow in the third row from the pic above) I pat it all over my lids upto the crease…. and I smoothened the sharp edges using a sponge. As a brow bone highlight I used  NYX jumbo pencil n Milk….I applied eye liner using my favourite Body Shop Eyeliner and I lined and tightlined my eyes using a waterproof kajal Noor, curl lashes and aplied my favourite Body Shop Mascara…Wohoooowoooow…finished eye makeup…Now clean off any left overs from eye makeup..and now its time to conceal
3) Apply MAC Select Cover up concealer(my shade is NC45) on to areas where u wanna conceal..use a blending brush to blend the concealer, I used Sigma Blending brush to blend….
4)Apply MAC foundation( I use studio sculpt NC44) onto areas where you need coverage, I used Real Techniques Buffign brush to belnd and apply foundation
5) Set the foundation using a pressed powder, One I used is Body Shop Pressed Powder Shade 02
( Matches NC44)
6)Now uisng a wet tissue, I swiped off the excess lipbalm which we applied first… I just applied a revlon Kissable lip balm stain (Shade Romatic) instead of lipstick….and I applied a nude gloss over it….
7) Apply your favourite blush onto the apple of your cheeks….:)(I used NYX soft cream blush -Natural) and you are done….
8) For Hair… I made some soft curls to my layered side bangs….I think lil curls go well with this look:)
and u are done with the makeup…Now wear you favourite pair of earrings……The Simple Sultry Evening Makeup!!!!!




Hope you enjoy it!!!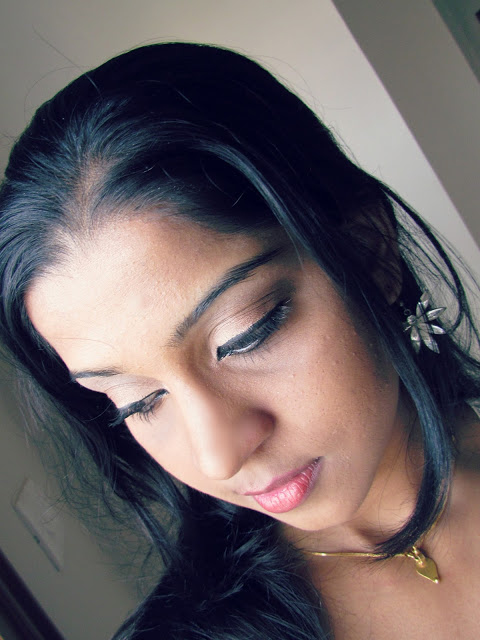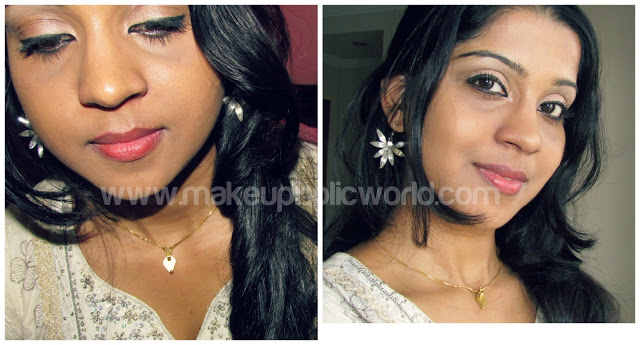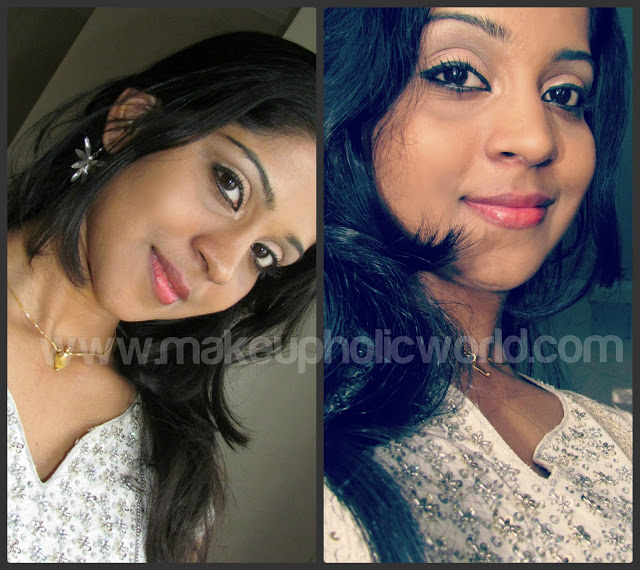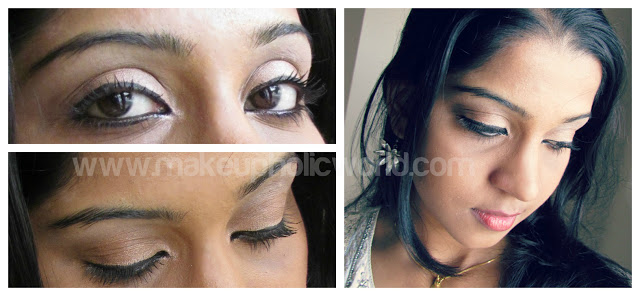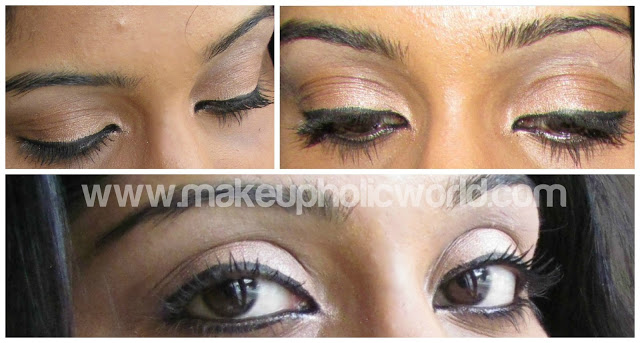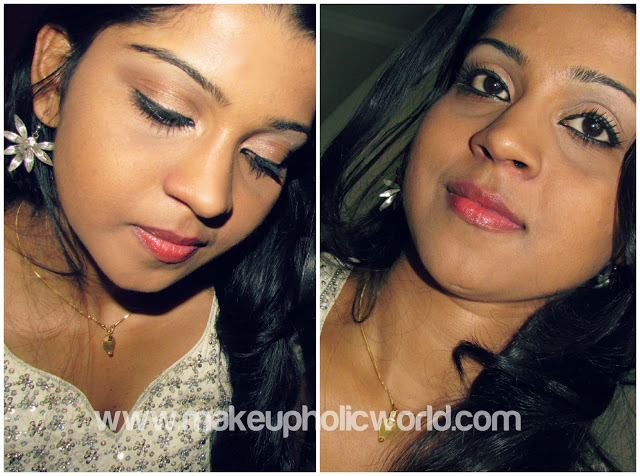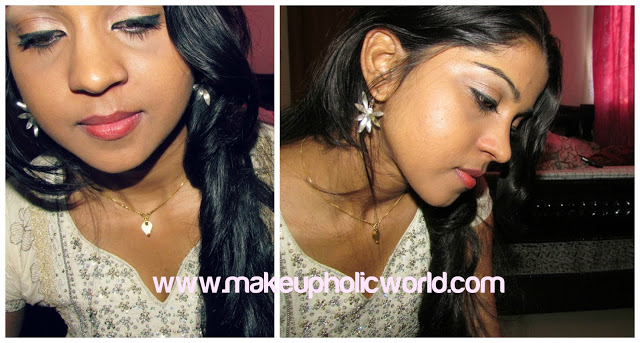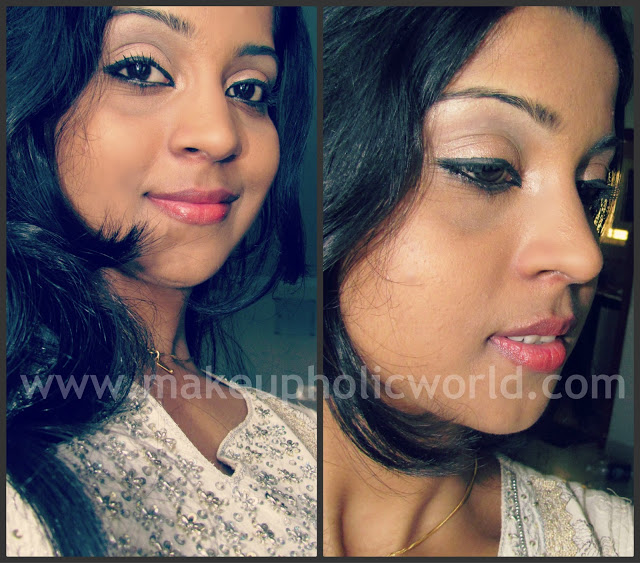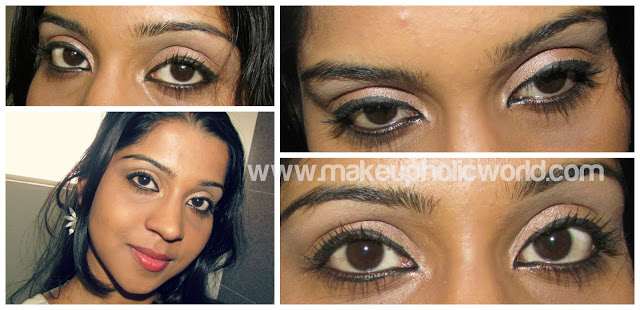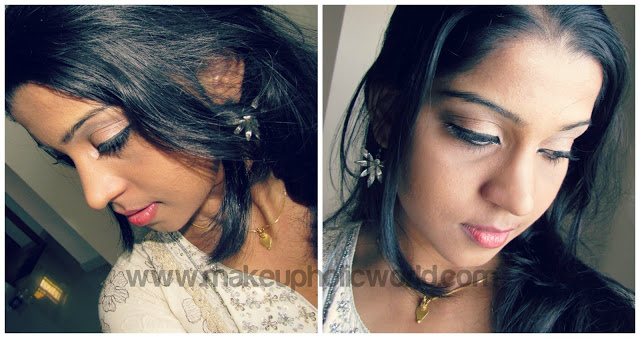 And this is the finished look 
Hope you enjoyed the look…..and I wish Fairy White a fabulous evening…I am certain that you will rock the look and ur guy will be so happy to see you:)))
Bye dearies…..