Hiya all sweet ladies out there…Today I am going to review my very first product from Vichy. This post was meant to be published in the previous week..Unfortunately, all of the pics I took got deleted and I had to click it all again!! Moving onto review;
Vichy Normaderm 3 IN 1 Cleanser, Scrub & Mask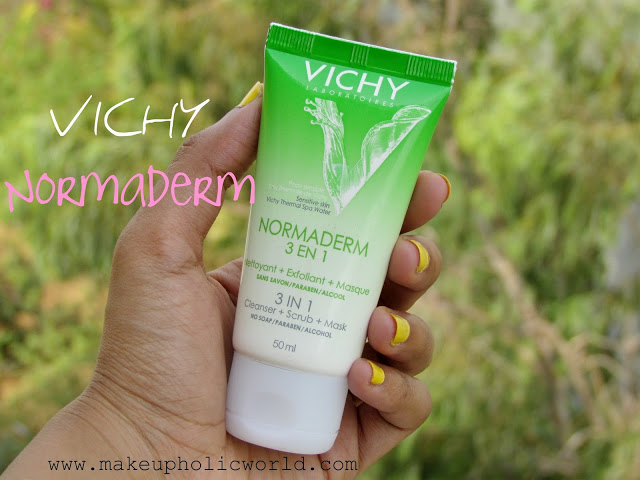 What does Vichy claim about this 3 in 1 product
3-in-1 action combined in a cleanser that is perfectly suited to sensitive and imperfection-prone skin:
– Cleansing cream: eliminates sebum and impurities.
– Scrub: unclogs pores.
– Mask: mattifies skin and clarifies complexion.
Cleansed and soothed, your skin looks clearer, and feels more fresh and comfortable.
Unique combination of Salicylic acid, Glycolic acid and 25% Clay with a soothing agent. Salicylic acid works to remove impurities and excess sebum, Glycolic acid smoothes and evens the skin, while the Clay mattifies the skin for a clear complexion.
Allergy tested. Non comedogenic.

Soap-free. Paraben-free.

Alcohol-free. Oil-free.
To know whether it lived upto the expectations, Keep reading…..
Packaging & Price
Vichy Normaderm 3 in 1 Cleanser, Scrub & Mask is packaged in an attractive parrot green tube as shown in the snaps… Tube squeezes easily to release formula from the pull-cap lid. Nothing peculiar about the packaging….
Qty: 50 ml; Price : 390 ; Shelf Life: Use before 7/2015

Ingredients
Water, Kaolin, Butylene Glycol, Zea Mays (Corn) Starch, Glycerin, Decyl Glucoside, Titanium Dioxide, Polyethylene, Chondrus Crispus (Carrageenan), Peg-7 Glyceryl Cocoate, Glycolic Acid, Salicylic Acid, Zinc Gluconate, Blue 1 Lake, Sodium Hydroxide, Sodium Chloride, Coco-Betaine, Dipotassium Glycyrrhizate, Disodium Edta, Chromium Oxide Greens, Xanthan Gum, Fragrance.
Swatches & My opinion about the Vichy 3 in 1 Product
The consistency of the product is creamy with tiny grits. It has a gritty consistency to behave as a scrub, 25% clay elements to act as a mask and a foaming sensation when applied with water as a simple cleanser.
The formula feels thick and grainy, without any irritation on my super sensitive skin. It has a gentle smell when applied which soon fades away on application….Nothing overpowering either…
I've been testing the product for around a month to fully experiment and see the claims of three elements to the product.


This product did certainly impressed me as a cleanser, I've been using more than a pea sized amount smoothed over my face with added water once a day every day and not only does it smooth skin beautifully and remove dead skin cells, it has gradually reduced the oiliness of my skin and even reduced some of the newest acne scars and minor blemishes..- it's even diminished stubborn blackheads. I noticed my friends saying about my clearer looking skin..All kudos to this wonderful product….
I have however heard mixed reviews about this product, I personally felt this product did good to me….


As a scrub I use the same amount but scrub it against my skin in circular motions( especially around my nose, forehead, cheeks ) rather than gently smoothing it over, I wash the formula away to reveal beautifully soft, supple, replenished skin. The scrub is not very rough on skin, its somewhat mild…I didn't notice any reddening of skin after using this…

As a mask experience, I squeezed out a walnut sized amount over my skin and leave it for around 3-4 minutes before washing away with warm water and my tiny body shop brush (it washes away the particles with ease and leaves skin smooth and soft which is a pleasure). Although after using the product as a mask my skin is smoothed, cleansed and bright, I find the mask dries out my skin to some extend…. Usage of moisturizer immediately after drying the face is a must…
I find the mask element of the 3 in 1 product more of glow to skin than a relaxed mask experience.
I recommend to use this product regularly as a cleanser and scrub to see yourself brilliant results in no time….

Another alternative to this product which I noticed is Nivea 3 in 1….
I will review it soon…

Pros
An effective 3 in 1 product

can be used as cleanser, scrub, mask

no irritation on skin'

suitable for sensitive skin

leaves skin smooth and fresh

no overpowering fragrance

dries up quickly

no breakouts or redness after usage
Cons
It dries up quickly and so it makes skin dry too…as a mask…I am not much impressed with this…, usage of moisturizer is a must after washing the mask off the face
Hope you guys enjoyed this review!!
Have you tried
Vichy Normaderm 3 IN 1 Cleanser, Scrub & Mask; Let me know what do you think of it….