Hey gals.. Presenting the review of a lovely shade from the latest L'oreal Infallible Lipstick – Resilient Raisin.
These lipsticks are selling like hot cakes these days and so should you be picking one too? This review is gonna exactly help you to decide!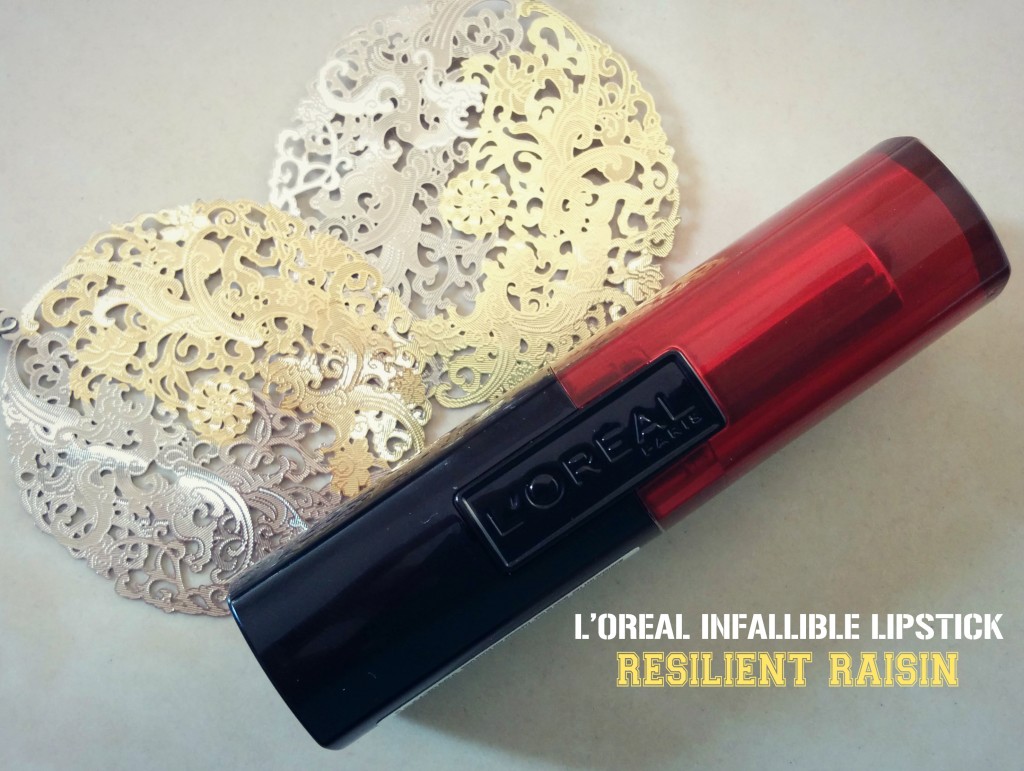 Packaging & Price:
Priced at 999 INR each, these lipsticks come in a black packaging with their lid color coded according to the shade. The packaging is not classy – at the same time not cheap looking to. The lipstick closes with a click and so is safe to carry around in your purse too.
Coming to the shade "Resilient Raisin" – I would say it's quite nicely named. The shade is a muddy brownish-red that looks different in different lighting.
On me, the shade looks browner in the outdoors or natural sunlight and more redder while indoors. Nevertheless, it's a beautiful bridal brown-red. Don't think this is just another "aunty" kinda brown/red and shoo it away!
L'oreal has gone full swing in the pigmentation and texture department, I must say. The hand swatch you see below is just a single swipe and clearly shows how pigmented these lipsticks are. If you have pigmented lips, you should try one of these lipsticks.
The texture is creamy and applies like a dream on the lips. Though I wouldn't call it moisturizing, it is not drying too.
The lipstick wore 5 hours flat on me with me light meals/drinks in between. With a proper heavy Indian meal, it left a soft brownish-red tint on my lips. Gladly, this fades evenly – so you don't have to rush for a touch-up soon after having something to eat.
Here you go with the lip swatches in different lighting….
Overall, these lipsticks are great in the pigmentation and texture front and have some nice shade range to cater to everyone. The price tag for a drugstore lipstick could be a pinch to many – that's my peeve too.
If you are a new bride or bride-to-be or looking for some deep lipstick shades for the upcoming wedding season, you must take a look at this shade definitely.
 Guest Post By : Revathy