Today's review is going to be about this eye cream that changed my life. Its Eye Hope by Philosophy- a multitasking eye cream for dark circles, puffiness and fine lines. Read my full post to know why I rave so much about this.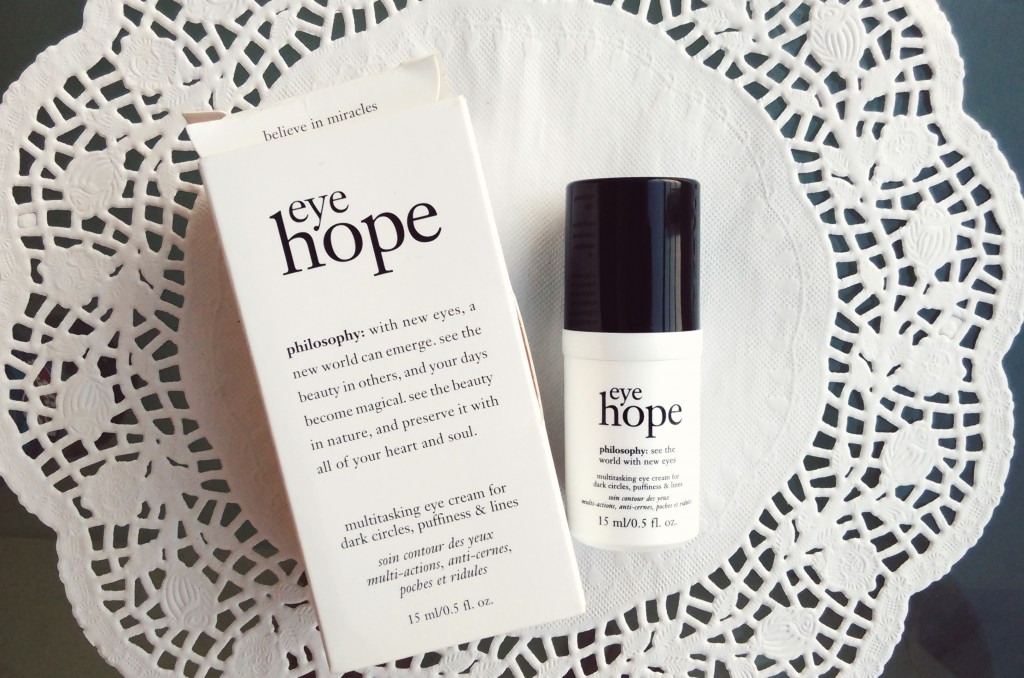 Product Description:
philosophy Eye Hope Multitasking Eye Cream is formulated with results-driven ingredients and light, skin-smoothing textures designed to target dark circles, puffiness and lines around the eyes. Light-diffusing properties help brighten skin tone.
philosophy Eye Hope Multitasking Eye Cream main ingredients:
Alpha Glucosyl Hesperidin: diminishes the appearance of darkness and puffiness
Palmitoyl Tripeptide-3: firms skin and reduces the appearance of fine lines
Niacinamide: reinforces the skin's natural barrier and increases hydration
How to use:
After cleansing, gently apply a small amount with fingertip under and around the eye area in the morning and evening. Allow eye cream to absorb fully for 2 minutes prior to applying appropriate treatment and moisturizer.
Ingredients:
Aqua / Water / Eau, Glycerin, Behenyl Alcohol, Cetyl Alcohol, Silica, Ascorbyl Gluoside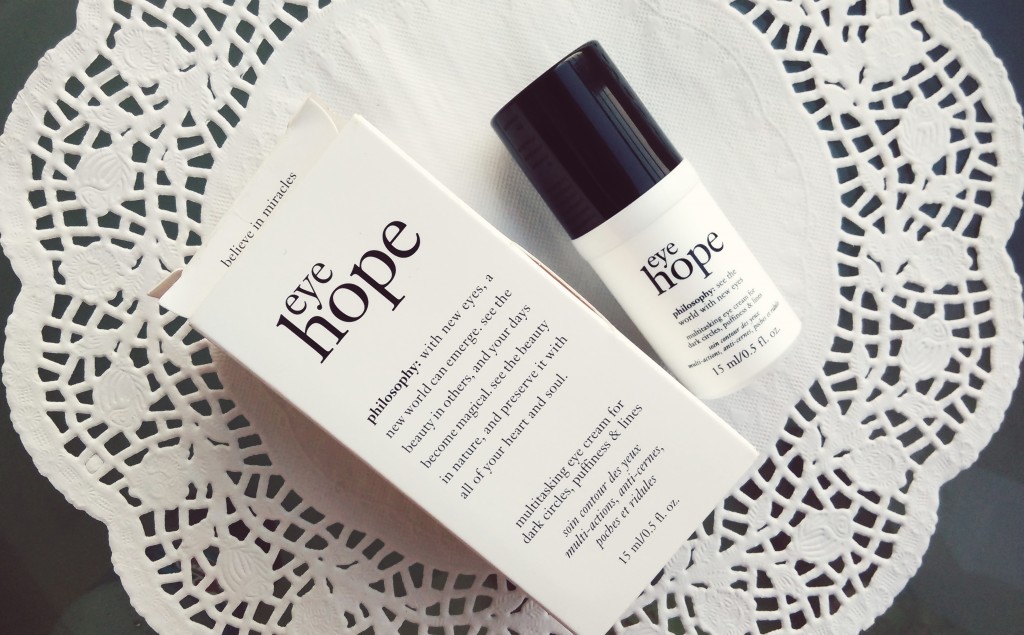 Packaging & Price
The product comes in a 15ml (0.5 fl oz) small bottle with a pump dispenser and a snap-on black glossy cap. The caption on the white bottle says "philosophy: see the world with new eyes". This is indeed true to word- You'll understand why. Bottle is super easy to be carried around and since it comes with a pump dispenser instead of the usual pot, it makes it fuss-free to get things done and over without having to screw open caps and risk smearing the product all over.
Price: 53 USD ; I got mine from US through a friend
More pictures and my experience using this wonderful product.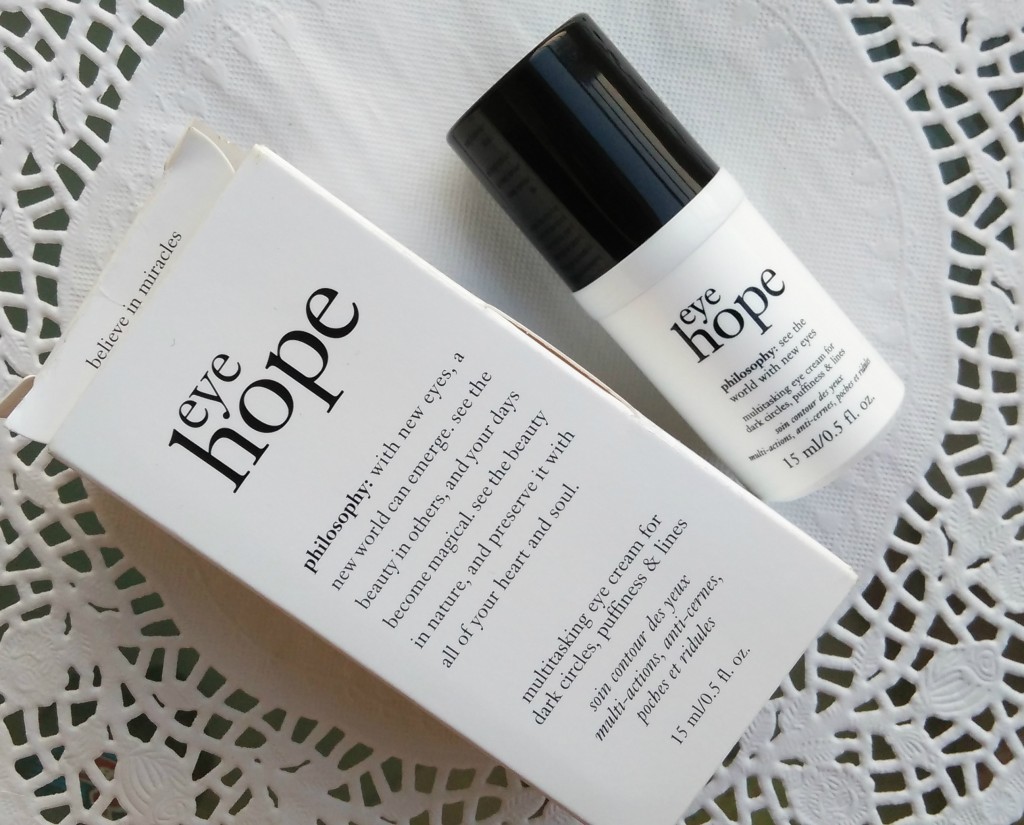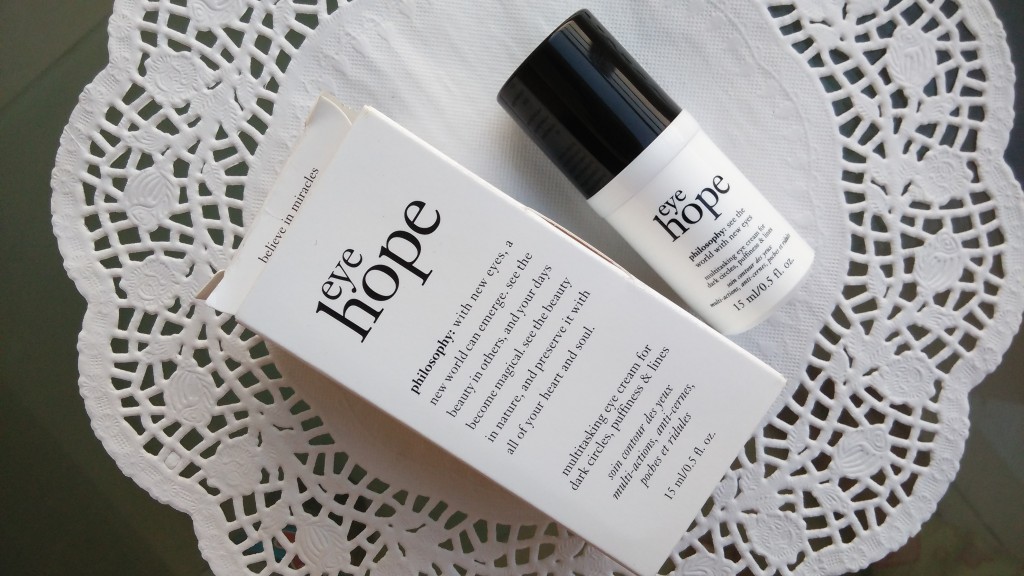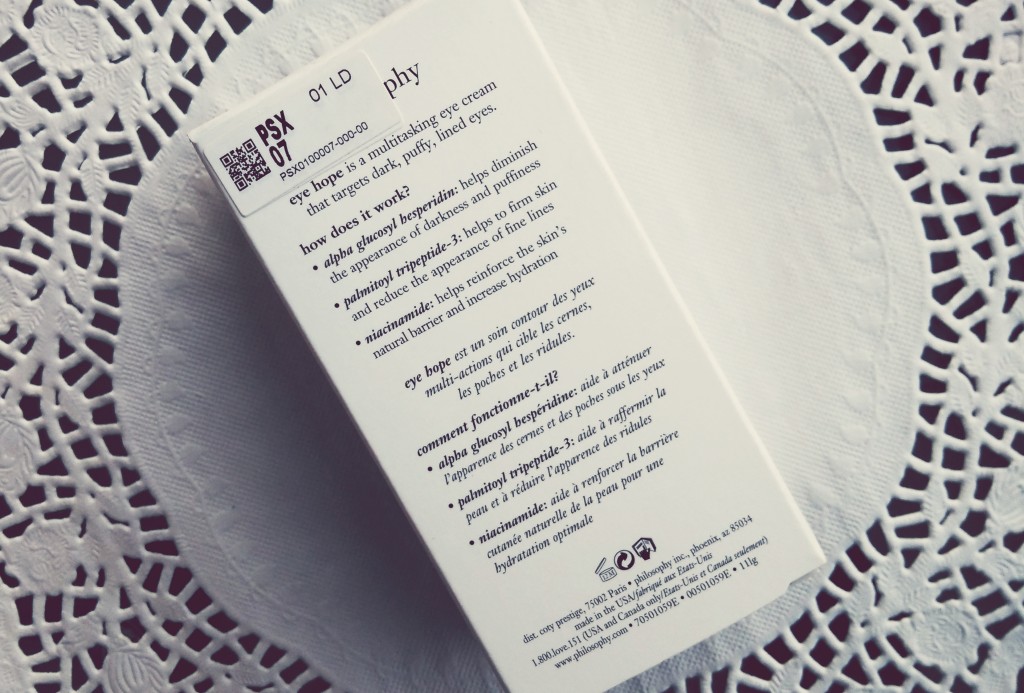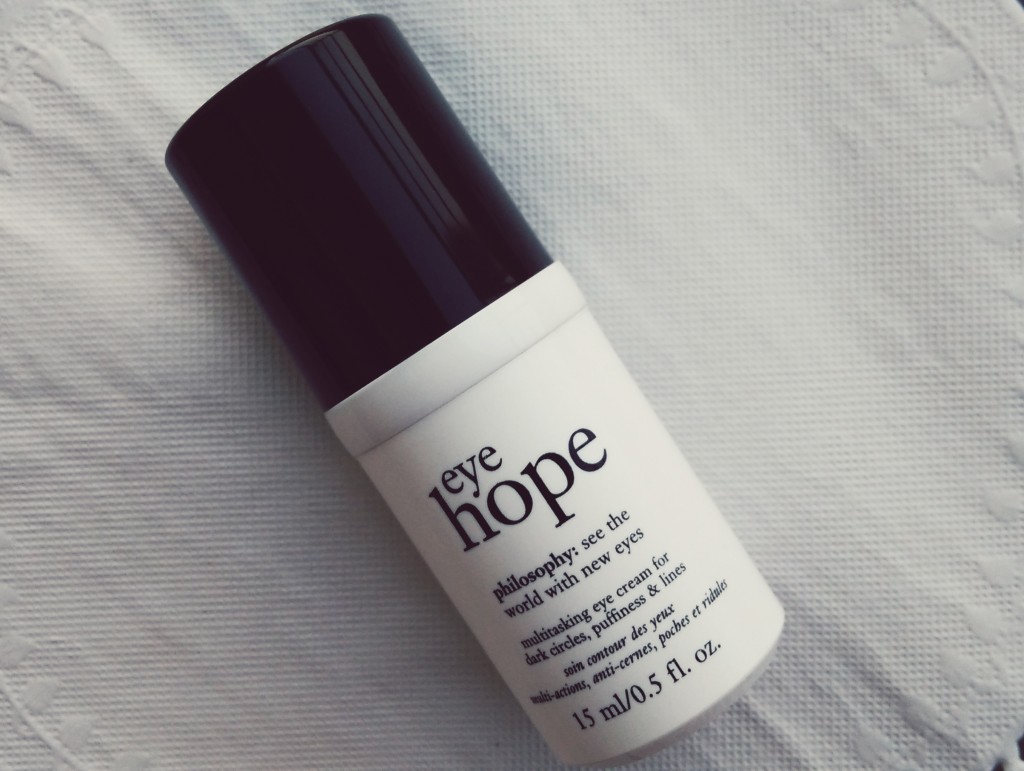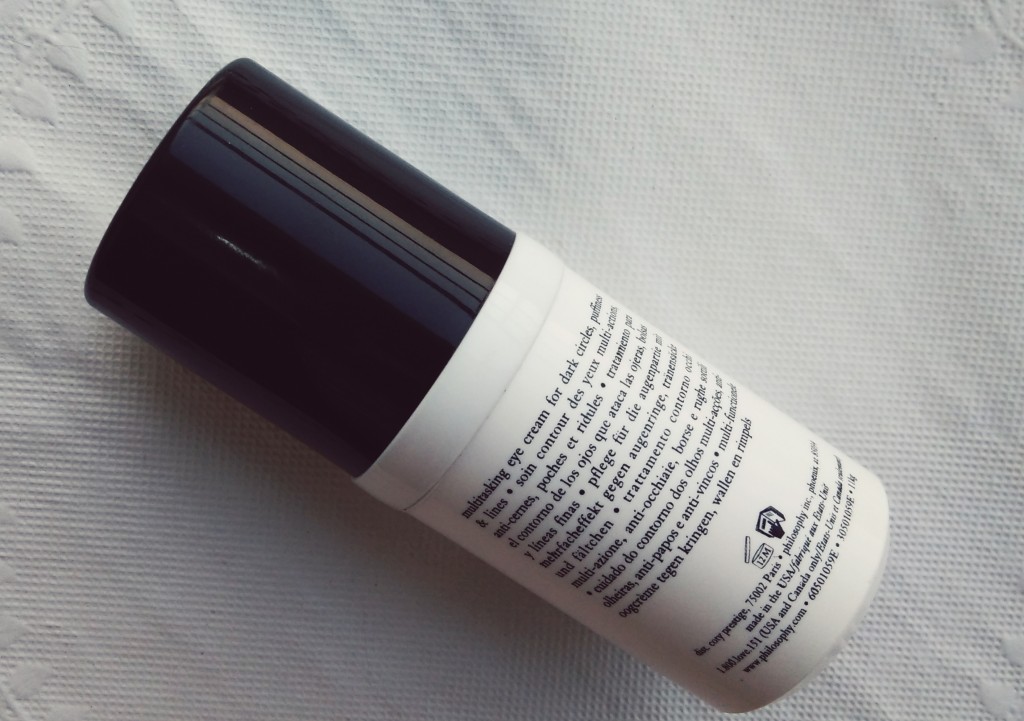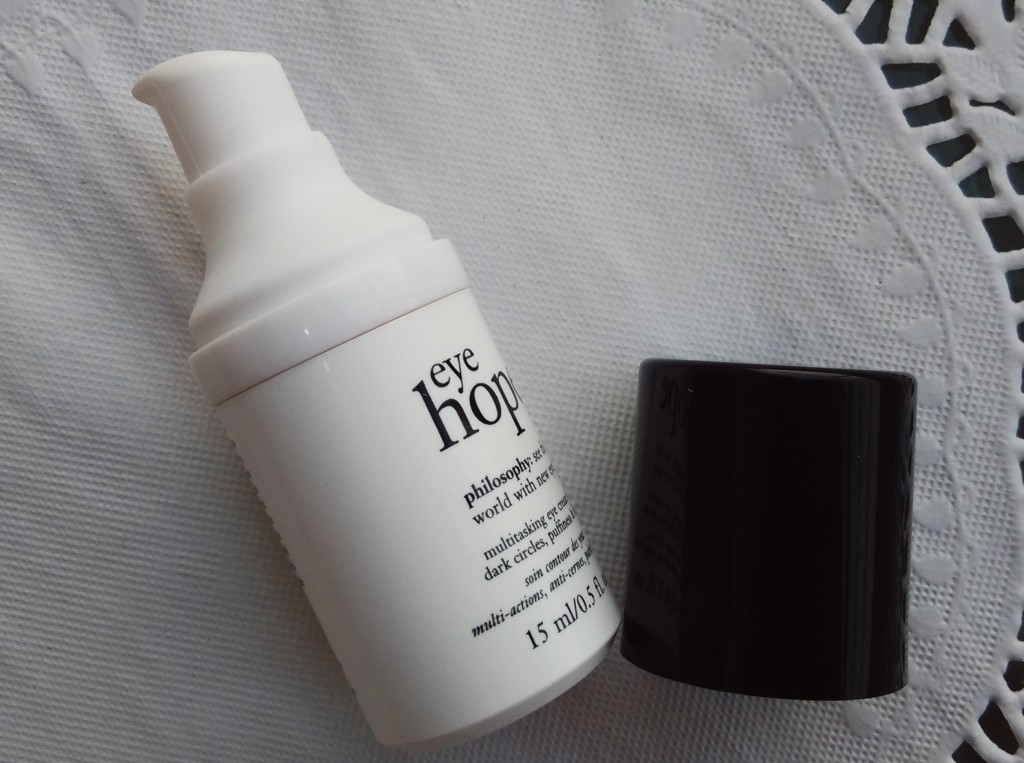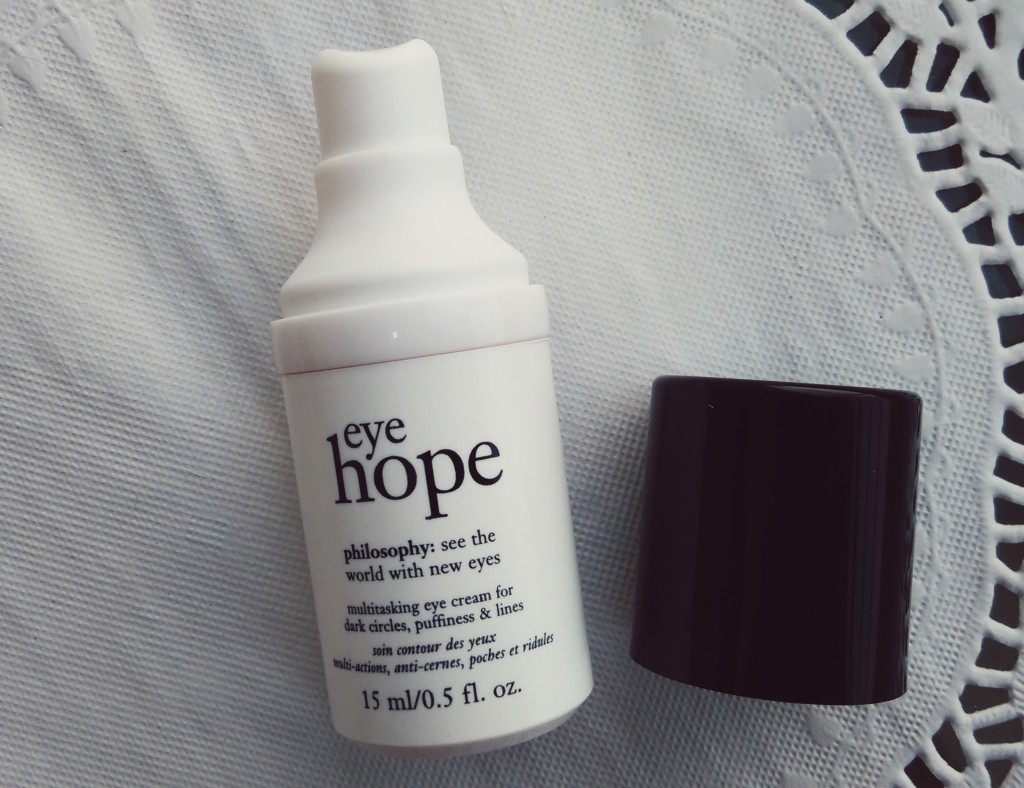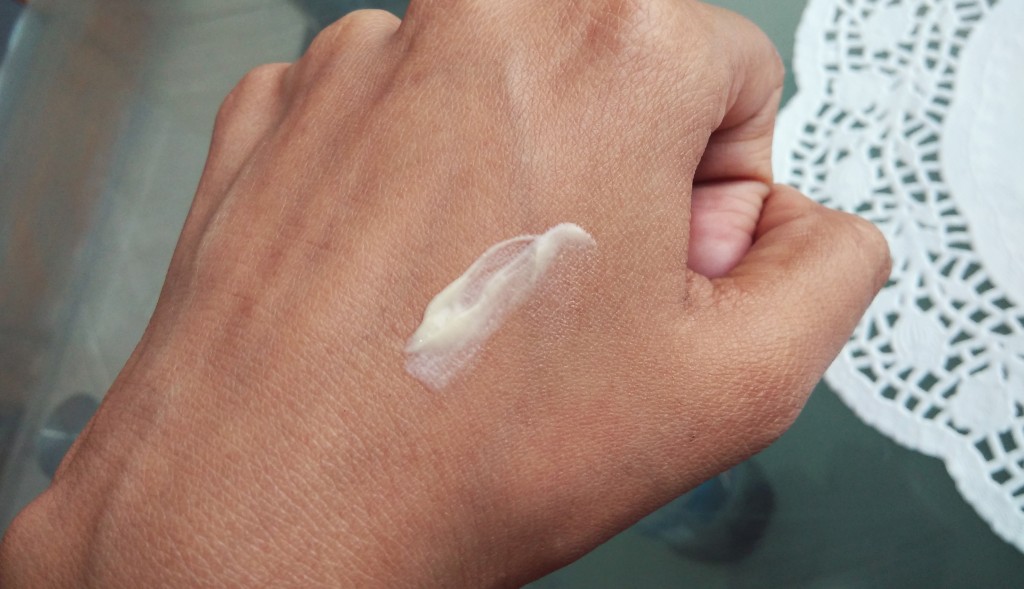 Please note these two important things while applying anything under the eye area is
1)Not to pull or tug the skin around your eyes as it is extremely delicate and sensitive; It may loosen or sag and cause your skin ageing process to be faster than it should be.
2) Also, ensure that the eye product is well absorbed into the skin to prevent excessive cream or gel from clogging and causing the production of cyst or milia to build up on the skin around your eyes.
Take a tiny amount and dab onto the affected under eye skin. Pad with your ring finger gently in a slow sweeping motion until all the product is fully absorbed into the skin.
This eye cream has a mild scent. The consistency of the product is thicker than most eye creams that tend to be more fluid. But easy to blend. I applied the eye cream the night before just prior to sleep, and woke up with visibly improved skin color and texture around the eye areas.
Sskintone under the eye area has significantly evened out and the dark circles under the eyes have visibly brightened. The wrinkles appeared to be less noticeable. Helped reduced puffiness, hydrated the skin around the under eye area overnight hence helps to plump up and lift the under-eye skin so that it appears firmer and give an overall perkier look. I am definitely happy with the results. I used to love Annemarie Borlind Eye Cream for night, But- its availability was an issue for me. Now, I will continue buying this as this has become my hg eye cream for that racoonish dark eye circles of mine.
Overall, I am impressed; I would happily give this product a 5/5 rating; Philosophy's Eye Hope has been one of the best eye creams we have ever tried and used. Eye Hope works wonders  no matter what state the eyes are in. Eye Hope has the ability to firm up the skin around our eyes and perk up what may seem like eyes that'd been deprived of sleep for years. It makes blood flow through that deadly under eye area once again and brightens up dark circles as well as reduces unsightly under-eye bulge and lines –I know the price is a little high -but most of the higher end eye creams in the market are also retailing around that price range. If it has to be this expensive, why not pick up the best among the lot? Give this a try if you have heavy dark circles like me