Kunkumadi Tailam is Ayurvedic herbal oil used for face massage. It is helpful to improve skin texture, complexion and also to relieve skin problems such as acne, scars etc. Kunkuma means saffron, which is the main ingredient of this medicine.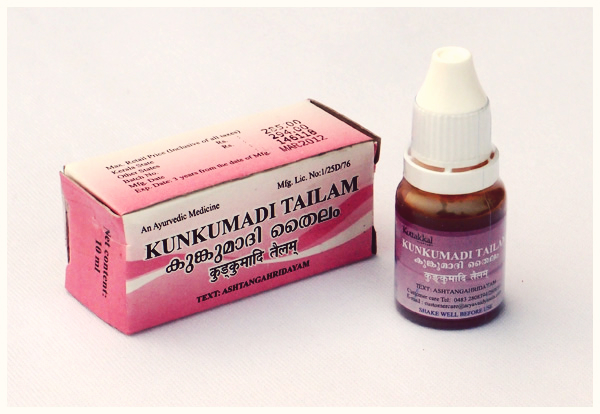 Kumkumadi Thailam Benefits: 
Improves skin complexion and texture.
It has both cleansing and nourishing effect on skin
Relieves blemishes, acne, acne scars, white and black heads, dark circle, sun tans, wrinkles.
It has anti aging qualities.
It is a good face massage oil.
How To Use? 
Take just 3 -5 drops of the oil into your hands, apply a light coat of it evenly onto the face or to the acne area.
Do a gentle massage with your fingers.
Leave it for 10 – 20 minutes.
Wash off with hot water.
It can be used for 2 – 3 times in a day, continuously for a week. After that, it can be used once daily.
More Pictures of Kottakkal Kunkumadi Tailam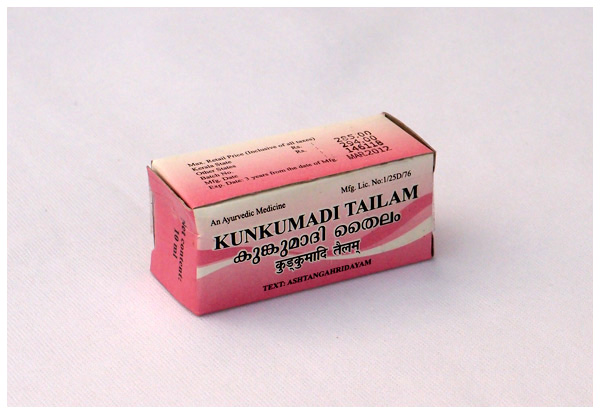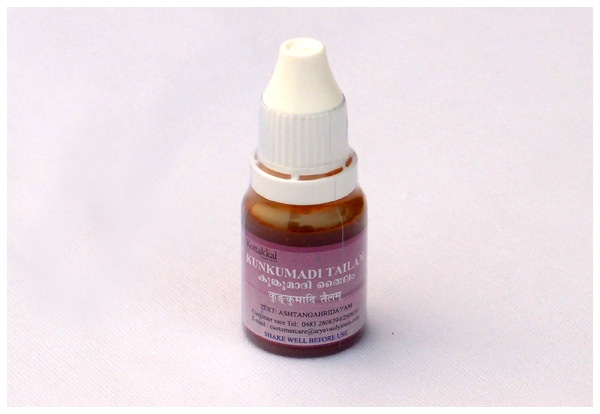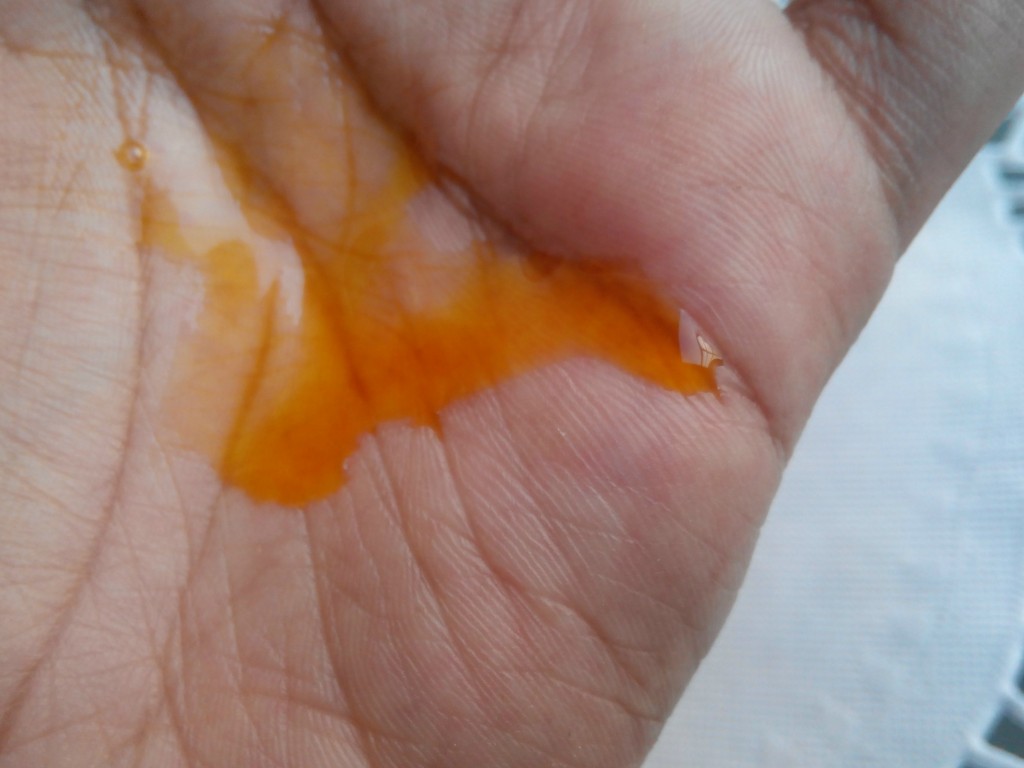 Kama Ayurveda Kunkumadi Fluid is a expensive version  of this. I have reviewed it here.
Initially, wen I applied kunkumadi Oil, I noticed it was not working on my skin. Then I started researching. Why It was not working on me when its a concotion of different ayurvedic oils. I then realised I used it in a wrong way.
I bought my first bottle of Kottakkal Kunkumadi from Kerala during 2008. From then, When I used in the right way. I have never stopped using this. The right way to apply is. Slightly dampen your skin using a fresh rose water mist and on top of that take 2 drops and apply giving a slight massage. I repeat, You don't need too much product. Only a tiny drop is sufficient. As this oil is quite thick and a little goes a long way. Also, I have made a note of different ingredients that go into the making of this oil. If you are found allergic to any of the ingredients. Please don't use it.
Now, don't expect your face to change its complexion or brighten 5 times than usual. That's not possible with any product. People generally have a misunderstanding that this product can improve complexion. Well, I would say – it's not like that. Say you have left over acne scars, blemishes, pigmentation spots etc. It works on them. But, takes time. You have to be patient and wait for the results. It takes away all rashes on your skin and acne marks. I don't know how effective it is on old acne scars and marks. But, considering new acne or blemishes – it fades them off.
Only take very little quantity and massage it gently on the desired area, This way, the oil absorbs easily and quickly to the skin. I found the overnight application the best method.  I apply it daily before going to bed. If you have a night cream. You may mix it along side and use. What ever method you use. Make sure you only apply it on a damp skin.
Have been using this from 2008, I can now say that. This kunkumadi is one of the best version of all Kumkumadi.  Kottakkal is a renowned ayurvedic pharmacy and their products are proven effective. I can vouch for the quality of this one. 
To use on body for body acne or pigmentation marks – I can say that It works on new scars of any form. I have used this kunkumadi on my accident scar and it had worked for me. I mix exactly 5-6 drops of Kottakkal Kunkumadi with Extra Virgin Coconut Oil and use it for my body area and it gives a healthy glow to my body. I do this as a weekly routine and especially concentrate on my leg area. The marks from ingrown hairs etc have vanished with regular use.
---
Now, here are some of the doubts you might have
Does it work on adult acne – it's very slow I would say. You have to be extremely patient as it takes time to show up the results. Adult acne could be of several reasons. So, It's always better to consult your derma. Once your acne is healed. You may use Kunkumadi to lighten your acne scars, spots etc.
Is it hydrating on face – For a normal skin, It was ok. Not very drying. Not very hydrating too. But, If you are someone with extremely dry skin – I would ssay – This can't be a substitute for your hydrating night cream. You may still use it alongside your hydrating night cream.
---
Here are a list of ingredients that is used to make Kunkumadi Tailam, Check if you are allergic to any of these below mentioned ingredients before buying this. if you are allergic to any – never buy this…
Kumkumadi Tailam side effects:
People with oily skin type should use it in small quantities, for not more than once  a day.
It is better to test this oil over a small skin area before starting using it. If you develop any rash / burning / itching sensation, avoid using it.
Have you used Kunkumadi Tailam ? Did it work for you?
Editors Note – I have updated this post with my current opinion of the product. Initially, as I was using it in a incorrect way, I didn't find it much useful. But, when started using in the right method. I am loving it and I have never stopped repurchasing it. I use it on my lips as well to remove lip pigmentation. I have been doing this and have seen some real good results!
**People with oily skin type should use it in small quantities, for not more than once  a day.
It is better to test this oil over a small skin area before starting using it. If you develop any rash / burning / itching sensation, avoid using it.