LUSH has always surprised me with its amazing range of products. All freshly made and the best part is out of their whole lot of collection,there's something for everyone. I can pretty much tell if a LUSH store is just around the corner just by sniffing the air, it has a classic smell and I love it. I love walking into their stores especially and check out the multicolored soaps and those classic black tubs that face masks, moisturizers and cleansers come in. Today I'll be doing a review of one of their best sellers and one of my favorite cleansers– Angels on Bare Skin Cleanser.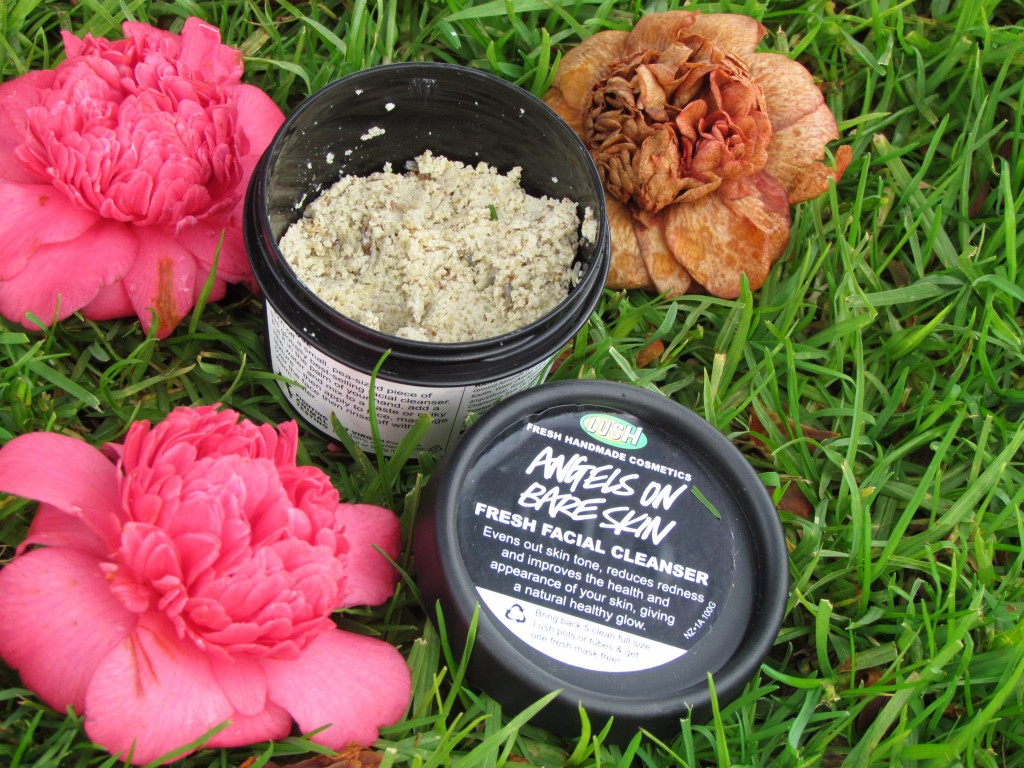 Product Description
Angelic, medieval cleansing wash with rose and lavender. Angels on Bare Skin is the Lush version of an expensive medieval skincare recipe. Rare, precious essential oils were first brought to Europe by the crusaders who encountered Arabian medicine. The church immediately banned them because their ability to alter states of mind was considered the devil's work! Rose oil and lavender oil were discovered to do wonderful things for the skin, too. Almost a thousand years later, you'd be hard pressed to find a better all round cleanser and exfoliator than Angels.
Packaging & Price
Packaging, As with most LUSH products, the Angels on Bare skin cleanser comes in a classic black tub
Price: 18.90 $NZD for  100g ; I use a wooden spoon to take the product each time. Buy here
Directions to use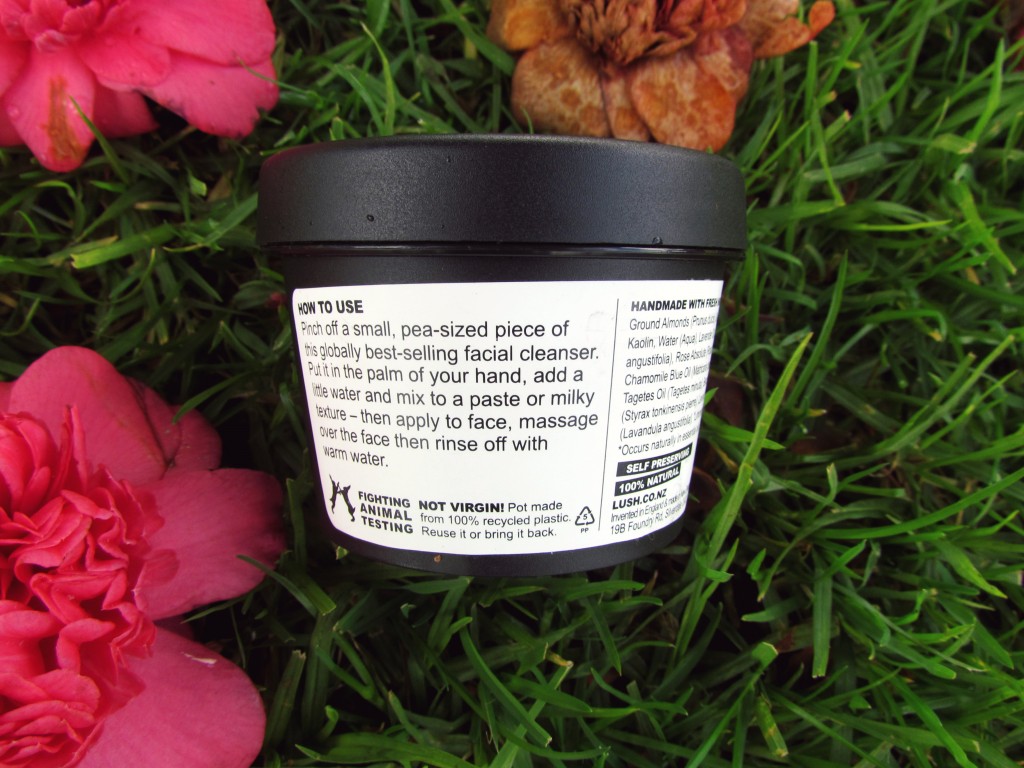 Key Ingredients – How it works
Chamomile Blue Oil (Roman & German chamomile), Lavender Oil, Lavender Flowers
Known for their calming and soothing properties it promotes skin healing and helps to diminish marks, spots and scars on the skin. They also aid in relieving itch from inflamed skin and other skin irritations.
Ground Almonds
Serve as a gentle exfoliant in scrubbing away dead skin cells for smoother looking skin. Also contains vitamin E, an anti-oxidant that fights aging and sun damages. It is also a rich source of protein that has amino acids which stimulates collagen creation that firms up the skin's elastin.
Rose Absolute
Rose Absolute is actually a rose oil extract from Rosa Damascena. It is a wonderful astringent and helps shrink pores and makes skin appears smoother and more radiant. It also has anti-aging and anti-inflammatory effects, making it an excellent essential oil for even sensitive skin.
Full Ingredient list can be found in the picture below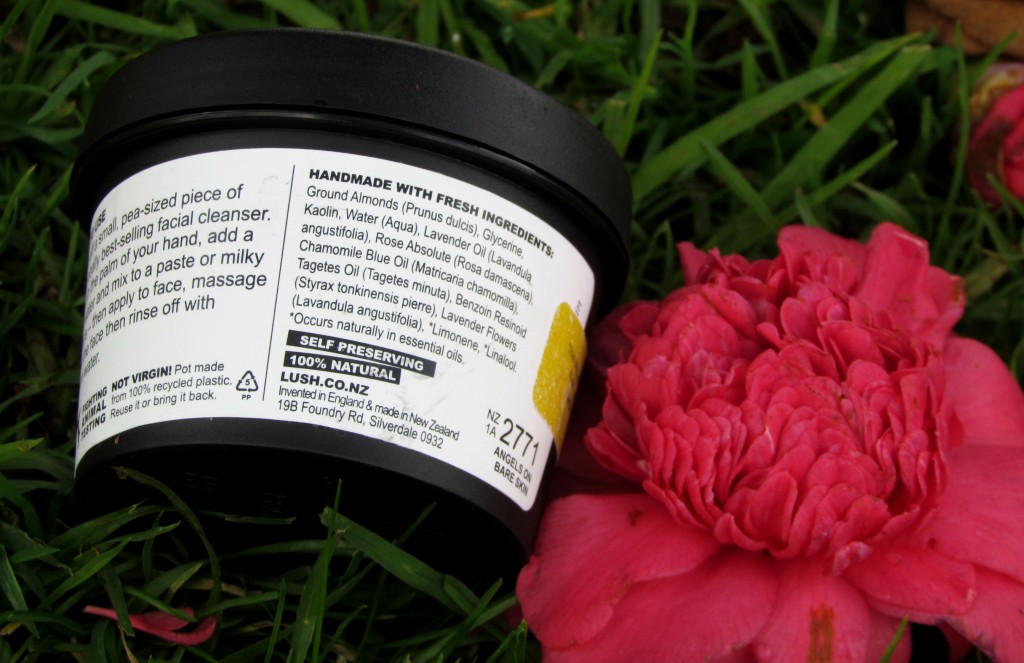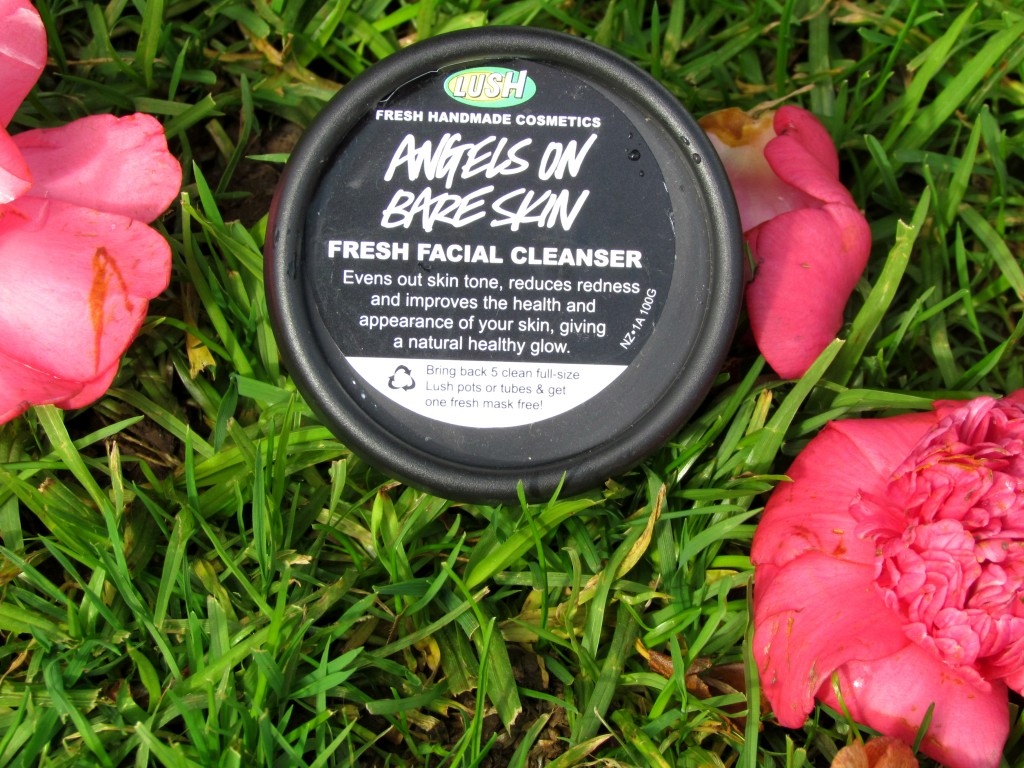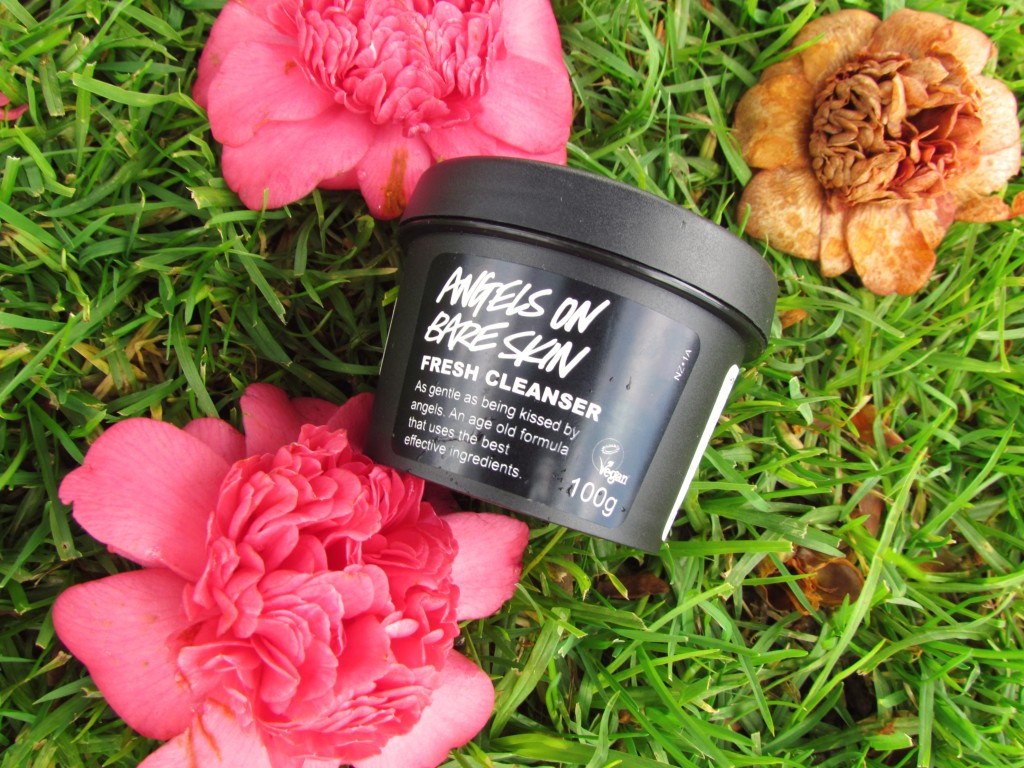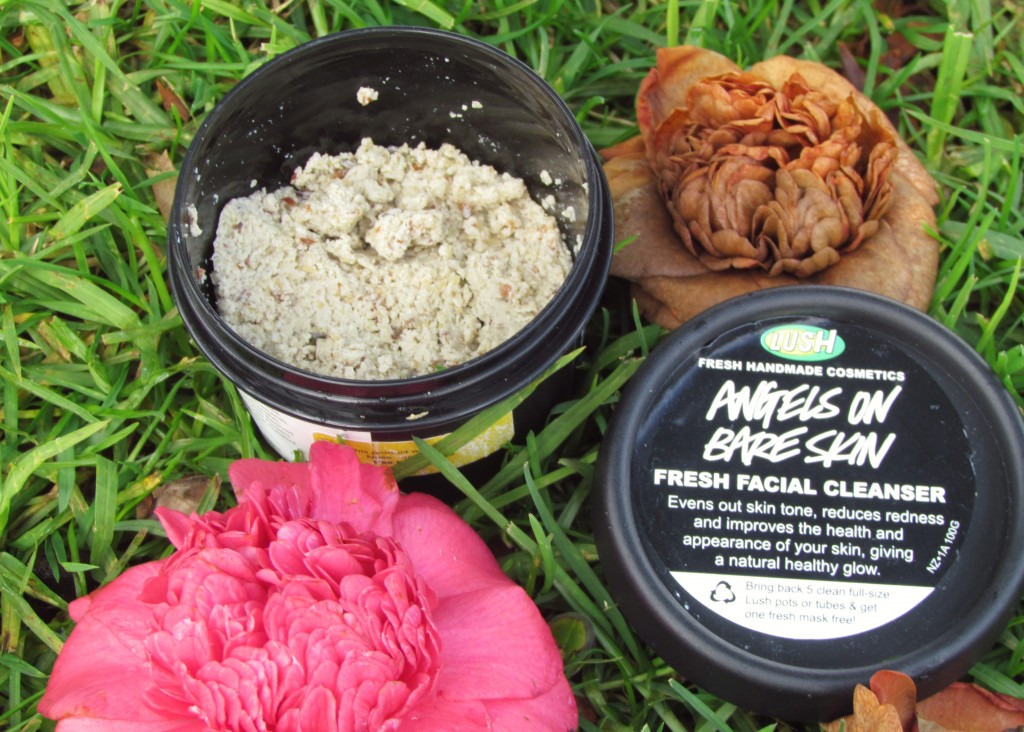 My overall exoerience using "Angels on Bare Skin"
Angels on Bare Skin Cleanser is described as a "skin balancing lavender, rose, and ground almond scrub, perfect for all skin types."  This is the first facial cleanser from LUSH I've ever tried. This cleanser is very gentle and doesn't foam at all.
Texture
The texture is like a lump of dough of kaolin clay mixed with finely ground almonds and lavender flowers. Now, those of who who don't like lavender, no need to buy this. I love the soothing lavender flower smell (note:lavender essential oil smell is stronger – But this one smells like lavender flowers which is very mild even to the sensitive nose)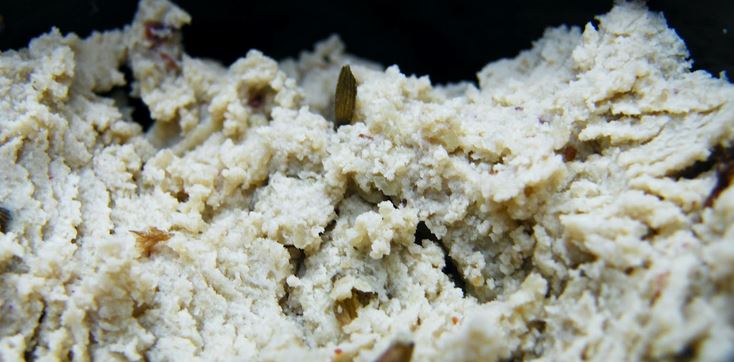 How I used it
Take out an almond size chunk  and run under water very quickly, and rub in your hands to make a paste. Scrub onto your slightly wet skin for a soft exfoliation and with circular motions rub all over the face. It removes all of my makeup and smells quite nice. If you dislike lavender then this isn't for you. It smells of it and has lavender pieces in. It feels like a gentle defoliator and does not irritate skin, thanks to the lavender oil and rose absolute oil that are part of this product.  I've found this is really calming down the acne prone skin, remove the redness on your face and makes my skin SO SMOOTH, deep cleansed & fresh! Perfect, had no breakouts either so perfect for combination skin!
My routine
I've been using Angels on Bare Skin cleanser as part of my morning face care routine, when I normally exfoliate my face. I prefer to clean the face in the evenings (with makeup remover wipes, conventional makeup remover, and Foaming/normal face wash +cleanser) and deeply exfoliate in the mornings, after a good night sleep during which the skin cell renewal processes takes place. So, I consider mornings to be an ideal time to lift and remove those dead cells and create a smooth canvas for a new make-up application. So far,Angels on Bare Skin facial cleanser proved to do an excellent job ensuring that. I will talk about my second favorite cleanser in another post.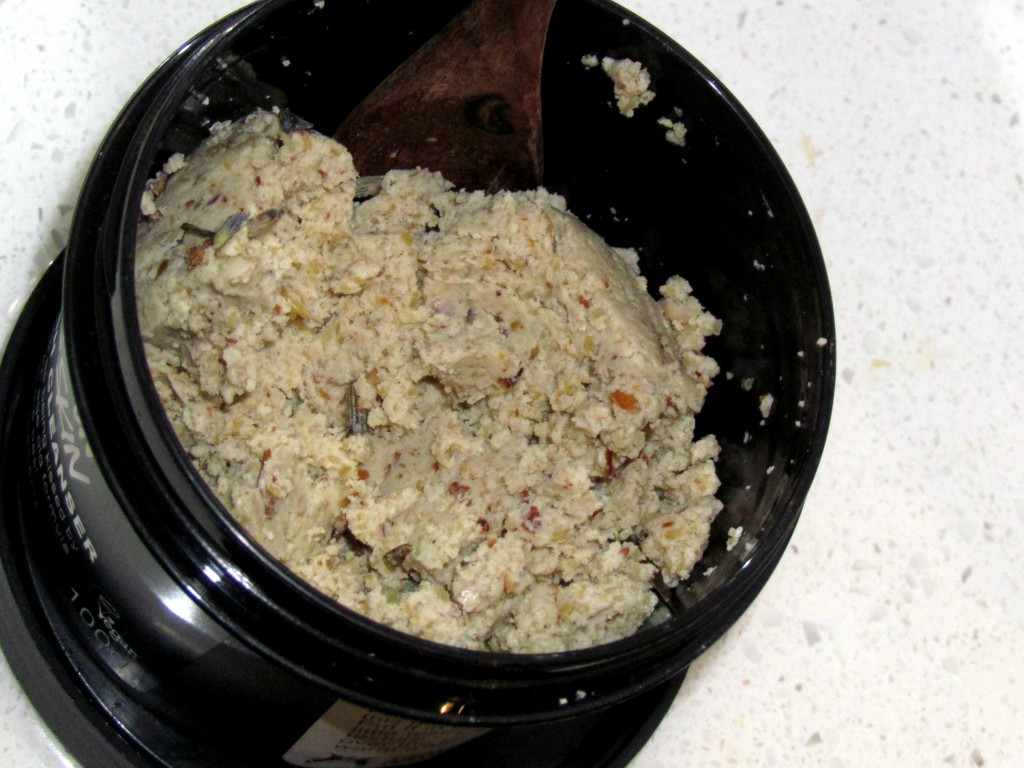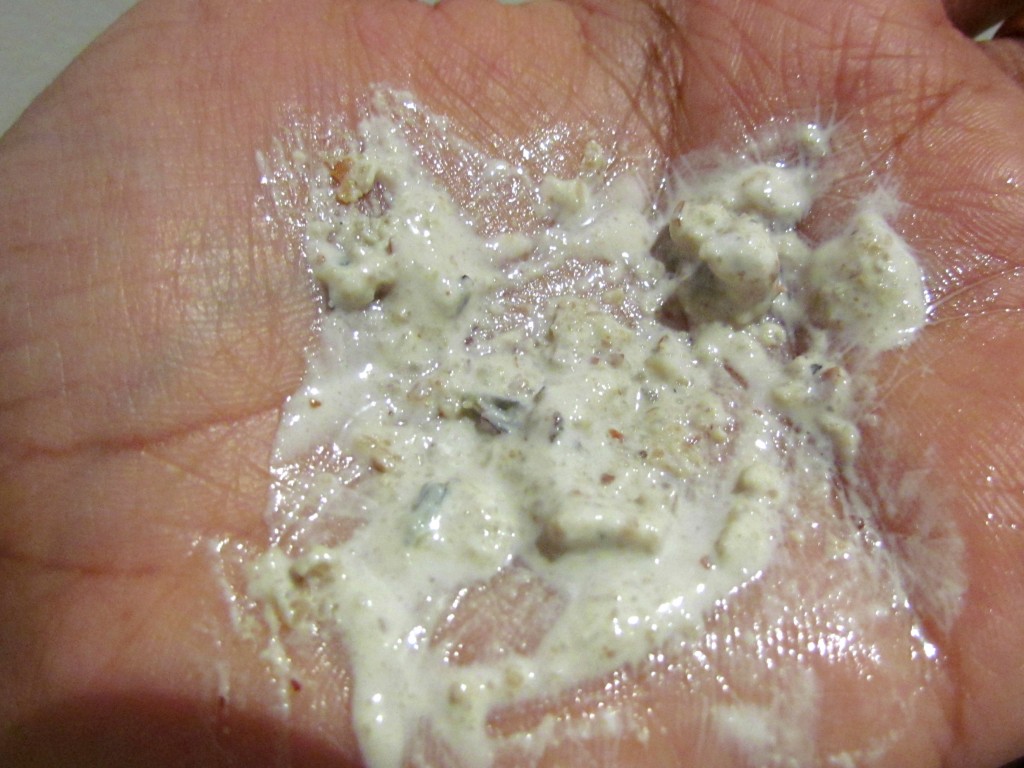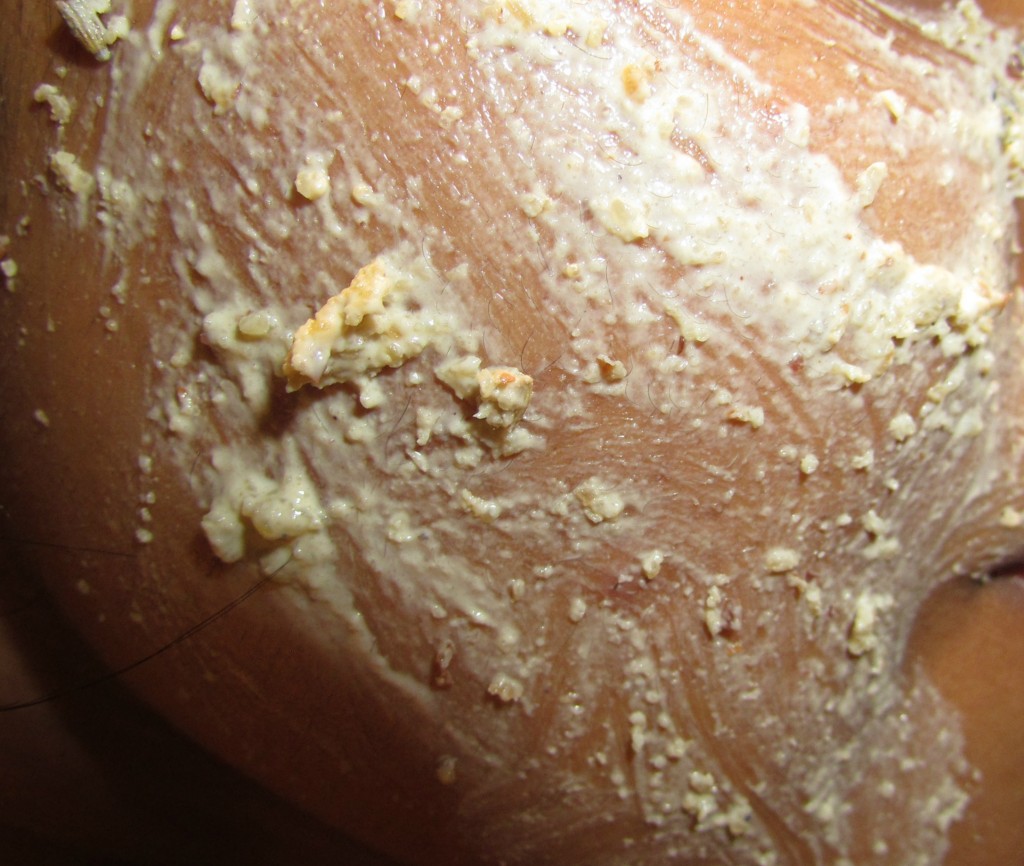 The Angels on Bare Skin cleanser leaves the skin feeling soft with no signs of dryness or tightness no matter how many times we use it in a day ( we could use up to 5 times) whenever you feel like giving your skin some tender love. 5 stars for its lavender smell. That makes it more special. If you have acne prone skin and none of the cleansers suit you, this is the answer! Soothes and calms the problematic skin and it helps reduce dryness, acne etc. It improves skin condition. I won't say it reduces pigmentation problems. But, it surely does help in clearing the skin redness, calm down acne etc. You will feel fresh everytime you use your face with this. Me and my husband use this and both of us love it.  I will surely repurchase this.
People who are looking to buy LUSh from India, Do check their middle east website. They ship selected products that are self preservative (except pdts that nbeeds to be refrigerated) to India. Try your luck!