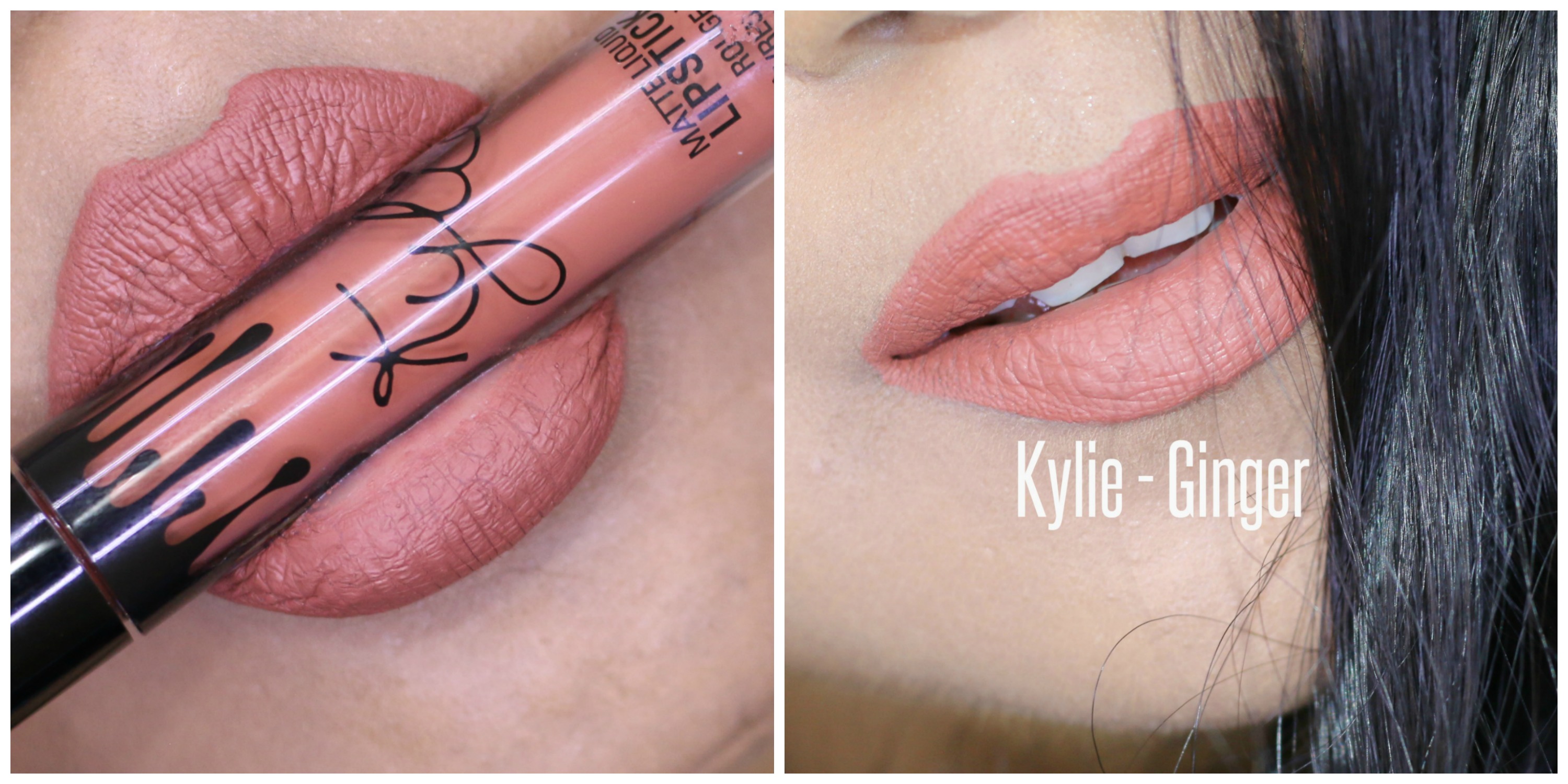 I love matte lip formulas and Kylie Cosmetics is one of my favorite matte liquid lipstick formula. In my previous reviews – I had featured 3 shades Posie K, Mary Jo K & Kourt K here. In this post, I am reviewing yet another wonderful matte lip kit  – Ginger 
These retails for USD$29.99 each. This can be purchased online from Kylie Cosmetics website here
Contains 1 Matte Liquid Lipstick (0.11 fl oz./oz. liq / 3.25 ml) and 1 Pencil Lip Liner (net wt./ poids net  .03 oz/ 1.0g)
Each Kylie Lip Kit comes with a Matte Liquid Lipstick and matching Lip Liner. Ginger is described as a warm terracotta brown.
This ultra-long wearing lip liner has a creamy texture that glides across the lips for a very easy and comfortable application.
The lip liner's  Formula, Pigmentation and shade – Lip Liner is very creamy and is highly pigmented. It's so easy to apply and has the exact same shade of the  lipstick. Only con I noticed is it has to be sharpened. Though it gets easily sharpened using most standard sized sharpeners, I find it very inconvenient to sharpen it all the time.
Packaging – Products are packaged in a white plastic box with Kylie's Lip Logo. Each pack contains a lip liner and a liquid lipstick. The glass tube features a black cap with lipstick dripping from sides. Very pretty tube with a doe foot applicator.
Are you following me in Instagram. <3 xoxo
Fragrance – These have a vanilla fragrance to it. I quite like the smell. Upon application and once the lipstick dries, The scent is not noticeable.
The Liquid Matte Lipstick has high intensity pigment for an instant bold matte lip. The extremely long wearing lipstick contains moisturizing ingredients for a comfortable, emollient and silky feel that does not dry your lips out.
Kylie Cosmetics Ginger Lip Kit Forumla, Pigmentation, Longevity, Shade – They feel very very upon application. In 2 seconds, they dries to a matte finish. They are easy to apply and glides on to lips super easily. They will very comfortable on lips and it's an extremely long wearing formula. The shades stay on the lips without getting streaky, fading or feathering. They don't transfer to tea cups and glasses. Survives a full meal too. You barely have to touch up! Such a good formula. Liquid Lipsticks from other brands dry out the lips too much. This one is quite comfortable. Not very drying!
Now, If you have extremely dry lips – I recommend you use a good hydrating lip balm/salve prior to application and also make sure you exfoliate your lips prior to applying this matte liquid lipstick.
Here are the swatches of Ginger – Matte Lip Kit
 Ginger is a warm terracotta brown shade that is universally flattering. This has become my go-to shade these days. I find it doesn't emphasize fine lines on lips much. The formula is really good and the vanilla scent fades away upon application. These dries to a comfort matte formula and stays on the lips for a really long time. In natural light with/without flash & in artificial light with flash – It shows the true color. I use my cleansing balm to take this off my lips. There is no shine/sheen to this shade and it's completely smudge and transfer proof.
Time for flaunting lip swatches 
Overall, I love the shade, packaging, formula, Pigmentation and I am super impressed with the quality. 29.90 USD is totally worth spending when you get an amazing quality product like this. I look forward to buy more shades!
Availability – KylieCosmetics Ships worldwide. However, each country's customs hold every package and the consignee will have to spend a fortune to get them released. You can also buy things from US by using myMallBox. If you sign-up to myMallBox using my referral link. You will get USD$5.00 in your myMallBox account which you can make use while shipping the package. Read more about myMallBox here
So, happy shopping guys! Why pay high shipping costs and costs thrice or four times the original price. Use myMallBox and shop your favorite products online! it's so easy!
Click here to get USD$5.00 in your account
** Contains Affiliate Links
Have you tried Kylie Cosmetics Matte Liquid Lipsticks ? Which is your favorite shade ?