My favorite season of the entire year is right here – December – Here you come…. With amazing deals and offers; As always makeup brands are killing it with the new launches. Through my Christmas series posts, I am trying to bring as many reviews and swatches as possible from various brands. In the coming days – I will post collective swatch posts and at the end of every week – A git guide will be up too. Gift guide goes like this – Skincare Edit, Makeup Edit and Fragrance Edit. I will include both UK, Indian and US brands to make it easier to choose the best gift choices.
I love wearing eyeshadows and anything glittery or with a metallic base immediately catches my attention. Stila metallic eye shadows are always in my wishlist. But the price tag opposes me to order them.. Well, time to rejoice – You get these COLOURPOP SUPERNOVA SHADOWS for a fraction of stila's price.
Colourpop Supernova Shadows are ultra-glittery shadows with a metallic base, are extremely long-wearing, and can be used as a base, alone, or as a topper. There are 5 colors to choose from.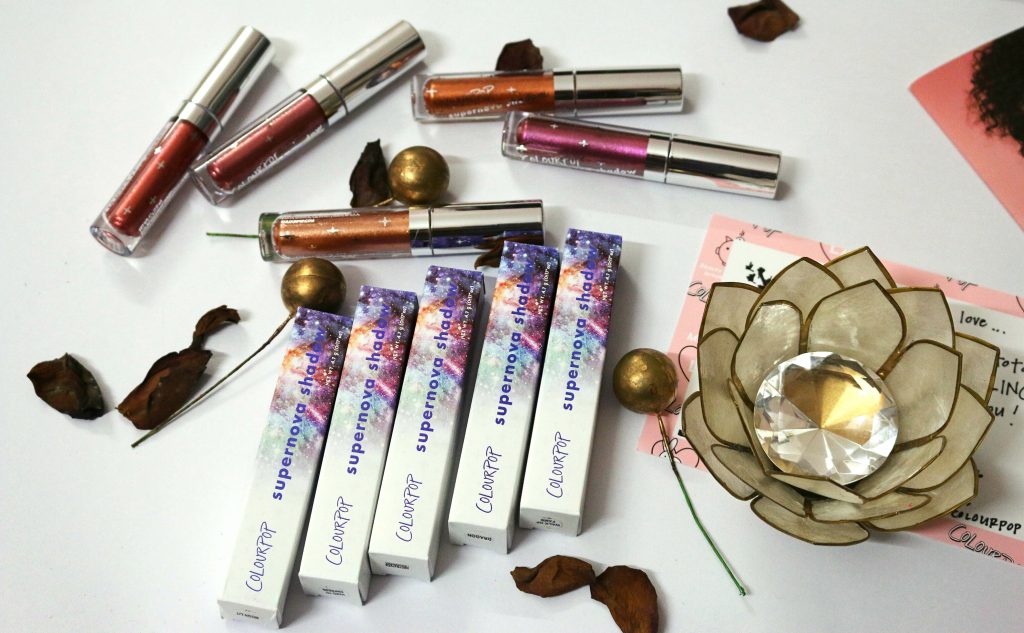 The shades are – Dragon, Fire Cracker, Hard to Empress, Moon Lit, Walk of Fame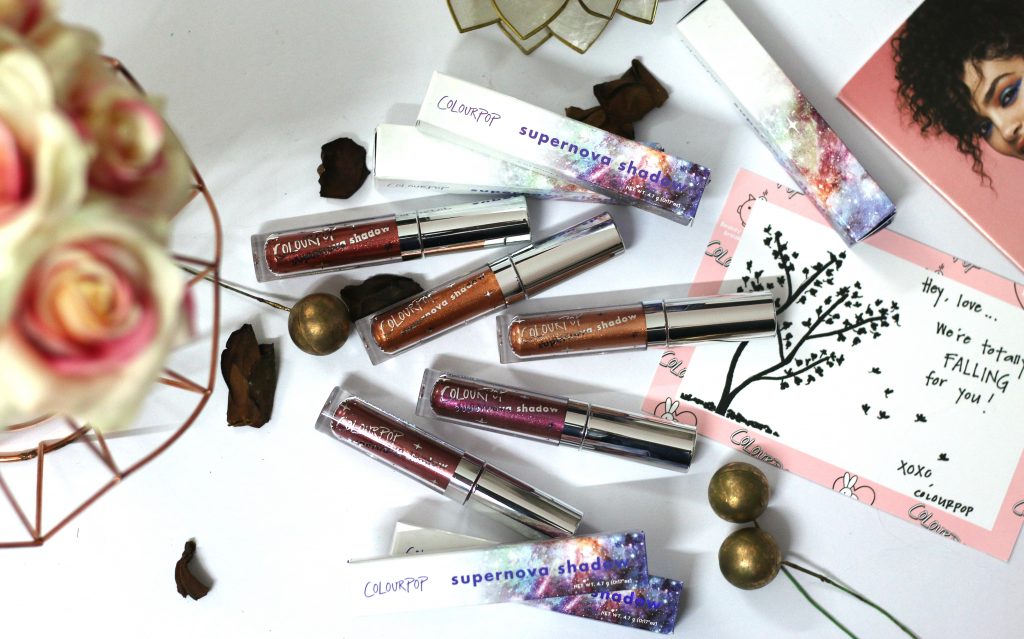 The packaging is similar to the liquid lipsticks. The acrylic tube with a sponge wand applicator.
Net Weight 4.7g (0.17oz) each
Ingredients
Water, Calcium Sodium Borosilicate, Vp/Va Copolymer, Aluminum Calcium Sodium Silicate, Glycerin, Butylene Glycol, Benzyl Alcohol, Sodium Carbomer, Silica, Chlorphenesin, Tin Oxide, Dehydroacetic Acid, Iron Oxides (CI 77499, CI 77491), Mica (CI 77019), Titanium Dioxide (CI 77891).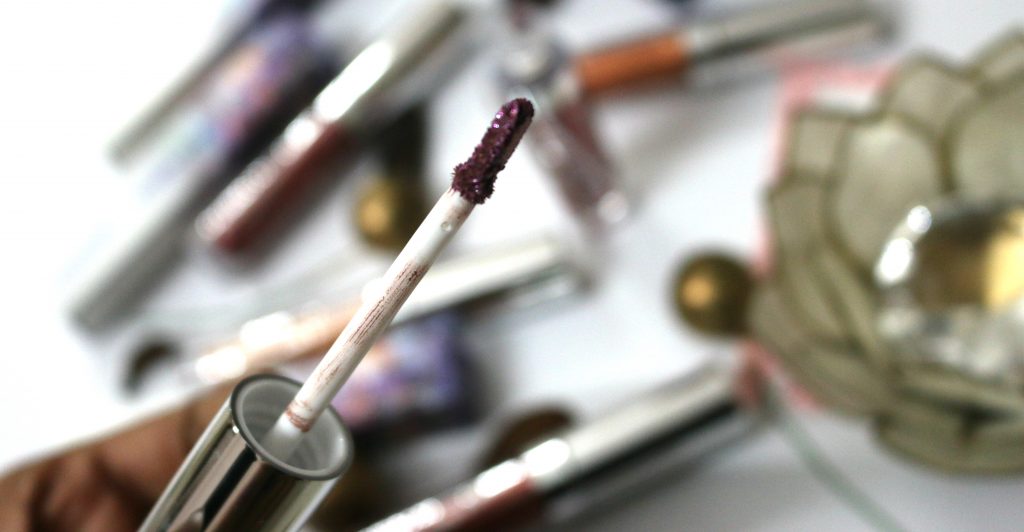 Take a look at the packaging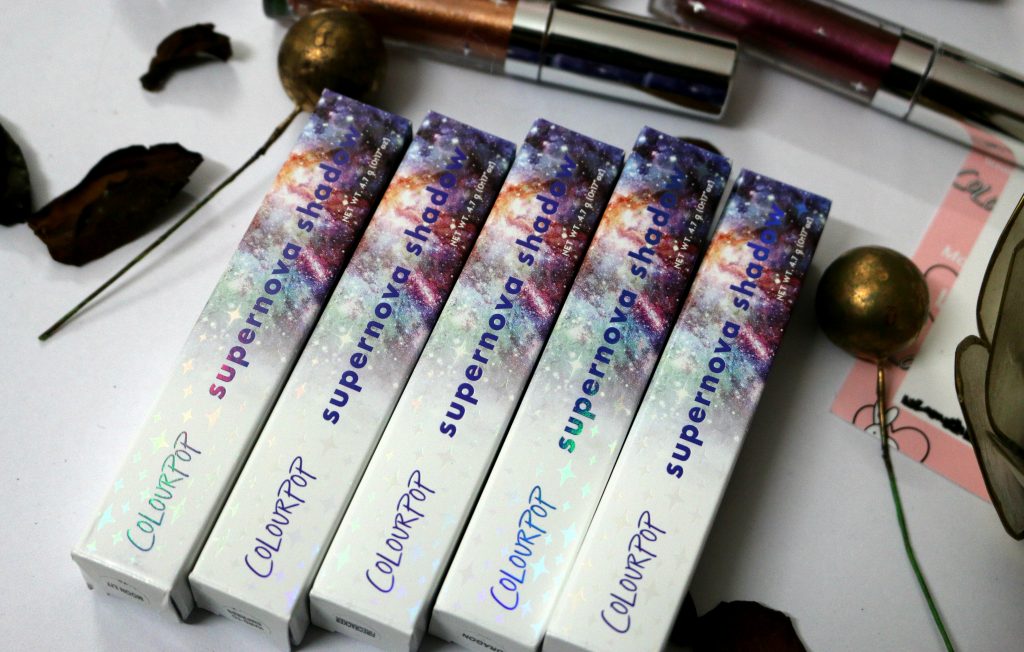 Packaging – Really love the packaging. It has a Christmas-y feel to it; With the glitters and stars on the outer packaging. These are perfect as tiny stocking stuffers! Now, coming to wand applicator – I found it hard to apply using the wand with precision. I prefer to transfer the color to a brush or finger than applying directly using the wand.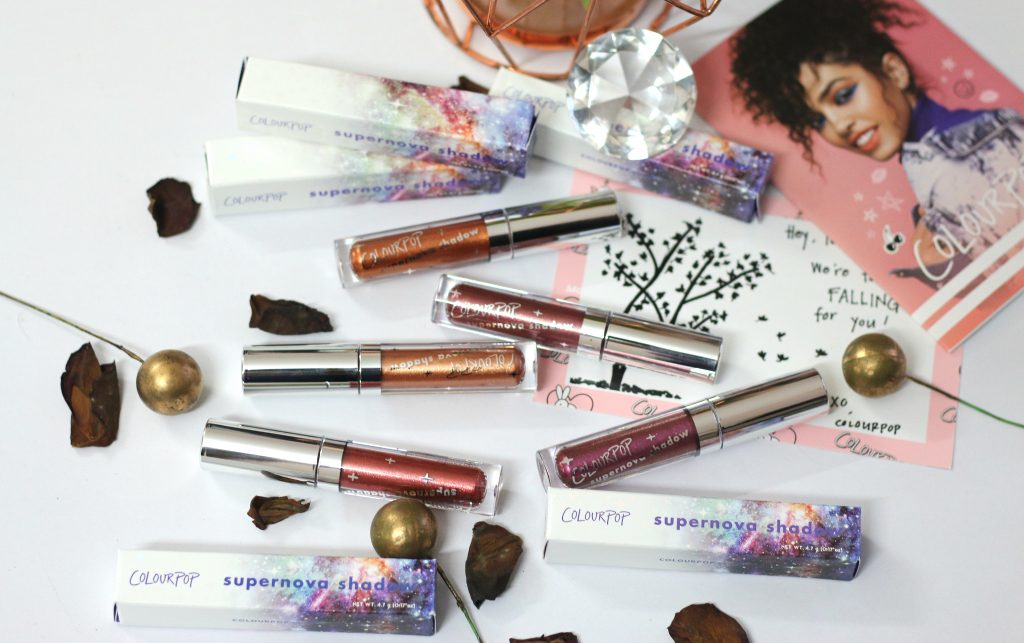 Formula, Texture – It had opaque coverage in a single swipe using the applicator. The texture is lightweight and thin. not too wet or runny and it was comfortable to blend. But, It dries pretty quick. Which means if you are applying the color and blending – you got to be quick. I noticed it settling onto fine lines of eyes. And also When used as a shadow alone, I found the gaps or missing areas. Creases badly.
Upon applying – You will notice that there are a lot of shimmers and little less of the base color. It looks really pretty in person than in pictures. In real, because it contains lot of shimmers – It reflects light and look gorgeous.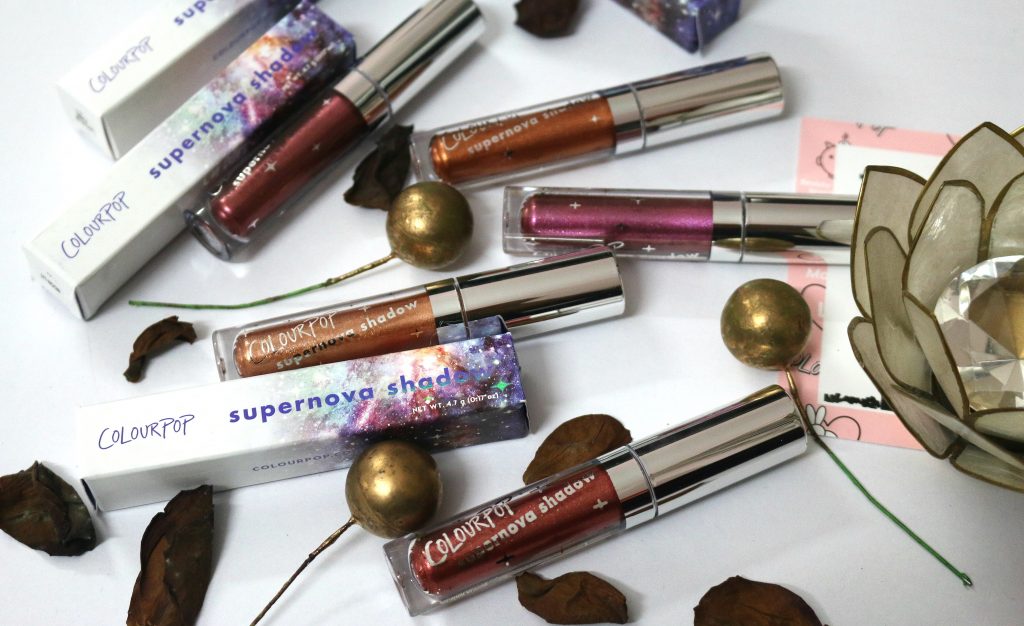 Here's a closer look at the shades.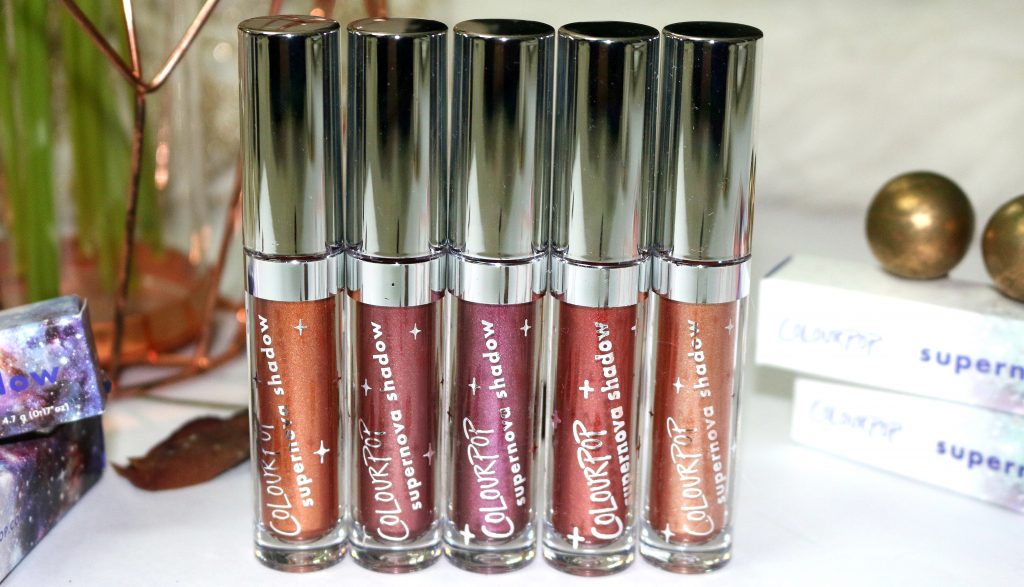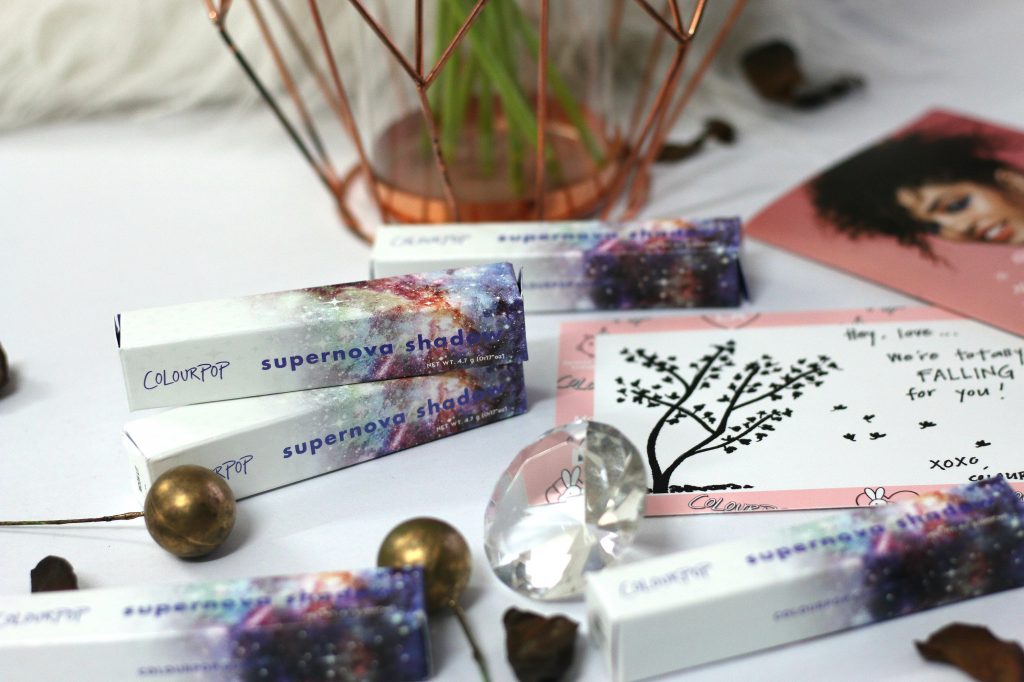 Moving onto swatches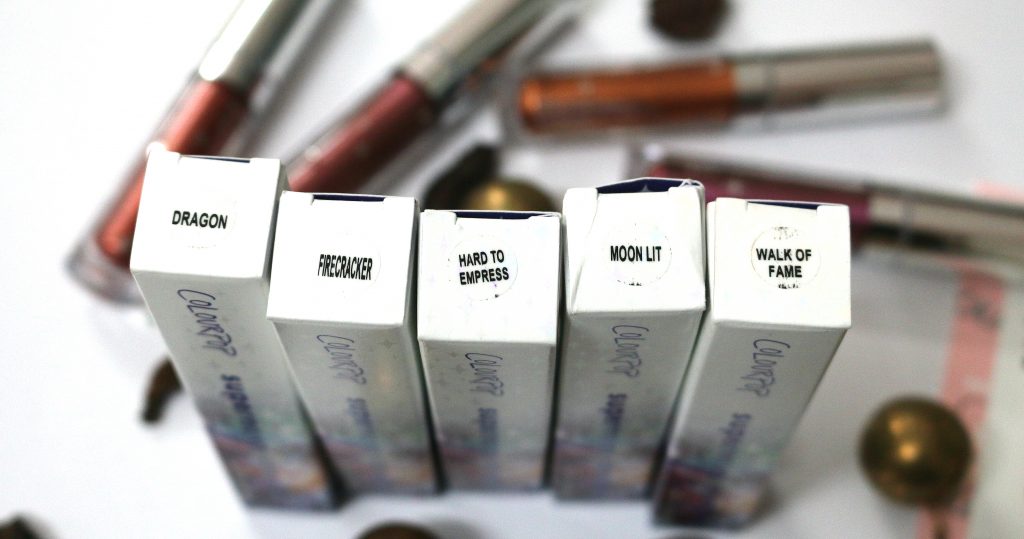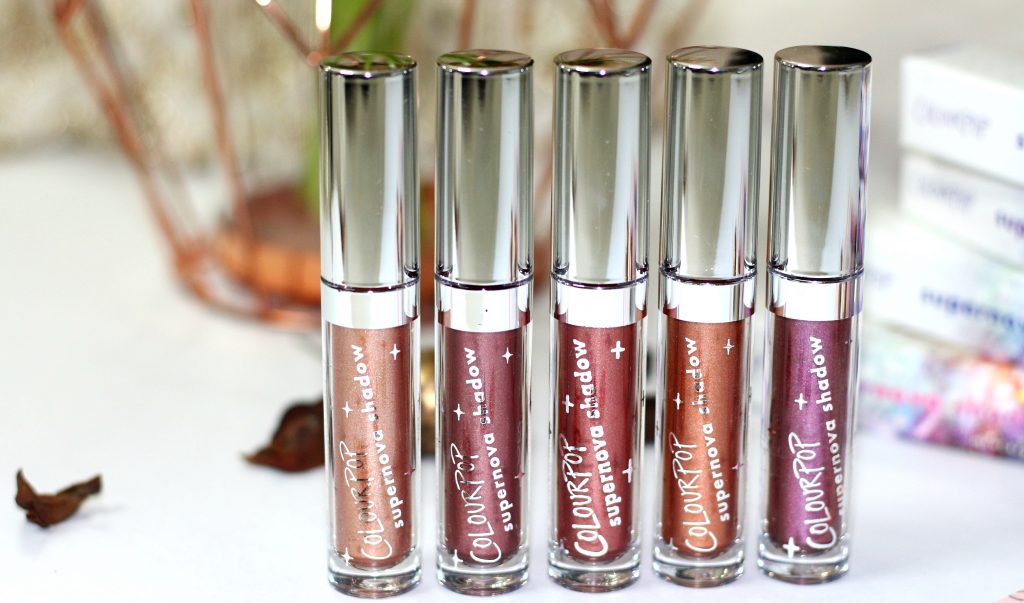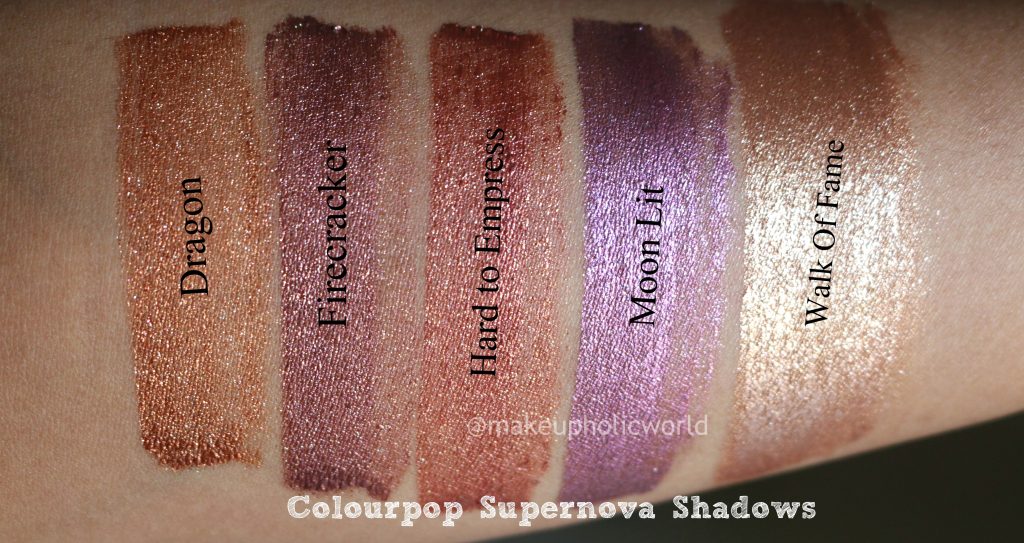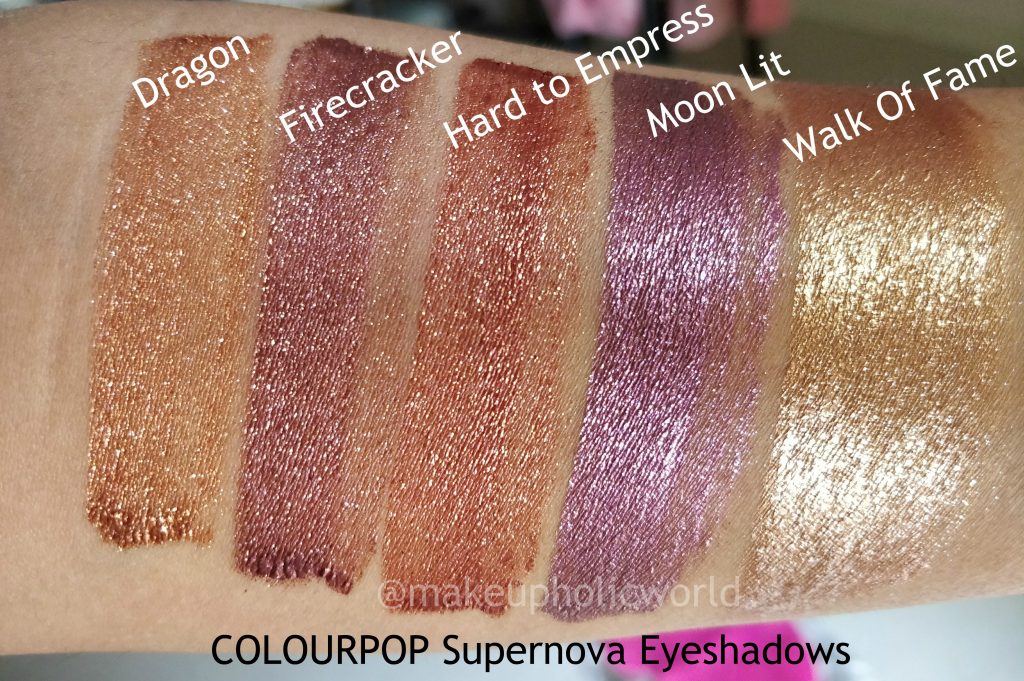 Dragon – This is a copper shade with gold glitters. Absolutely pretty to use as a topper for warm colors.
Hard To Empress – A warm red color with gold duochrome and silver, gold, and copper glitter
Fire Cracker – A cool toned burgundy color with gold duochrome and silver glitter
Moon Lit – A vibrant plum color with purple glitters
Walk Of Fame – A true gold sprinkled with silver glitters
There are multiple ways to use them.
As a base: If you have extra oily lids, Please use an additional primer first. For normal eye lids- Use the sponge wand applicator to apply a small amount of the product onto the lid directly. Instead of applying the color directly to lids. I take some to the back of my hand and using my fingers, I blend the product on my lids to create that even, thin layer. Now, you can apply your glittery or any matching eye shadow for that intensified long-lasting look.
As a topper: This is my favorite part. When doing this method. I find the shadows to be more beautiful and long lasting. I like to apply my favorite eyecolor all over my lids. take a tapered blending brush to blend the harsh edges and using my finger, I pick up a small amount of product and using finger, I apply the product onto the lid using patting motions. This will change the eye look completely. I use matte eye shadows + my favorite supernova colors as toppers. I recommend this for your Christmas looks.
Alone: For extra oily lids, apply additional primer first. Use the applicator to apply a small amount of product onto the lid or Use finger to apply product and blend on eye lids. After applying a thin layer. iF you need more intensity. Add one more layer. — Now, this is my least favorite method. I found shadows to crease quickly when doing this plus I found the glitter flakey and separating when following this method.
As a liner – As a liner, it works great. You might notice less fallouts or cracks when used as a liner. A thin liner.
Here in the pictures below, I have used the shade 'Moon Lit' alone on my left eye lid (my side) and on top of a matte eyeshadow as a eye topper(my right eyelids). I love the second method where I used as a eye topper. I feel the shade to be more vibrant and long lasting when I applied as a topper
https://www.instagram.com/p/BcVMeeTlhru/?taken-by=makeupholicworld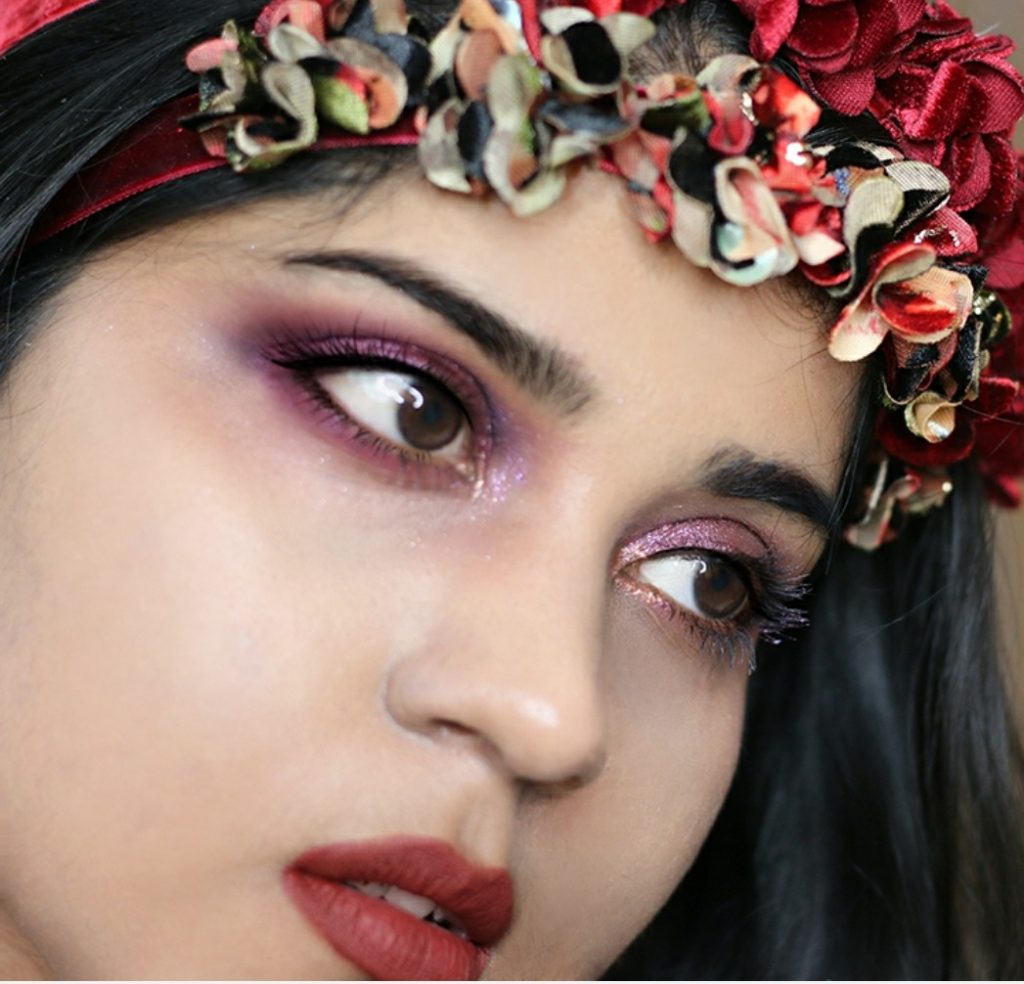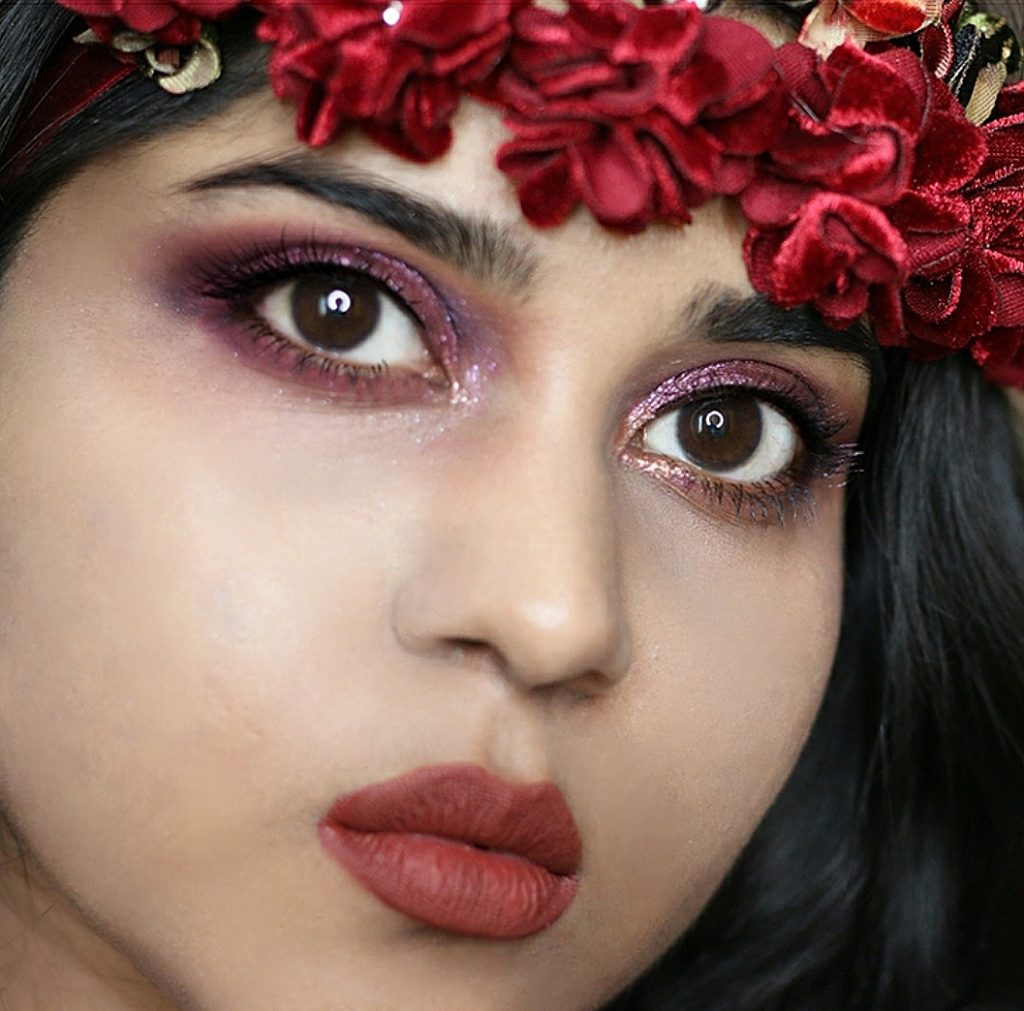 Used colourpop supernova shadow Moon Lit on my right eyelid as a topper for a plum color matte eyeshadow. On my left eyelid – applied as a overall lid color. I like supernova shadows as a eye topper. It intensifies the whole look. Also, I noticed when I applied as a topper – It lasts longer and also no glitter fallouts or color settling onto fine lines.
When I apply as a overall color, it separates and creases badly. tried with and without primer.
Also, I prefer to use my finger to apply this shadow. I take a little on the back of my hand and using fingers apply it till I am happy with the color. It dries pretty quick , so one has to blend it quick.
-Used Kiss Beauty Liquid lipstick and liner in the shade 01 for my lips
-Foundation – Wet n Wild Soft Focus Foundation – Buff Bisque
-Concealer – Wet N Wild Focus Concealer – Medium Tawny
-For setting under eyes, I used Hourglass Luminous Light
-Eye Brows – Flower Beauty Eye Brow Pencil – Dark Brown
-Eyeliner – Estee Lauder Little Black Liner
– Macscara – wet n wild max fanatic mascara
– Inner corner highlight – Colourpop Supernova shadow – Walk of Fame
– Eye shadow palette used for crease color and outer v – Sleek Makeup Vintage Romance palette ; Shades : Marry in Monte Carlo, Forever in Florence
-Floral Tiara from Scunci
-Contour and highlight – Tom Ford
didn't apply blush.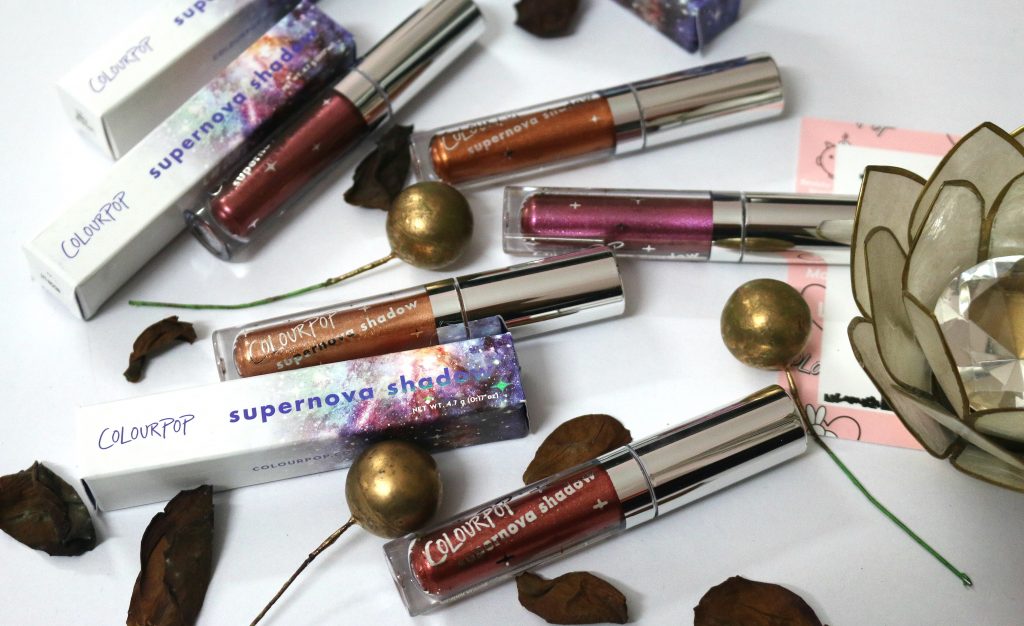 Colourpop Supernova Shadows retails for $7 each and is available here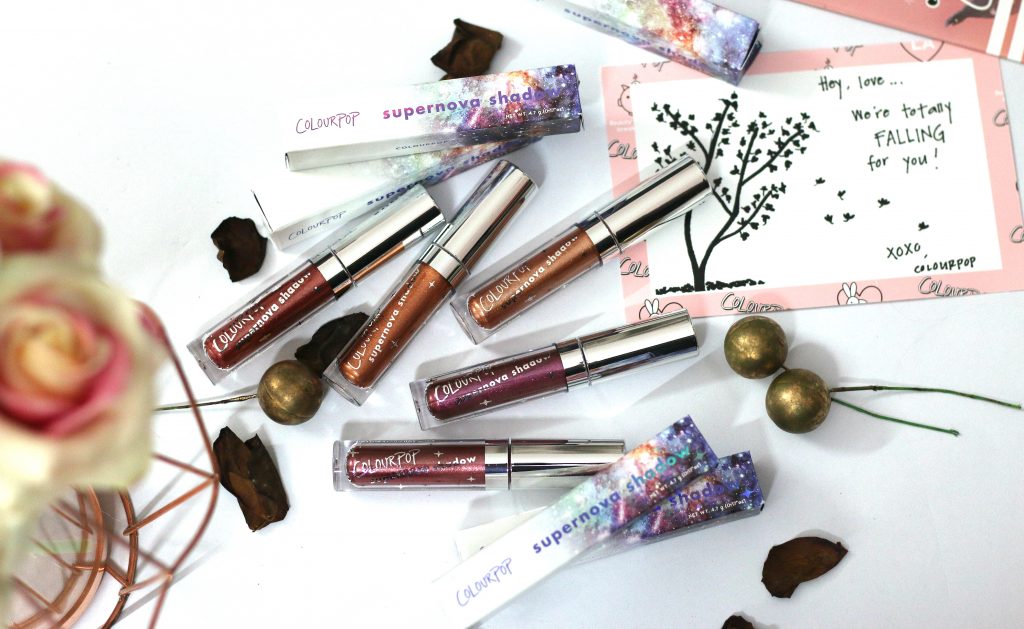 Overall, these are great and so useful as eye toppers. I absolutely love them as eye toppers and I think this is perfect as a gift. Head on to ColourPop sitesite now and make these beauties urs for Christmas before they fly off the shelves. You know it's only a matter of time before colourpop goodies are out of stock. They are pretty famous and everyone's craving for colourpop.