Sugar Cosmetics is an Indian brand that always remained in my wishlist. When I saw a instagram post where the brand announced the launch of some newest shades to its existing 'Smudge Me Not Liquid Lipsticks' , I decided to buy some of the new launch shades. Got 5 of them. In this post, I will be swatching and reviewing the shades – Aubergine Queen, Mia Sangria, Rose Repose, Brown Crown, Trusty Rusty from the collection.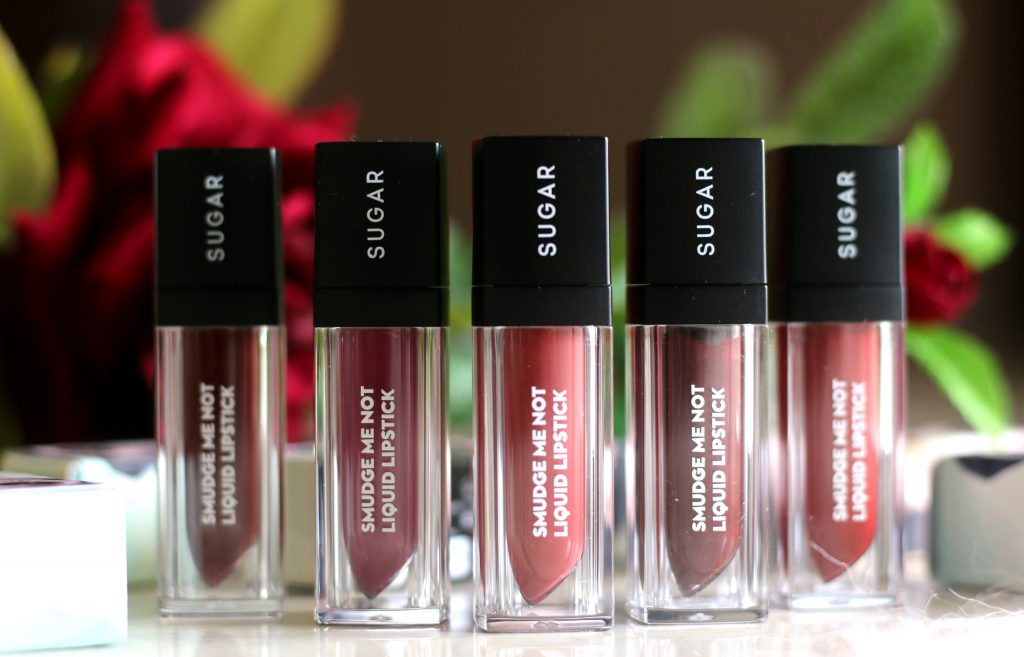 Price – INR 499 each for 4.5 ml of product. When you buy the products, you get store points which can be redeemed for a future purchase and they also have a variety of gift with purchase options. I love their reward program. Makes you wanna buy more!!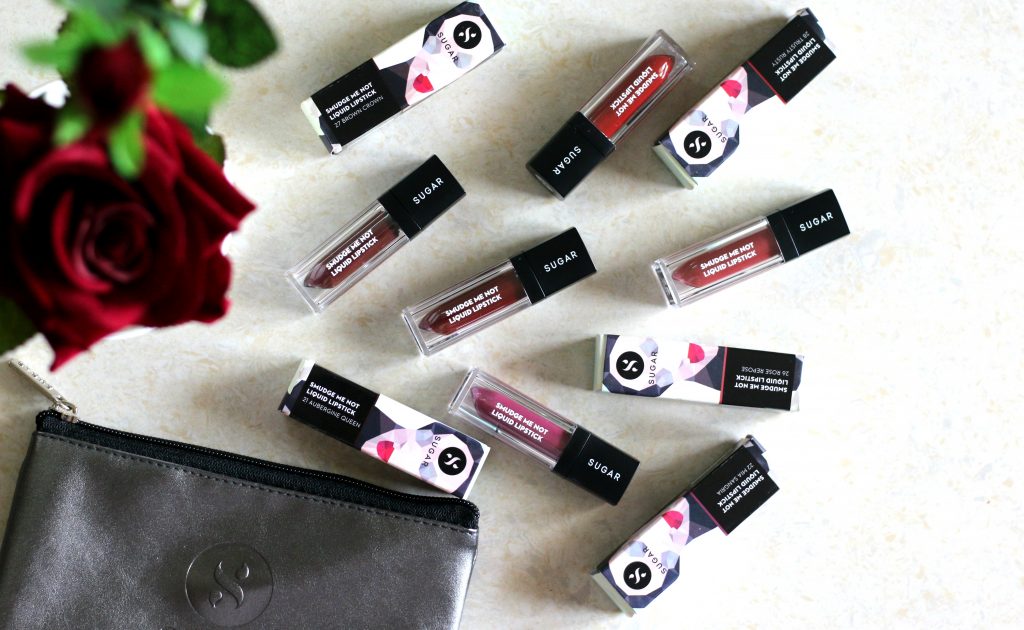 Packaging looks really pretty as well. I really love the prismatic effect beautiful outer packaging. The Lipstick packaging is pretty normal. Not glass, But acrylic. Comes with the wand applicator. Shade name labelled on the base of the tube.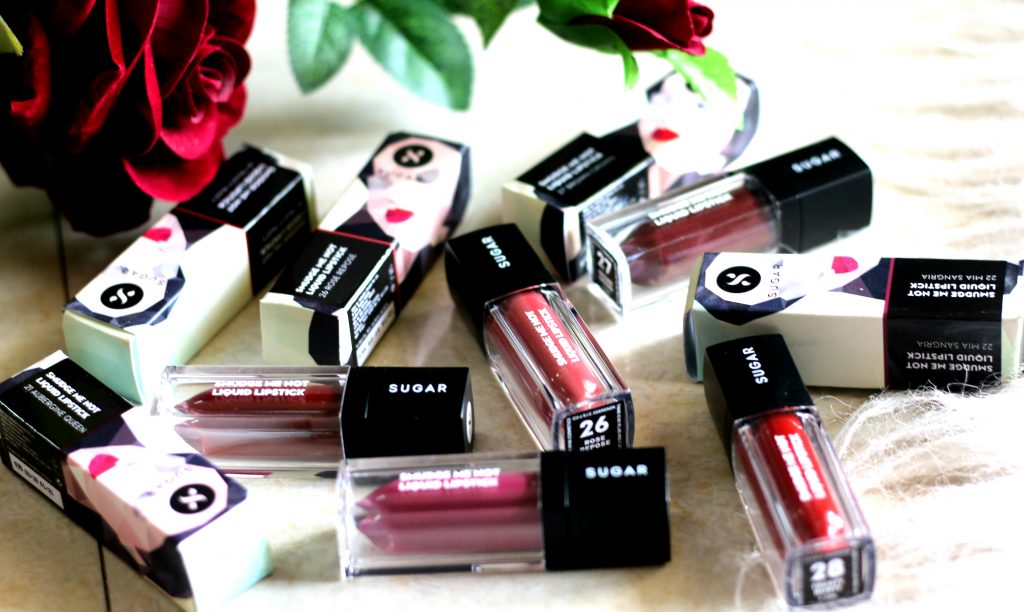 Ingredients – Isododecane, Dimethicone, Isododecane & Trimethylsiloxysilicate, Cyclopentasiloxane & Trimethylsiloxysilicate, Disteardimonium Hectorite, Propylene Carbonate, Vitamin – E, Propyl Paraben.
I love how small and compact they are! Also, I love the cute little note card the brand sent in with every order. Makes the package really special and cute! So far, I have only seen Colourpop and Kylie Cosmetics doing it.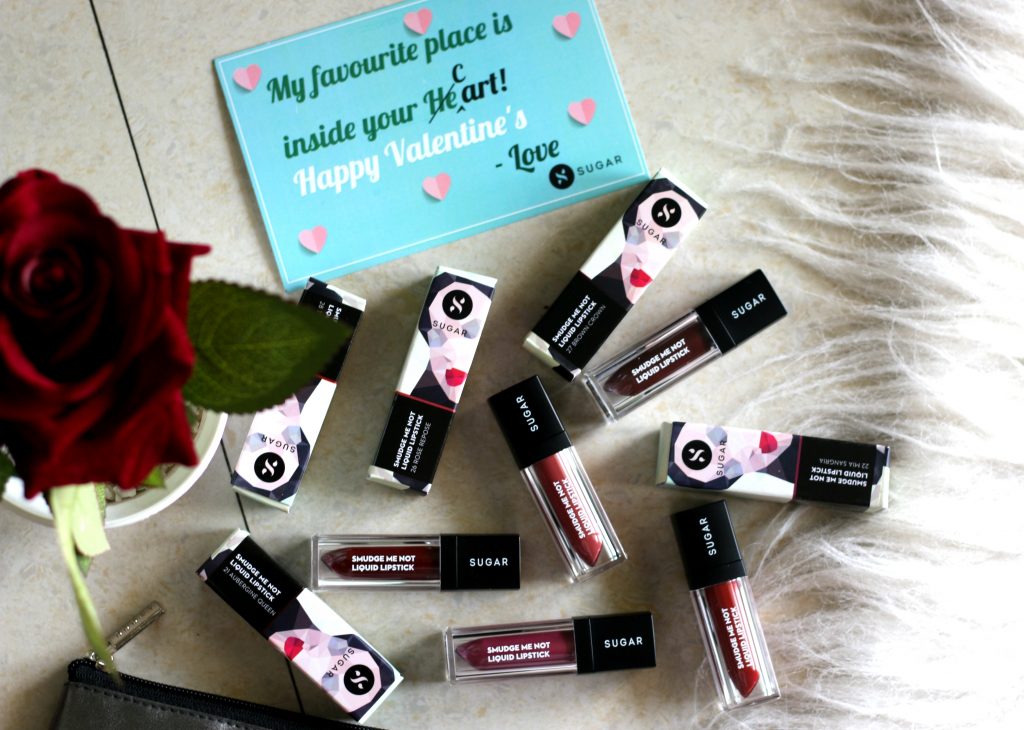 Also, I love the cute little pouch that the brand send with the order. It's great to carry your makeup around while travelling.
Brand claims – Get a full-blooded burst of pigment with just a single swipe of the SUGAR Smudge Me Not Liquid Lipstick that will stay the day and right up till the night! Wine, coffee & date-proof – this is a matte lipstick that is guaranteed to last longer than your longest day.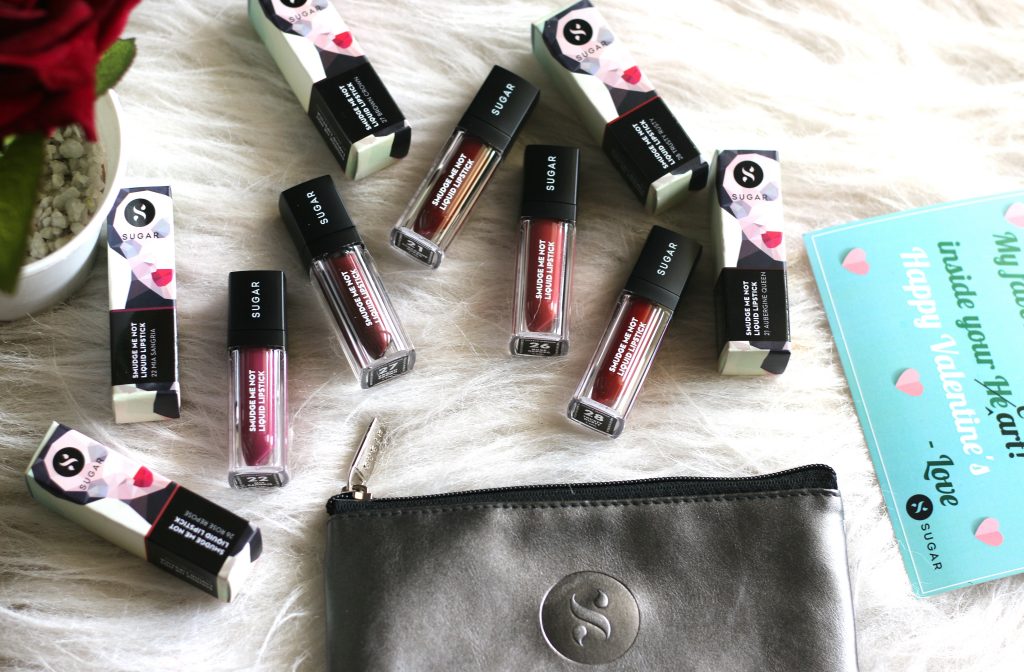 It's also available in 30 stunning shades that will make it difficult to choose. Well, not so difficult for me 🙂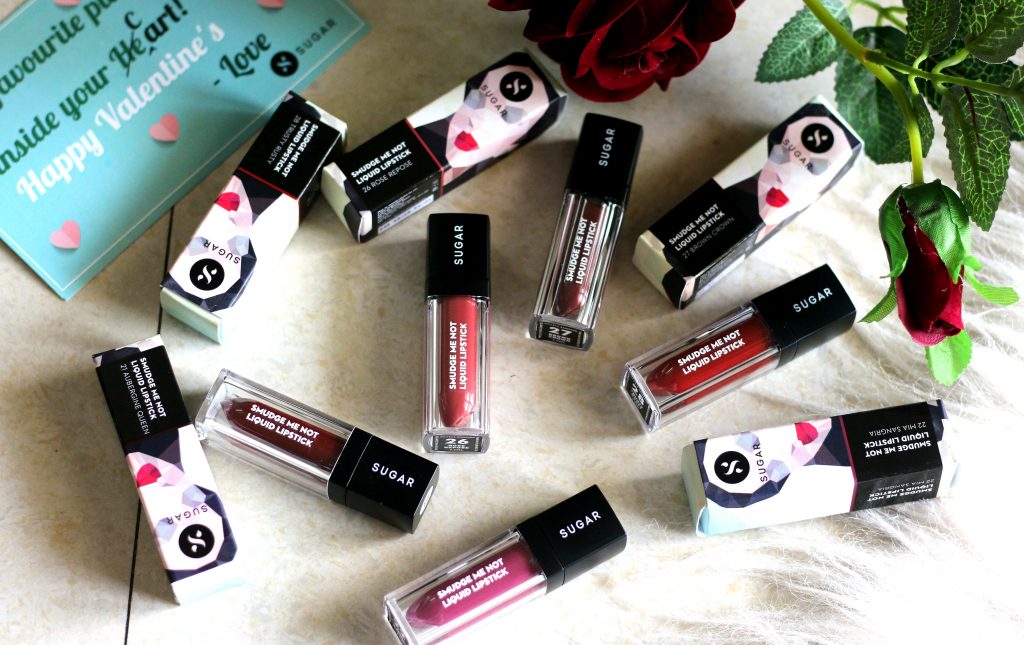 https://www.instagram.com/p/Bfaep2aFm7Q/?taken-by=makeupholicworld
For precise application – Since the formula is very pigmented, brand suggests applying the colour to the bottom lip first. then, press your lips together and then fill in the Cupid's bow.
Shade ,Formula, Pigmentation – The SUGAR Smudge Me Not Liquid Lipstick gives you opaque pigmentation with a single swipe. Lipstick dries to a really pretty matte finish. I noticed that the formula is a bit drying than my other liquid lipsticks. So, it's very important to hydrate your lips prior to applying this. Brand claims that the formula contains Vitamin E. It doesn't feather on lips or transfer. But, It's a lot more drying. So, if you have cracked or dry lips – You might not want to try them. It settles on fine lines of lips and kind of accentuate it is what I feel.
Longevity – I really enjoyed wearing the shades – 'Aubergine Queen' and 'Brown Crown'. Those are my favorites. Excluding the drying part. These colors stays on lips for a long time. I have worn it for more than 6-7 hours without any problem. It was difficult to remove using a wet wipe alone. You will need a oil based cleanser to remove this. I used clinique take the day off cleansing balm / Kiehl's makeup cleansing oil to remove the color off my lips.
Here are the swatches! Not posting a lip swatch this time. I will update the post soon with my lip swatches as well.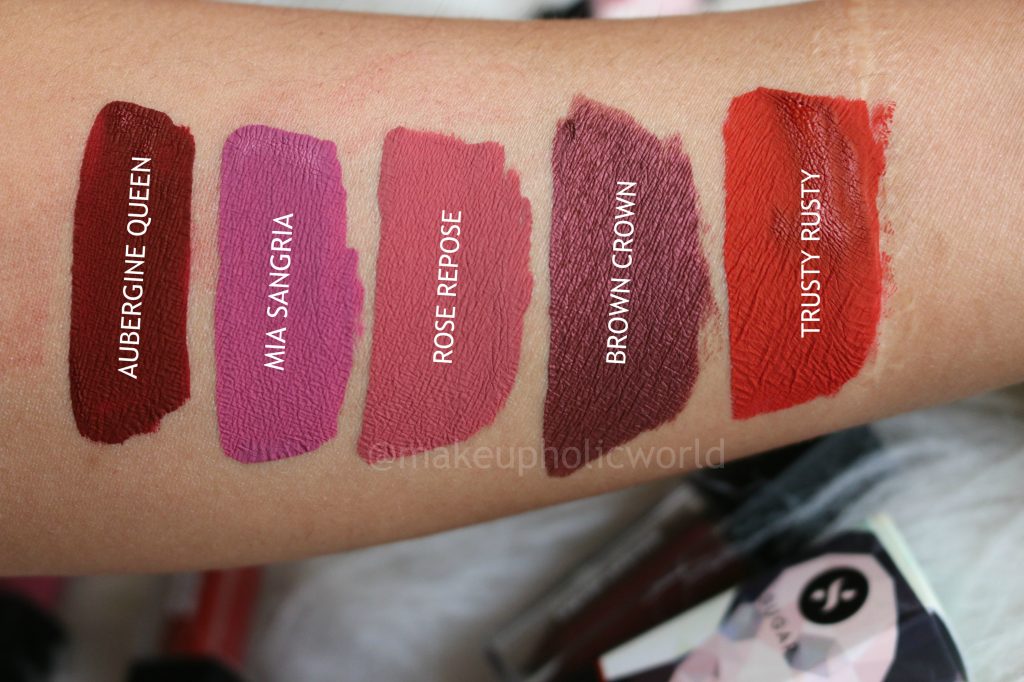 Trusty Rusty – A really stunning 'rust red' shade. If you are looking for a red with coral undertones, this is the one. This shade of red is perfect paired with a neutral or smokey eye!
Mia Sangria  – A gorgeous mix of pink  and purple with a hint of red. Not, my favorite shade. But, it's great to wear during summers!! Flaunt your colorful floral dresses paired with this peppy ' Mia Sangria'
Brown Crown – My most favorite shade! Love love it!! It's really unique combination of a blackened plum brown. It gives a metallic vibe to your lips. I love it and I don't have a similar shade in any other brand! This is the shade I reach out to the most.
Rose Repose – Blend of peach and pink. Great for day as well as night. Perfect office wear shade for many. Depending on your undertone, This shade can slightly look different on your skin.
Aubergine Queen – If you love dark, vampy reds/burgundys – This shade is for you.  Remember my favorite Australis shade – Budapash ! This is Budapash's sister shade. Very pretty and suits every skintones realy well. If you ask me 'Trusty Rusty' or 'Aubergine Queen' – I would say – 'Aubergine Queen' !!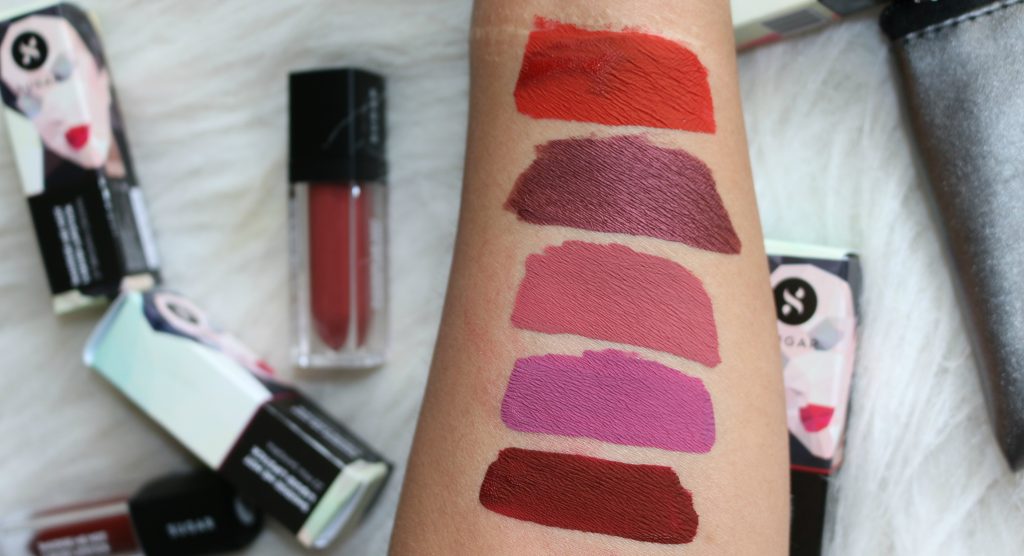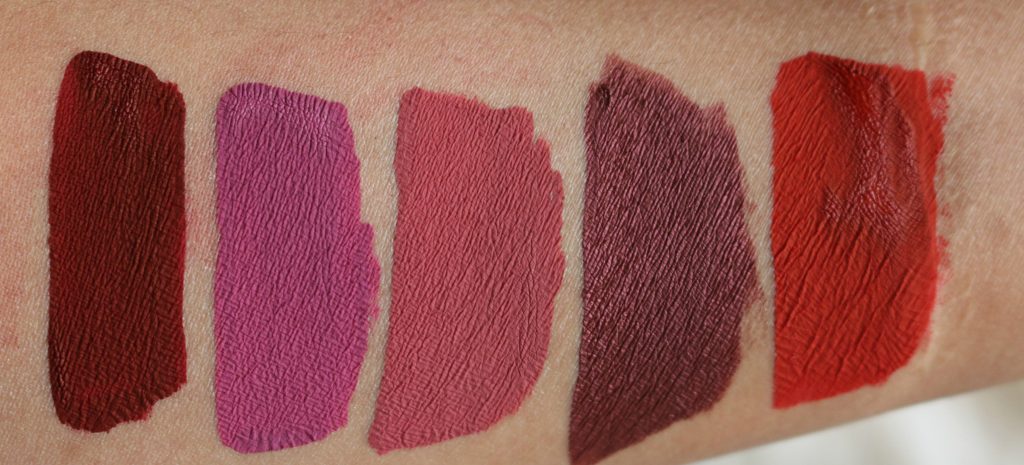 Overall, I think they are pretty decent for the price. Sugar Smudge Me Not Liquid Lipsticks gives you opaque pigmentation with a single swipe. Dries to a beautiful matte finish, easy and compact packaging while travelling. Only thing to keep in mind is – The formula are very drying on lips. So, you want to make sure you exfoliate the lips well and apply a very good hydrating lip balm underneath. Lipstick stays on for 6-7 hours. It's smudge-proof, waterproof, transfer proof as well. Survives heavy meals as well. Also, love that there are 30 shades to choose from. One of the best available in India in terms of price and quality.
What do you think of Sugar Smudge Me Not Lipsticks ? Have you tried them ? Do you like them ?