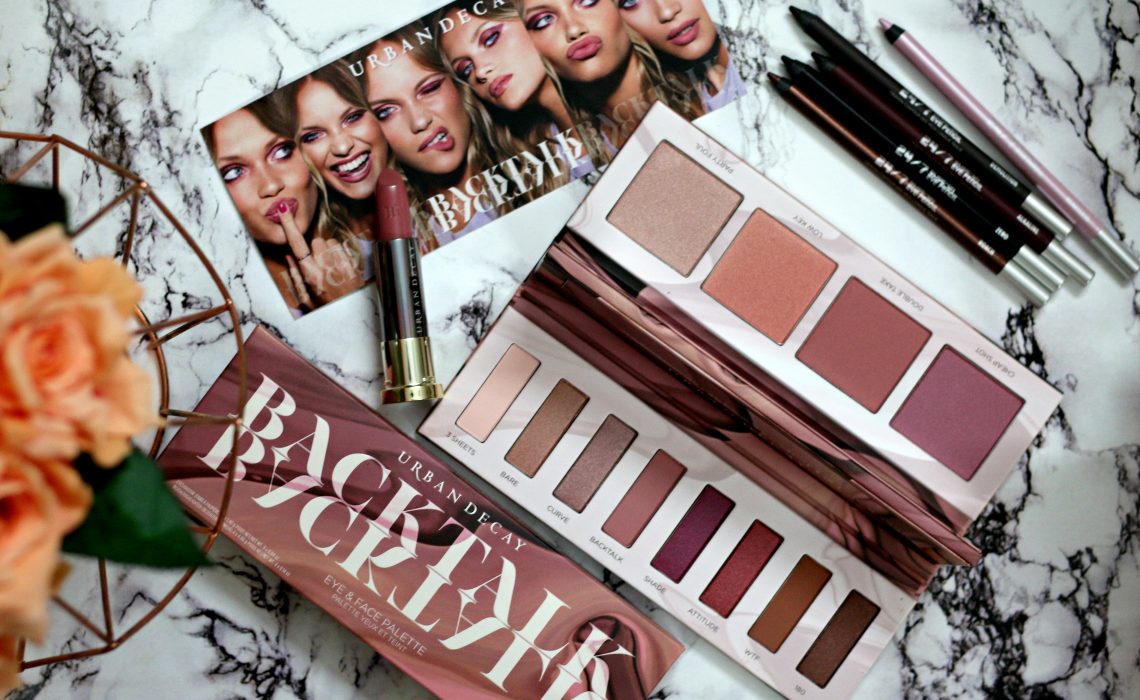 I am a fan of berry, rose tones when it comes to eye shadows. I loved the cool tones in Urban Decay Naked 3 palette and always wished for a berry toned palette from them. To my surprise, this new limited edition palette was sent to me by Urban Decay. I instantly fell in love with the colors. A beautiful palette with a large detachable magnetic mirror and the palette features a variety of eye shadows and Face blushes.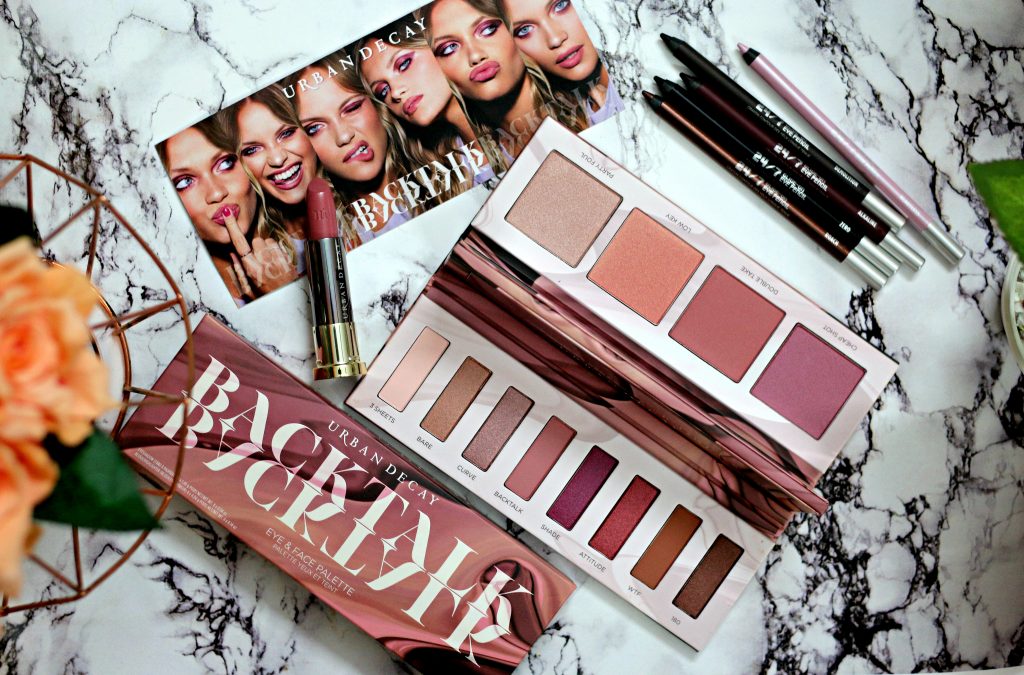 Urban Decay Backtalk Palette – $46, a go-anywhere, do-anything kit inspired by Backtalk, UD's No. 1 selling, cult-favorite Vice Lipstick shade. Back Talk is one of my favorite lipstick shade from Urban Decay. I love the shade so much that I already have 2 of them <3
Urban Decay Backtalk Palette – $46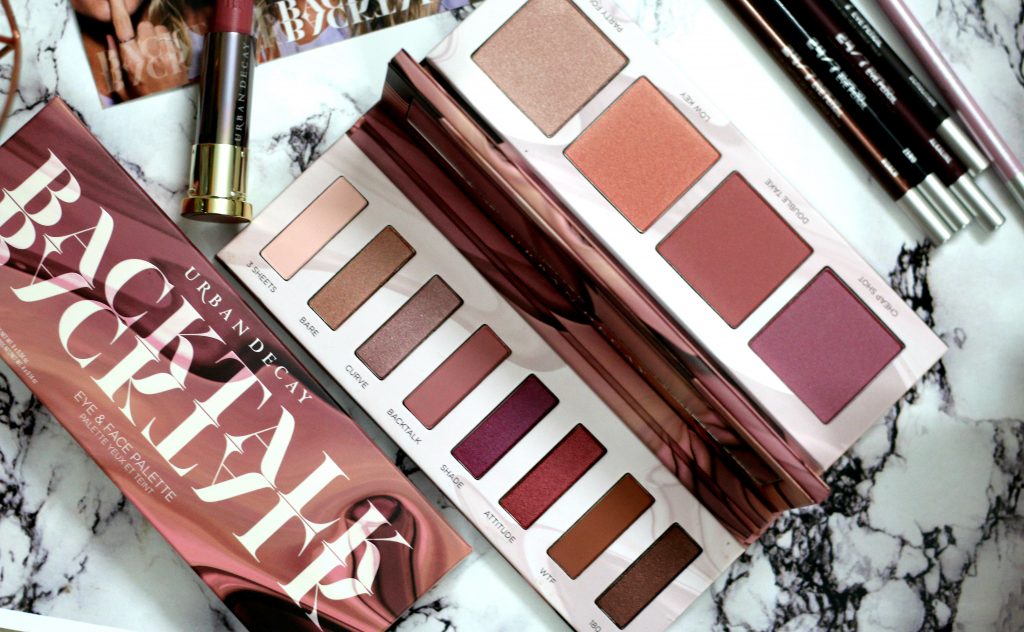 A gorgeous palette, isn't it ? The palette has a cardboard casing is of a flip style with a removable magnetic mirror. Like two palettes in one, this travel-ready case holds eight nude-mauve, soft berry and muted rose Eyeshadow shades on one side and four coordinating shades of blush and highlighter on the other.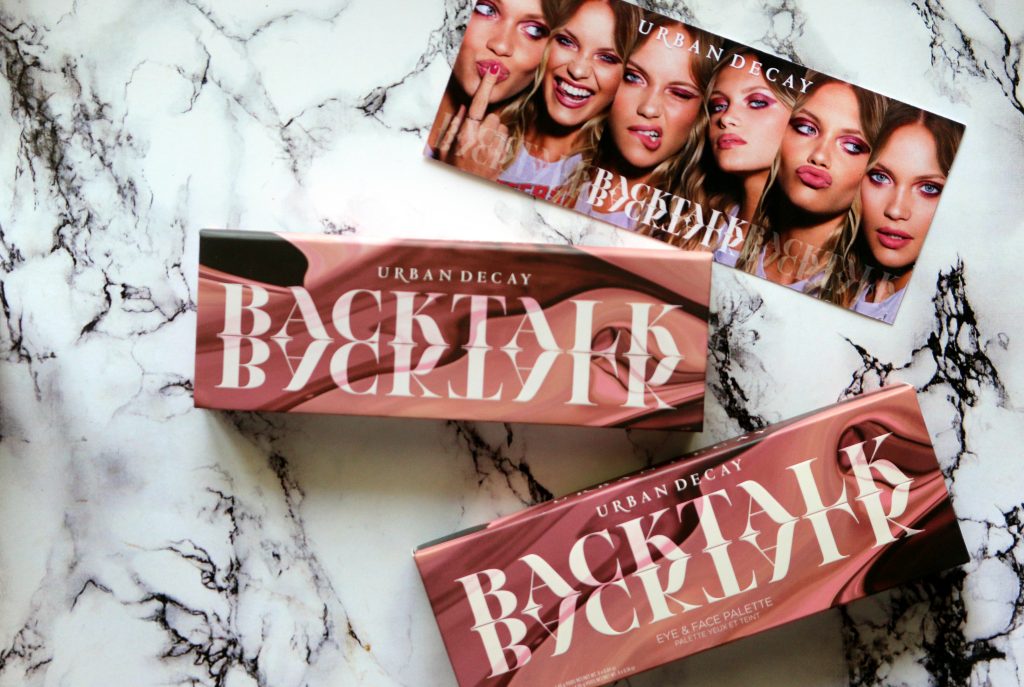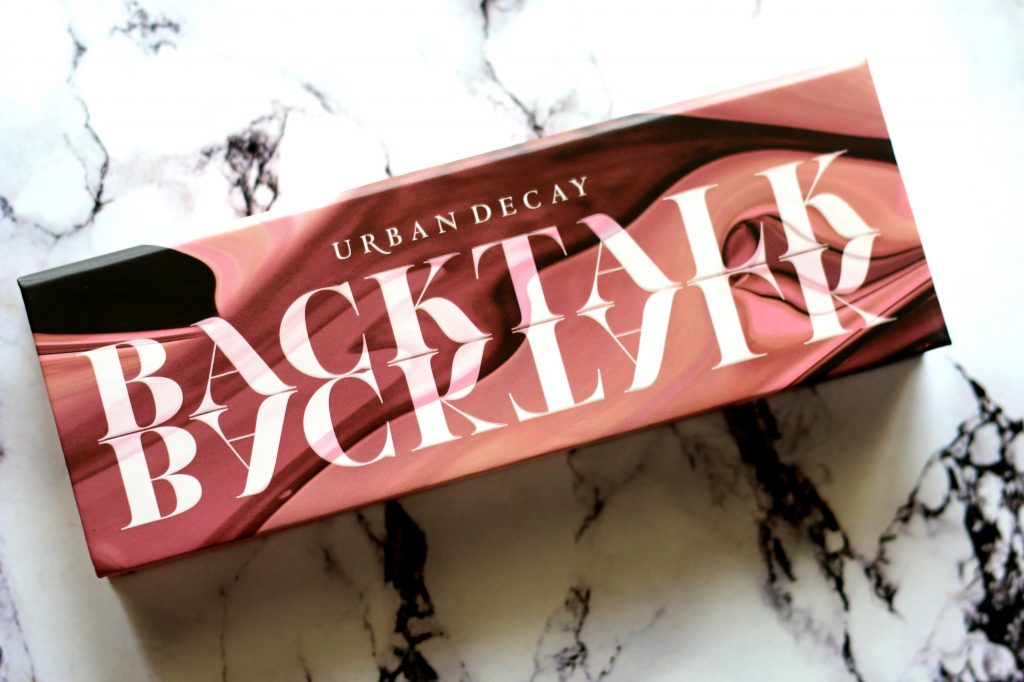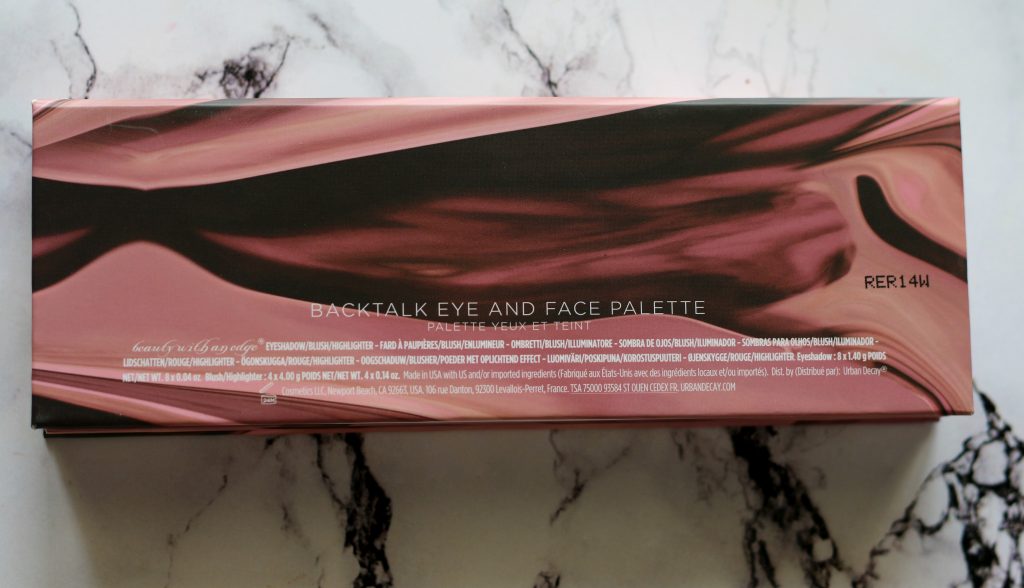 Packaging
Fill Weight:
EYESHADOW –8 x 1.40 g POIDS NET/NET WT. 8 x 0.04 oz
BLUSH/HIGHLIGHTER – 4 x 4.00 g POIDS NET/NET WT. 4 x 0.14 oz
One side has 8 eyeshadows falling in the neutral and berry tone family. Other side holds 2 blushes and 2 highlighters.  In the center, there is a double sided magnetic removable mirror separating the two sections. It is very stylish design, sleek, and easy to carry when traveling.  With a magnetic closure, you don't have to worry about this palette opening up in your bag. Also, mirror as it's detachable can be used on the go. Love love love the packaging!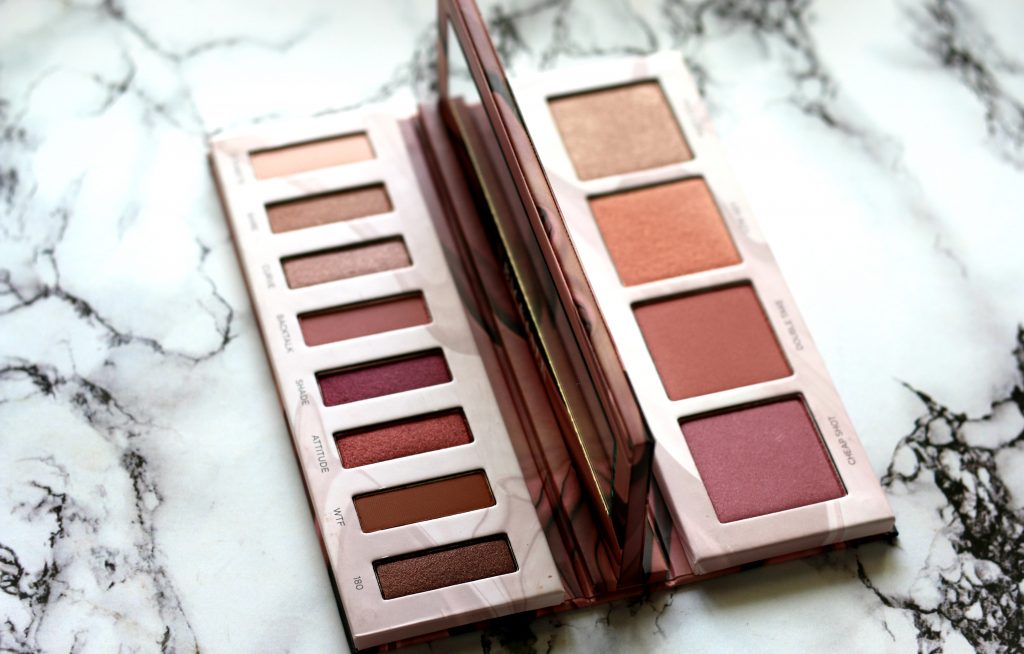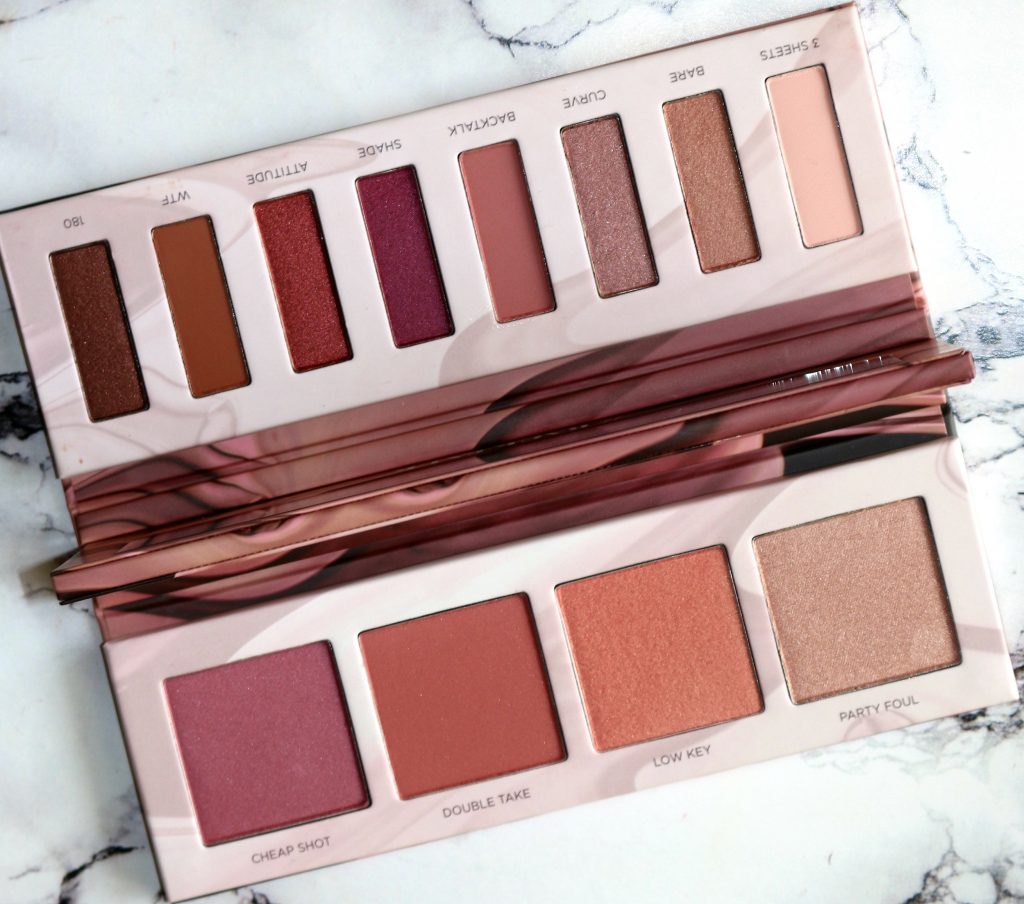 Here are the details of the shades
Eye Shadows
3 SHEETS (pale pink-nude matte)
BARE (light pinky-peach satin)
CURVE (metallic rose shimmer with silver micro-glitter)
ATTITUDE (metallic red-copper)
BACKTALK (soft rosy mauve matte)
WTF (reddish brown matte)
SHADE (deep fuchsia satin)
180 (metallic brown-red)
Blush and Highlighter
DOUBLE TAKE (rich mauve with slight shimmer)
LOW KEY (pink-peach)
CHEAP SHOT (medium pink-nude)
PARTY FOUL (light pink-nude shimmer)
Urban Decay is 100% cruelty-free.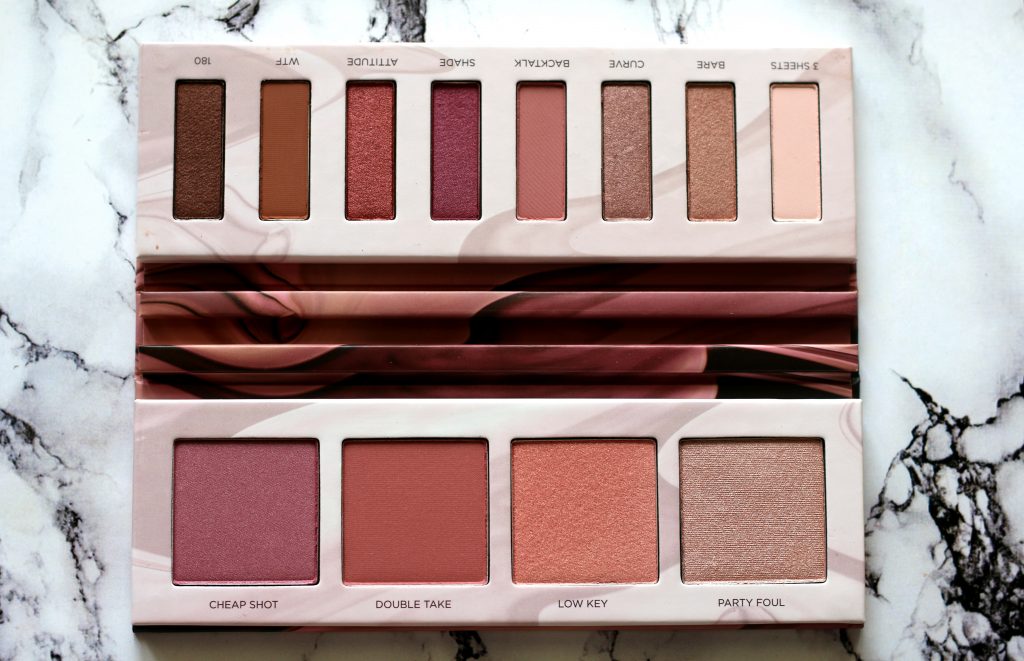 Shade, Formula & Pigmentation
The berry and rose tones in the palette gives a fall/winter vibe and peaches and pink is more Spring-y shades. Color range in this palette is perfect for both warm and cool tones fans.  Every shade features Urban Decay's proprietary Pigment Infusion System™ for velvety pigments that blend easily, stay rich and last for hours. Each shade is fairy pigmented, and some shades are soft and velvety. Some eye shades were easy to swatch in single swipe without feeling chalky. I experienced little fallouts with the eye colors though I build the shades to get the maximum intensity. All shades are well- coordinated that you can mix and match for every outfit easily.
Eye shadows – Now, as I said fairy pigmented – Some of you might wonder – Why so, Why am I not saying intense pigmentation ; Well, the biggest drawback of this palette I feel is – it's lack of pigmentation, not saying it's not pigmented at all. But It favors you more if you are a fan of soft looking shades. The formula of this palette, especially the eye colors aren't as pigmented as how I expected  it to be. I had to build 2-3 layers to show up on my medium skin.  Good part is – You can build the intensity as your preference from a sheer soft look to a intense bold look. I like to use a wet brush to get more pigmentation.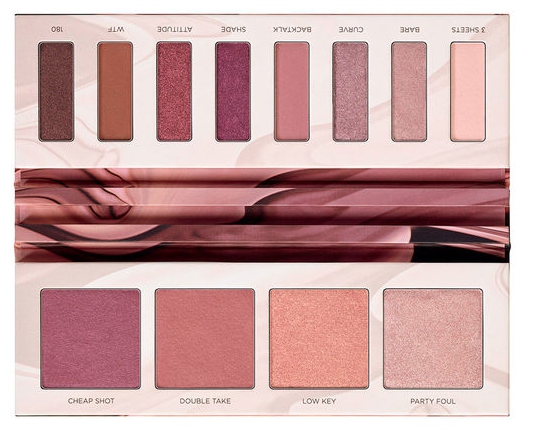 Blush and Highlighters –  In my opinion, My major love factor about this palette is these lovely blush shades that suits most warmer skintones like mine. If you have a very fair skin. You might find the blushes little bit lighter and you might have to layer it. They are easy to apply using a brush and don't feel streaky or powdery.
CHEAP SHOT is a medium pink with a satin finish
DOUBLE TAKE is a peachy rose-mauve with a matte finish.
Highlighters  – look gorgeous and add a lovely sheen without any overload of shimmers or glitters. They are very light weight in texture, Not chunky or over shimmery or over glittery. Feels soft while blending and all of the shades look lovely on medium skintone! Deeper skin tones would have to layer the blushes to get the color.
LOW KEY is a pink-peach highlighter
PARTY FOUL is a light pink-nude shimmer highlighter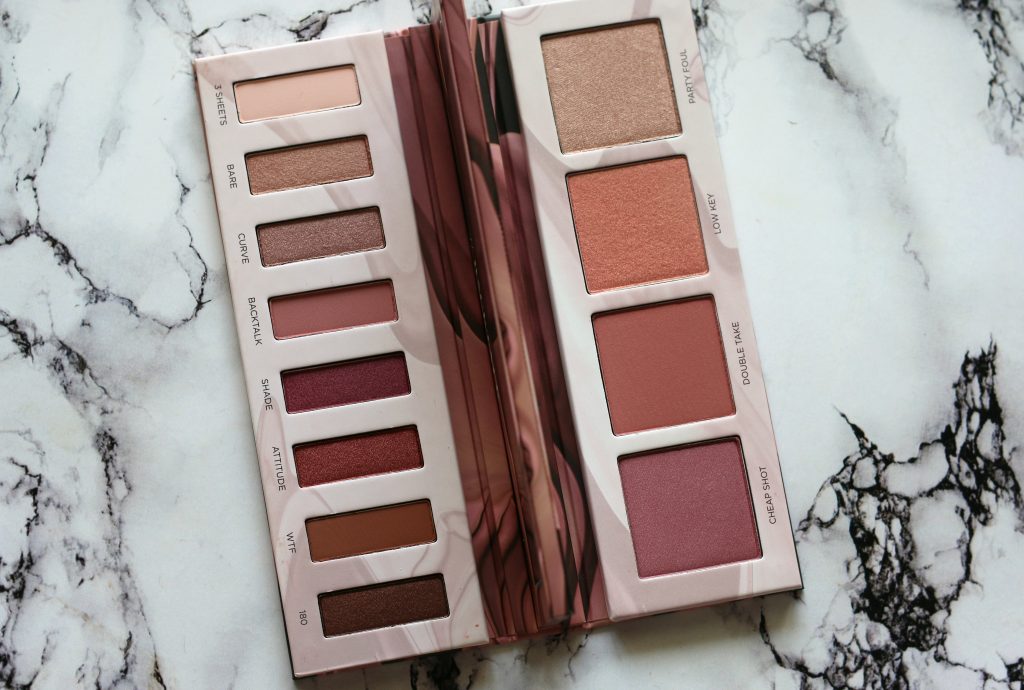 Longevity – Staying power is ok. I wore them for about 7+ hours without any issues. No fading or creasing. I wore with a primer underneath to increase the wear time. Also, as I said earlier, I had layered the shades to get the desired pigmentation. Though darker shades applied easily., I had to layer lighter shades to get the desired intensity. In terms of lasting power. I can't be 100 % sure as in how much time this will last without a primer. I have oily lid area and without primer, Eye shadows tend to wear off easily on my lids.
Swatches in natural day light with and without flash
Eye Shadows first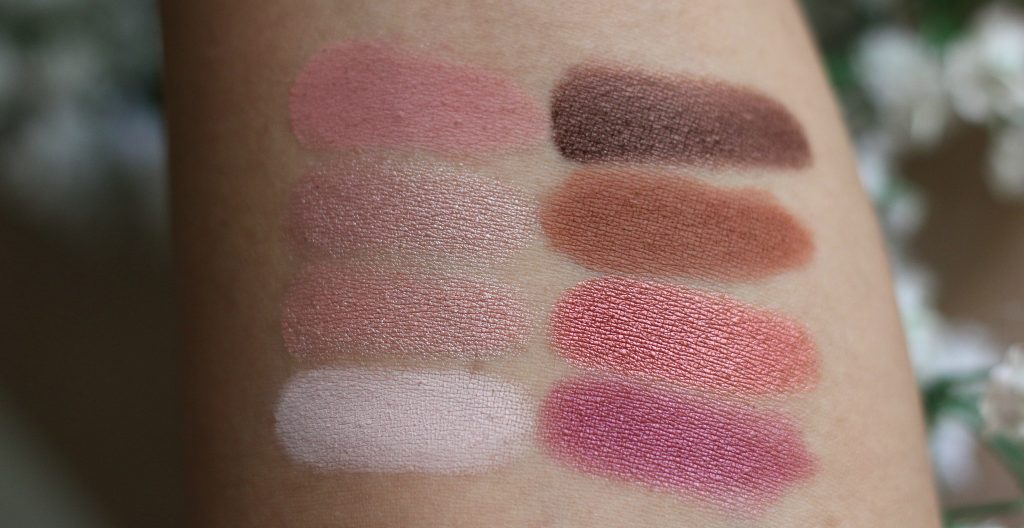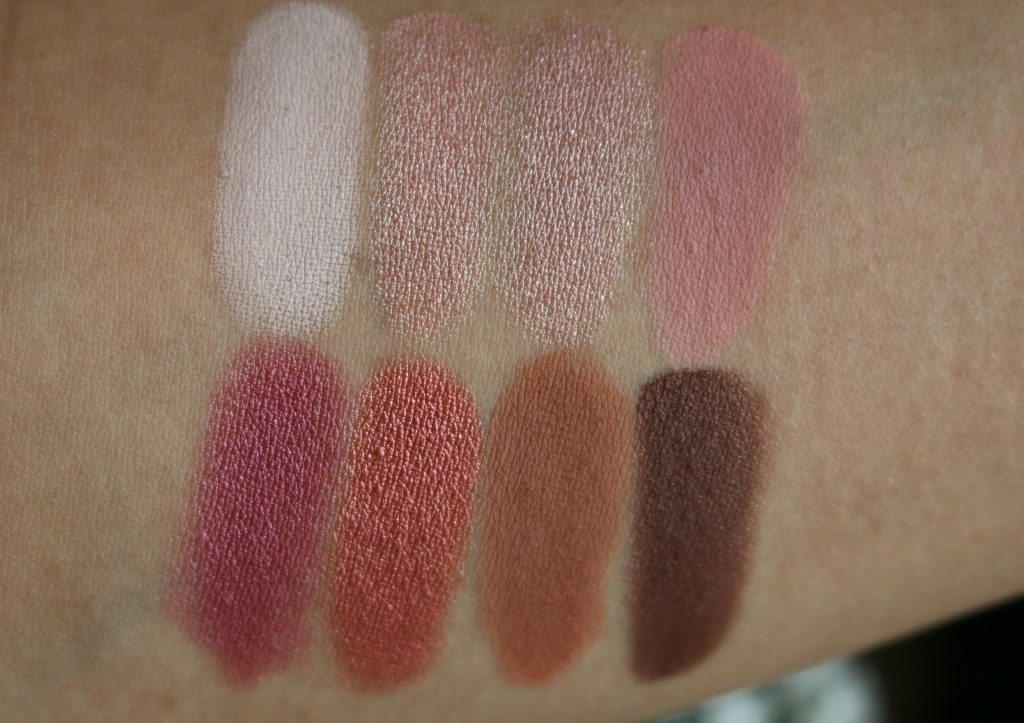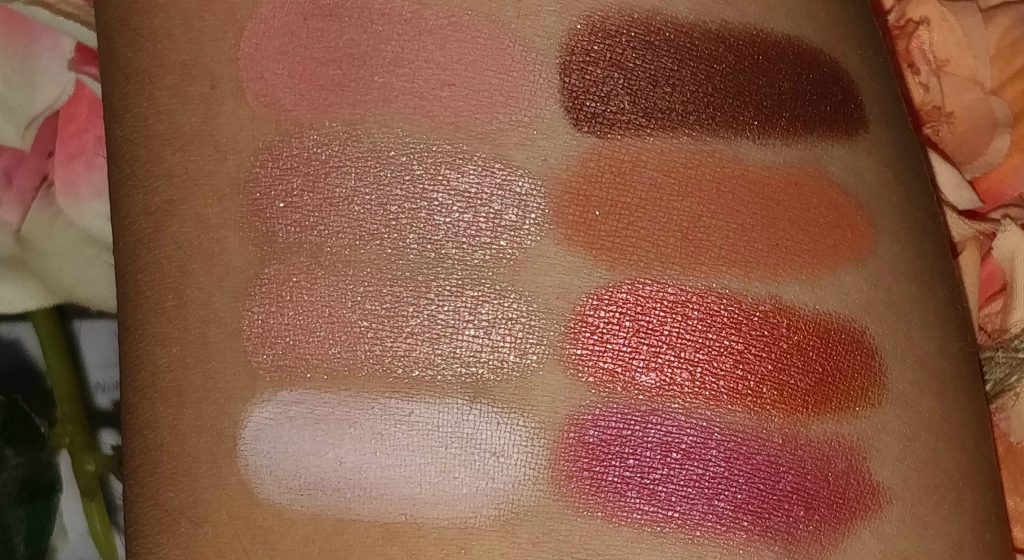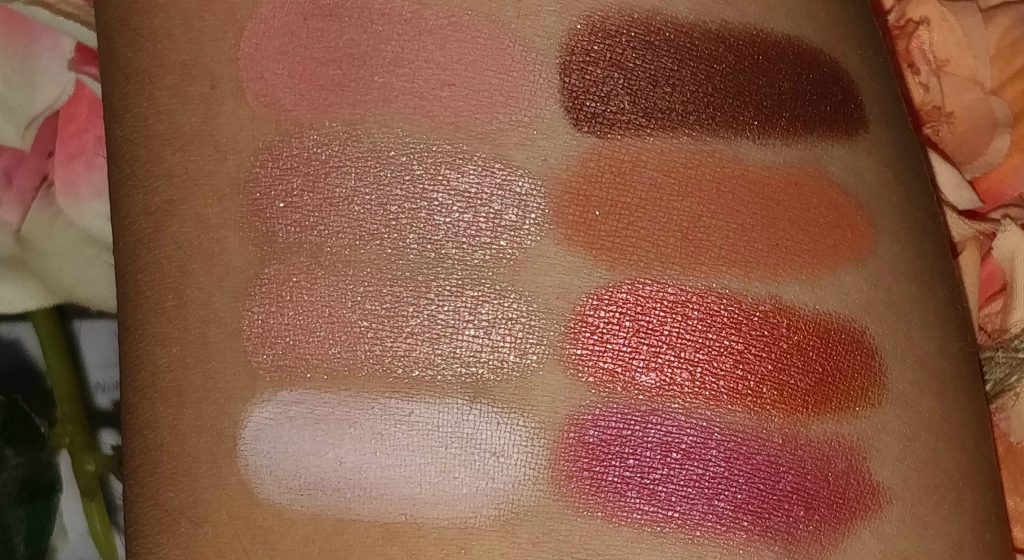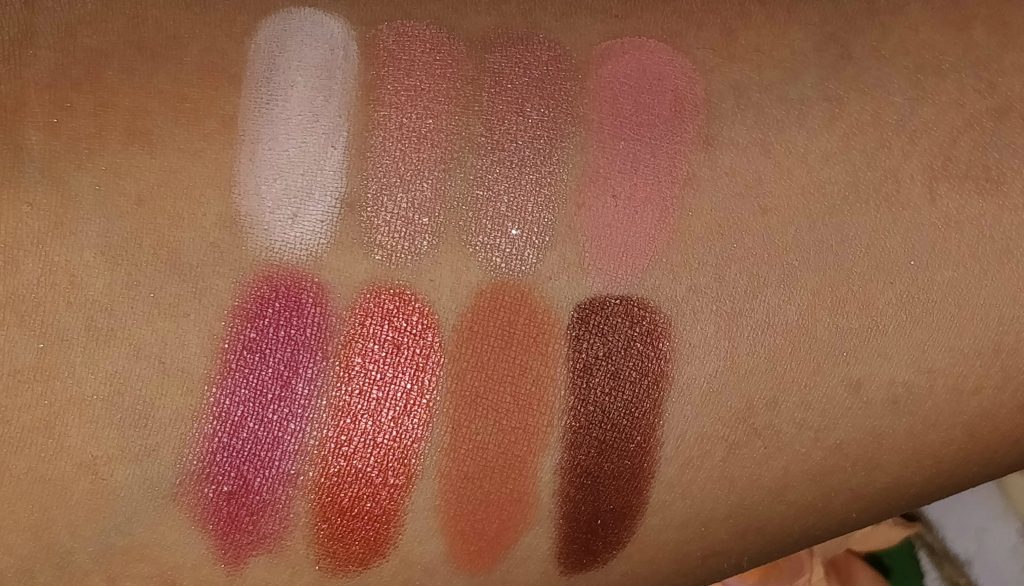 Blushes and Highlighters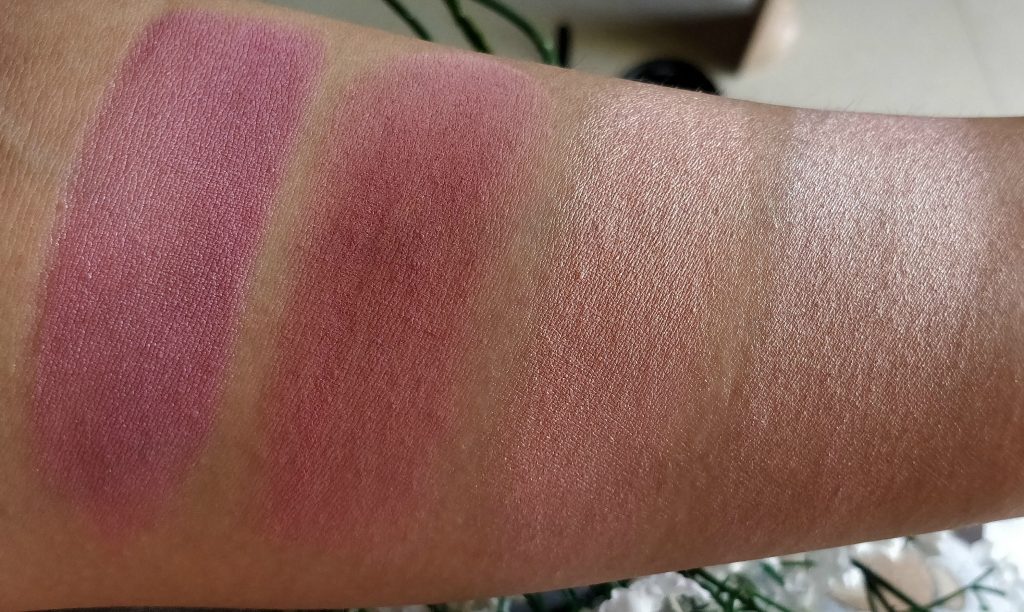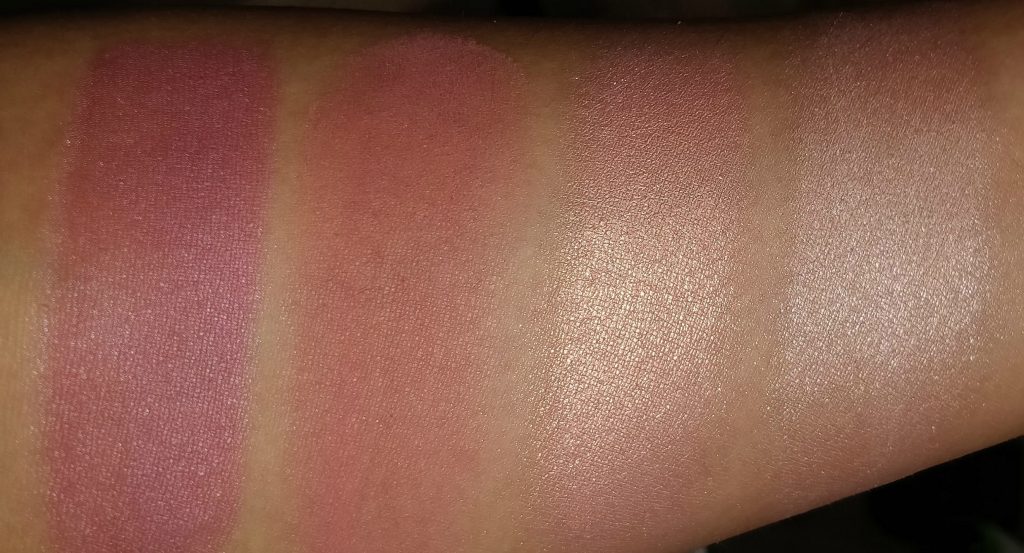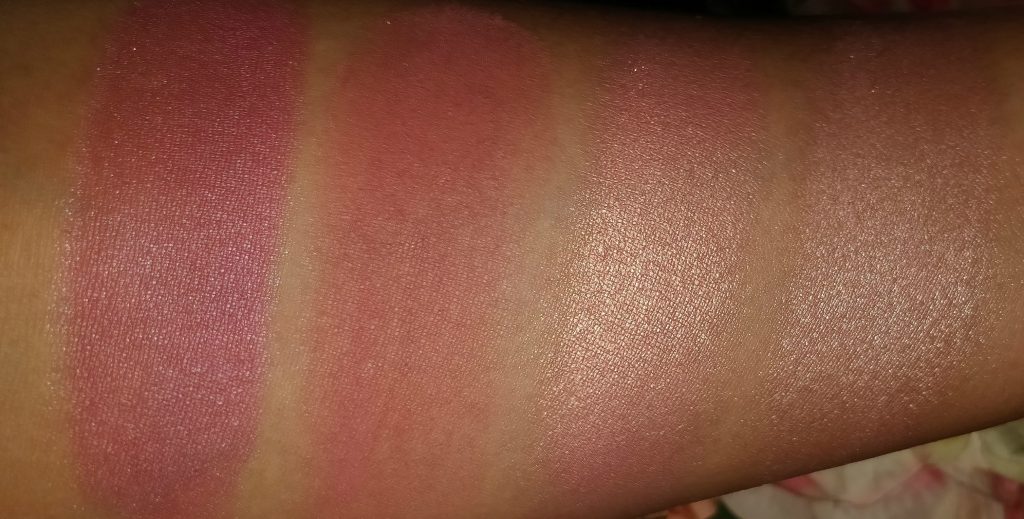 Overall,  If Urban Decay didn't send this to me- Would I have purchased this palette ? – Well, my answer is no. All of my other Urban Decay Palettes are amazingly pigmented and I never had problems in terms if pigmentation. Overall, this palette is great to have if you are looking for everyday wearable soft rose-berry toned shades and don't mind the layering part of some shades to get the desired pigmentation. Talking about blushes and highlighters. I am quite happy with the the blush and highlighters shades.  If you're looking for an all-in-one eye and cheek palette, this might be for you.

My tip – Want more eyeshadow intensity? Wet your brush with Urban Decay All Nighter Setting Spray  or any other setting spray first, then apply shadow.
Availability – The Backtalk Eye & Face Palette costs $46 and will be available exclusively on sephora.com and in Sephora stores. The palette will also be available on urbandecay.com
Will you be purchase Urban Decay Backtalk Face & Eye Palette ? What are your favorite shades in the palette?
** Product sent by brand PR. However my review is honest and unbiased as always.
---
Looking for perfect eyeliners to match the colors in this palette. Check out the review of Urban Decay 24/7 glide-on eye pencils here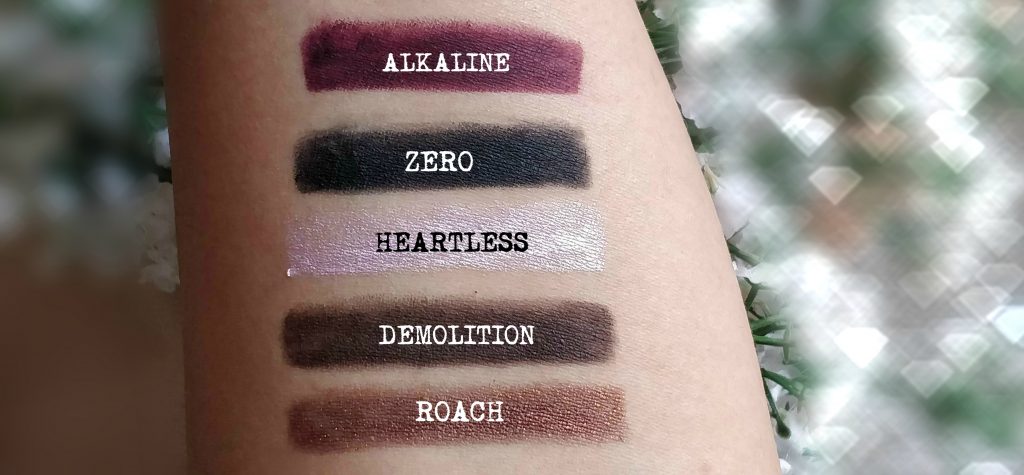 Read the review of Urban Decay 24/7 Glide-On Eye Pencils here