Hi makeupholics…I am reviewing

MUA Going For Gold Eye Shadow Palette

today.

MUA, Makeup Academy, is a brand that are really really cheaper but deliver great quality in the products. They have a wide range of products including eyeshadows, eye liners, Primers, lipsticks and nail polishes. They bring new products frequently, still keeping the prices down! The palette which I am reviewing today is a limited edition one…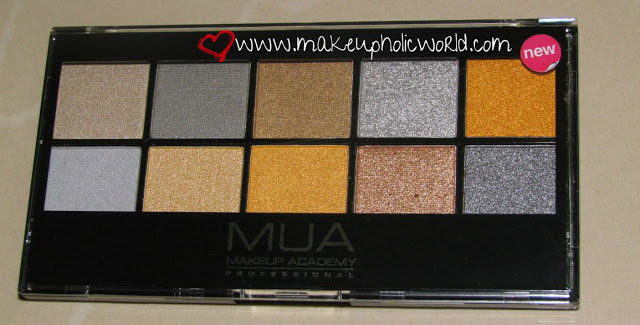 To celebrate the much anticipated 2012 London Olympics, MUA has introduced the champion of all make-up palettes, a limited edition Going for Gold Palette!
It contains 10 fabulous shimmering eyeshadow shades in the new square pans.
If you notice the other His one is a bit different in shape…The square pans make it different.
Packaging and Price
Comes in a palette with square pans with a sponge applicator
Regular Price: 4 GBP

Swatches and my view about the palette

What I like about the palette
These shades are easy to blend and apply. They are highly pigmented.
These shades lasts longer if a primer is applied underneath.
Its easy to remove it using any eye makeup remover. This palette contains the shimmery shades.
What I didn't like about the palette
All of the shades are shimmery. Doesn't come with a mirror…
Contains Parabens…. I noticed some fallout while applying the eye shadows..But If a shadow shield is used while applying, Its perfect…

Overall I liked the palette and I recommend this to all my friends.
Have you tried MUA Going For Gold Eye Shadow Palette? Do you like it