Hi dearies!!! Hope you all had a great Sunday!! As most of you know I suffer from dark circles under my eye which is hereditary!! 🙁 :weep :weep ; But, I am happy that I live in a world where I have easy access to magic products that can hide all imperfections!!
Today I thought to share with you all my HG product from MAC.
MAC Studio Fix Powder Plus Foundation

What is MAC Studio Fix Powder Plus Foundation
Studio Fix is a powder and foundation in one that combines good coverage with ease of application. Designed to be used dry, the powder and pigments create a matte, velvety texture. It contains Silica, which helps to maintain a matte finish by absorbing oils on the skin, as well as Talc to provide a smoother, less reflective, matte finish. The talc has been milled to a microscopic size to provide a beautiful texture while allowing the skin to breathe. It is available in a wide range of colours. It can be applied with a brush, sponge, or a powder puff.
Comes in a box as shown in the snaps with a Sponge applicator!!!
Price:1700 INR; Qty: 15 g; My shade is NC43.5 🙂
Ingredients
Now, Finally, the magic!!!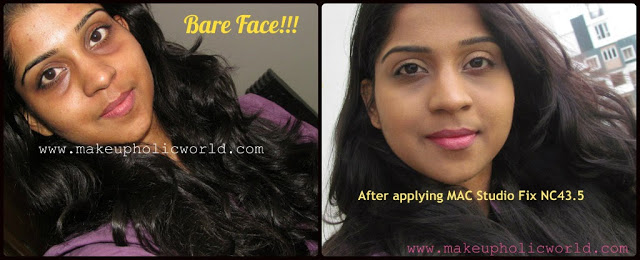 On the left side you can see my no makeup face!! I have a clear face with a thin layer of dark circles under my eyes!! Why God??Why??? On the right side you can see me wearing a moisturiser (Natures Co. Vanilla and Vit E) …[Please note that my face looks paler and oiler because of the moisturiser on!!!! ]and applied MAC Studio Fix on top of it!!
I am seriously in love with the transformation..This gives a very good coverage even covered my stubborn dark circles, I have not applied concealer.. I am really happy about the coverage it gives even without a concealer. I don't mind the price tag of 1700 INR, This product is totally worth it!!!
I love the staying power. I apply this evenly using the sponge that comes with the product!!! A must buy product from MAC!!!
I totally recommend this to all!!!!!!!

Bye dearies!!! Do like my Facebook Page if you like my blog!!!