Hello dearies….Hope you all are doing great..I know for all of you Friday is the most loved day of the week!! The beginning of weekend….For me too, its awesome day too…
Everyone wants their skin to be clean, free from dark spots, acne etc…I know for a fact that, in this busy, polluted and stressful world its impossible…Like many of you, I too was suffering from small break outs and 
I am a person who will never ever get time even to go to salon for a facial clean up etc…
I was in search of a product to be used on those problematic skin days, something which would calm down acne, kill it…leaves skin clean without any spots etc….
I asked several bloggers, read different blogs and finally after lot of research purchased this product from dermalogica. At first I was a bit skeptical about spending too much on a product, but my misbehaving skin 
makde me splurge on this lil tube from Dermalogica, To know whether it worked for me , continue reading….
Dermalogica Concealing Spot Treatment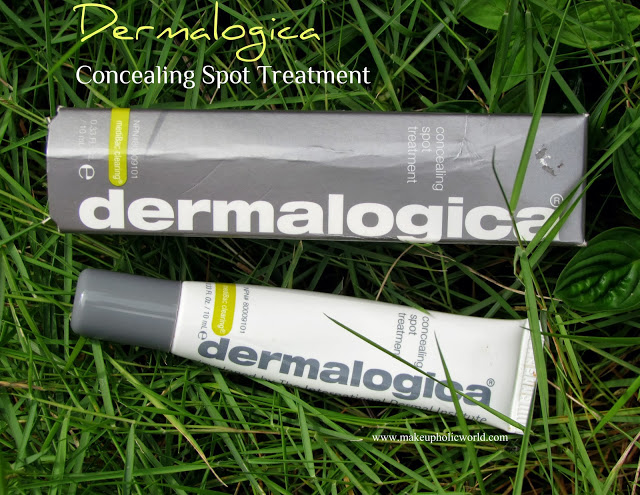 What does the company claim about the product
acneic and breakout-prone skin.
An intense treatment with a natural – looking tint ideal for daytime coverage of breakouts. Sulfur and Zinc Oxide quickly target, conceal and help clear breakouts. An amazing alternative for those who prefer treatment products free of Benzoyl Peroxide. Contains no artificial fragrance or color.

Packaging, Price & Where to buy
Price : 2675 INR or $NZD 45  for a quantity of 10 ml
Buy from Jabong here or from Dermalogica NZ here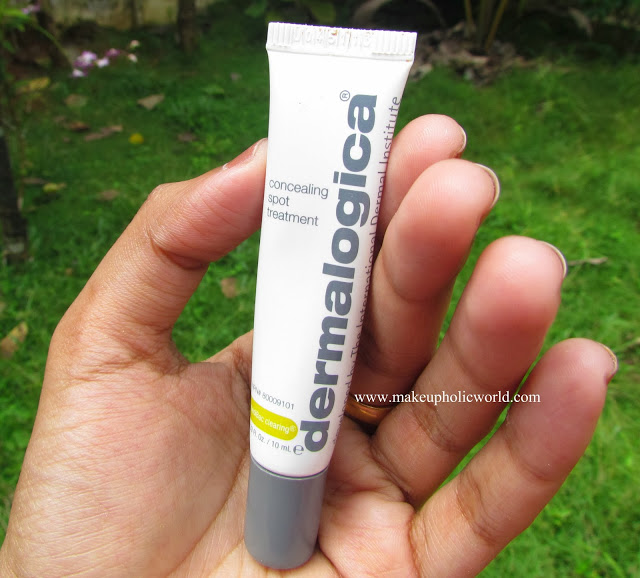 My experience using Dermalogica Concealing Spot Treatment
The main reason I purchased this is to treat the frequent acne breakouts which was troubling me… 
The product's texture is like below.. Quite a thick cream.

This product is very difficult to blend onto the skin. You can only cover very small acne spots using this…
Another thing I felt is that, this product helps treat mild acne, Suppose, if its bigger acne, it simply fails.
Instead,  if you are looking for a product that helps treat your cystic acne or bigger acne, I  don't recommend this..I have a very very sensitive skin, and this product didn't irritate my skin or caused any redness or itching. 
Thinking about the price of this, it still gives me a heart attack… this infact taught me a lesson, don't just splurge on anything thinking that it might work for you, Instead, do a better research on some natural methods to cure acne…
Better options to treat acne would be tea tree oil, controlling oil in your food, avoid unnecessary tension etc…

I don't have any pros to tell about this product… Infact, I think this is not a must have…This simply burns your pocket…This will cure only small acne…not bigger ones…