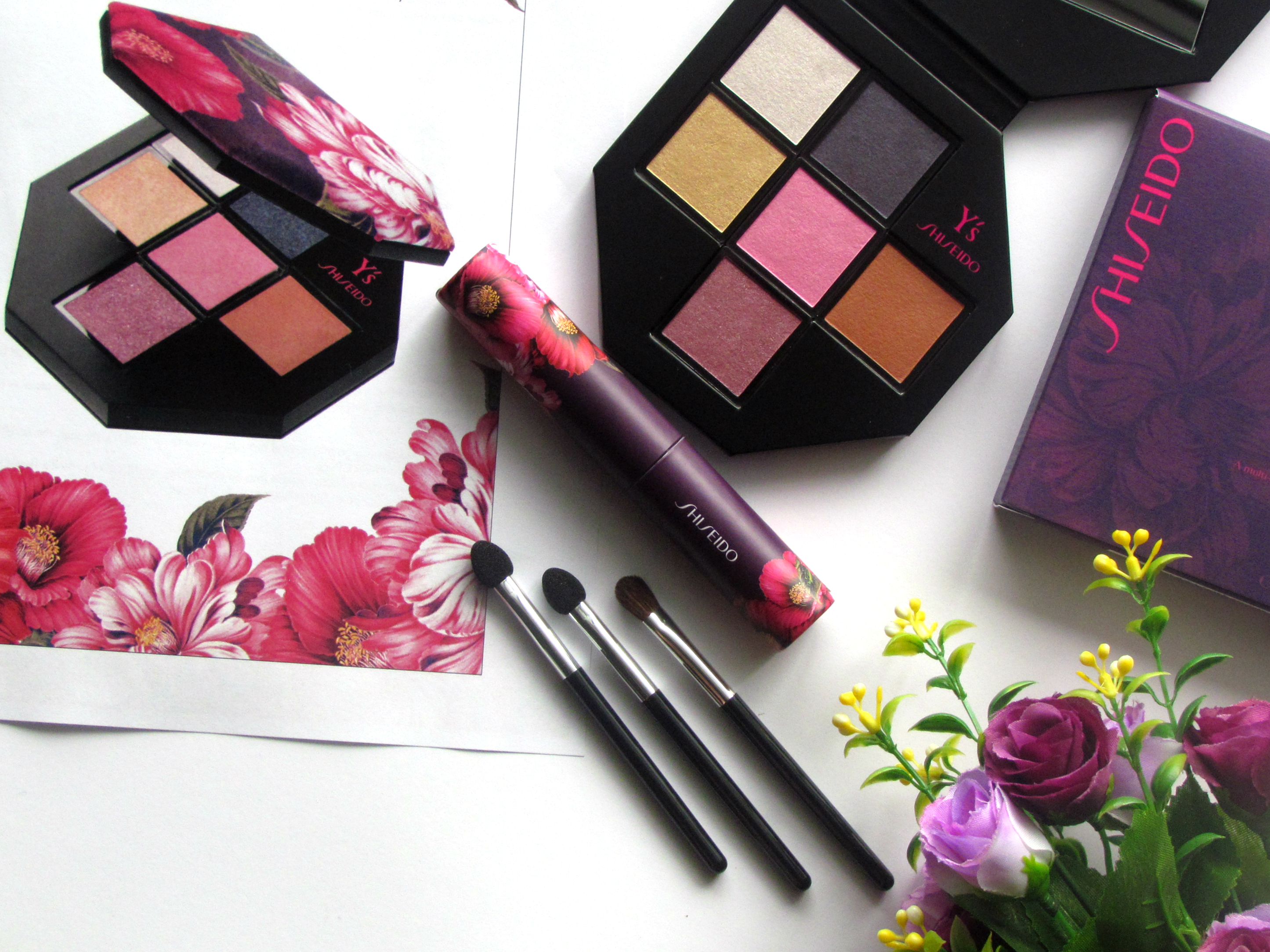 I never tried any makeup products from Shiseido before. So, I was really excited to try this LE palette for you girls. I was so lucky to receive the Shiseido Festive Camelia Multi-Color Palette.
This is a limited-edition multi-color palette that is created in collaboration with Y's, a brand produced by Japan's leading fashion designer Yohji Yamamoto. A design of gorgeous camellias is printed on high-quality silk used in Y's collections. Bunches of lush, floral-inspired holiday glamour. In this review, I am sharing my experience using the palette+ swatches, looks etc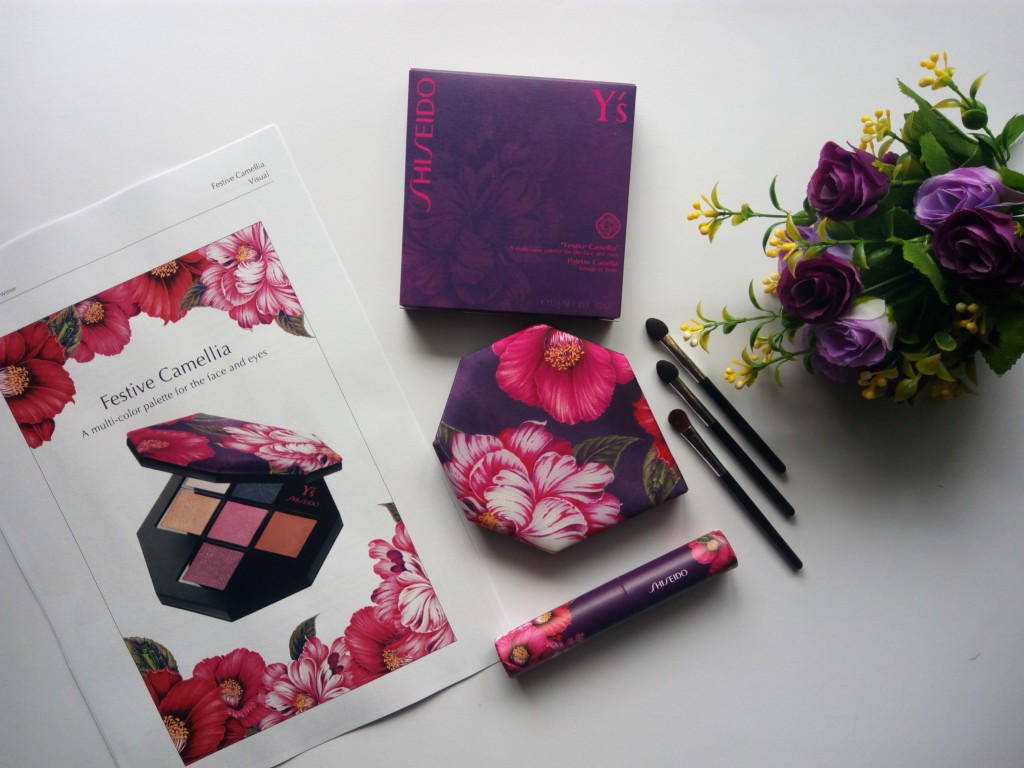 Festive Camellia
"A multi-color palette for the face and eyes"
This LE palette retails for NZD $89 for 12 g of product and is available in Shiseido counters from today onwards.
Before I start in detail about the review, Let me share few pictures and discuss on its beautiful packaging. It's an abstract shaped palette a cardboard casing with a magnetic closure and the lid part features the beautiful design of colorful camellias printed on the same luxurious silk (silk has been used on the palette just like it is used in Y's clothes; and it has been specially printed in Kyoto. Silk, made from natural fibers). A cushioned lid as shown in the pictures.
Look how beautiful the packaging looks! I can't stop staring at it! The palette is covered with camellias in such vivid color, it seems to explode with the visceral sense of a woman's presence, boldly blooming against a background color that is softly understated, but glimmering with a hint of sheen. Hiding quietly within the leaves of the camellia, a jeweled beetle seems to tickle the flowers, a playful reminder of nature's beautiful mysteries. Perfect for a floral lover like me.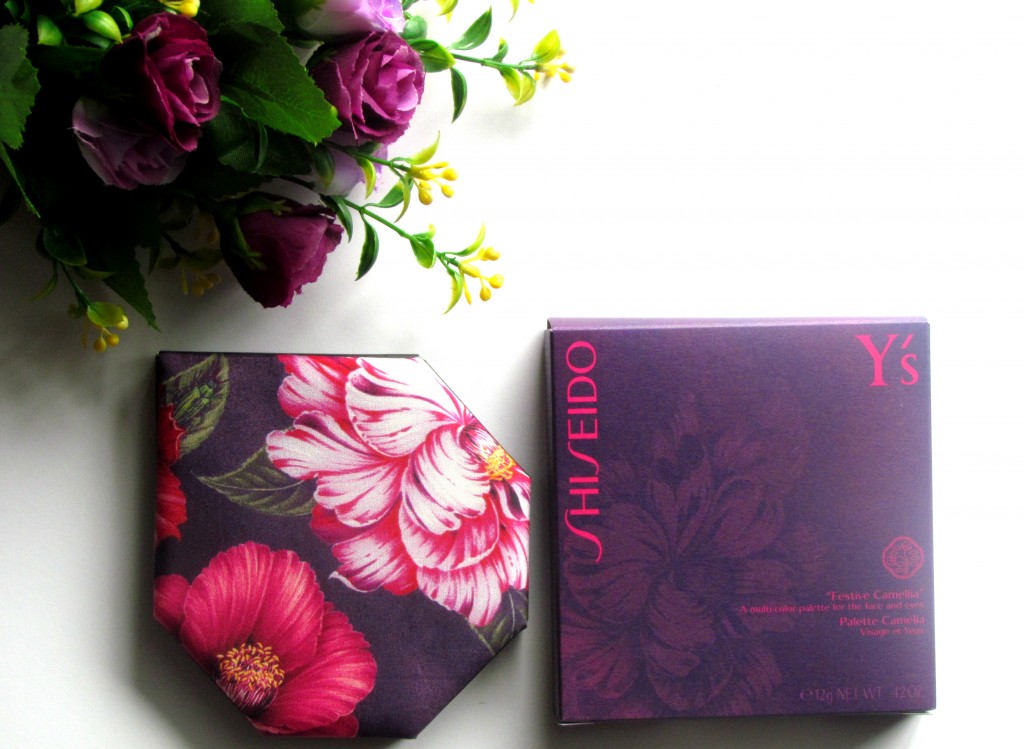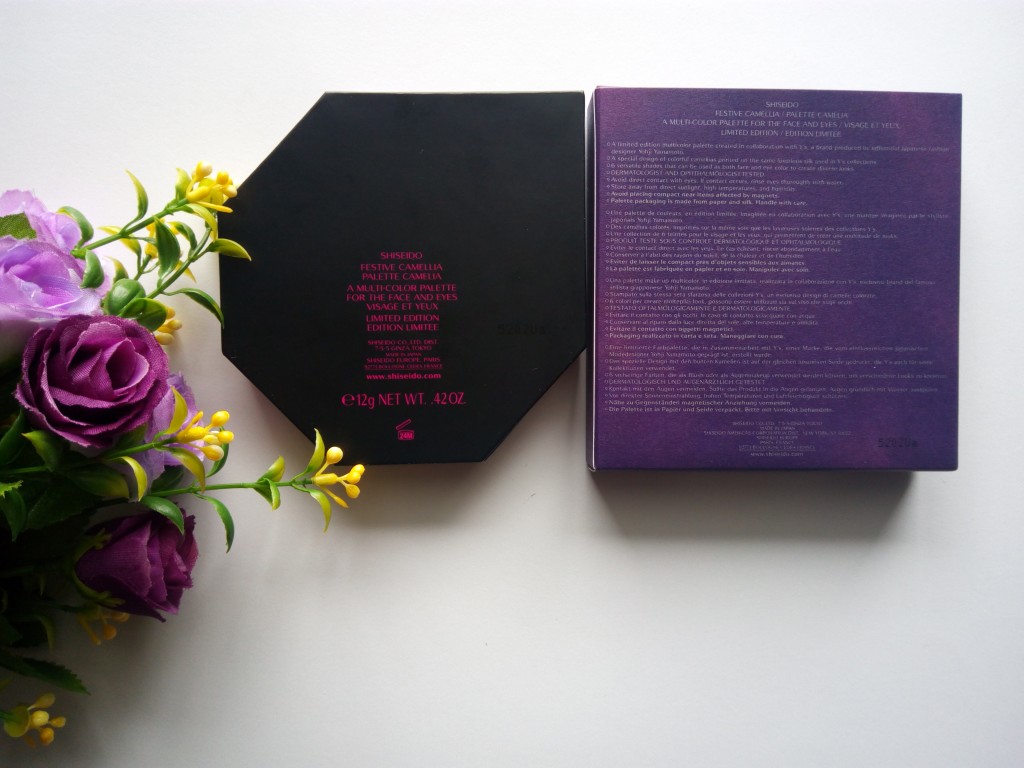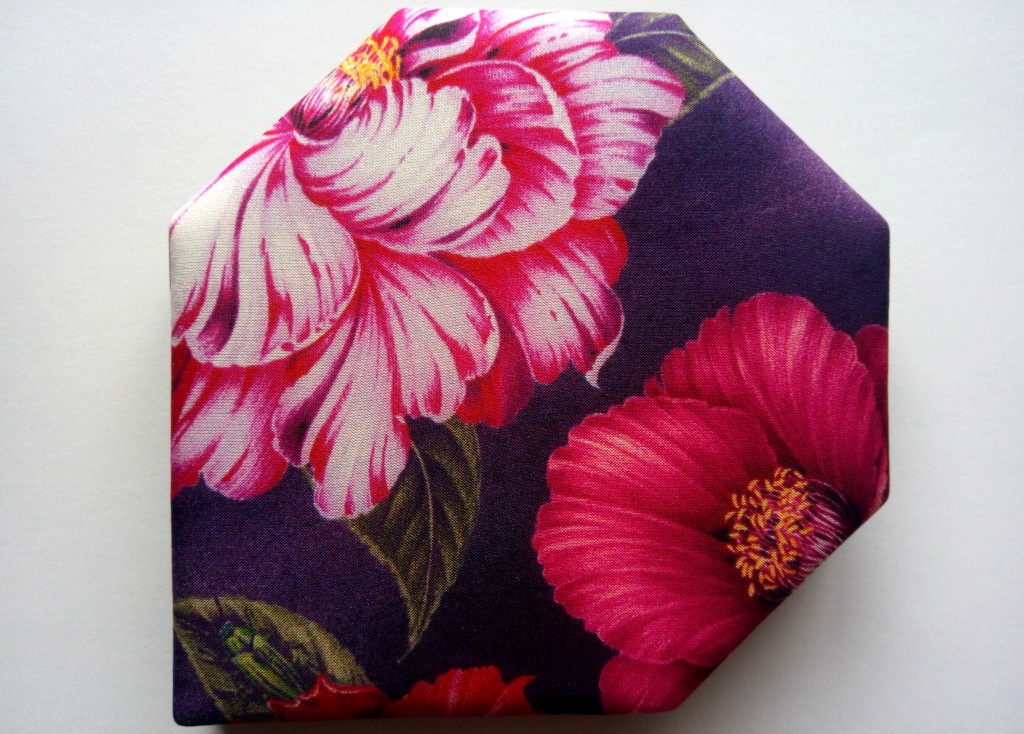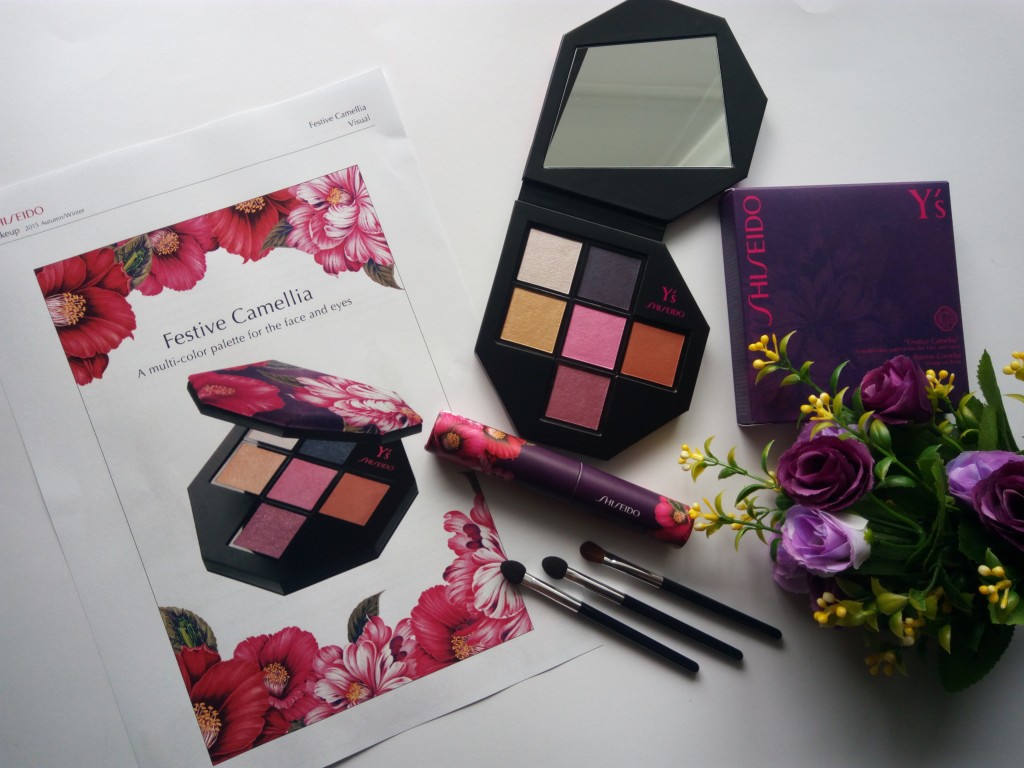 This palette has 6 versatile shades that can be used for creating a variety of looks. The shadow pans are square shaped and slightly larger than other palettes.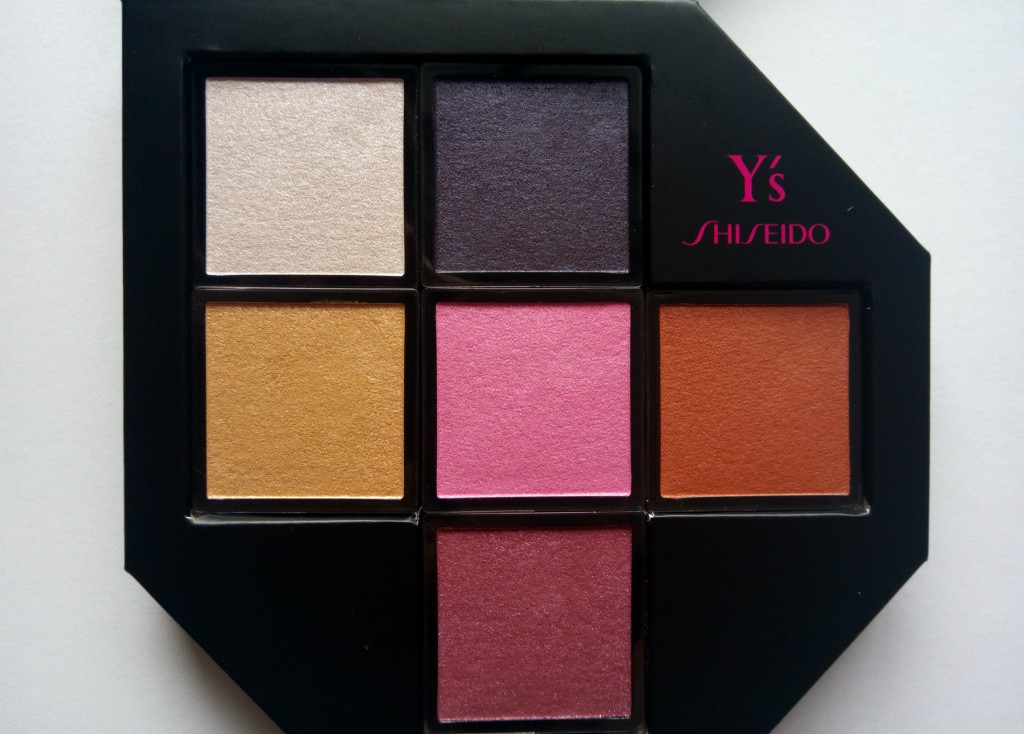 A closeup of the shades in the palette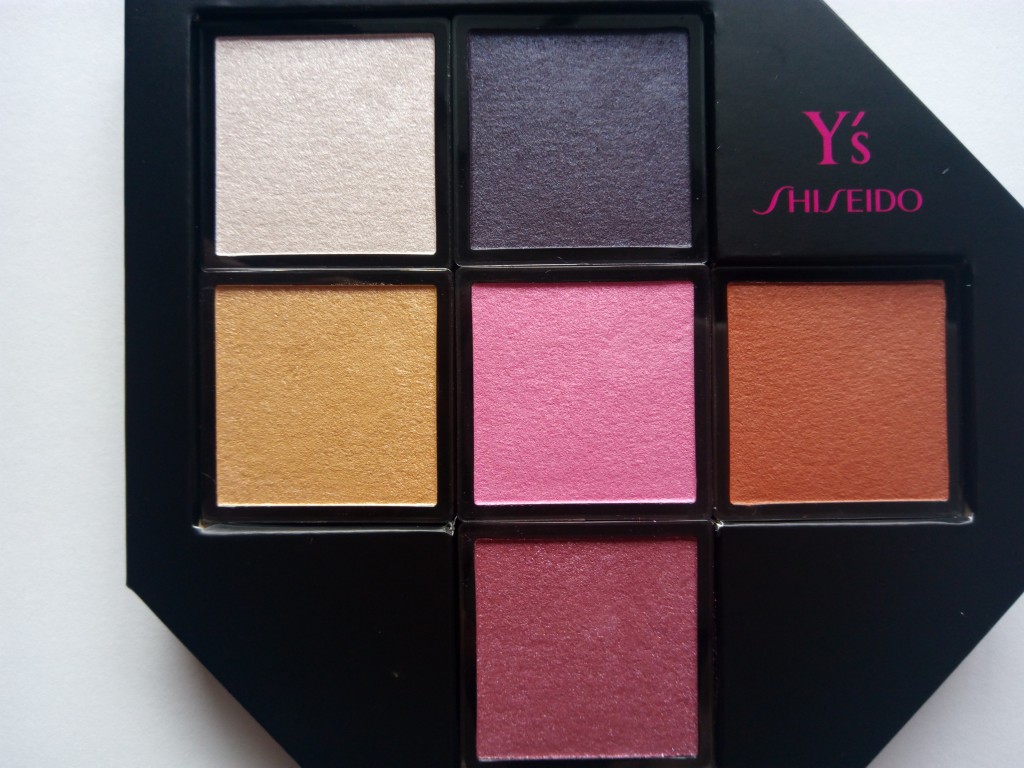 This brush set is a gift with purchase. Comes in a brush holder with camelia flowers printed on it. one shader brush and 2 sponge tip applicators. Really help to pack the color on lids.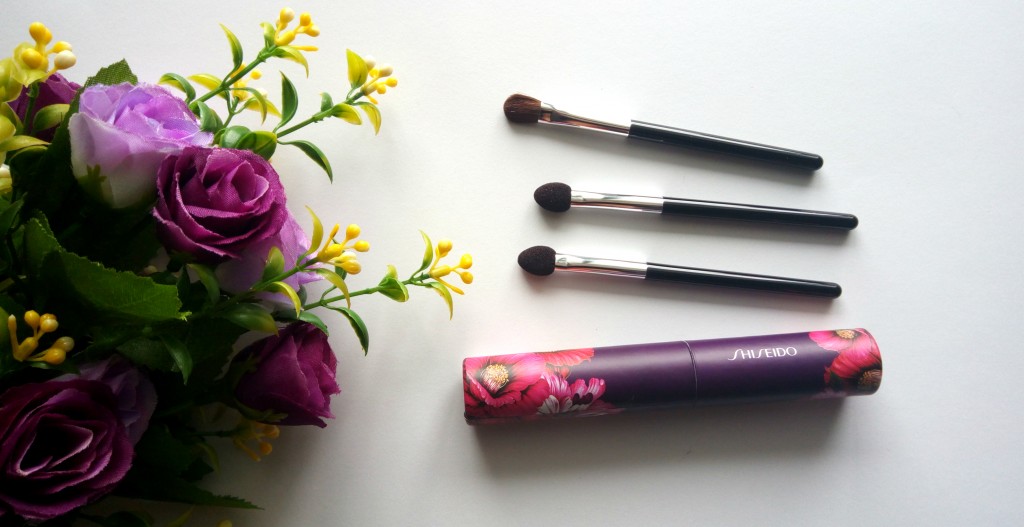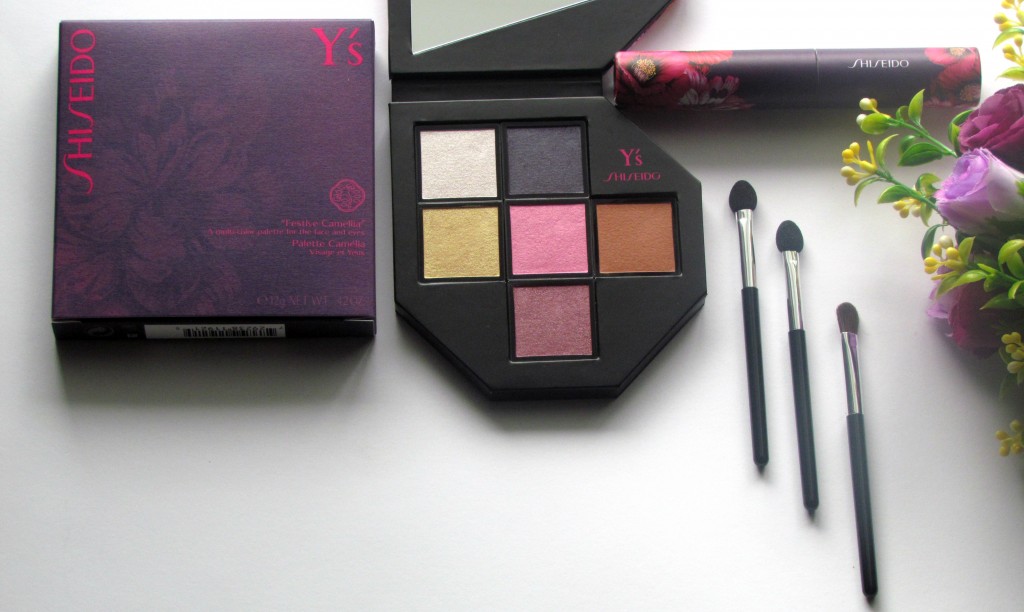 Shades
I am really amazed by how pigmented all the shades are. With single swipes and without any primer, all of the shades look absolutely stunning. All shades are really soft, no fall outs, easy to work with.
Snow – "Snow is a delicate silvery white with a subtle trace of cool lavender." I love this as a inner corner highlight. It's more of a silvery white on my skin tone. Really soft to touch. Easy to work with. no fallouts. no chunky glitters to it..
Velvet – "Velvet is a sensuous deep purple, slightly warm and semi-matte for elegant definition." Perfect outer corner shade for smokey eye looks. I can see myself using this shade a lot.
Japonica – "Japonica is a glimmering gold with a soft shine of reflected pink." I love this shade as an overall lid color. An elegant gold shade that look stunning on every skintone. Shimmers are really micro and there is no fall out too.
Winter Rose – "Winter Rose is a clear, fresh pink shade. Crisp and cool." more of a pink with a hint of purple. I like this shade too. Infact, for today's look, I used this shade mixed with 'heart' shade. Winter rose shade make a perfect blush shade too! love it more as a cheek color
Petal – "Petal is a warm semi-matte brown tone for subtle, natural definition and shading." Another great shade for overall eye lid. I use this shade a lot
Heart  -"Heart is a rich brownish-violet enlivened with shimmering multi-coloured pearls." My favorite shade in the whole palette. Absolutely gorgeous.
Enjoy the swatches.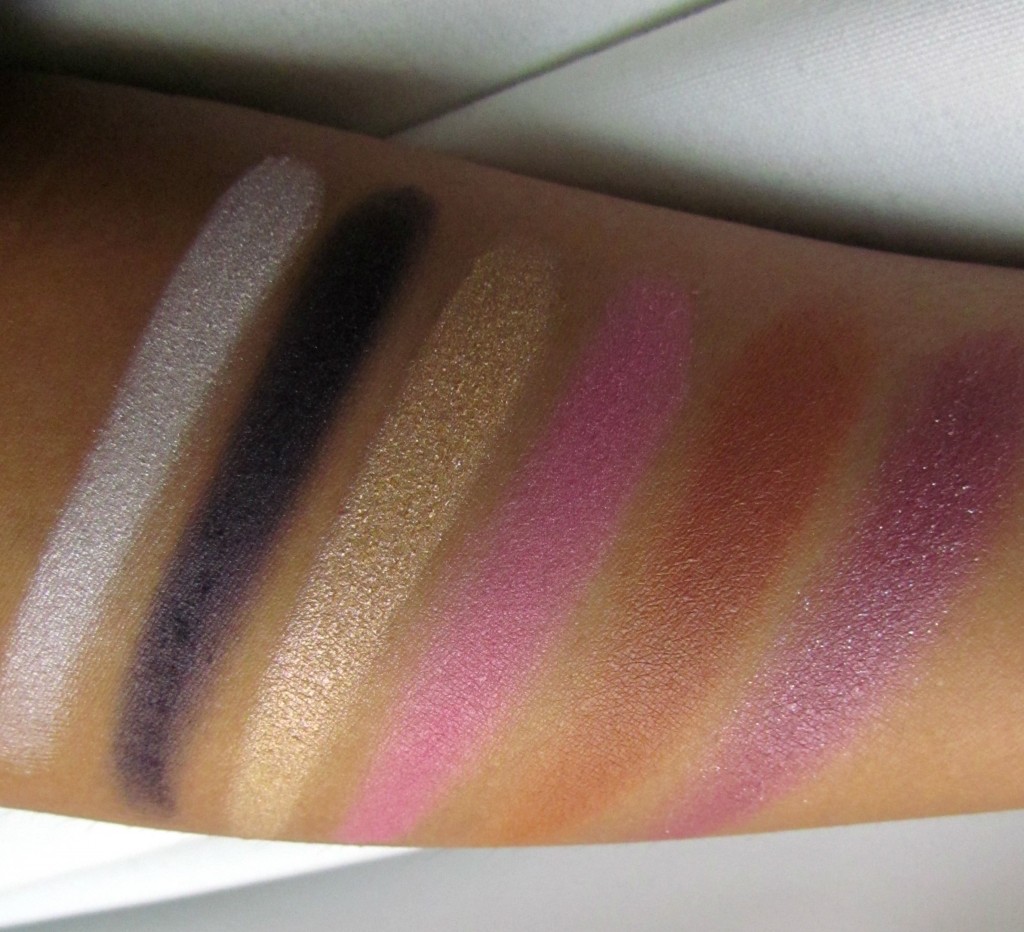 (L-R ) snow, velvet, japonica, winter rose, petal, heart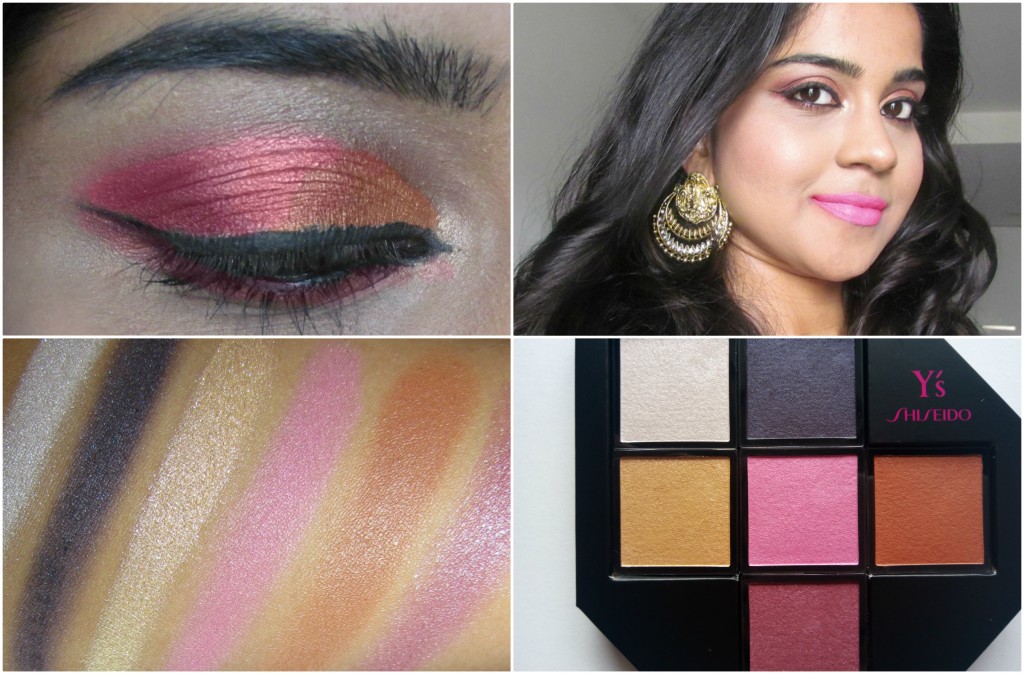 Overall, I love love this palette! Absolutely stunning shades and perfect for every skintone. All of the shades are so soft, easy to work with. Can be used using both dry and wet brush. Really happy with how pigmented the shades are. Also, the beauty of the packaging is so nice! I have never owned a abstract shaped palette wit ha beautifully designed lid that too inspired by flowers. Palette is very sturdy. In fact, I dropped it 2-3 times while getting ready. All of the shadows were safe. lucky me :). GWP makes it more special. It's a little expensive. But, I would say it is totally worth it. This LE palette retails for NZD $89 for 12 g of product and is available in Shiseido counters from today onwards.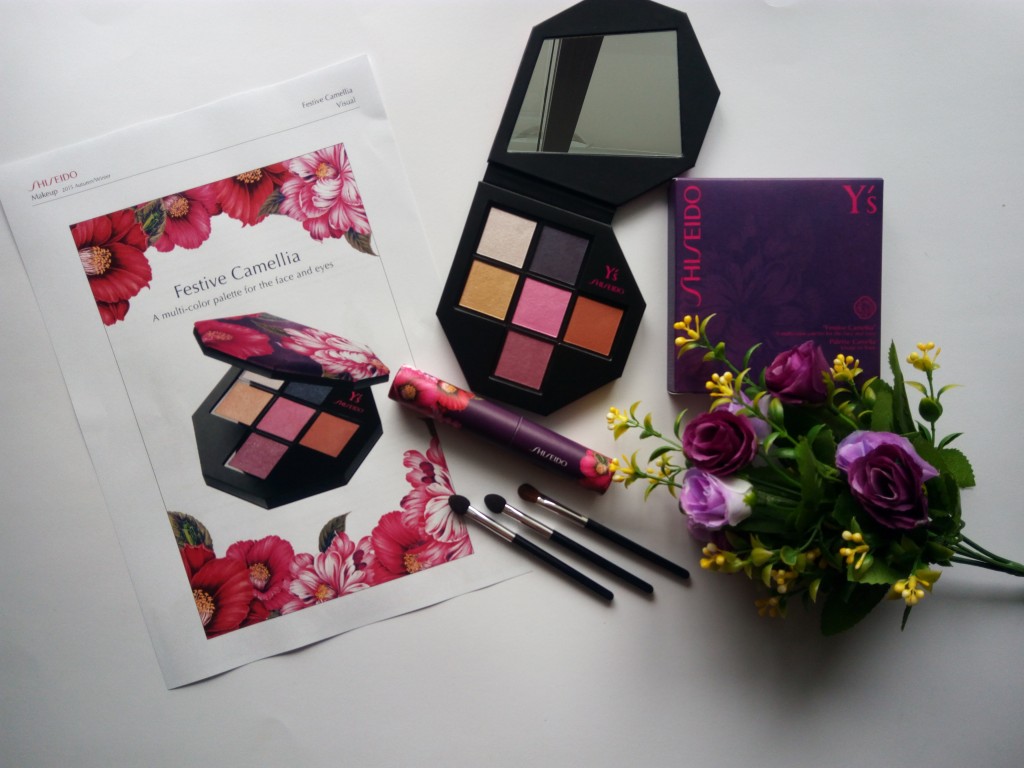 I hope you like the eye look I created. I really loved ow it turned out. Drop in your comments below whether you liked the look, swatches etc.
** Product send by brand PR. However, my review is honest and unbiased as always.