Living in New Zealand or India is wonderful. Both countries are rich in its traditions and culture. The major drawback of living in NZ/India is the high amount of shipping fees/duties & taxes that we online shoppers have to spend to purchase the beauty, skincare & makeup products. In NZ, every product in beauty/makeup category is extremely overpriced. Same is the case with India. In India, the customs hold every single package and the consignee have to spend a fortune to get them released. And, most Instagram/Facebook pages which sell international brands that aren't available in India charge almost 4-5 times the original price for the beauty/skincare products.
Many a times I wished these brands shipped to India or atleast we had access to a package forwarding service that help us get the products which we have no access to.
Being a avid online shopper, who buy products from almost every brand on this planet, I have used many of the freight forwarders to get my items shipped to NZ/India. Out of the ones I used to shop online in US and forward to my home location. My most favorite is myMallBox . This was recommended to me by my friend Nabamita 🙂 She is an angel who saved  me from instagram groups and other seller who charge a lot to get the products I want. @Nabamita, If you are reading this – 1000000 + hugs to you girl!! <3 <3 Can't thank you enough!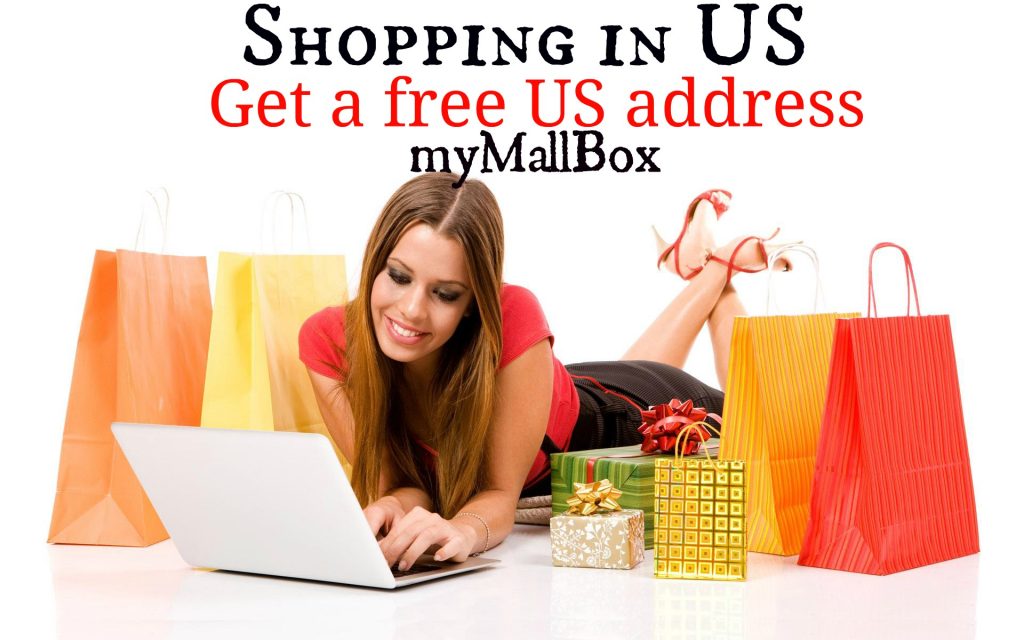 Pic Source – here
Now, atleast few of will be wondering – Why shop from US ? How is it different from shopping elsewhere ? – Answer is – "Everything is substantially less expensive in the US and you usually get free shipping to all US addresses"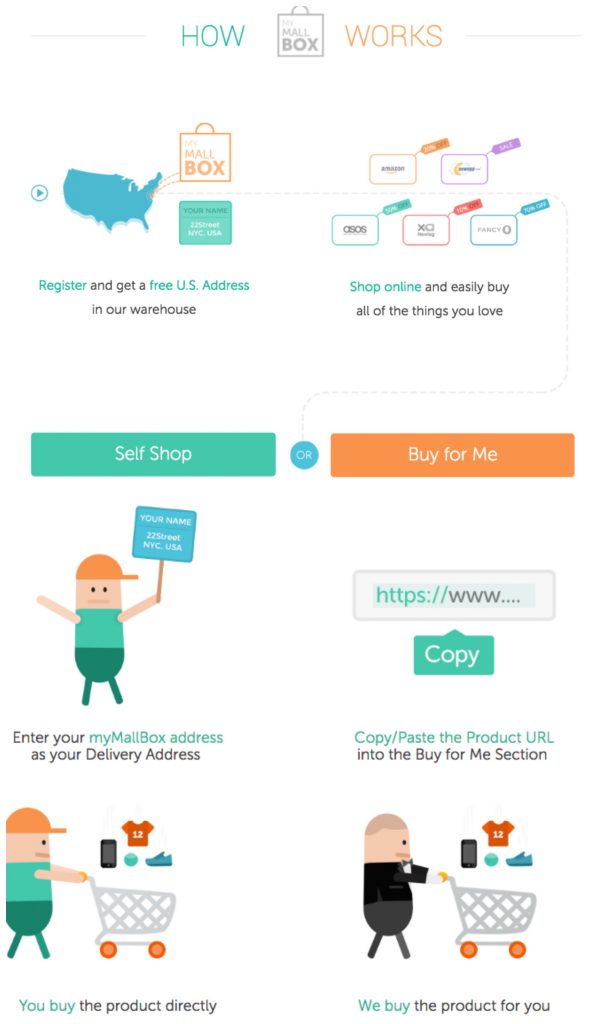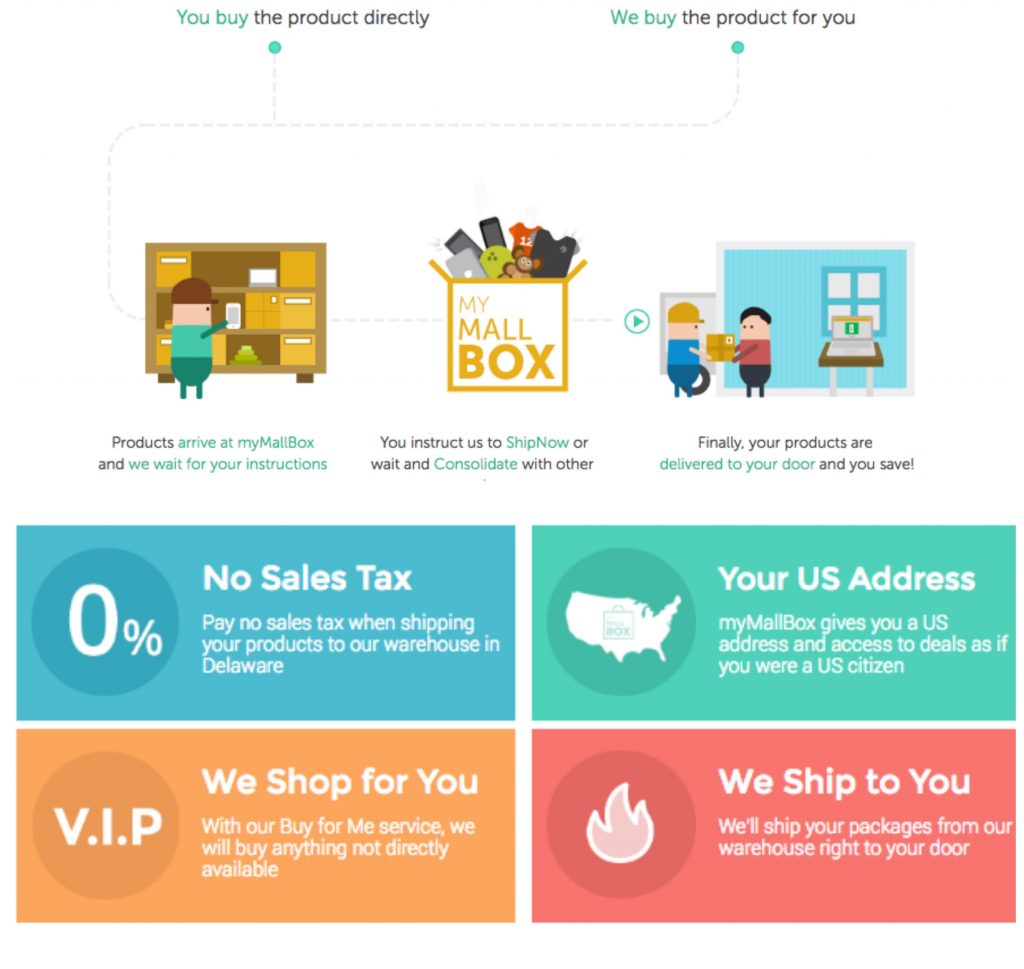 Here's how myMallBox works
You register on their website and you will be given a mailing address in the United States, It's the 'Delaware' address where there's no sales tax. (Pay no sales tax when shipping your products to the warehouse in Delaware)
When you place an order online, instead of shipping it directly to India or New Zealand or wherever you live, you ship it to your myMallBox US address.
When myMallBox receive your package, you get an email saying they received your package. Here's an example mailer.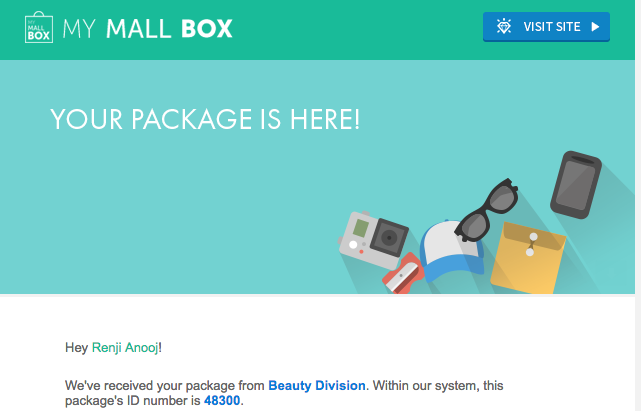 The details of the packages can be seen by clicking the 'Shipments' section when logged into your myMallBox account. This shows basic details such as sender info, package weight, total value etc(You can edit the total value depending on what product it is).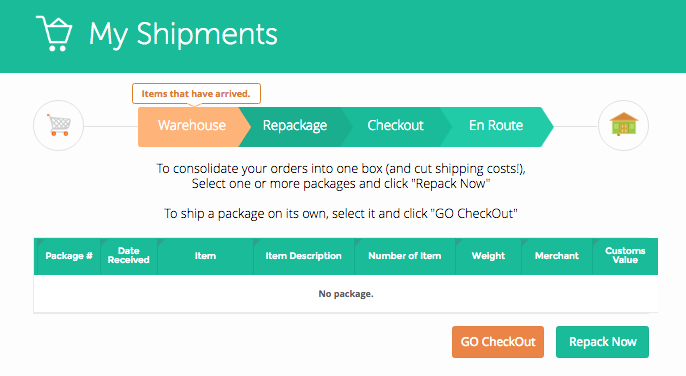 You can consolidate all of your shipments/orders into one  box (and cut shipping costs!). To do this,
Select one or more packages and click "Repack Now" or
You may choose to ship a package on its own – select the particular package you want to ship and  and click "GO CheckOut" and follow the instructions.
How to request a Repack
Repacking (consolidation): When we combine multiple packages into one box, minimizing shipping costs. We will only do this if you make a request.
Single Repack: Instead of selecting multiple packages, you select just one and then select "Repack Now." The request will go to the warehouse, where the packers will pack your items into a smaller box or a bubble-mailer.
How to request a Single Repack
Buy For Me Services
Some US retailers won't let the users shop their products without a valid US credit card (or a US address account with payment companies like PayPal ). In these cases, myMallBox is here to help us.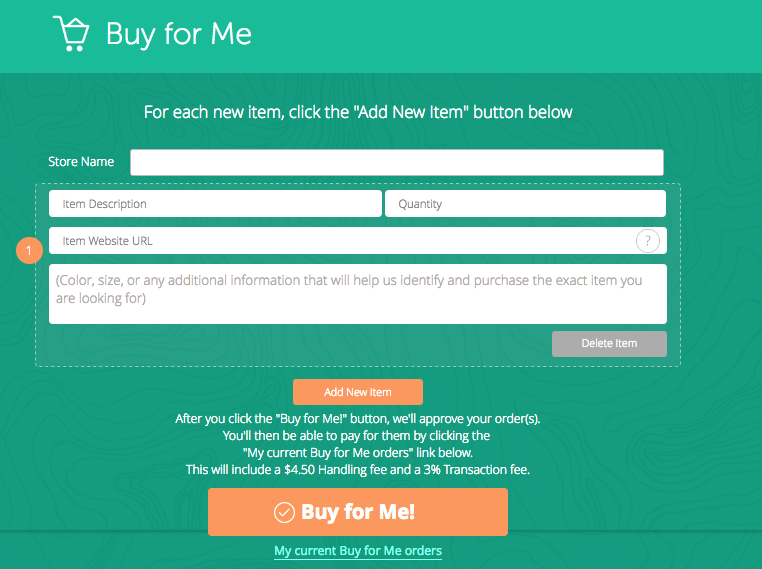 User submit the order from your myMallBox account.
myMallBox confirm whether they are able to purchase the products. After that, myMallBox changes the status to "Pending."
User completes the payment.
myMallBox order the products and update the order's status to "Ordered." You'll receive emails as myMallBox progress through each step of the above process
Fees & Charges
Repacking/Consolidation Fees 
Shipping Fees
Shipping rates vary based on a factors, such as package dimensions, total package weight, etc. Use the Shipping Calculator to find out and compare various carriers to ship out your package. Multiple shipping options (and prices) may appear based on the information you enter.
Handling Fees
Buy for Me service

 – flat-rate, $4.50 handling fee

Returns –

$10 return handling fee
Storage Fees
myMallBox offers free storage for up to 90 days. After 90 days, the charge is USD$1 per day, per package.
**The storage limit applies to consolidated packages as well. The 90-day and 120-day cycles do not reset after repackaging the products.
Payment Methods
PayPal
If you are looking to pay using a credit or debit card, myMallBox will send you an invoice from their PayPal – You don't need a PayPal account! Once you receive the invoice from myMallBox (it'll come to your email), you can pay with your card and after successful payment is done- The amount will be shown in the myMallBox account.
All other major FAQs are addressed here. Have a look at this to know more
Now, time to compare the shipping and membership plans with similar services
Compare Plans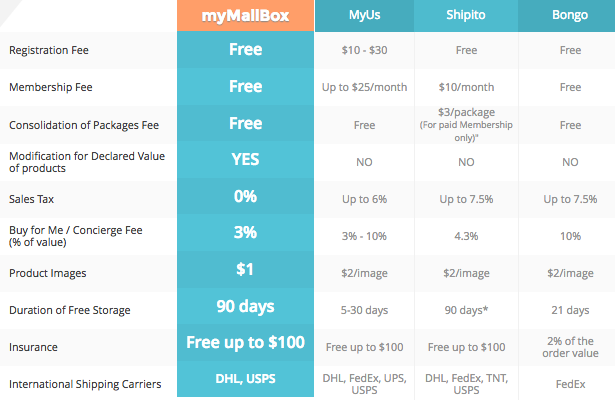 * 180 days for Nevada warehouse only
Here, in the above chart you can see that myMallBox is absolutely free. That's what I really love about myMallBox. The main area where I spend a lot of money is while asking the freight forwarder companies to consolidate my package. myMallBox makes the consolidation much easier. Within a day or sometimes on the same day, my packages are processed and repacked according to my preference.
myMallBox experts will record product details/invoice details for shipments, and they will inspect every package to ensure no items are damaged. Your purchases are securely stored in their warehouse. Only thing is – you have to mail them for any special requests – Say you need to see product photographs, put additional packaging material (bubble wrap extra / fragile stickers/ remove invoice/ trash some of the contents etc). But,  I can say that, they are very prompt in replying to emails. Very quick infact.
Compare rates for 5 LBS to : (lowest rate 1-3 Day Service)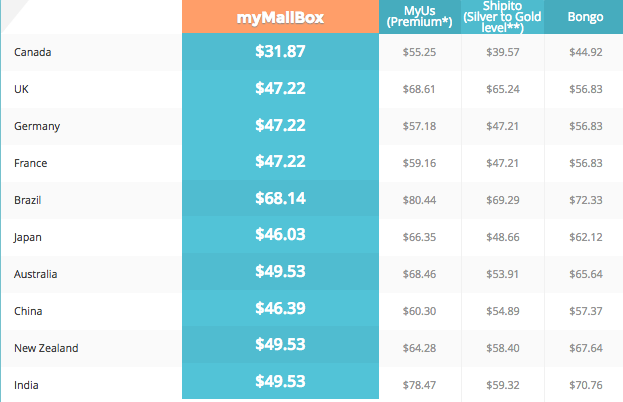 * Membership for premium requires Monthly Fee (up to $25)
** From Oregon W/H, Needs at least 10 points to reach certain level (get 1 pt/shipping)
Another thing to take care while shipping products from US is – never include any products in your package which are in the prohibited list items. Take a look at the Generally Prohibited & Restricted Items
How do I compare myMallBox to Shipito
In Shipito, for consolidation of packages – one has to buy the virutal mail box service – USD$10.00 monthly or USD$50.00 annually. In addition to that membership, they charges per package rate (USD$3.00 for consolidation and USD$2.00 for processing. ) Too high right!! Also, the shipping options are the same as myMallBox – high shipping costs, no tracking method for USPS , Aramex not serviceable to most areas as well. Only good thing about shipito is – their package photo request fee is less.You can set it on for every incoming package (USD$1.00) or manually request everytime (USD$2.00) per package.  Also, through thier user friendly front end account, user finds it very easy to request extra packaging material, fragile stickers and a variety of other packing options/ special requests etc.
I prefer myMallBox over Shipito anyday
I don't mind sending mails to myMallBox customer care team for accommodating any special requests I might have. What attracts me the most is lowest shipping rates, fastest processing times, completely free service unless you opt for BUY FOR ME   🙂
If you have any other concerns or questions about how myMallBox works – get in touch with the support team by raising a new support ticket here  or mail to info@mymallbox.com
Also, You can enjoy fastest delivery at discounted rates, I always choose DHL express, I receive my  package in just 2 to 4 days!
You can monitor your shipment's progress as soon as it leaves myMallBox's facility. It gives you every progress of your shipment. View the tracking details etc.
Also, easier customs process with the myMallBox's expertise warehouse tea. They handle the package efficiently. Ensure your package has all necessary invoice/ other customs regulatory document etc.
Now, atleast some of you might think about Customs Duties upon receiving the package. You have to check the site to see the shopping amount limits to get excluded from customs. I don't mind shelling out 3K INR for my consolidated package of like 8-10 orders 🙂 Still worth it and far better compared to buy those individually by paying such steep prices. Also, You may choose to use this service with your best friends and you can share the shipping costs and any customs duties. Still worth it in my opinion. Considering the price of MAC and other products in India & NZ. I prefer getting them from US. Also, I don't have to bug my friends/relatives in US to buy the products for me. 🙂
Here is a quick tip to check your duties before hand – DHL Duty Calculator . Also, for all DHL shipments sent from or received into India need KYC documents (Government recognized Identity and Address proof) to be presented to Customs during shipment clearance. Absence of these documents will mean clearance delay as shipments will go into Customs Bond until KYC documents are provided by the shipper or consignee based in India. Consignees receiving shipments in India can upload the documents here
According to Mumbai Customs Website in India – The Bonafide gifts up to a value limit of Rs.10,000/-, imported by post, are exempt from Basic and Additional Customs duties in terms [Notification No.171/93-Cus, dated 16-9- 1993]
Now about how effectively the myMallBox team consolidates and repack your order – I am much impressed!! They use a very sturdy box with sponge lining and bubble wraps for every single product and extra layer for products that are made of glass and prone to break during transit. I am highly impressed on how they packed all of my orders. And, also I have to mention about one thing – Shipito charges extra for every single item you ask them while consolidating. say for example. Shipito charges 1-5$ depending on your request- bubble wrap, fragile sticker, extra tape, everything comes with a charge. and that too, wven selected is not properly fullfilled. I have had past experiences where my photographic ring light came broken etc.
But, myMallBox guys are awesome!! they didn't charge any extras or any processing fees for my package. 🙂 Kudos to them <3 <3 And my package was carefully packed without even me requesting for it. Extra tape, bubble wrap, sponge pack, fragile stickers etc was included. 10 stars to them for that!!! Excellent service!!
Not just this – I have a referral code for you guys. If you sign-up to myMallBox using my referral link. You will get USD$5.00 in your myMallBox account which you can make use while shipping the package.
So, happy shopping guys! Why pay high shipping costs and costs thrice or four times the original price. Use myMallBox and shop your favorite products online! it's so easy!
Click here to get USD$5.00 in your account
** Contains Affiliate Links
** All points I have mentioned here in this post about myMallBox/Shipito is my personal experience of using their service to ship my items to NZ & India