We all love makeup, don't we? 2016 was one year full of new launches from almost every brand and we are now almost nearing the middle of 2017 and this year's new launches are extremely great as well. One of the biggest drawback of living in India is its non accessibility of cosmetics. Though every brand is killing with its new launches. Only a handful of them ships to India and the ones that does – We, Indians end up paying huge amount as customs duty and I really hate paying such high amount for low value items that we order. There is no proper treshold amount or a limit on how the customs calculate the charges. That's when I looked out for other ways to buy the products that I like. My next available option of purchasing was to pay 2-3 times the original price and get it from any of the Instagram makeup selling pages. This way, I'd completely escape the headache from customs. However, the pain of spending 2-3 times the MRP is painful. I was in the look out for several options and that's how I came across this site called ShipoutfromUSA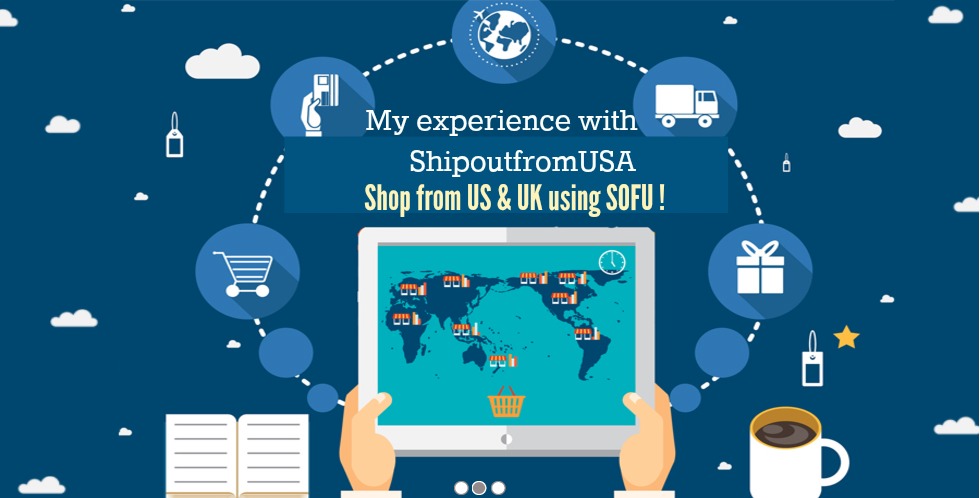 What is ShipoutfromUSA
ShipoutfromUSA is an initiative of Mail Box Mart USA, which is a pioneer in courier and logistics business. ShipoutfromUSA is revolutionizing the way people shop around the world by providing the freedom to purchase from any website using their very own USA Shipping Address, using their very own credit card. ShipoutfromUSA mission is to facilitate their clients online shopping in the US and offering options of buying from Top online stores from the US market. ShipoutfromUSA offers you deals from various websites. After the parcel is received atShipoutfromUSA warehouse ShipoutfromUSA will handle the logistics and look into the custom duties wherever applicable in order for us to have a flawless delivery at our doorstep.


There are a variety of services that SOFU has to offer
Virtual PostBox
You can buy directly from USA online stores by availing the fabulous discounts available.
How to shop from USA or UK via SOFU
1. Once you register on the website, you will get a virtual USA, UK and an Indian address. You may go online and choose to shop from any of the US or UK based websites. Thereby, you can avail the special offers and discounts the websites has to offer. While shipping the order, you can opt to ship it to your own VIRTUAL ADDRESS in USA (provided by SOFU).
Steps for Virtual PostBox Shopping
When you have made an online purchase, all you need to do is notify the  helpdesk of the purchase and send an intimation of your order on helpdesk@shipoutfromusa.com so that they can track the order for you. You can also notify the helpdesk by logging into your account to notify them about the incoming package.
When your shopping / packages arrives at your MAILBOX ADDRESS in USA, you'll be informed by an INVOICE / EMAIL to make payments for the shipping charges. Once payment is made your Packages will be shipped to your registered address.
If there is any custom duty applicable you will be intimated after the clearance and this will have to be paid by you at the time of delivery. All deliveries are within 5 to 6 days from receipt of product in USA/UK.
One awesome factor, I like about SOFU is its lowest shipping rates to India. SOFU also provide Concierge Services. Say, you want to buy the products that not available at online stores. High end brands like gucci, hermes, louis vuitton or simply if you'd desire to get stuffs from the stores such as saks of 5th ave, nordstrom, lord & taylor, bloomingdales, barneys, bergdorf goodman, Sephora, Target or any other brand from the highstreets of madison ave or 5th ave. SOFU's concierge team will help you purchase them.
SOFU's personal shoppers will source out products of your preference and brands, and advise you on the best deals and latest styles / products which are available. In order to use the concierge service for OFFLINE / INSTORE shopping, you will have to register to the site first. Once you are registered you need to quote your SOFU number and send a mail to concierge service who will in turn quote you for the products that you are interested in. Another way to send an enquiry is to Log in to SOFU website using the email address and password and click on the concierge service and fill in the concierge form. This could be used for both online as well as offline orders.
The personal shopper appointed to you will search for the best deals that are offered for your product and send you a quotation. This quotation will include the price of the product, the local shipping charges to your mailbox address and the local USA tax. This quotation will be shown on site as pending quotation. When you make the payment against this quotation the product will be purchased on your behalf.
Steps for shopping via Concierge Services
Send the list and details of items you want to purchase to SOFU helpdesk.
SOFU will email you the quote and the availability of products or maybe a picture if needed.
Once you confirm and pay, SOFU team will purchase the product on your behalf and then get it shipped to your SOFU virtual address and notify you once the item is received at warehouse.
When your shopping / packages arrives at your MAILBOX ADDRESS in USA, you'll be informed by an INVOICE / EMAIL to make payments for the shipping charges.
Once payment is made your Packages will be shipped to your registered address.
If there is any custom duty applicable you will be intimated after the clearance and this will have to be paid by you at the time of delivery.
Another advantages of using concierge services are here
• No hassle – you submit the request and SOFU does everything else for you.
• No ambiguity, 100% transparency – SOFU tell you the exact cost that you need to pay.
• Exclusive products with Exclusive handling.
In every case, You can track your shipping details on ' http://shipoutfromusa.com/' .
Now, coming onto what I purchased. I decided to buy Charlotte Tilbury products. After I placed order, I emailed SOFU team. When my package arrived. I was able to see the details under Virtual Box tab. After making successful payment, you may track the progress of your shipment. Infact, I paid only 745 rs for 1kg of shipment and it was an absolute steal!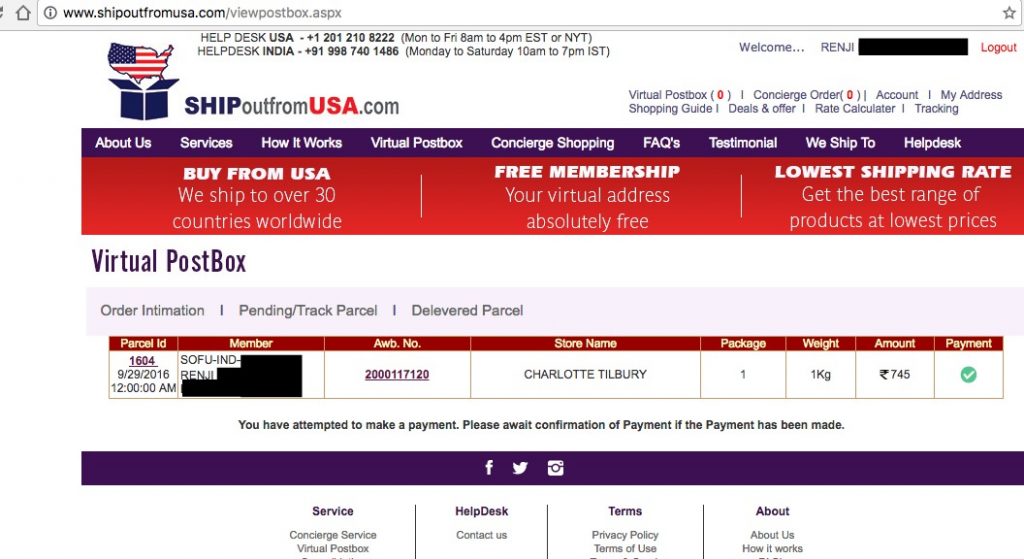 Once it reaches the India warehouse, SOFU uses a variety of leading courier service to get your package shipped to your home. It took only 2-3 days for the parcel to reach me after it reached India warehouse. My Package came secured with its original packaging. SOFU also allows consolidation of packages. You will have to write to them or call them and notify them regarding the consolidation. You can save a lot of money by using SOFU services.
If you are planning to use SOFU, While signing up – You can use my code 'MAKEUPHOLIC40' which gives you a 40 % off. This code has no expiry and it can be used for everything you want to buy from US/UK using SOFU.
** Please note – I don't get paid or neither do I get any points etc if you sign up using my coupon code. You may use it if you wish to!
---
UPDATE – 21 Oct 2017
In the recent 2-3 times, My experience with SOFU is not that great. They forever delay to checkin my package after it's received in the warehouse. I have to follow up multiple times. Though their agent, Manoj from INDIA SOFU team is quick in responding to my mails. I am guessing its the UK or US team who never enters the package correctly. And, None of them never attend the phone calls. SO difficult to get them on phone.
Recently , One of my package that was shipped on Priority was not accepted by their warehouse. They denied my package and it went back to merchant. Though the merchant refunded me the money for products, The shipping costs were not refunded as the delivery was attempted by the courier and package got denied by the SOFU team. Had to make couple of phone calls to solve this issue as well.
Which means – IF YOU EVER PLAN TO USE THEIR SERVICE – YOU HAVE TO GO ON A PRIORITY SHIPPING OR TRACKING NUMBER ENABLED SHIPPING OPTION. Free shipping options won't workout as the SOFU Team in UK as well as US never checkin the packages correctly and never update you if the package has reached their warehouse.
Now, coming on to customs – Whenever I am shipping packages via DHL or Fedex – I always get the customs duty invoices which clearly mention why I am charged – What percentage is charged etc. Here , everytime – Even for packages that are less than 2000 INR – I was charged customs and no proper customs duty invoice was provided to me by Bombino Express (Their courier partner ). usually, If there is a customs duty being charged on my shipment – I get a mail fro SOFU mentioning the amount. And the option to pay this charge is via the website Bombino Express ; Now strange part is – Bombino charges transaction fees along with the customs duty. I find this ridiculous. I will not use SOFU for my future shipments and neither do I recommend SOFU to my readers unless you are ready to take up all the headaches associated with it.
Now, regarding my post – My guess is  – As the shipment was send out to me for free in exchange for my review – The services I received during my Charlotte Tilbury haul is just a one time good service as I am a beauty blogger and they know that only a positive service given to me would result in me writing a positive review about them..

Only advantage I found with SOFU is that its shipping costs are less compared to DHL. And if you are lucky and if your package gets entered without any intervention from your end – Then your experience will be good about them.. 

My rating for SOFU is 2/10 – I dislike SOFU and never recommend this to anyone.
**UPDATE – 05 Oct 2018
I thought I will do a quick update regarding ShipOutFromUSA based on my recent experiences. I really like how they learnt from their mistakes and improved on their services. Right now, more than any other Freight Forwarders, I am using SOFU a lot. All my colourpop, Ulta and other US merchants packages reach to SOFU without an issue. And, the package gets updated on the site very quick as well. Good part is – they changed the carrier from USA to India. Previously, it used to be Bombino. Now, its a different carrier and they deliver quickly as well. I like the fact that SOFU changed their site UI as well. Right now, Site UI is very neat and mobile friendly as well. gives you a insight to all the checked in packages, their tracking info etc. Also, the payment gateway no longer shows any error. Payments can be made easily as well. When your package from USA/UK SOFU reaches India, you will be notified. If there is a customs charge, You will be notified about that as well. Once the package reaches India, it's shipped via overnight Fedex so that it reaches main areas of PAN India within 1-2 business days. 
I have to admit that – thought they had few loop holes in their functioning earlier. Right now- they are one of the best, reliable service to shop from abroad and ship to India. 
My current rating as of 5 Oct 2018 is 8/10.