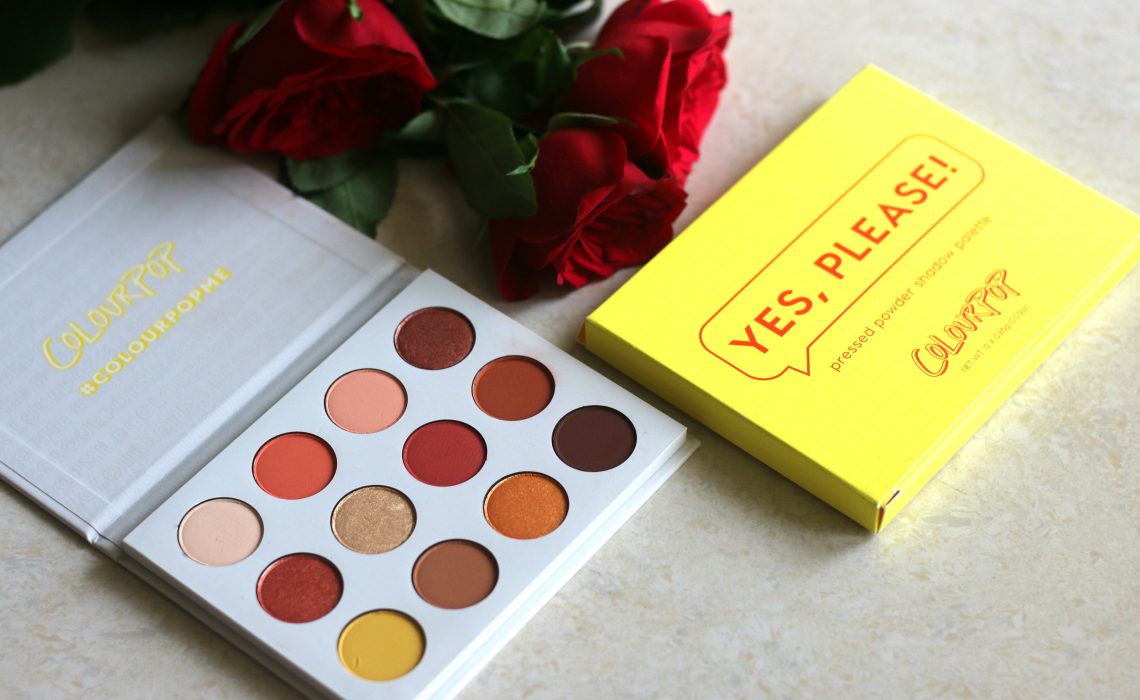 Colour Pop is a makeup brand that is probably everyone's favorite. Started with Lippie Stix, one if its kind – then moved to Ultra matte and satin lip colors, Ultra Blotted Lips, brow products, concealers, highlighters etc to incredible pressed powder shadows – Undoubtedly all of their products are incredible.
ColourPop Yes, Please! Pressed Powder Shadow Palette ($16.00 for 0.36 oz.) is a new, limited edition palette filled with twelve shades of warm neutrals in a mix of mattes and shimmers. it's a gorgeous collection of sunset hued pressed powder shadows all in a convenient card board palette you can easily carry around. I was sold the minute I saw this online. This palette was sold out in minutes. ColourPop have restocked this today, 30 Aug. This palette was one of the most anticipated releases of 2017- Often compared to the Natasha Denona Sunrise Palette.
Pressed Powder Shadows are highly pigmented shadows that applies evenly and feels ultra-velvety and silky. This long wearing formula contains a unique combination of softer powders which adheres easily to the eyes, gives a soft focus effect, and blends smoothly and evenly.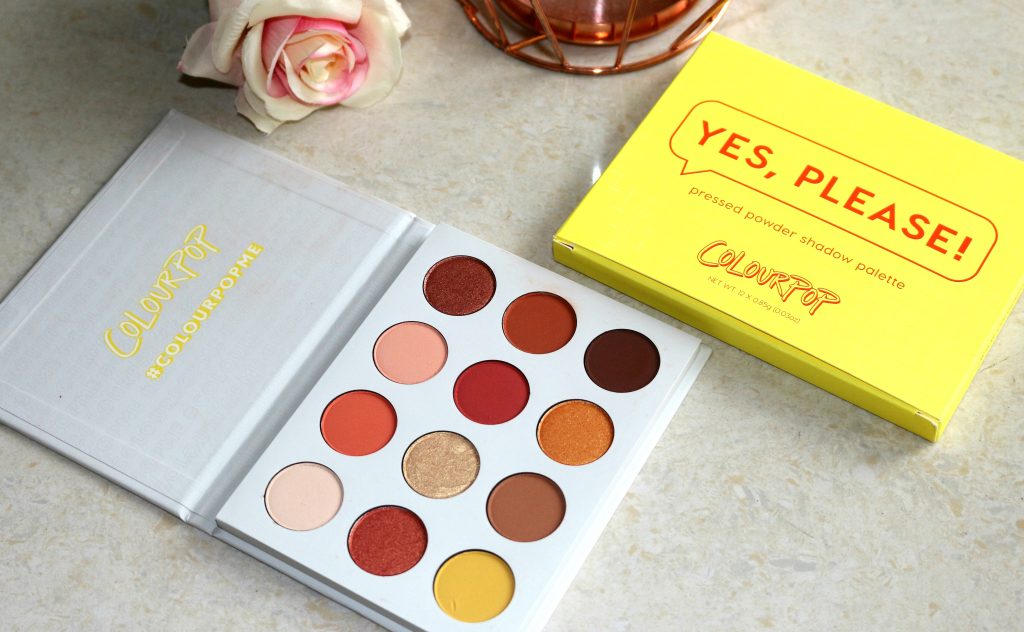 Stunning colors, isn't it? Nothing too fancy about the packaging. (no mirror or brush, Well – I think it's ok) considering the cost is low and the quality remains high. It's Made in the USA.
This palette is a mix of Matte and Metallic finishes
Shade – Neutrals, Oranges/Corals, Reds, Golds, Yellows/Oranges
ColourPop recently ventured into the pressed eye shadow trend. It all started It started off with quads .The pans will be slightly smaller than the single shadows. Each products is 0.03 oz. each (full-sized eyeshadows are 0.05 from ColourPop), which means there are plenty of product for a palette. Another wow factor is its price. The whole palette will be $16, making each shadow about $1.33 each. Now, that's definitely a steal.
Here are some of the fabulous pictures of the product
Packaging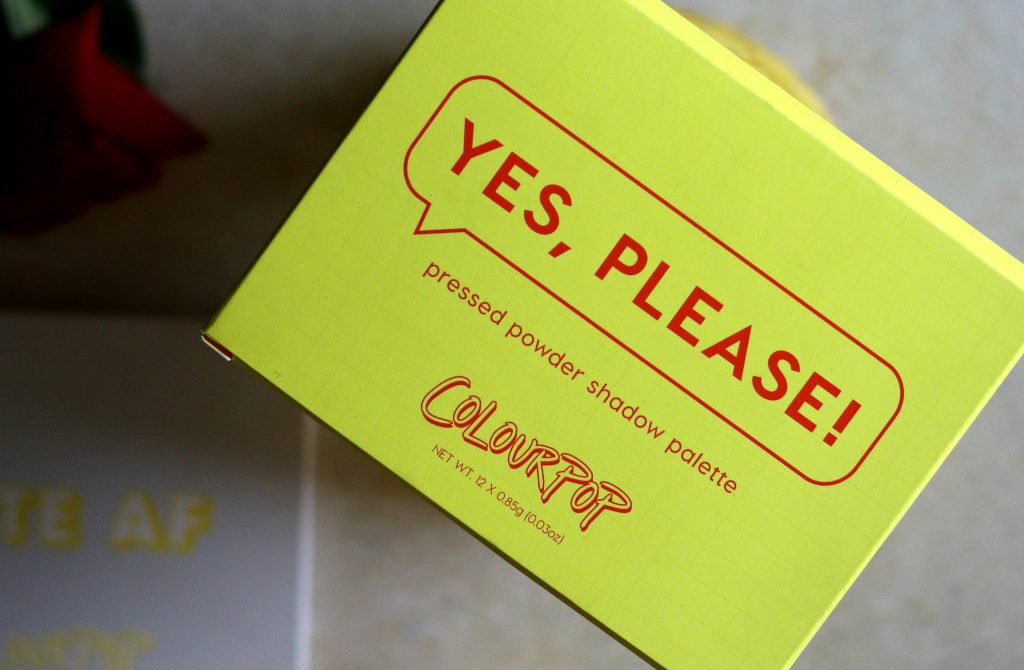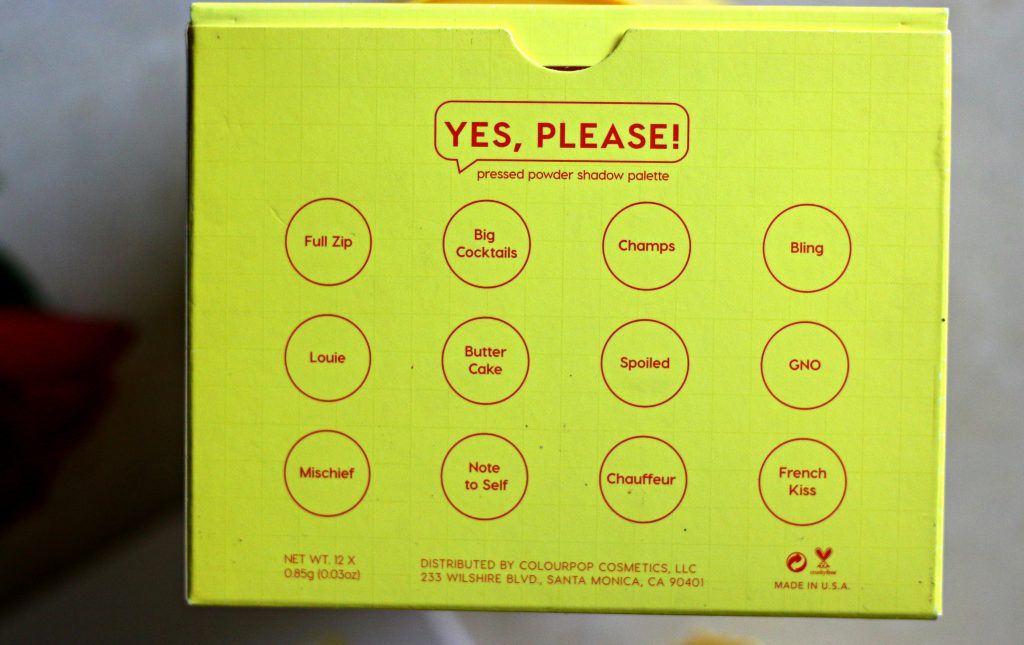 Packaging – Packaging is very cute. The outer box in a yellow color with all shade names on the flip side. The actual product comes in a card board packaging. It has "CUTE AF" written on it. eeeh…I hate that term. I don't like such terms printed on my favorite makeup products. Hmmm, Well that's ok.
Net Weight – 12 x 0.85g (0.03oz) ; Retails for USD $16.00 ; if you notice, this cardboard palette have no shade names printed to it. Luckily, Colourpop added it to the back side.
Retailing for USD $16.00, this beautiful warm palette features twelve buttery smooth shadows. a perfect mix of mattes and metallics, each one swatching and applying beautifully. If you closely notice the palette, it has combinations –  lot of reds and burgundies, a perfect mix of shades that I always wished for in one palette.  They are perfect to be used for a variety of looks.
Swatches taken in day light and with ring light.
For these swatches, I dipped my finger into each pan once. They blend effortlessly on the eyes too! They do have a teeny of kick-up as they are soft. I recommend to take as little color on the brush and build the color up. Else, You will end up taking too much color and becomes difficult to blend out.
Swatches of ColourPop Yes Please! Pressed Powder Palette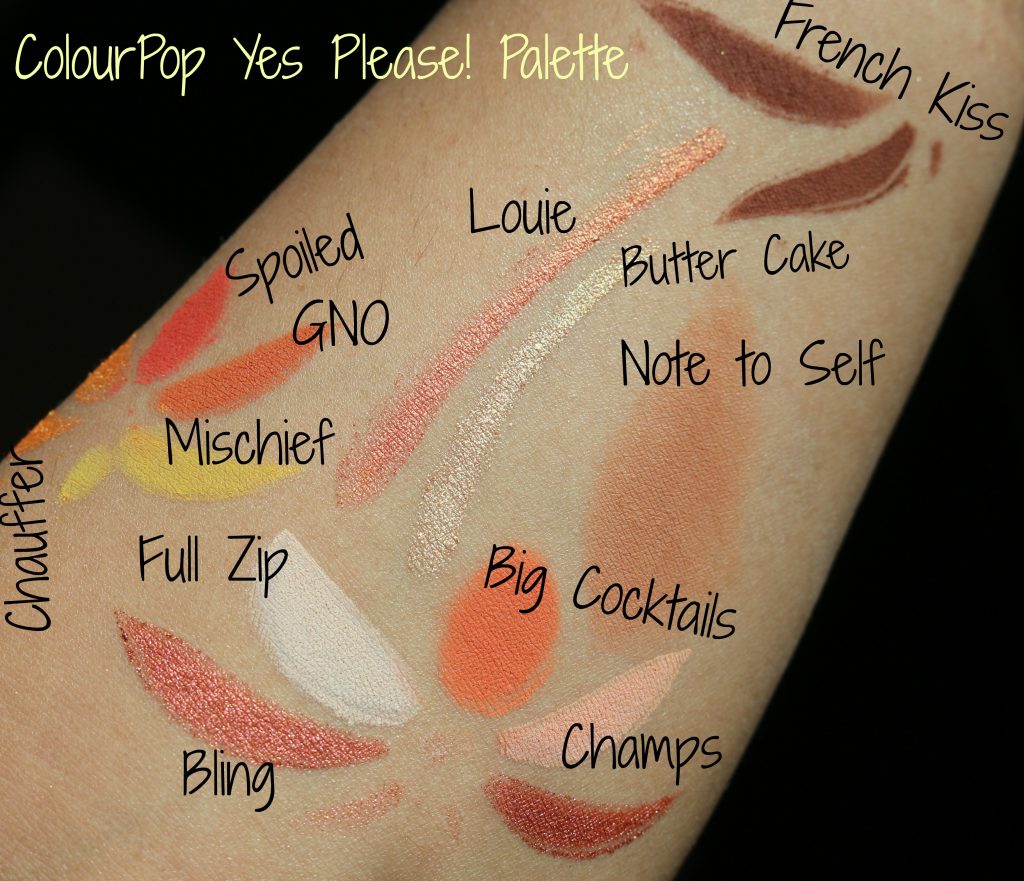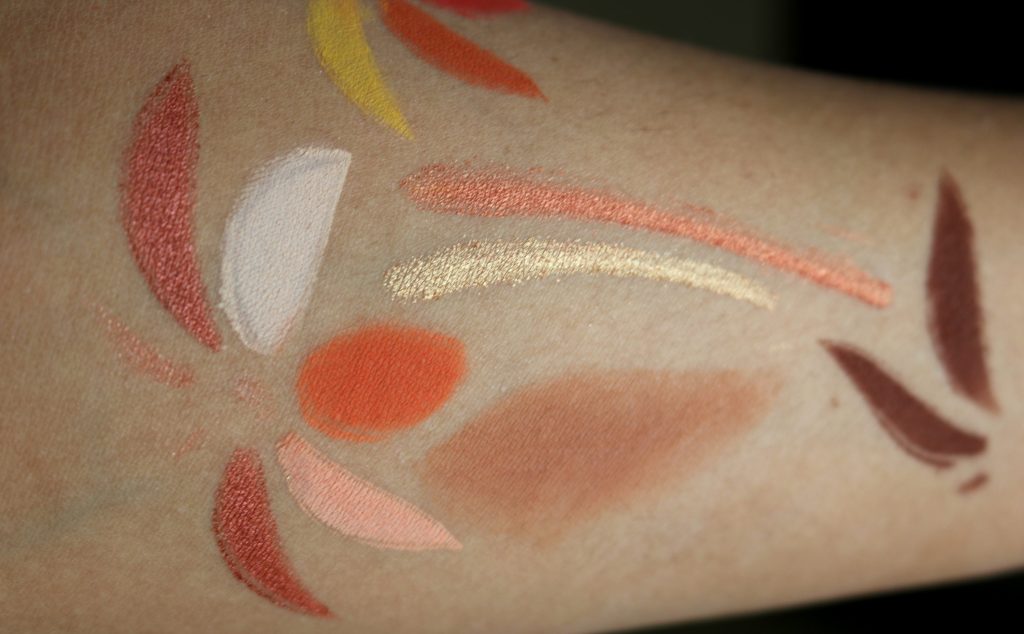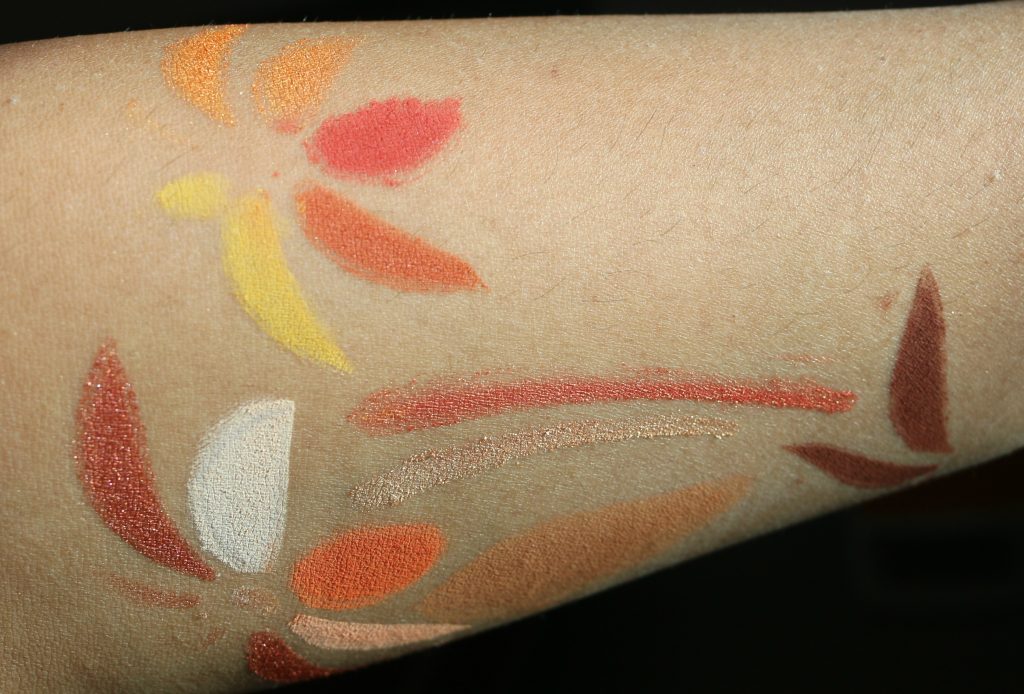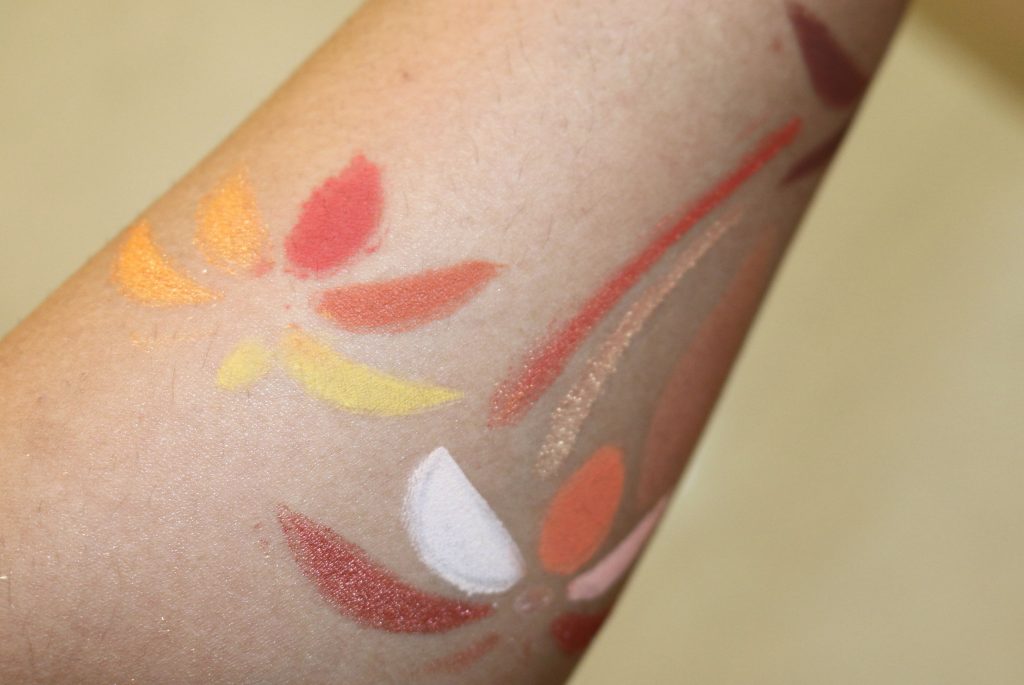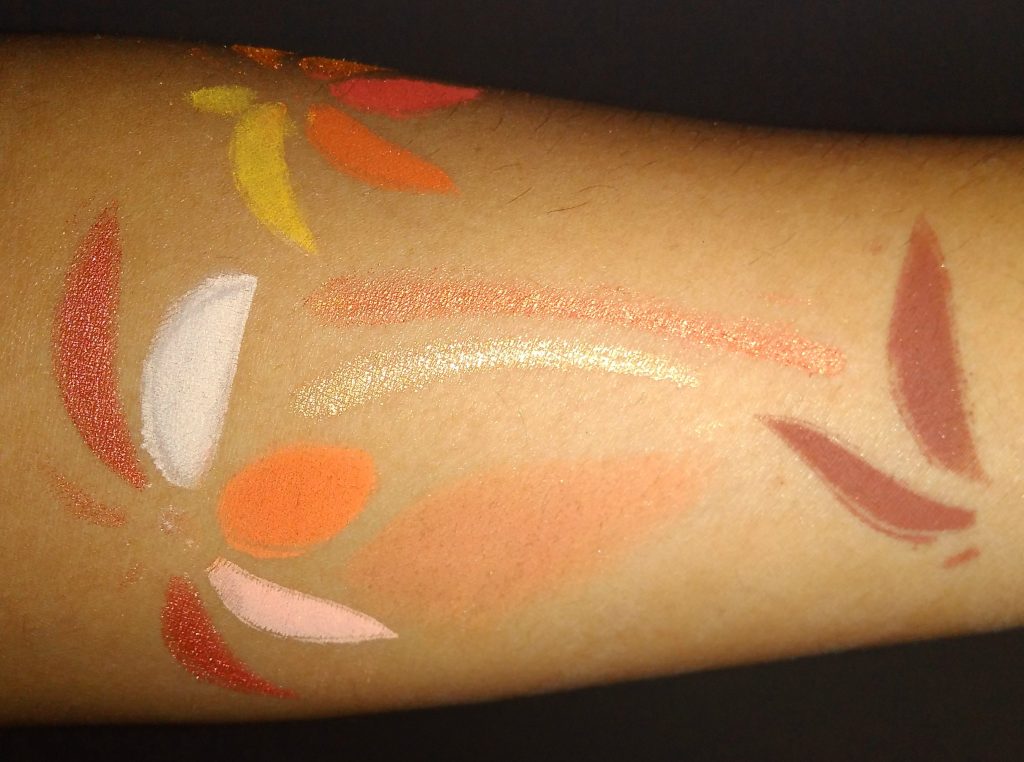 Here are the shade details
Full-Zip: a matte warm ivory, helps prevent nice pigmentation.
Big Cocktails: a matte orange shade. Again, pigmentation is perfect.
Champs: a matte pale peachy nude that is one of my faves and a knock off one one of the shades.
Bling: a metallic rust with a super creamy formula. highly pigmented.
Louie: a metallic duochrome red with a gold flip.
Butter Cake: a pale yellow gold. Not my kind of shade.
Spoiled: a matte brick red that is super pigmented
Gno:  beautiful burnt orange with great pigment.
Mischief: a matte warm yellow which looks very beautiful in traditional clothes.
Note to Self: warm caramel. I and is very fun. I don't see the duo chrome finish as much as in Louie.
French Kiss: a matte deep red brown that is super pigmented.
here is a picture below with flash.
Here's a picture of me wearing the colors from Yes Please Palette
I really enjoy the formula and I love how pigmented they are. There are two shades in this palette that I am not a fan of – Note to Self & Butter Cake. The pans are slightly smaller than their usual Pressed Powder tins, but that's absolutely ok, when you get high amount of shadows for the price you pay. Overall, this palette is super pretty and you can carry it easily. Also, not denying the fact I couldn't think of anything similar to this from any other brand, at this unbeatable price-point and quality. No doubt, ColourPop has turned to be my favorite brand. Those of you who are keen to purchase – It's right now online on Colourpop website.
It's an absolute steal for the price girls. great dupe to Natasha Denona Sunset vibes Palette.
Availability  – Grab yours today at Colourpop.com and don't wait because I'm sure it's going to sell out again very fast!
Have you used Yes Please! Palette by ColourPop ?