ColourPop is my latest beauty obsession. This brand really does know how to constantly keep it's followers rather admirers come back for it's fabulous new launches? ColourPop rolled out three separate collections for the season and me as usual could afford to miss it! So here I am with some of the Spring 2017 NECTAR Collection. Drench yourself in your favorite summery dress and enjoy the peach tones to its fullest this season!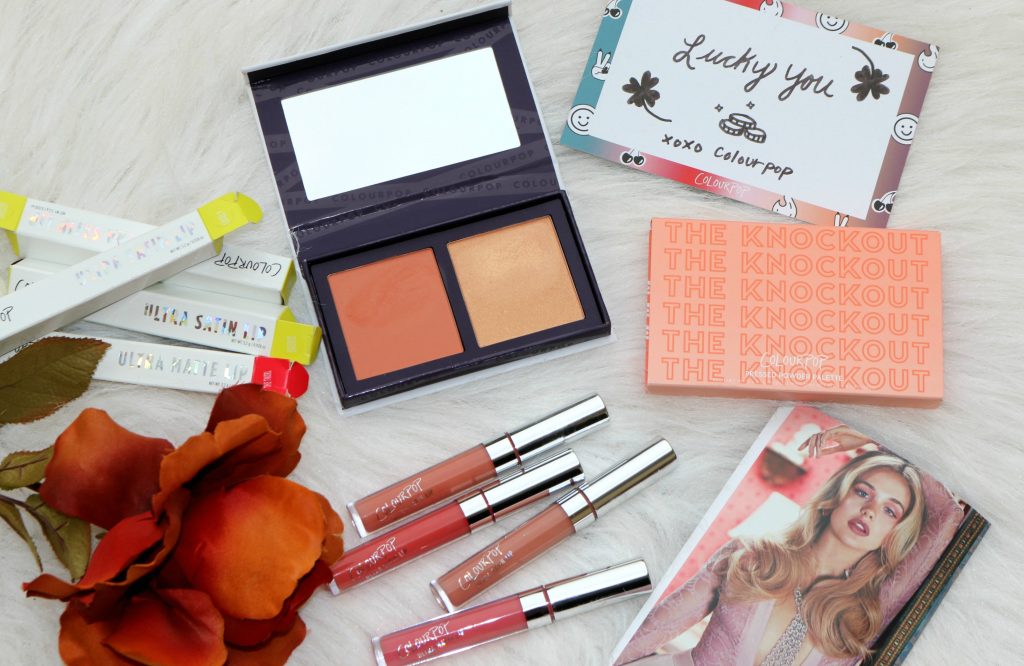 I got myself the Ultra Matte Lips – The Twirl & Ultra Satin Lips – Exaggerated, Jacquard, Likely & The Knockout Pressed Powder Face Duo
Take a look at the pictures!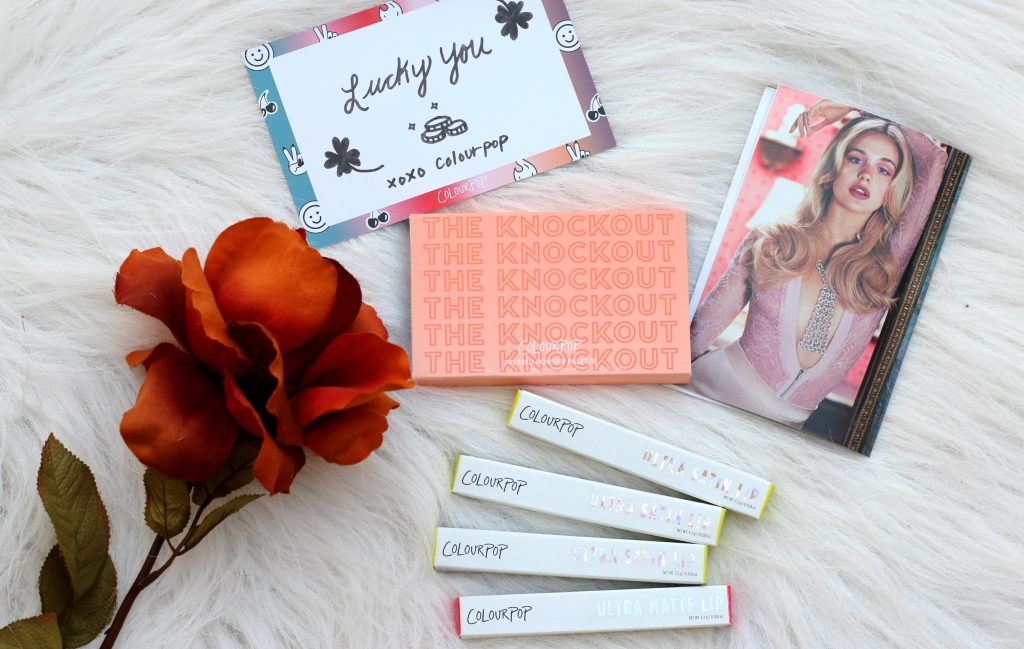 Pretty packaging, isn't it? I really love the peach pattern of the pressed powder duo.
This peachy cheek duo will send you flying and leave you with a golden, nectar glow!
I am seriously in love with its packaging! Inside the cardboard palette, the pressed powder blush along with a all new pressed powder highlighter is housed. The highlighter will deliver that perfect springy tangerine glow while the blush adds a pop of peachy color to your cheeks. These shades are super wearable and is perfect for the warmer weather!
That perfect amount of peach with excellent color payoff and it's retailing for only $16? Bye Bye wallet!
Well, look at the shades – Who knows – This might be the only thing you need in your beach tote!
Shades
The blush is called "Excuse My French," and it is packed with peach pigment. The "Likes To Watch" highlight is an orange-y gold and will be the perfect way to complete your makeup look.
Excuse My French: It's the matte blush packed with soft peach pigment. It glides on smoothly and leaves cheeks with a natural and healthy flush. It's long lasting too. Doesn't accentuate pores etc.
Like to Watch:  It's a pearlized peachhighlighter with a duochorome gold flip. Gives your skin that right high-shine with a radiant glow. Feel creamy satiny and apply super smooth and easily blends on the skin.
This Peach n Golden combo is fabulous for every season. Suits every skintone. ColourPop rocked it with The Knockout Palette. Be sure to add it to your cart ! it's still in stock!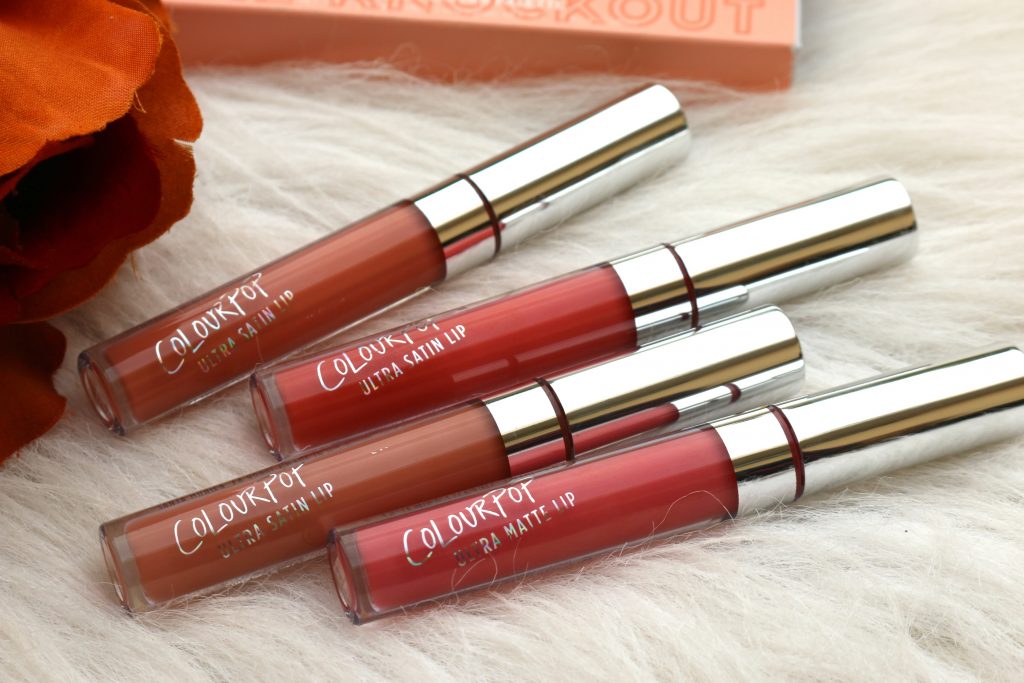 ColourPop's 2017 Spring collection has some really pretty shades up for grabs. Especially, I love the peach inspired shades. From Nectar Collection I picked 2 shades
The Twirl: Ultra Matte Lip; pinky coral
Likely: Ultra Satin Lip; soft peachy nude
I also picked 2 shades from Peach & Coral range of colors that were also launched for Spring 2017
Exaggerated: Ultra Satin Lip;  true peach
Jacquard: Ultra Satin Lip; true coral
Fabulous spring-y colors right. I really love how they look from outside the tube.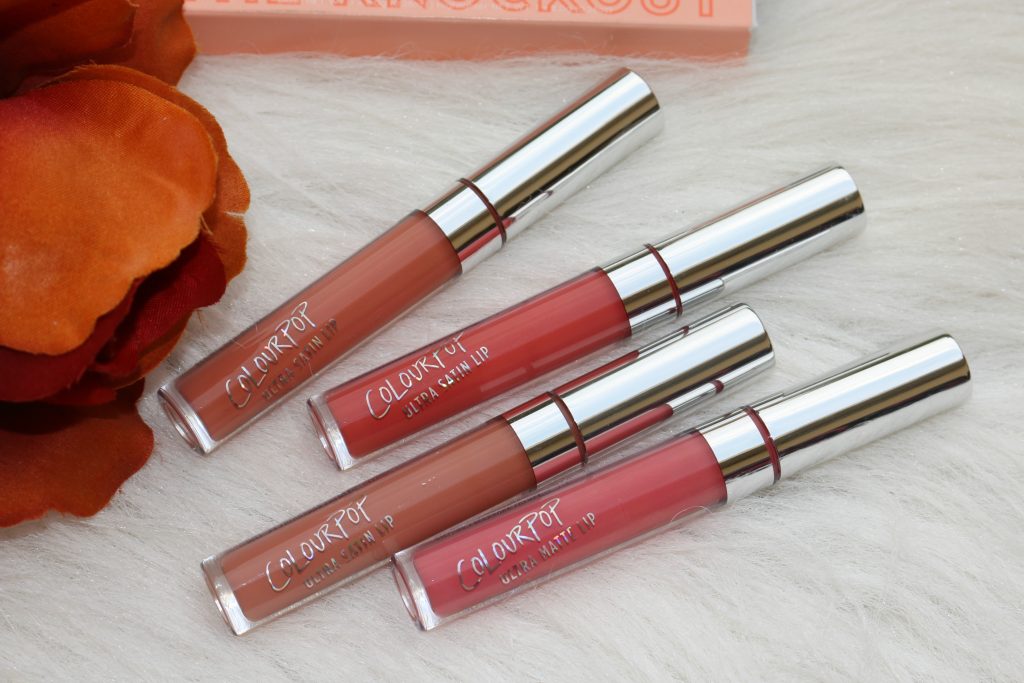 Like every other ColourPop matte & satin lips- This also have a good wand that helps apply lipcolor evenly. The glass tube is good with colourPop logo and shade description labelled plus a silver lid.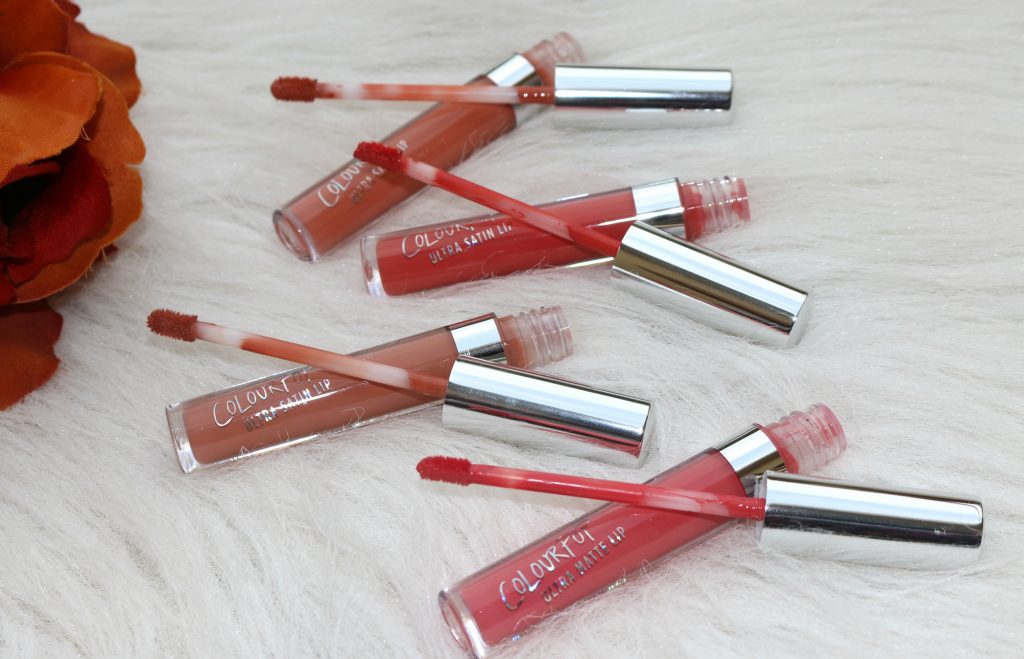 here are the swatches of the 4 colors I picked.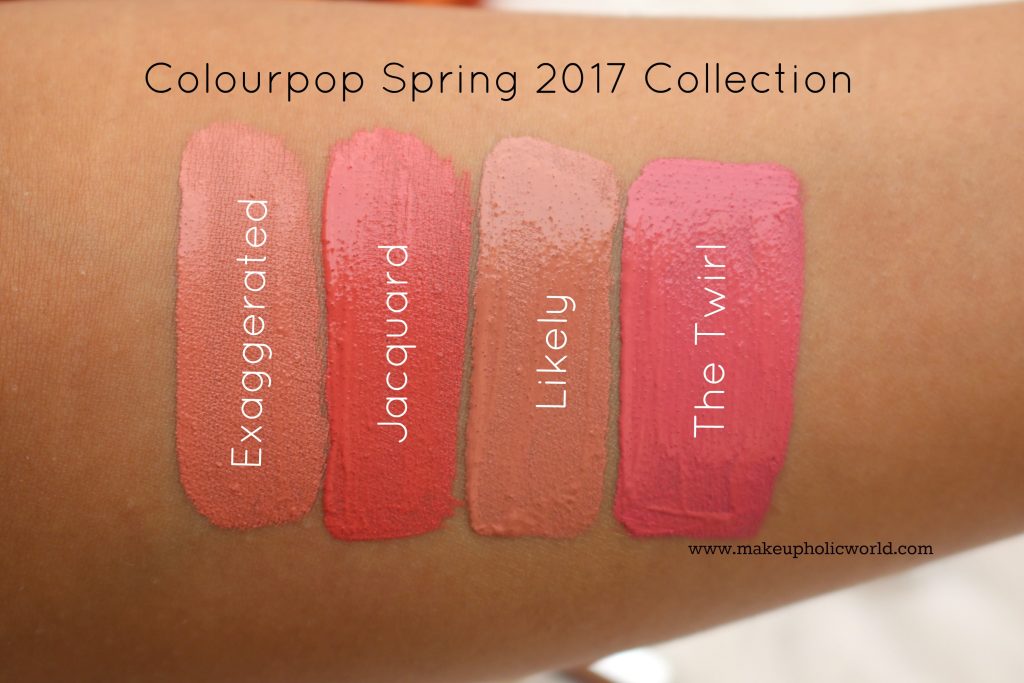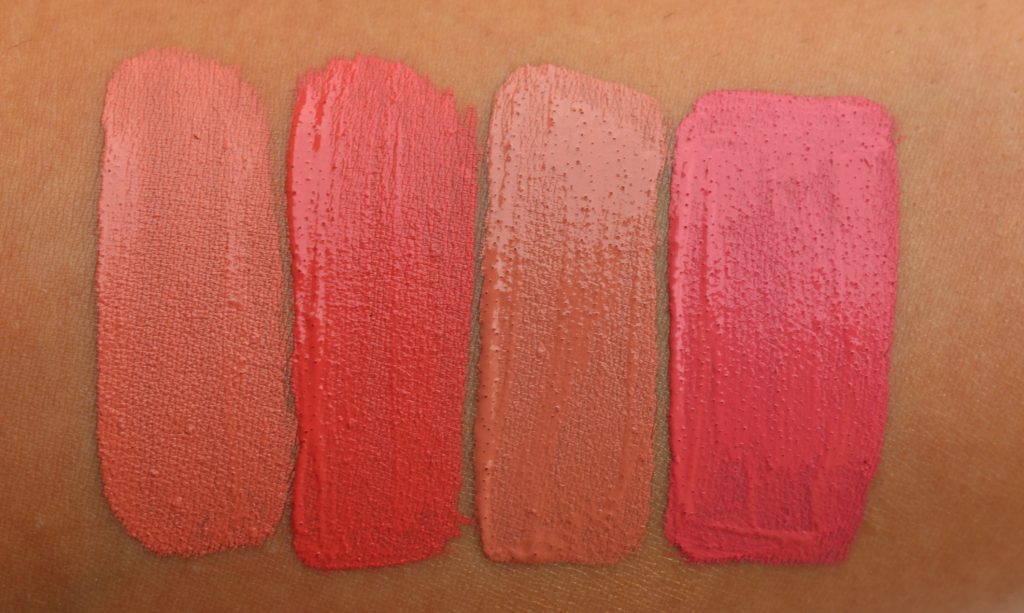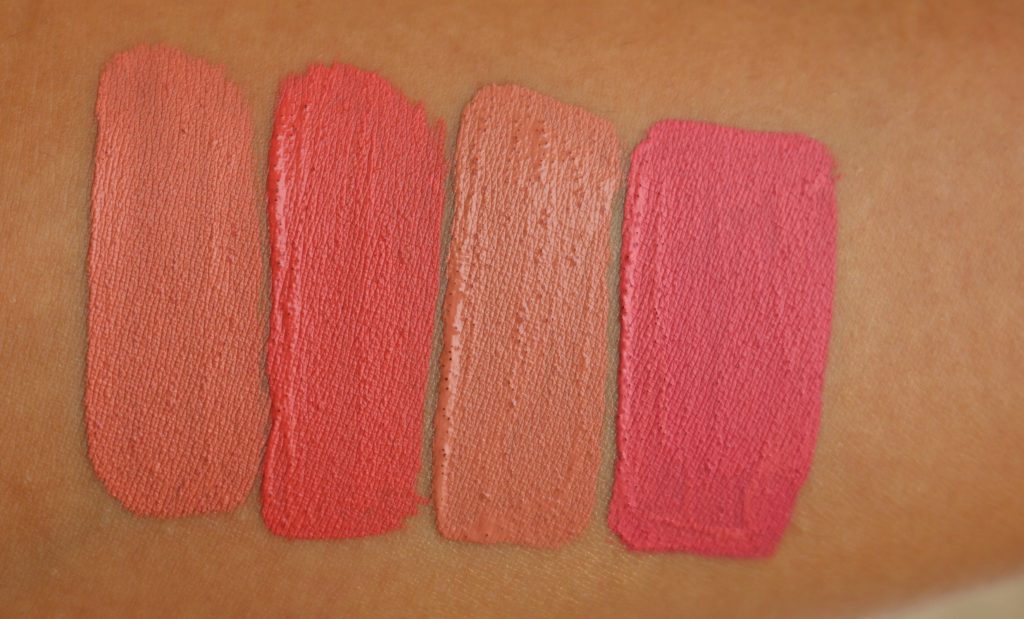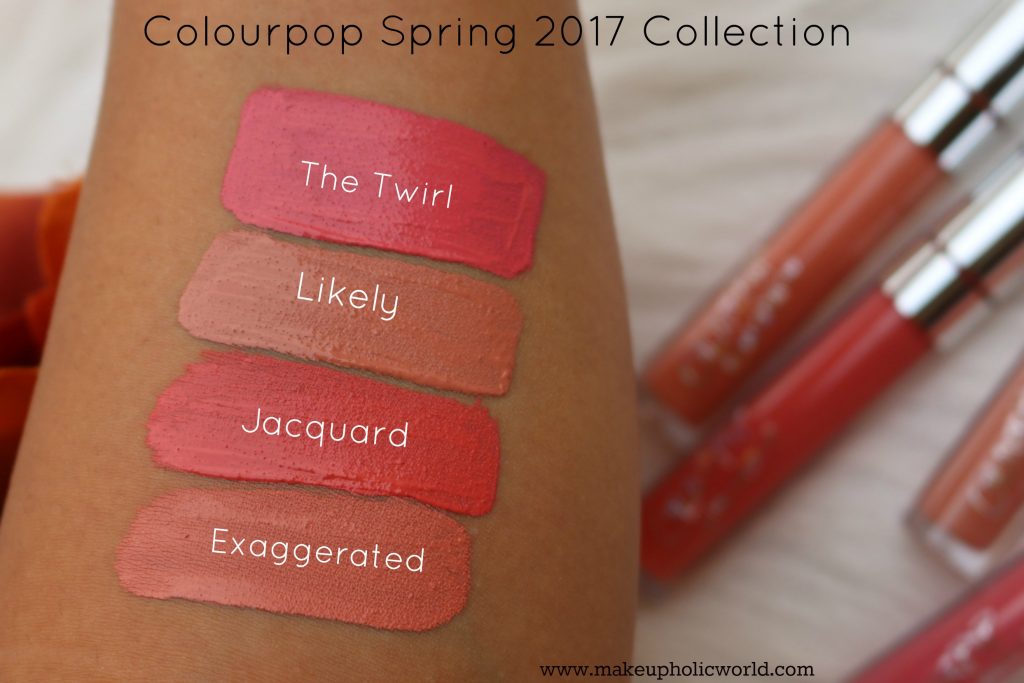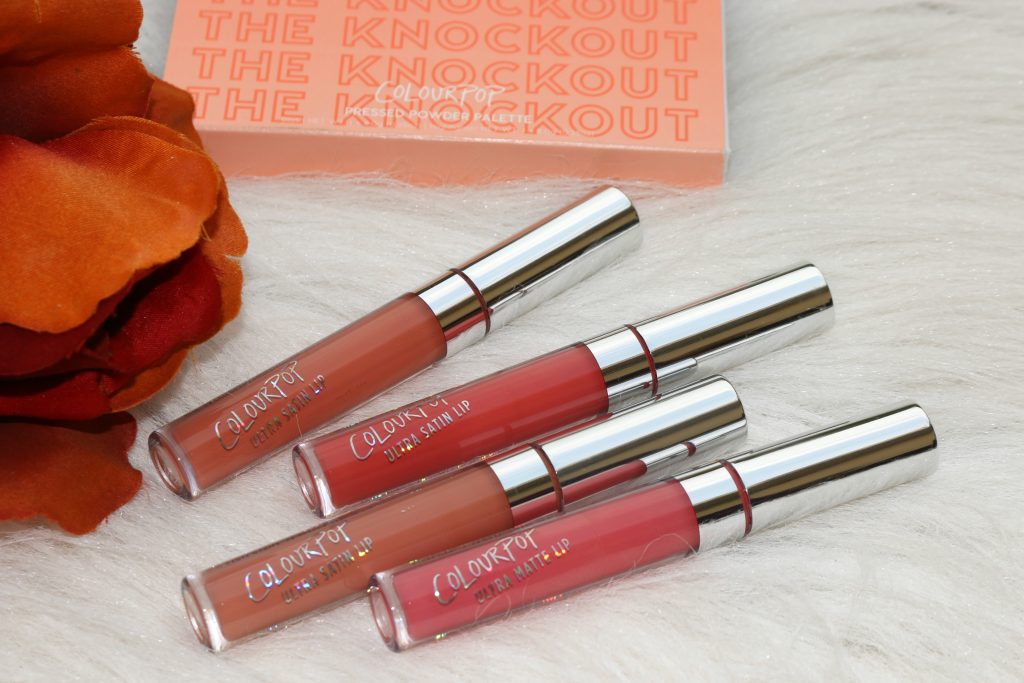 Likely: Ultra Satin Lip; soft peachy nude
Like every other Ultra Satin Lip Formula, This is a very creamy, bold lipstick with a satin finish.
Ultra Satin Lip Formula formula has the same high percentage of pigments as an Ultra Matte Lip but contains emollient ingredients for added moisture, keeping lips looking fresh and feeling super comfortable.
Shade ' Likely' is a soft peachy nude shade. Though this lipstick is long-wearing, it does transfer to cups. The tip is to blot it with little loose powder after applying. Also I found the formula to be a little streaky when applied. I got about 6 hours wear time.
Initially I doubted whether I'll be able to carry this shade. But, I was proved wrong. This is my most favorite from the ones I picked from ColourPop's Spring collection. It looks really flattering on my skintone. With peach coloured eye colors or a dark smokey eyes – You can flaunt this shade effortlessly.
Exaggerated: Ultra Satin Lip;  true peach
This is a very subtle light peach shade! I am in so in love with this color. It really could wash you have a lighter skintone. But for medium complexion like mine – It's gorgeous. I have heard a lot of people complaining about how this shade emphasized dryness of lips etc. But, I have no complaints whatsoever. As you see from my pictures below, It's totally flattering on my skintone. I made sure I used a illuminating foundation for my base makeup and I kind of used peachy/earthy tones for my eye color and I used a very dark eye liner. This color made the look really spring friendly. With a highlighter on your face along with above said base makeup and eye makeup you look nothing less than a springy/floral girl!
Start applying by lining your lips with a matching Lippie Pencil; which gives that appearance of perfect fuller lips.
Jacquard: Ultra Satin Lip; true coral
A very pretty coral shade that suits every skintone. It looks more lighter with flashlight. However, out of these 4 colors I have – This is the least loved one. I love peaches more than corals. This lip color had opaque pigmentation that applied on lips. I noticed little bit of a streaky formula and to some areas it didn't apply as opaquely as other area of lips.
The Twirl: Ultra Matte Lip; pinky coral
See, how gorgeous this pink shade look on me
'The Twirl' is a pretty pink color. It's of Ultra Matte finish. Very thin and lightweight formula that smoothly glides on the lips leaving intense pigment with a bold, ultra-matte look in just one swipe. I love this shade too. It's very soft and elegant looking pink. Some people complained it as barbie pink color. However, from my swatch you can see it's not a barbie pink shade. But, I totally disagree to the coral pink claim. It looks more of a baby pink than a pink coral to me.
Overall, these shades are stunning and for USD $6.00 each these are amazing! Good quality. Ultra Matte Lipstains lasting power is more compared to Ultra Satin ones. Both formulas are highly pigmented. Shades – Likely & Jacquard formula appeared a little bit streaky upon application. None of the shades emphasized dryness of lips or settled onto fine lines of lips etc. It neither appears flakey. As liquid lipstick formula is generally drying as it's long wearing, I would suggest everyone to wear a nourishing lip balm prior to applying these. Jacquard and Likely tend to transfer a little bit. So, be careful and make sure you blot your lips after applying. Patting some loose powder with the help of a brush by placing a tissue on your lips will help with the longevity.
Have you tried any products from ColourPop Spring 2017 collection ?