Hi Makeupholics….Today I am going to blog about some basic things that you should always follow in your daily routine!
Although makeup is beautiful, every woman in the universe should be able to express her natural beauty. makeup juts enhances your beauty, rather than creating it….
There are several ways to achieve that perfect natural look if you follow every step correctly!
Read on…………..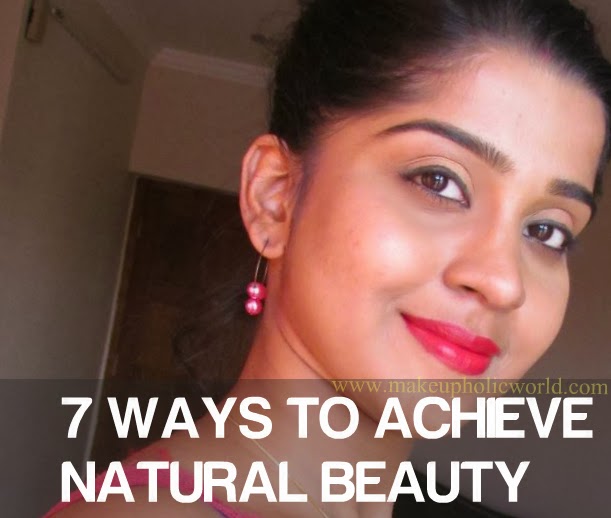 1. CLEANSE & EXFOLIATE
The primary step to  achieve natural beauty includes cleaning and exfoliating. 2 steps which are mandatory for clear, even, beautiful skin! Cleanse your face twice a day – every morning when you wake up and every night before sleep. 
An oil free cleanser for oily skin is recommended. Exfoliate your skin from once a day to once a week. If your skin is dry, exfoliate less frequently as you don't want to lose too much moisture.
2. TONE
The next important step to a flawless face is toning. Use an alcohol free toner after you cleanse and exfoliate. This will help restore your skin's pH balance and take off any excess makeup. This will also leave your skin feeling smooth and pretty!
3. MOISTURIZE
It is so important to moisturize your face! Moisturize your face every morning and night and even throughout the day if you can. Try to use a high SPF moisturizer for the daytime to protect from sun damage. During the night, I would use a night time moisturizer but truthfully, it's all the same. These first three steps will already create the biggest difference.
4. SHAPE YOUR BROWS
Shaping your eyebrows is a simple way for an even prettier natural look. I believe groomed brows are the secret to a flawless face. This shapes your face and completes your entire look. Once that is done, I feel so much better!
5. remove blackheads
Use a good scrub to remove black heads and use nose strips to take off blackheads from nose. Do steaming once a week. If possible do a home cleanup, there are a lot of 3 in one products available.
6. EAT HEALTHY FOOD AND EXERCISE
Of course eating right and exercise is the key to beautiful, glowing skin. As much as we hate to hear it, getting the right nutrients that our body needs will keep our skin looking right. Exercising and being active will do the same thing. Stay hydrated, active, and eat a healthy diet. Give it a shot and you'll see a difference! Drink water like a camel and be happy all the time!
7. BE CONSISTENT
The key to making all these tips work for natural beauty and great skin is to be consistent. Anything good takes time and hard work. Wash your face every night and day and within weeks you won't want to stop. The same thing works for exercising and working out. Once you keep it consistent for a while, you will not want to stop once you see the results. So stay strong and keep it going!
I hope my tips on achieving natural beauty helps you feel more comfortable.
We are all beautiful! It is just a matter of keeping our skin healthy and happy.
What are some tips you recommend to achieve natural beauty? Share it with me in the comments section!!