Hiya makeupholics…Hope you all are doing awesome! Which person in these planet doesn't love shopping? Obviously, no one!  I order anything and everything online. I like how convenient online shopping is and over these years – There were plenty of good and bad sites that I have come across. Through this post today, I am hoping to give you some light on certain things to take care before ordering beauty products online.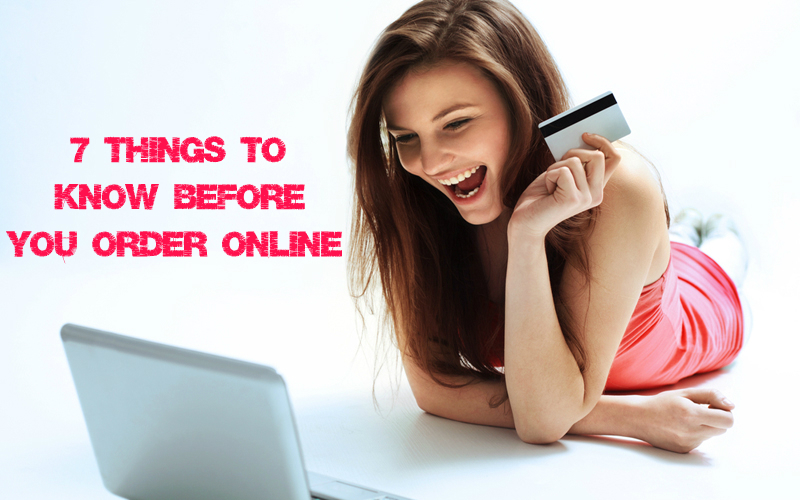 I know the e-commerce sites are flooded with beauty products and there are different merchandise that runs cool offers online. Let me help you a bit by sharing with you all some tips that I have learned through these many years.
Knowing these tips can help you make the best choices and get the items you want at the prices you want. Shopping online always carries a risk because you don't get to touch and inspect an item before you put it in your cart and pay for it. That doesn't mean you can't find great stuff, but these things to know before ordering beauty products online are important to helping you choose the right merchandise.
1.  Keep your eyes wide opened for #FAKES
One of the primary and most important thing to know before ordering any beauty products online is that you need to be aware of sites that are going to gimmick you. These sites tend to promise that you'll be getting a product with so and so ingredients, scents or colors, but you might wind up with something entirely different. That's why it is important to buy only from reputable sources and to remember that if it seems too good to be true, it probably is. One best example would be fake makeup of Urban Decay, MAC, Benefit, Too Faced , Lorac etc. I have seen the replicas of these brands in various chineese websites. Buy from reliable sources – When it comes to makeup, You have to be super careful guys. I own products from all of these brands – But, all my products were purchased from Sephora, Debenhams, Too Faced, Nordstorm, Lorac etc directly. You might be paying some extra taxes for these. But, Its ok when you can be sure of what are the actual ingredients in the product and most importantly  what's the fun of owning 10 fakes – Buy 1 original instead!!
2. Least Customer Support / Help
Guys, Do make it a habit to check the website's contact info/ return policies etc before you place an order. You will definitely have to contact the site customer care if you ever have questions or concerns about an item you've purchased. Scour the site for contact info and if you can't find it, consider buying elsewhere. Even with contact info, there is no guarantee that you'll get the same level of customer service you would in a store so be prepared for that. Also, avoid shopping from the sites that doesn't have a valid support number.
3. Allergy using the products
Since you can't try an online product without buying it, you might end up with something that causes a reaction and irritation on the skin and there is little chance of getting your money back. While some manufacturers do offer this type of guarantee, others don't. If you want to try a new ingredient, it's best to try a sample of it before you invest on the full sized product.
4. Chances of getting expired products
There is no guarantee that you're getting an unused product / soon about to expire/ already expired products. Even though many sites claim that their products are genuine. I have heard lots of bloggers complaining about a famous Bath and Body brand selling about to expire products etc.When there is a sale, People usually end up buying lots of stuffs and most of the items from sale will be non returnable. Make sure the site has a return policy and if you do receive a questionable item, don't use it. Send it back right away.
5. Read the online reviews carefully
Most websites publish the reviews of other customers. Listening to your peers is a great way to find a product that is perfect for you. If you can't find reviews on the site, Google the company's name with the word "reviews" and you'll be good to go. Also, another tip is searching on web for the "product name reviews". If reviews are bad- Don't go for the product.
6. Damage during transit or items stolen from the package
Now, These are the highest risks of shopping online. Always check the shipping policy. Most courier partners the companies use are bad. I myself had several bad experiences with DTDC, DELHIVERY, FEDEX etc. Be careful about this. Some sites give the customers COD option and allows the customer to check the product before accepting the package. Watch out for these sites and go for COD option if you don't trust the shipping partner the company use to dispatch your stuffs.
7. Fraudulence charges/ Hacking / Compromising Credit Card info
Guys, never ever enter your card details and save it. Even though most sites have encryption  etc. Still- Nothing is safe in my opinion. Most bank accounts offer virtual cards for shopping- Sign up for that- never store your bank/ card details in any online sites. never buy or shop using card from public computers. Contact your bank and raise dispute immediately in case you find any fraudulence charges. Change your net banking password from time to time. If you don't want Google  to save a record of what you visit and download, you can browse the web in incognito mode. You can also press Ctrl+Shift+N (Windows, Linux, and Chrome OS) and ⌘-Shift-N (Mac) to activate this.
Last, but not the least – If you are regularly shopping online- You are missing the fun part of going out- touch and feel the products etc. Don't always be a net shopaholic – 🙂
Do you shop for beauty products online? Do you have any other tips for getting exactly what you want?