I am reviewing Plum Goodness grape seed and sea buckthorn face mask today. Face Masks help hydrate skin, smooth fine lines, slough away dead cells and unclog pores. The key is to use face masks formulated for your skin type. Let's check how good is this mask from Plum Goodness.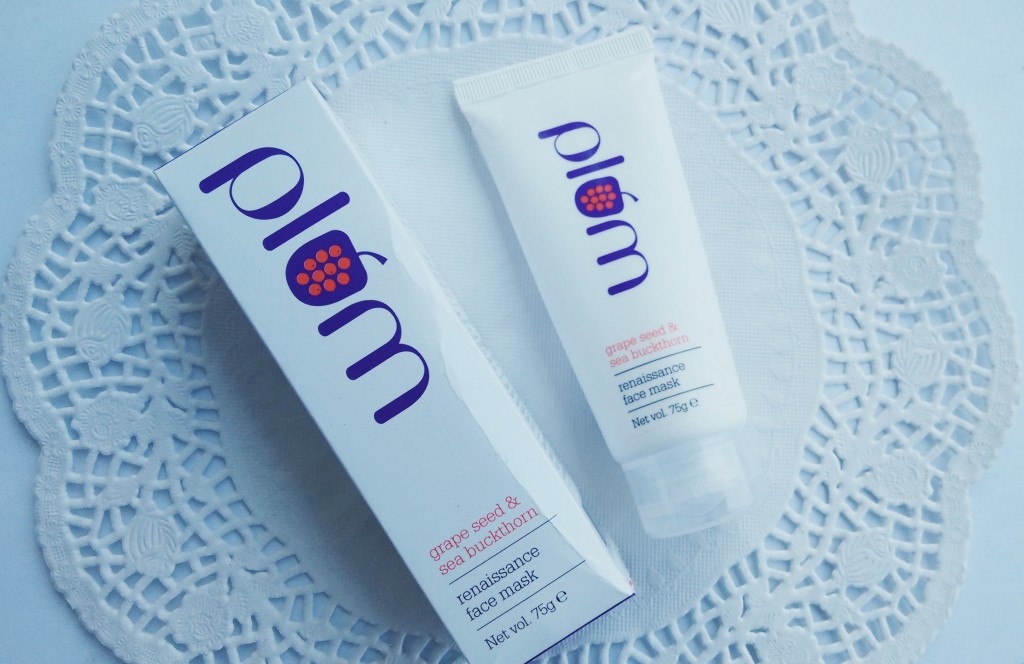 What does the company claim about this mask
What makes us go gaga over this mask:
-Kaolin & bentonite clays for natural cleansing & exfoliation
-Grape seed oil – rich in polyphenols (anti-oxidants), Vitamins D, C, E, flavonoids and essential fatty acids
-Sea buckthorn oil – heals skin damage naturally without skin irritation. One of the best natural antioxidants known
We recommend you treat yourself at least once a week – rest assured that under the mask, your skin will be thanking you for it. A supremely nourishing, non-dying formula.
♥ Cleanse, exfoliate, moisturize, nourish and protect. An all-in-one, must-have skincare solution
♥ Richly formulated for instantly brighter, more radiant skin
♥ Easy to apply and wash off
♥ Packed with vitamins, minerals and antioxidants from sea buckthorn oil and grape seed oil
♥ Leaves your face looking fresher, brighter, healthier and younger-looking, without drying it.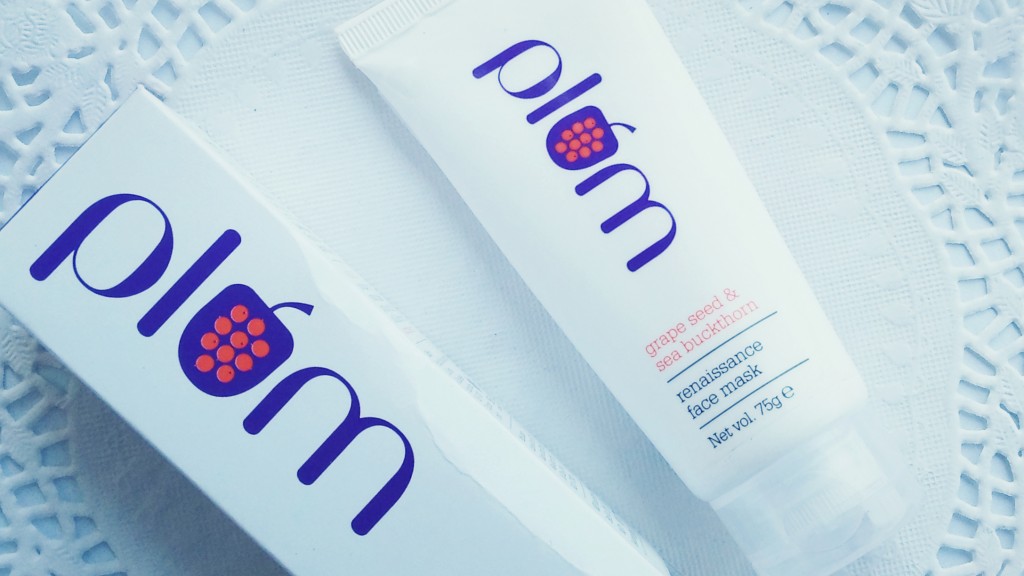 Packaging & Price
Comes in a tube packaging ; Price: 425 INR for 75g; Buy it from here ; Shelf Life: 2 years
Ingredients
Aqua (Water), Bentonite, Cetearyl Alcohol, Ethylhexylglycerin, FDA Approved Colours, Fragrance, Glyceryl Stearate, Hippophae Rhamnoides (Sea Buckthorn) Fruit Oil, Kaolin, Phenoxyethanol, Vitis Vinifera (Grape) Seed Oil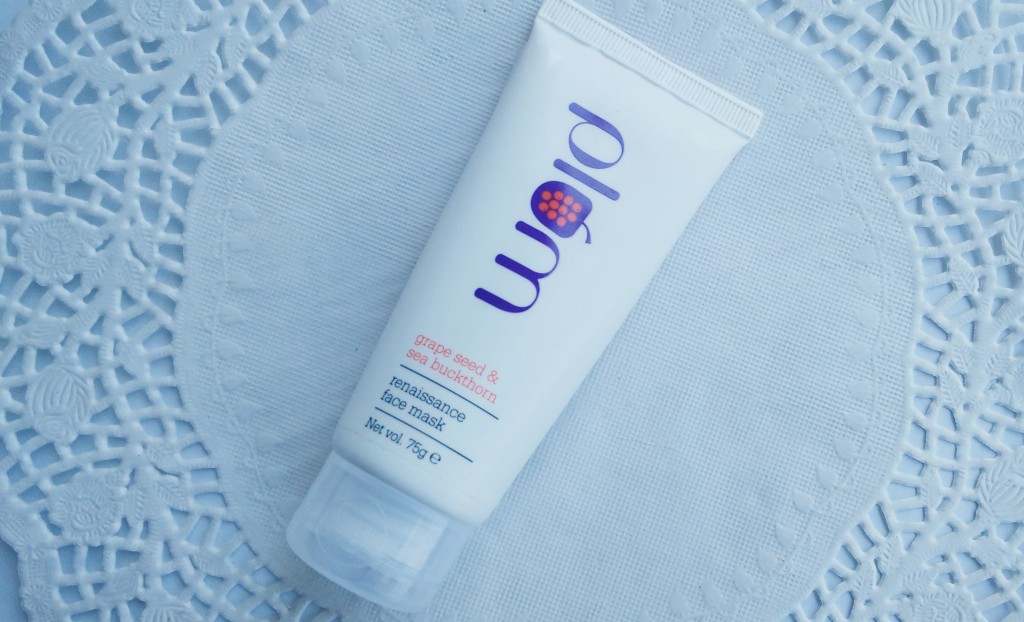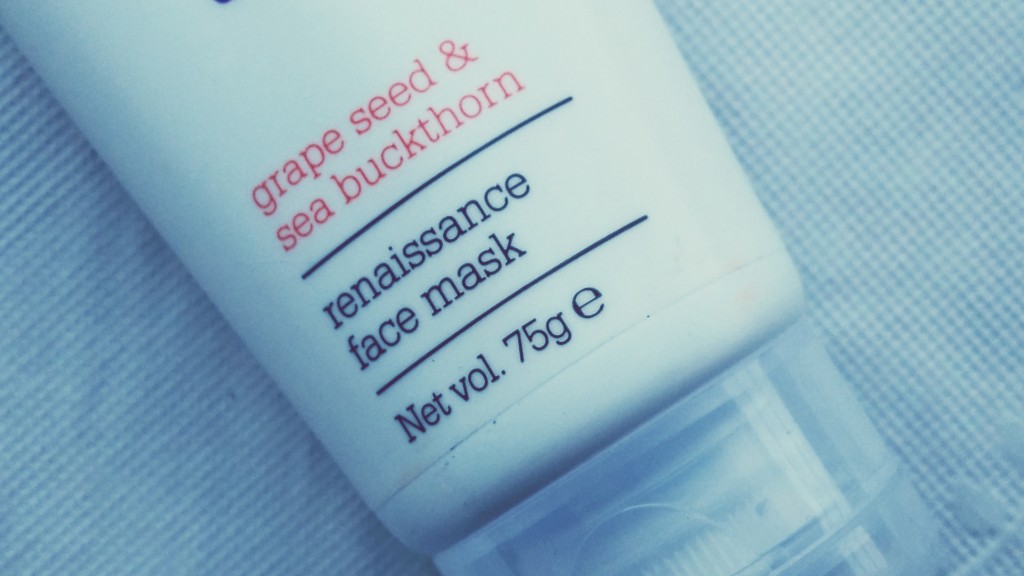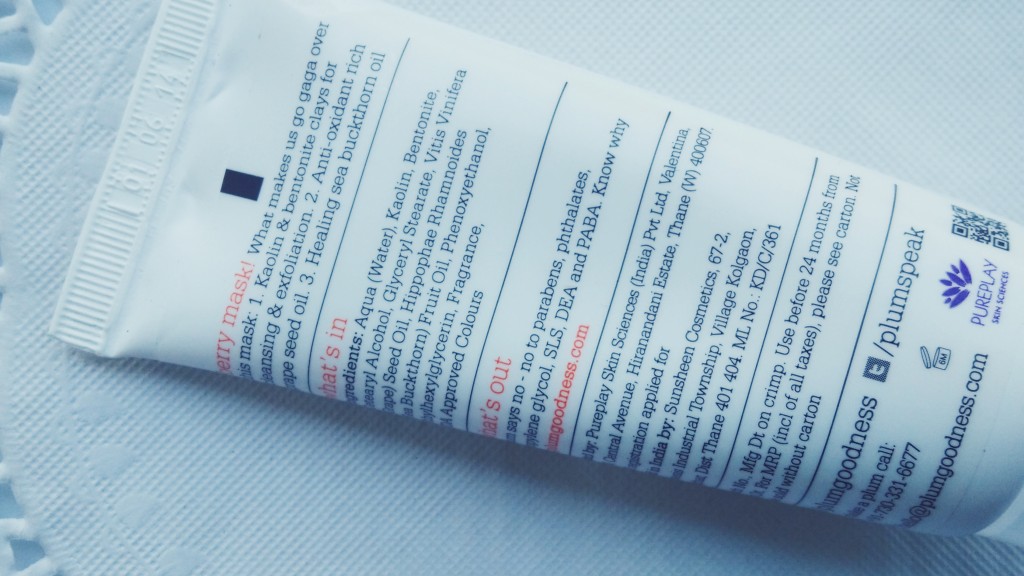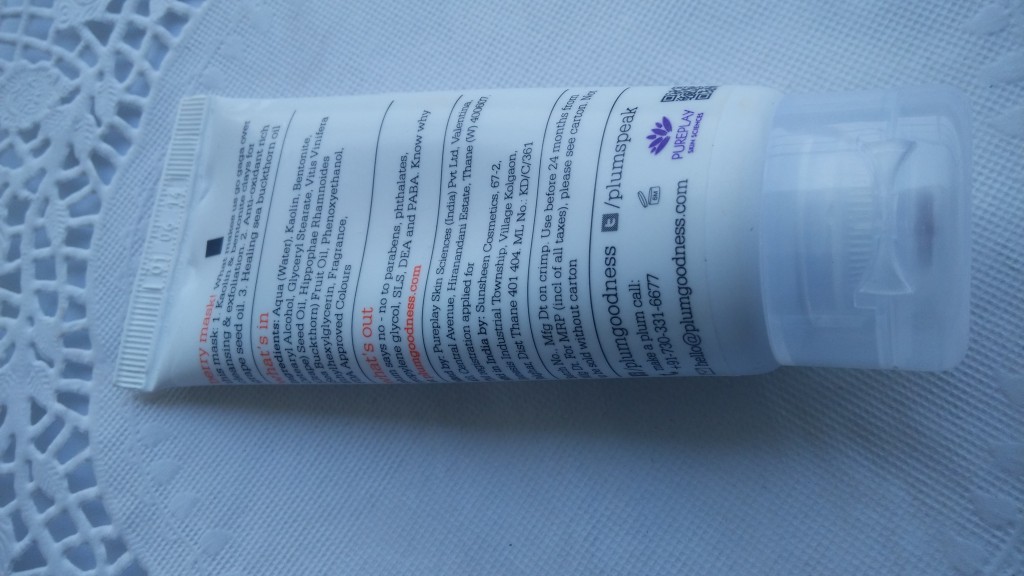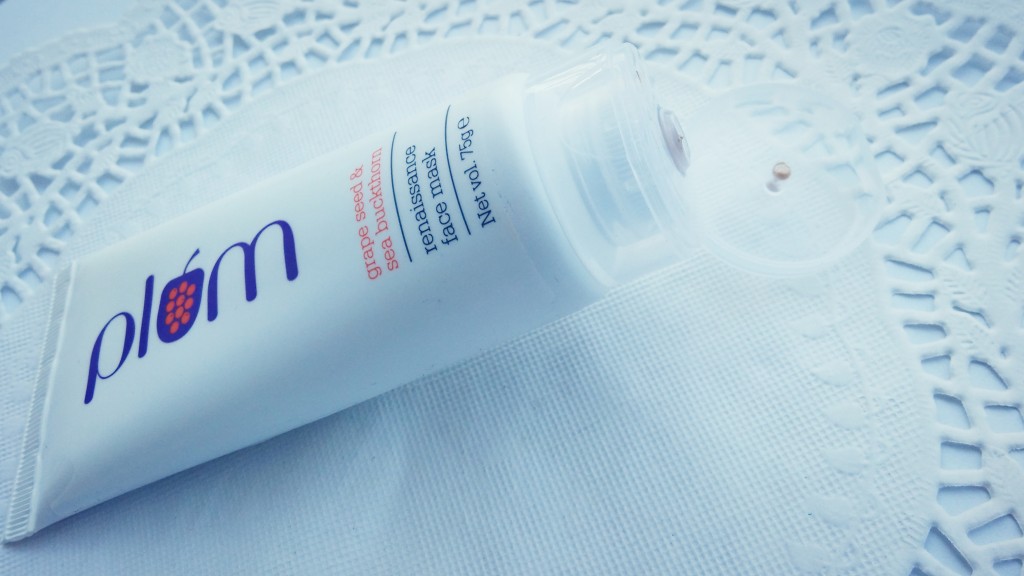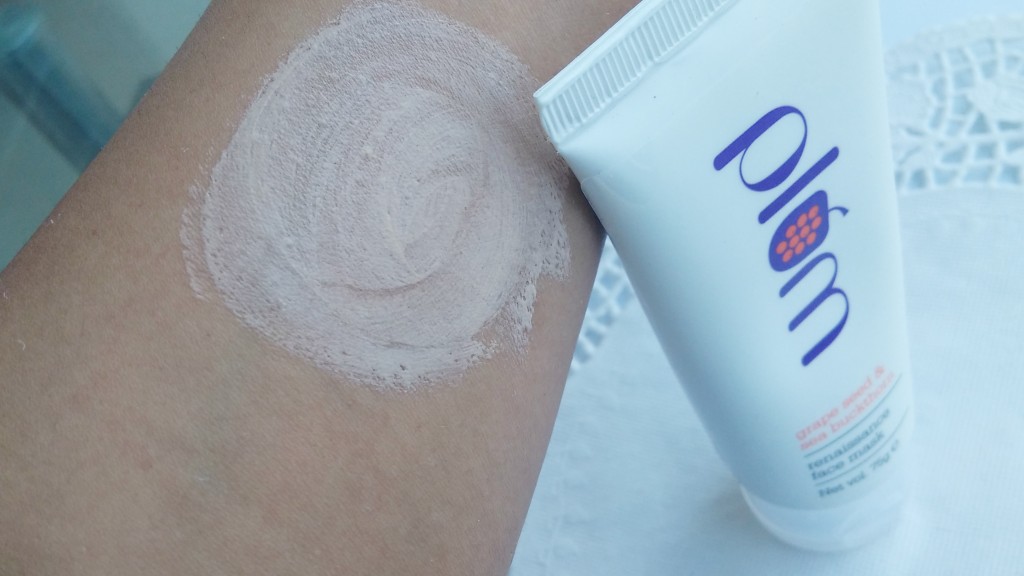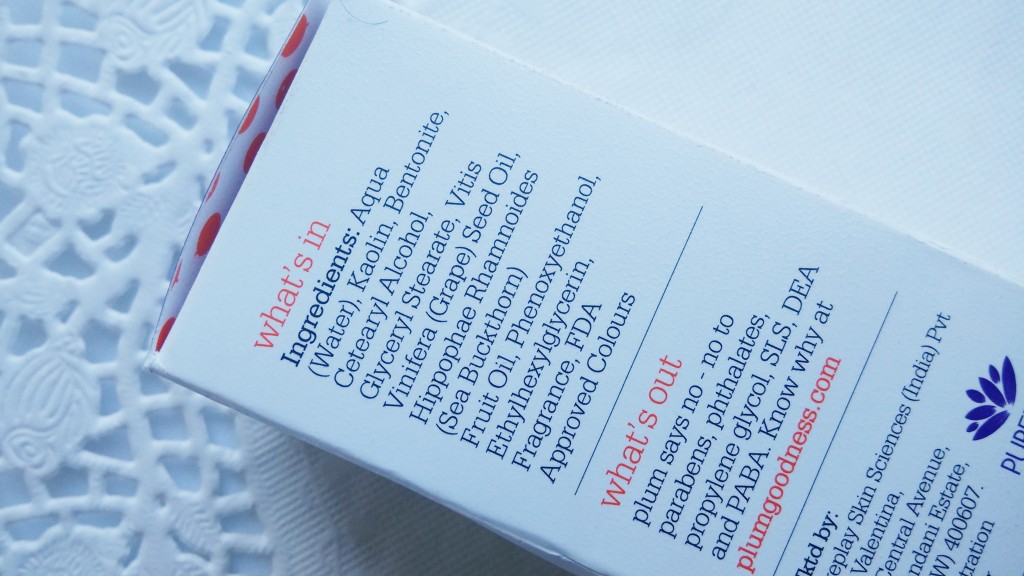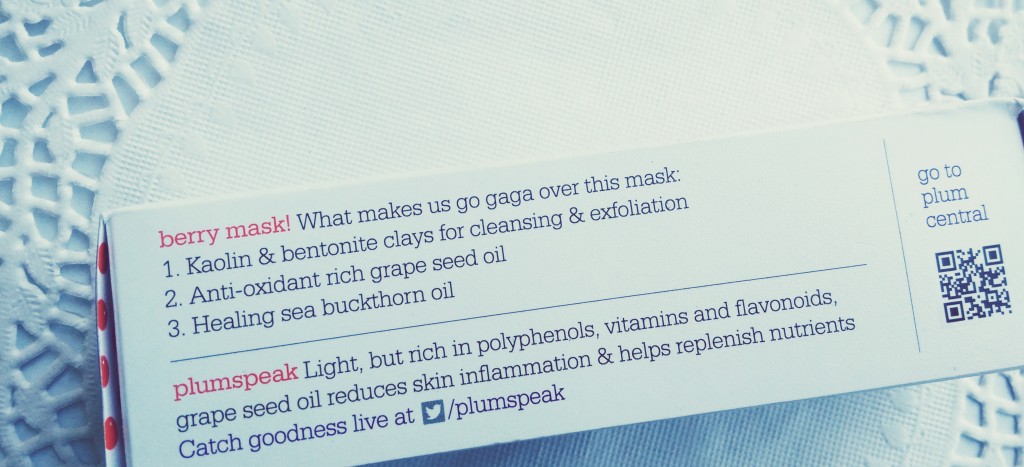 My experience using this mask
While the packaging is good; one might find it a little difficult to squeeze out the product. travel friendly- definitely no leakage.
Fragrance is similar to grape seed essential oil. Texture is thick, even though it has grape seed oil, It can be a little bit drying (not as much as other clay based masks) as it has kaolin or bentonite clay. It can be used all over the face and neck except area around your eyes. I wash it off with cold water giving gentle massage onto my face and neck after about 10 minutes off application and apply my moisturizer. I did experience a slight tingling sensation which subsided after about 3 minutes. Regarding the exfoliation part. I didn't like this much as an exfoliator. I liked it as a mask. It helped me get rid of my black heads. It definitely makes your face squeaky clean and fresh. Can be used once a week.
Pros
-soothes acne
-a great detoxifying mask
-gives a radiant glow to skin
-good to be used for sensitive skin
– no irritation or redness on skin
The only problem I felt with this mask is that its very difficult to squeeze the product sometimes and also it needs to be ordered online.
Overall, I am impressed by this product, the way it cleanses and clears my skin. makes it look radiant etc. I am planning to try more products from them in future.
Have you tried Plum Goodness Grape Seed & Sea Buckthorn Renaissance Face Mask ? 
* Product send by the brand for consideration. However, my review is honest and unbiased.