We all have different interpretations of stress. While some amongst us focus on what happens to us followed by the stress, Others think more of the event that created stress. Either ways,What really matters are our thoughts about the situations in which we find ourselves. When I am over worked or stressed, I usually go get a full body massage or spa. The blend of essential oils or the massage to the pressure points really help me unwind stress.
In today's post, I am talking about two of the mists that you can carry with you where ever you go. Be it your car, your handbag or bed side table. These two products are very calming. Soothe away stress no matter where you are with the Vaishnavi De Stress Therapy.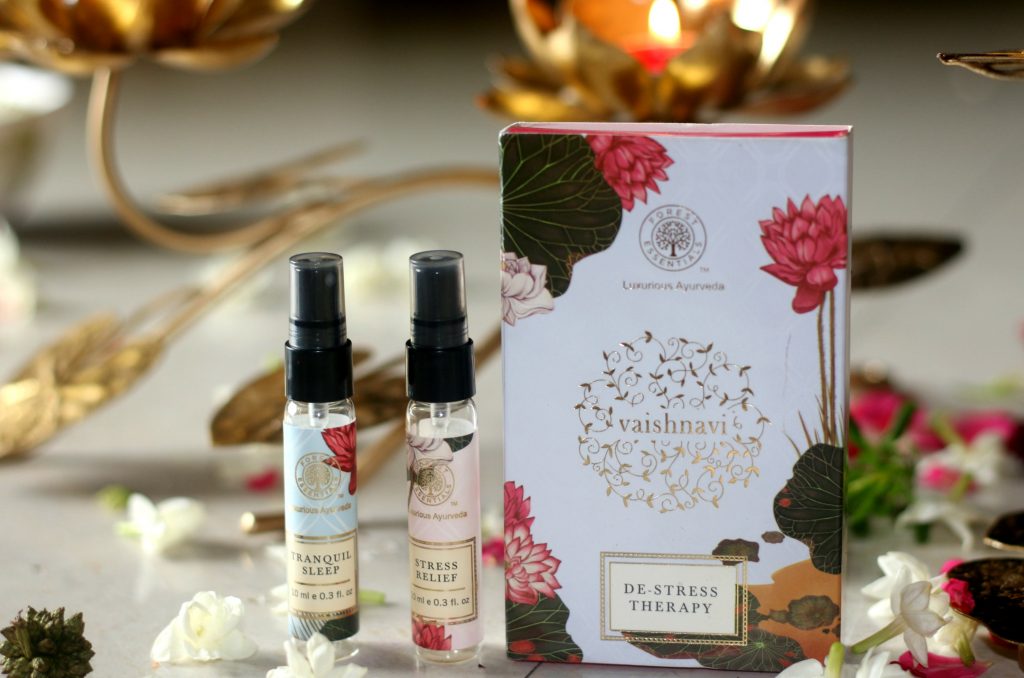 Soothe away stress no matter where you are with the Vaishnavi De Stress Therapy. This incredible blend of essential oils will bring emotional balance to the body and mind and help calm down those nerves.
Vaishnavi De Stress Therapy includes:
Tranquil Sleep 10ml
Stress Relief 10ml
Packaging & Price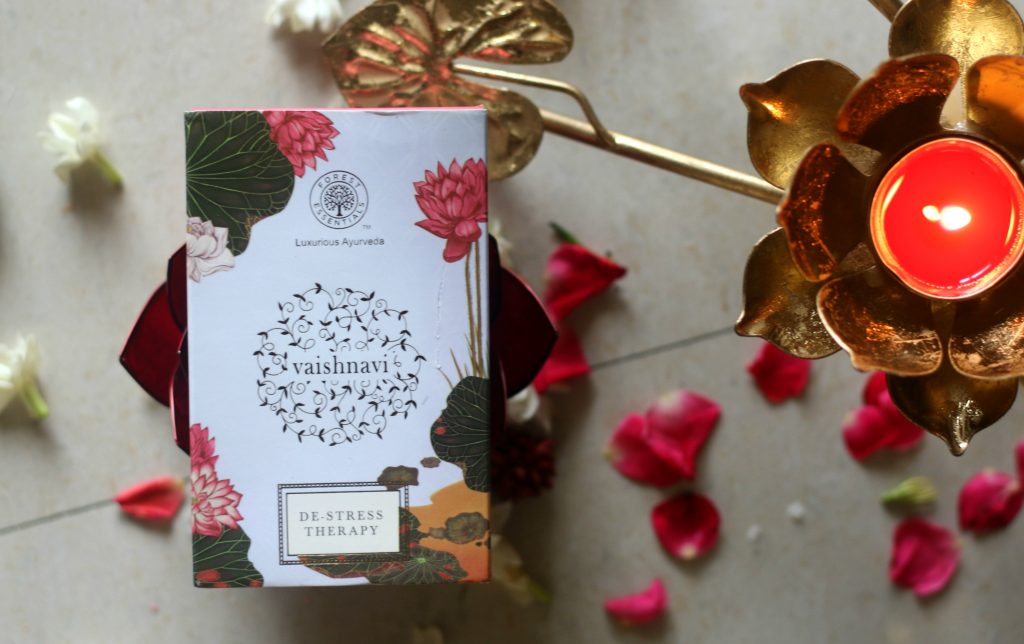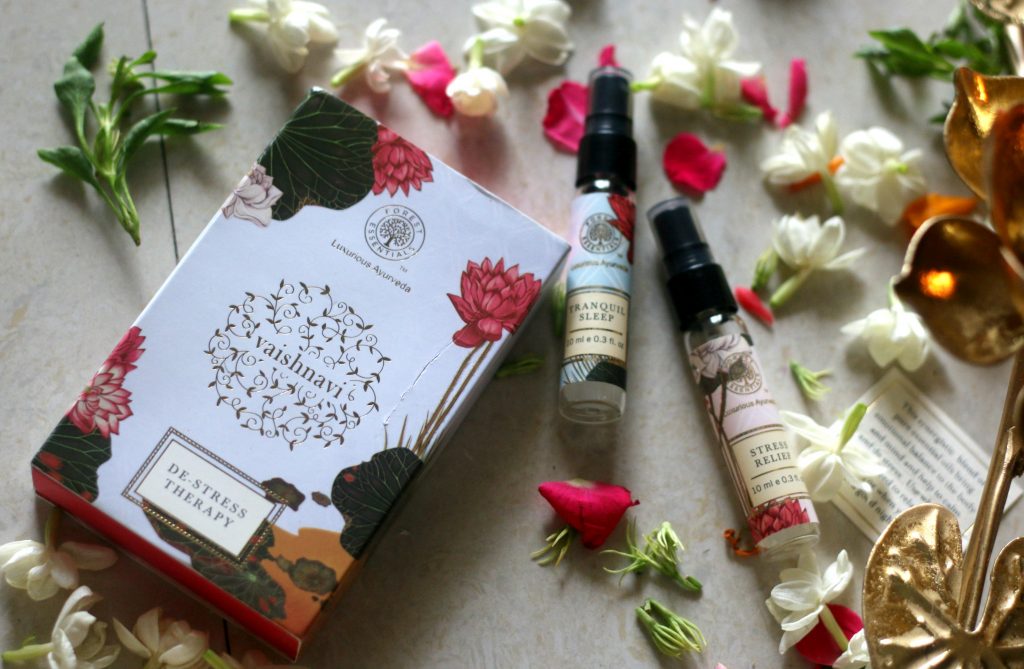 This comes in a really cute gift box. perfect for gifting on any occasions. Well, I felt the product to be a little overpriced.  Considering the luxury herbals they used to make it and the purity it comes in. I think the price of INR 1650 is justified. The packaging and bottle has a very rich and premium feel to it. However, I felt the spray press wasn't working properly for stress relief bottle. I really wish Forest Essentials had made it a 50 ml bottle instead of 10 ml.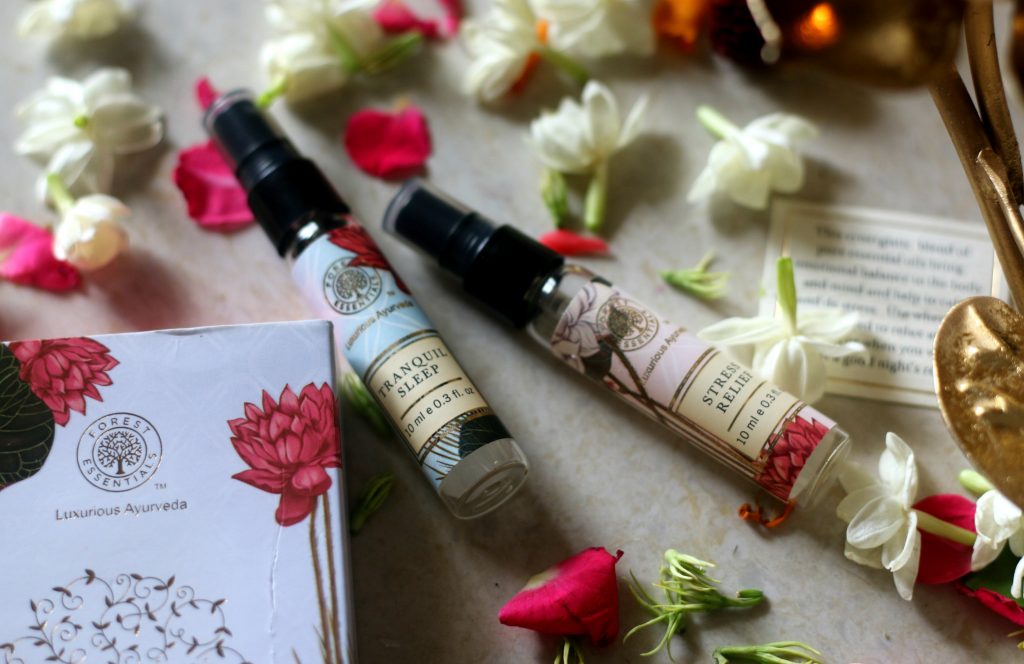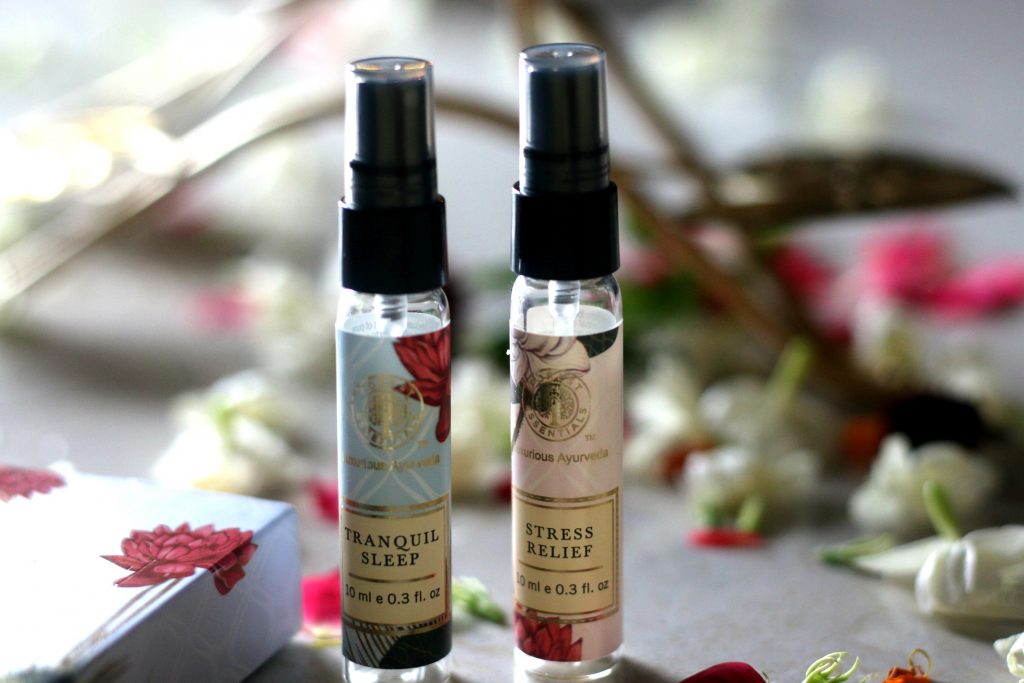 https://www.instagram.com/p/BVPaLDFF4zS/?taken-by=makeupholicworld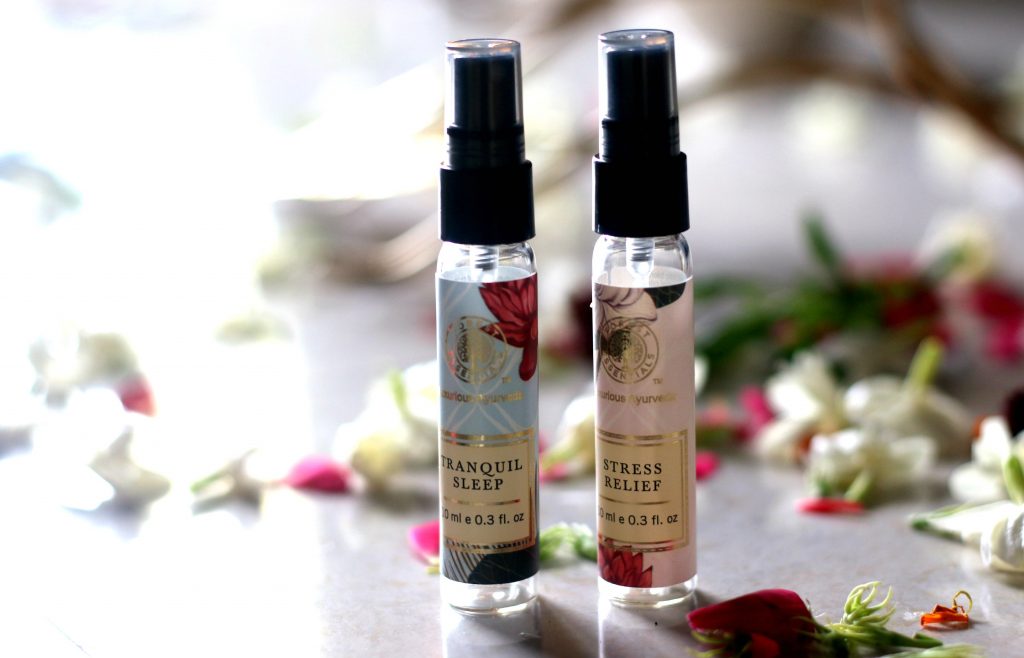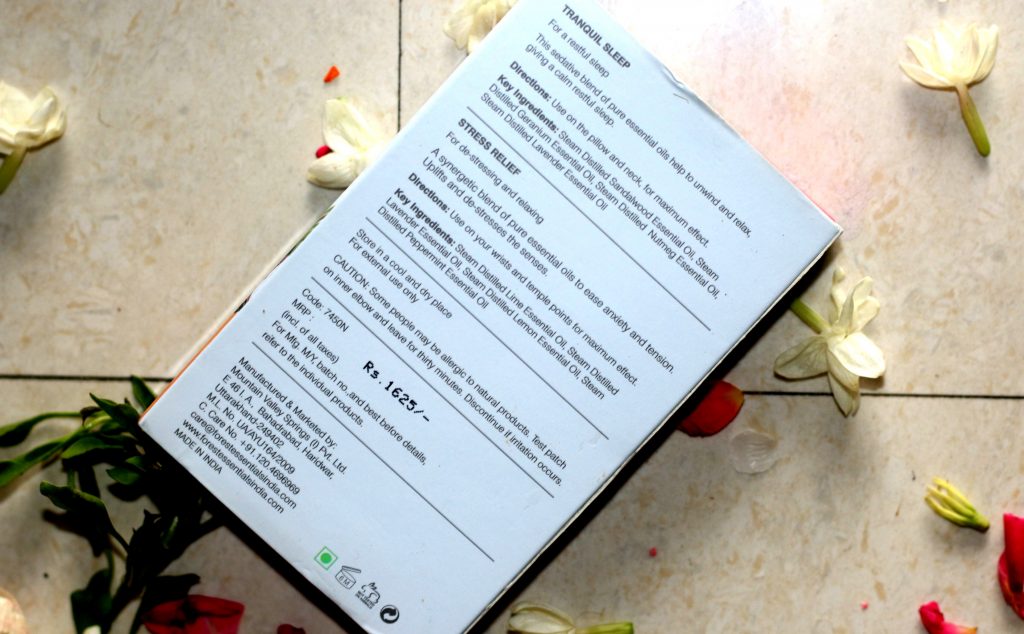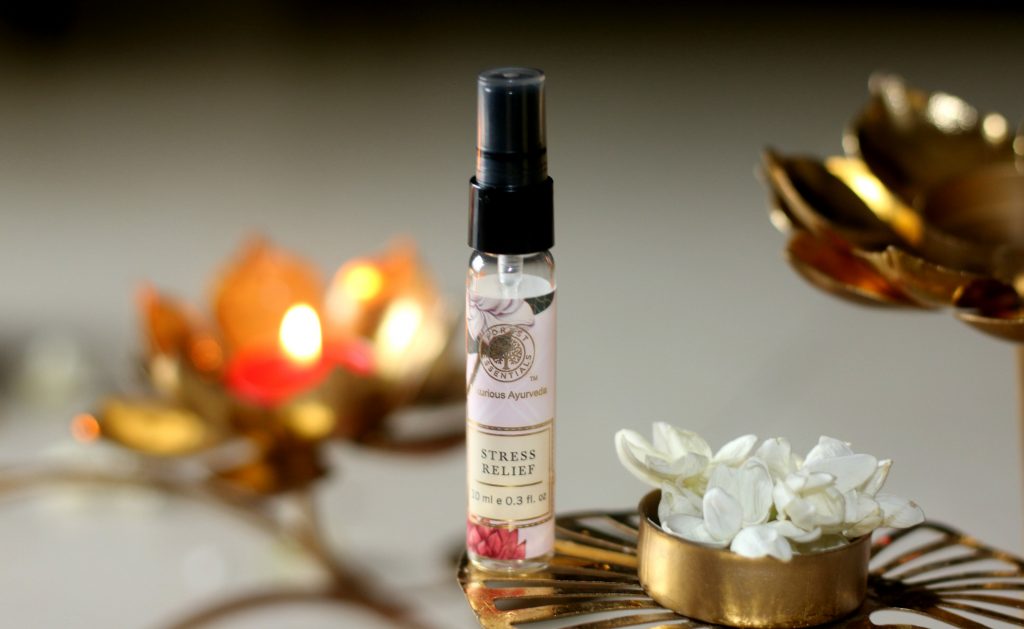 Steam distilled Essential oils of these lightly scented flowers soothe your senses as they are applied to stimulate your body's ability to release stress. Breathe in tranquility with fresh aromas as your body relaxes and stress gently slips away. Stress Relief from forest essentials contains the pure essential oils which provide calmness and serenity.
Spray on your wrists and temple points for maximizing the effect.  Lime, Lemon and Peppermint oils bring clarity and focused concentration. Lavender is renowned for its ability to de stress. Stimulating fragrance of Peppermint improves mental relaxation and calmness.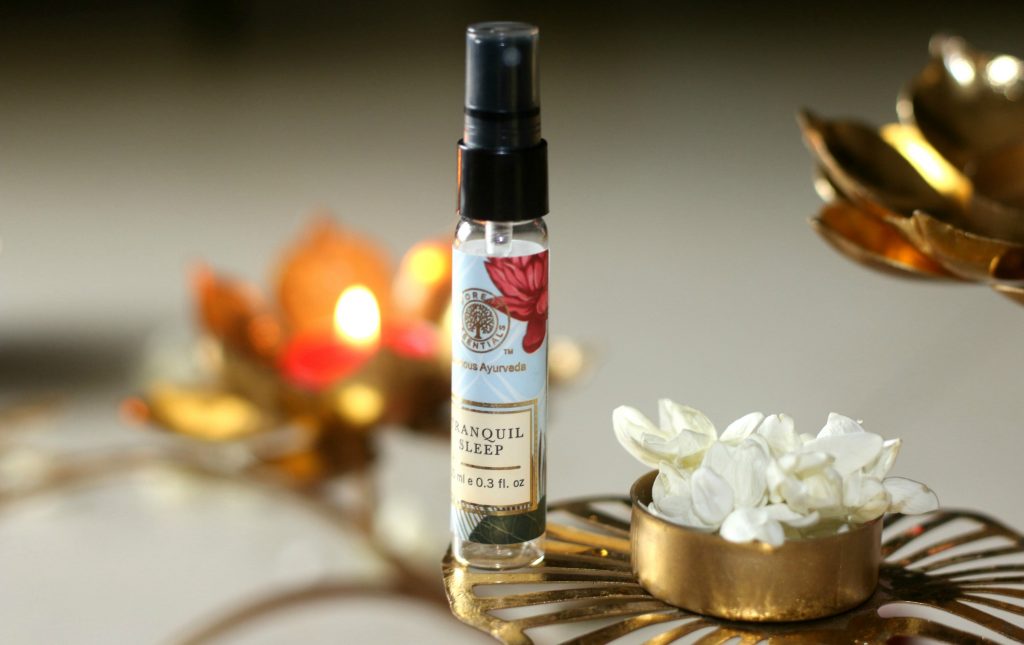 Enter a totally relaxed zone where you feel a thousand miles away from the pressures of everyday life as mind and body indulge in the benefits of deep, meditative relaxation to lull you into restful sleep.
Tranquil sleep from Forest Essentials contains pure essential oils which are well known to dispel anxiety and stress for a sound sleep.Contains sandalwood essential oil, geranium essential oil, nutmeg essential oil and lavender essential oil to induce a restful sleep.
The calming scent of sandalwood and geranium are used for their uplifting and clarifying effects on emotional wellness; whereas nutmeg provides warmth and relaxation. Lavender is known to possess therapeutic constituents which bring you into a natural state of emotional balance to trigger a sound sleep.
I use these as pillow mists, and spray it to the pressure points whenever I am stressed, not feeling sleepy etc. Me and my sister love this.
---
Having said about these Forest Essential Products – Let me also tell you, The essential oils used in aromatherapy can help relieve stress, relax the body, and promote better sleep etc.
How To Use Essential Oils To Relieve Stress
Source – Natural living Ideas
Place a few drops onto a cotton pad and tuck it into a pocket, or your bra. The oil's scent will help support you throughout the day, bringing a sense of calm to to your stress

Add several drops of essential oil onto your shower floor or into a bath. As you bathe, you'll be immersed in its aromatic steam, helping you to start the morning out right for a better day. When adding to a bath you should first emulsify the oils in milk to avoid undiluted application to skin.

Scent your living or working space by using an essential oil diffuser. Simply add 5 drops of your desired essential oil into a diffuser.

Most essential oils can also be massaged into your skin to experience their benefits. Simply add a couple of drops of your chosen essential oil to a carrier oil – such as sweet almond or melted coconut oil.
Have you used Forest Essentials Vaishnavi De Stress Therapy ? Do you like aromatherapy Oils. Let me know in comments on how you use them.