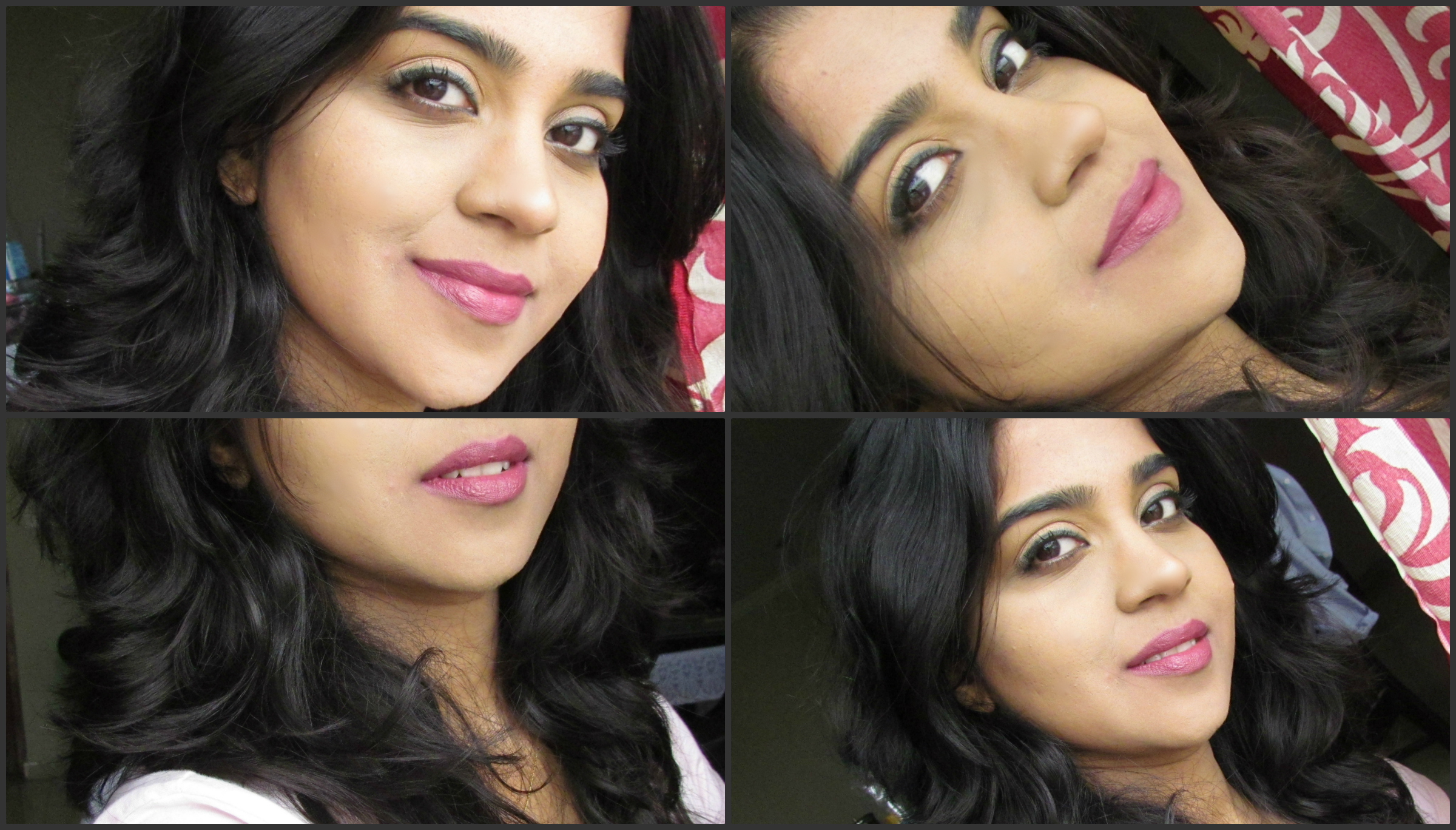 Are you looking for a not too bright, not too light  everyday wear lipstick that looks gorgeous with every kind of  eye makeup – Then, this is for you! Forget the pinks, reds, violets – Today I'm reviewing an adorable pinkish plum shade . MAC Satin lipstick – Captive! Suits warmer skin tones a lot

Packaging & Price : 1450 INR ; Around 42 $NZD ; Nothing fancy about the packaging. Comes in a regular black bullet. No color block that indicates the shade. I find MAC lipstick packaging to be boring except for the LE ones. I have seen a Makeup Revolution lipstick similar to MAC packaging with added color block that indicates the true shade. MAC – Are you listening, We need a more classy packaging!!
More Pictures
My experience using MAC Captive
Shade : MAC Captive has a satin finish. A natural pink with plum undertones, suits Indian skin tones well.. The shade is so versatile, A great day wear shade; I would say a perfect office wear lipstick. If you don't want that deep shade on your lips- want to look a little different from plum,pinks,reds etc – This is an MLBB shade for most skin tones..
Texture/Pigmentation :  Texture is smooth and glides on easily ..Formula feels comfortable on lips and provides a semi-matte finish..Doesn't accentuate fine lines on lips or dry out lips. use a lipbalm prior to applying this to avoid lips getting dry. Its highly pigmented. Cover up pigmented lips in 1-2 swipes.
Longevity : lasts for about 5 hours after which it fades off.
Captive along with Amorous, Plumful, Craving etc are my absolute day wear shades! I have compiled swatches of 6 MAC lipsticks that are similar. Do check it here
Overall, a pretty shade for everyday wear. Gives a semi-matte finish. Creamy texture that is  pigmented and smooth, not so drying formula that applies easily on lips. Good staying power upto 5 hours. Do check out the swatches of 6 MAC lipsticks that are similar here . If you have Amorous, Plumful or Craving lipstick from MAC. You can skip this one!
Girls, Find your favorite MAC Lipstick reviews here 🙂