Everyone's skincare routine is different. A good skincare is always simple and effective. know, Cosmedicine is one of the best skincare line available in the United States. Being a beauty & skincare blogger, I get different products to review. I kind of change my skincare routine every time. There is no specific brand that I continuously use. I kind of experiment with a variety of products. After I have received the samples from Cosmedicine. I've been using some of their products and I am really happy about my first experiences with them. I used the exfoliator, serum and face wash.
Before I start with my review, let me warn, These products are very very expensive. I know that and I don't want you to judge these products by just seeing the price. Cosmedicine is a luxury skincare brand and the price is clearly in par with the quality of the products. All of the products in the line are formulated in collaboration with Mark Potter and Atlantis Laboratories and clinically tested on real people (you can find the results of each test on every product description page's).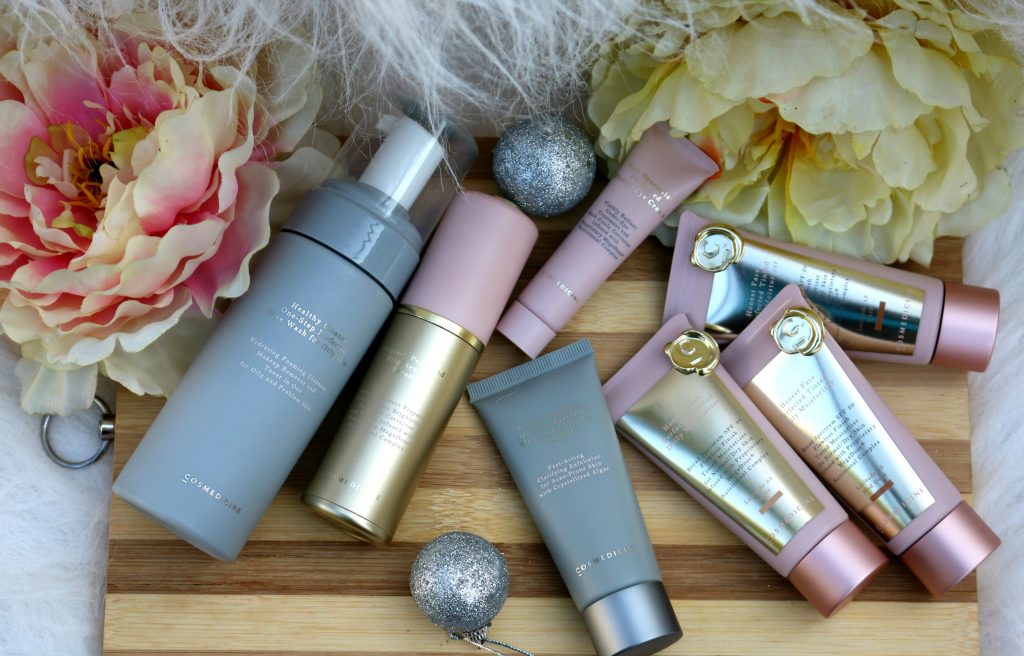 The Cosmedicine Gold Standard Collection is luxury skincare for the true reflection of beauty and health—a radiant, youthful, glowing complexion. To this day, the brand is continually celebrated for its scientifically advanced formulations, clinically proven and objective performance results, highest-quality drug-grade ingredients, and technological innovations in skin care and therapeutic cosmetics.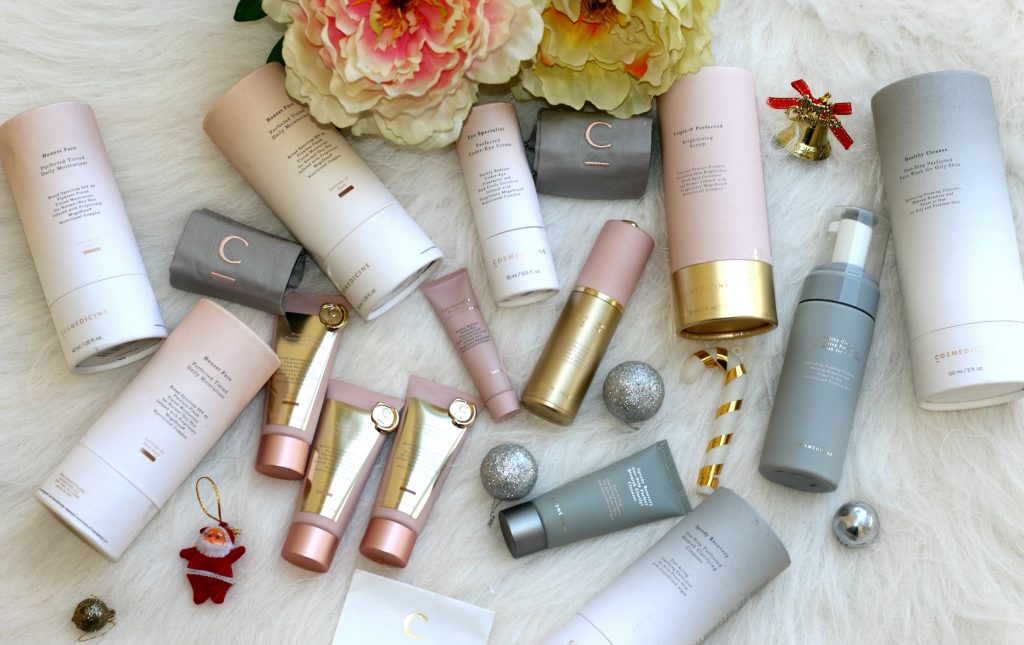 The brand PR was kind to sent 5 products from their range.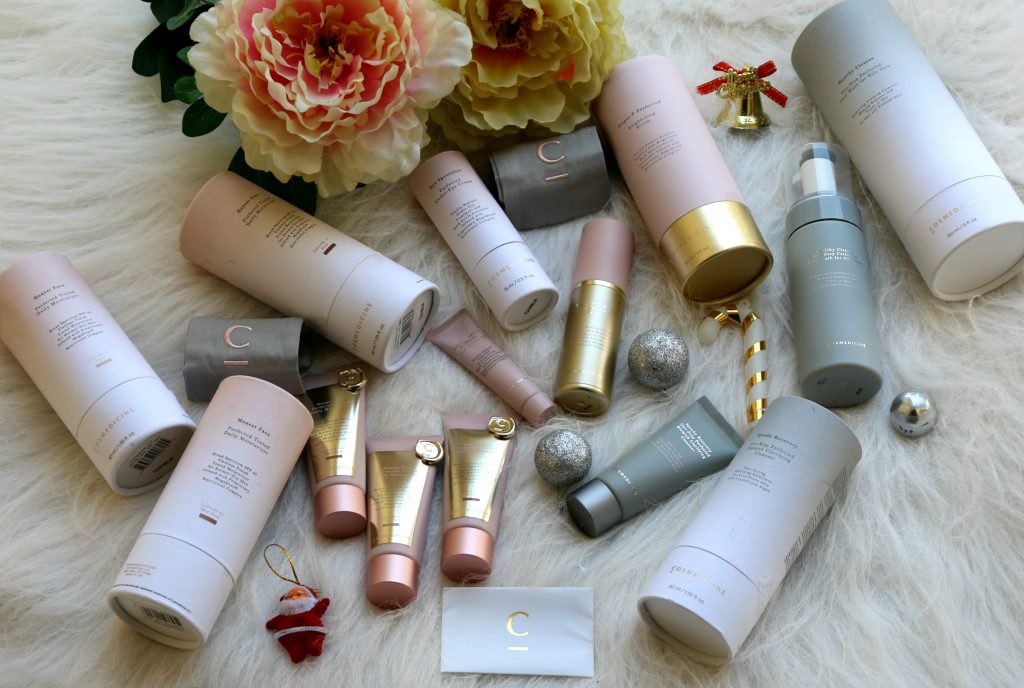 What all I received
1) Triple-p® Perfected Brightening Serum – $210.00 For 30 Ml/ 1 Fl Oz
2) Eye Specialist® Perfected Under-eye Cream –$90.00 for 15ml/ 0.5 Fl Oz
3) Healthy Cleanse® – Oily One-step Perfected Face Wash For Oily Skin Regular Price: $52.00 for 150 Ml/ 5 Fl Oz
4) Speedy Recovery® One-step Perfected Blemish Clarifying Cleanser ; $48.00 40ml/ 1.35 Fl Oz
5) Honest Face® Perfected Tinted Moisturizer : Shades – Light, Dark, Med Dark- $65.00 40 Ml/ 1.35 Fl Oz (Now Available As Latitude Tinted Moisturizers)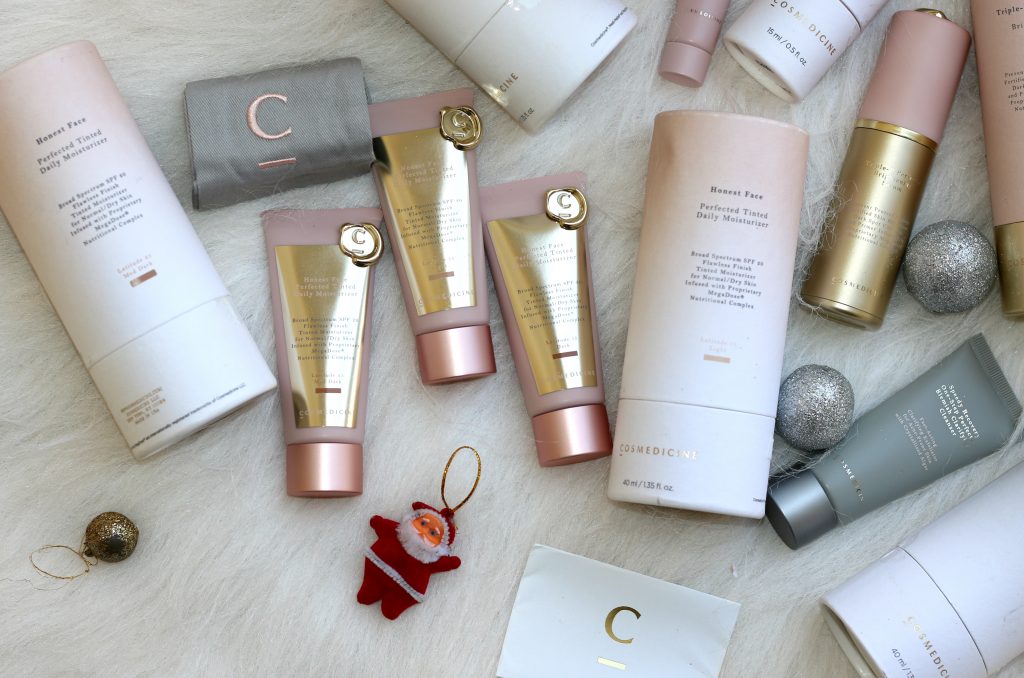 Such a beautiful packaging.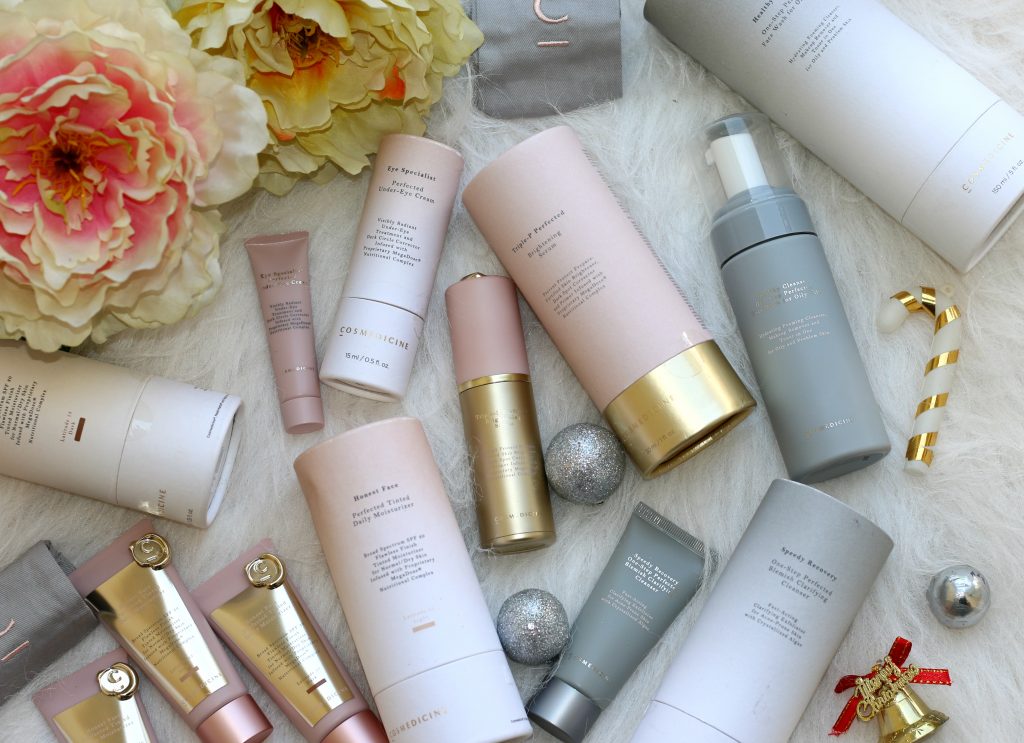 Powerful antioxidant & multivitamin complexion-perfecting miracle serum
Triple-P, the day serum, is a uniquely harmonious blend that supports skin healing and puts renewal into overdrive while protecting skin from harsh environmental assaults.
Antioxidants scavenge free radicals at surface & boost absorption of key minerals. This advanced complexion-perfecting serum, formulated with powerful antioxidants and multivitamins, concentrates these nutrients at the skin's surface and forms a weightless, natural, protective shield against daily environmental assaults. This super-elixir is infused with resveratrol, a potent antioxidant that scavenges free radicals, helping the skin absorb essential minerals and evening skin texture by reducing the appearance of fine lines.
The packaging itself is so adorable. The consistency is like that of a makeup primer. It applies velvety smooth on skin and gets absorbed super quick. I ran of my Nellie Tier Face Serum and I really loved this serum too. I have a super sensitive skin and this didn't irritate my skin.  I really love how it cleared my acne scars and brightened my overall complexion.
Now, let me talk about the active ingredients – resveratrol (powerful antioxidant), bamboo extract (highly effective anti-oxidant and minimizes the appearance of wrinkles, anti-inflammatory ), evening primrose (improve skin elasticity), linoleic Acid (emollient & antioxidant properties), chamomile (soothe inflamed skin & relieve skin congestion), comfrey root extract (stimulate healthy tissue formation), pea extract (improves overall coloration), peptides (improves appearance of photo aged & sagged skin)
Triple-P reverses the harmful visual effects of environmental damage, lessening the appearance of hyper pigmentation, sun spots, fine lines and wrinkles while brightening and illuminating skin's overall complexion.
Price – $210.00 For 30 Ml/ 1 Fl Oz 
Not at all irritating on skin. Absorbs easily on the face and doesn't feel sticky at all. It really helps get rid of pigmentation marks, acne scars etc. Refines the skin texture and improves the overall complexion.
Rejuvenating cream brightens dark circles, reduces puffiness & softens lines
Eye Specialist Perfected is super-charged with hyaluronic acid, the most coveted injectable wrinkle-filler, formulated specifically for topical application.
This deeply hydrating eye cream claim to brighten the appearance of unsightly dark under-eye circles, plumps to soften the appearance of fine lines and wrinkles and instantly vanquishes under-eye puffiness for a visibly radiant eye-lifting effect.
Packaging is a tube applicator. Really simple packing ! The consistency is very light. Easily absorbs onto the area without getting sticky. It really softens the fine lines and help get rid of puffiness.
This luxurious cream is also infused with a boost of calming caffeine, proprietary MegaDose Nutritional Complex, brightening licorice root extract and three forms of Vitamin C that penetrate deep into the lipid layer of the skin.
Visibly Radiant Under-Eye Treatment & Dark Circle Corrector with Proprietary MegaDose Nutritional Complex

Rejuvenating cream brightens dark circles, reduces puffiness & softens lines

Unlocks skin's top barrier for optimal cosmetic absorption of key ingredients

Clinically shown to improve appearance of puffiness & under-eye color

Caffeine, Carrot Root, Castor Oil, Hyaluronic Acid, Licorice Root, MegaDose™, Pomegranate, Vitamin C
Price – $90.00 for 15ml/ 0.5 Fl Oz
If you are looking for a really hydrating under eye cream that reduces puffiness – This eye cream is awesome!
Foaming face wash that leaves oily skin clean, hydrated, toned & shine-free
The oil-control formulation of this signature foaming face wash whisks away excess oil and acne-causing bacteria while eliminating environmental pollutants and dead skin cells. It melts away even the most stubborn waterproof makeup without irritation or stinging. In one step, Healthy Cleanse delivers clean, hydrated, toned and shine-free skin.
The pump bottle is easy to use. it dispenses the right product every time. I would say it's the ultimate formula for oily skin( suits sensitive skin & combination skin types too).
Healthy Cleanse contains a signature compound of oil-fighting ingredients:
Salicylic acid penetrates deeply for effective, non-irritating exfoliation that targets congested pores to eradicate blemishes. Oleanolic acid, a natural extract of olive leaves, soothes inflammation and reduces redness. Witch hazel, a time-honored astringent, gives the appearance of tightened pores while clearing dirt and debris. This perfected formula ensures that pores receive the vital nutrients needed to remain normalized so skin congestion and disruptions are minimized.
Most foaming cleansers contain harsh detergents that dry out skin and send oil production into overdrive. This cleansing foaming face wash from Cosmedicine leaves a thin layer of moisture to keep oil production at bay immediately after cleansing and instantly restore the optimal pH level of surface skin—so it is not excessively oily or dry.
Upon dispensing, it creates a frothy, oxygenating foam that circulates gentle surfactants while cleansing. It's very gentle on skin.
I have a combination skin with an oily T-Zone with a dry cheek area. Every time I use it, my skin feels fresh, clean and oil-free. I follow it with the serum from the same brand.
How I use it – I dispense 2-3 pumps onto my clean wet hands and lather it and apply on your face and cleanse it.  The frothy foam gently cleanses the skin and balance the skin.
Active Ingredients include gentle surfactants (wicks away oil without drying or irritating skin), Oleanolic Acid – has anti inflammatory properties & reduces the appearance of large pores), Salicylic Acid – beta hydroxy acid that gently exfoliates to reveal clear skin, Tea Tree Oil – natural disinfectant that soothes the skin.
Price – $52.00 for 150 Ml/ 5 Fl Oz
Really effective foaming face wash the deep cleanses the skin. Remove excess oil from skin and balances tje skin area. Great for acne prone skin too.
Fast-acting exfoliator that soothes & resurfaces to activate healthy skin turnover
Speedy Recovery One-step Perfected Blemish Clarifying Exfoliating Cleanser is designed to help win the battle against oily skin and congestion. This exfoliating cleanser has micro-fine crystals & acids that clarify congested pores & wash away bacteriaThe fast-acting cream cleanser washes away the dirt, unclogs pores and controls sebum at the skin's surface. It's very gentle on skin, it can be used to target problem areas, activate the rejuvenation process, soothe irritation, and reveal a polished layer of clear, radiant skin.
Take some of the product and gently exfoliate the facial area. It's not a bit harsh on skin. It has gritty particles and helps get rid of black heads etc and reveal a smooth, clean complexion. I use it once every week.
The active ingredients include Diatomaceous Earth (Crystallized Algae) – unclogs congested pores, lifts excess oil leaving skin oil free, cleansed and soft, Natural Botanical Acid – Penetrates deep to remove blemish causing bacteria, Tea Tree Oil – Natural disinfectant that soothe skin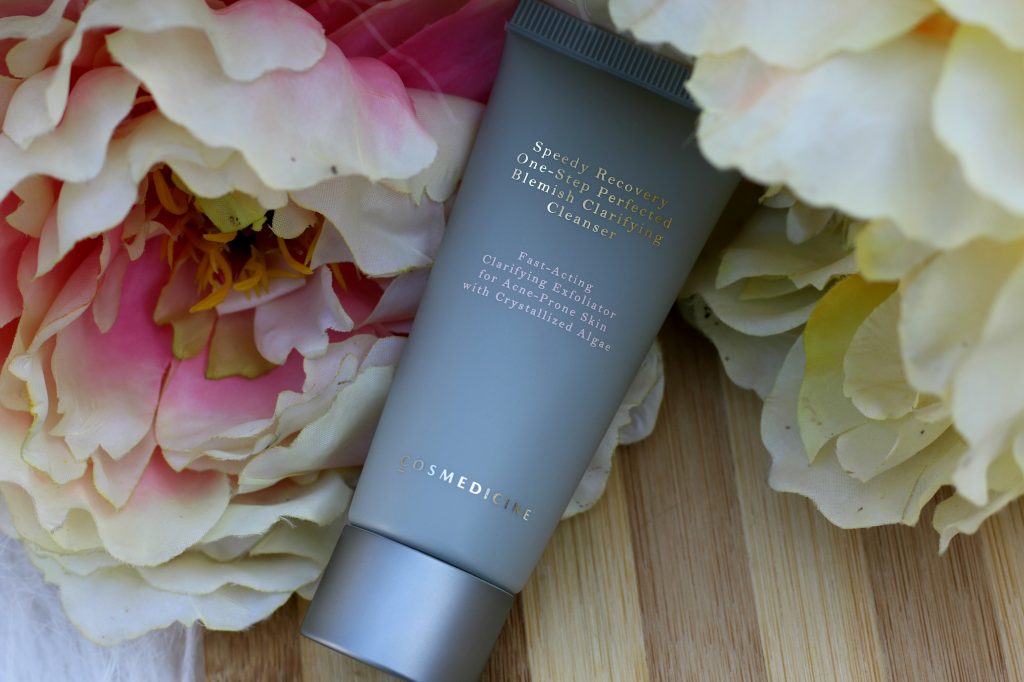 Price – $48.00 40ml/ 1.35 Fl Oz
A very gentle exfoliator for face. Usage of this will reveal a luminous looking, revitalised, firmer skin. Love it!
Honest Face® Perfected Tinted Moisturizer : Shades – Light, Dark, Med Dark- $65.00 40 Ml/ 1.35 Fl Oz (Now Available As Latitude Tinted Moisturizers)
I received the older versions of this tinted moisturiser. Unfortunately, the shades I received are not a match for me. So, not commenting about my views on them. I have included the pictures and the swatches.
Availability
In order to ensure freshness and effectiveness, Cosmedicine produce small artisanal batches and maintain very limited distribution. You may order online at Cosmedicine.com or Amazon.com, and some products are additionally available through QVC.com and Skinworx (retail store in San Francisco and Skinworx.com).
Have you tried any of the Cosmedicine Skincare Products  ?
** Products sent by brand PR. However, my review is honest and unbiased as always.