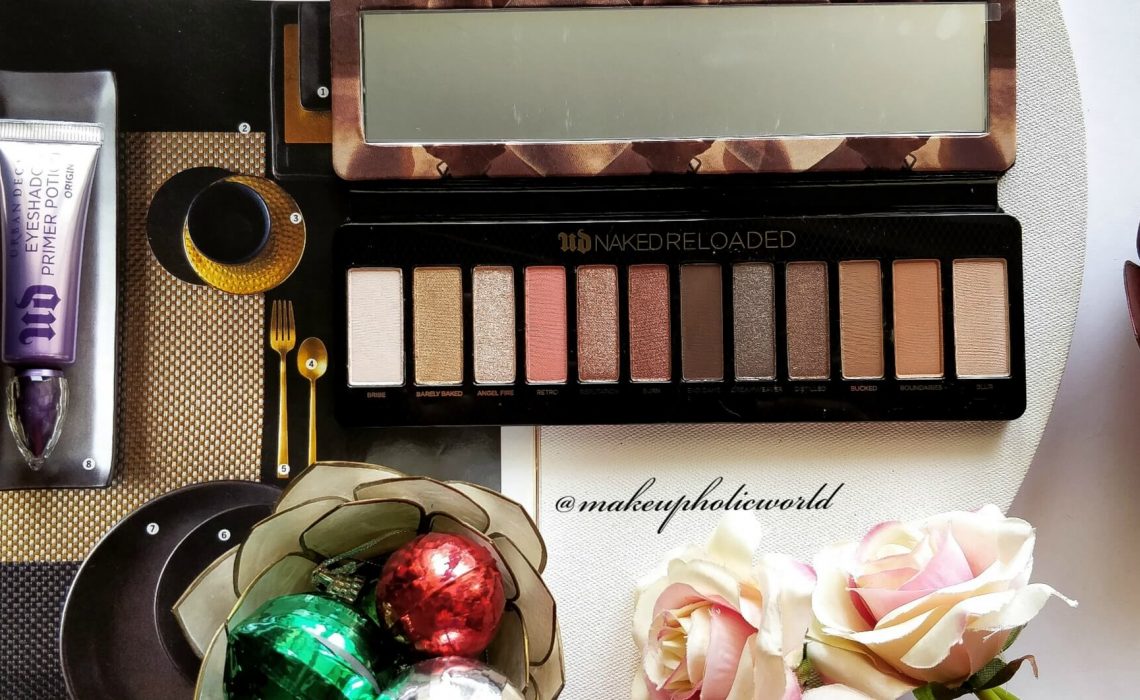 Urban Decay Naked Palette was one of the very first palette that I ever purchased. Can you believe it's almost 10 years old? Urban Decay weed out the very old Naked palettes. Naked Palette 1 was the standard palette for any makeup lover across the world. Urban Decay promised that something new would be coming and now the time has finally come. They replaced old Naked Palette with Naked Reloaded Palette.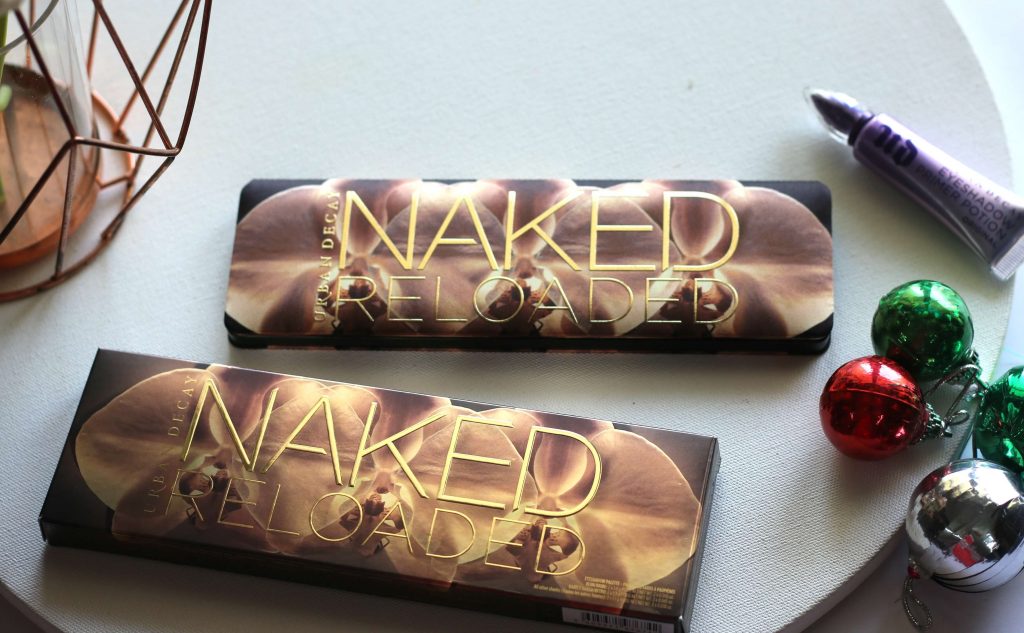 Urban Decay launched the Naked Reloaded Eyeshadow Palette, with 12 all-new, universally flattering shades designed for everyone—for any age, gender, and skin tone.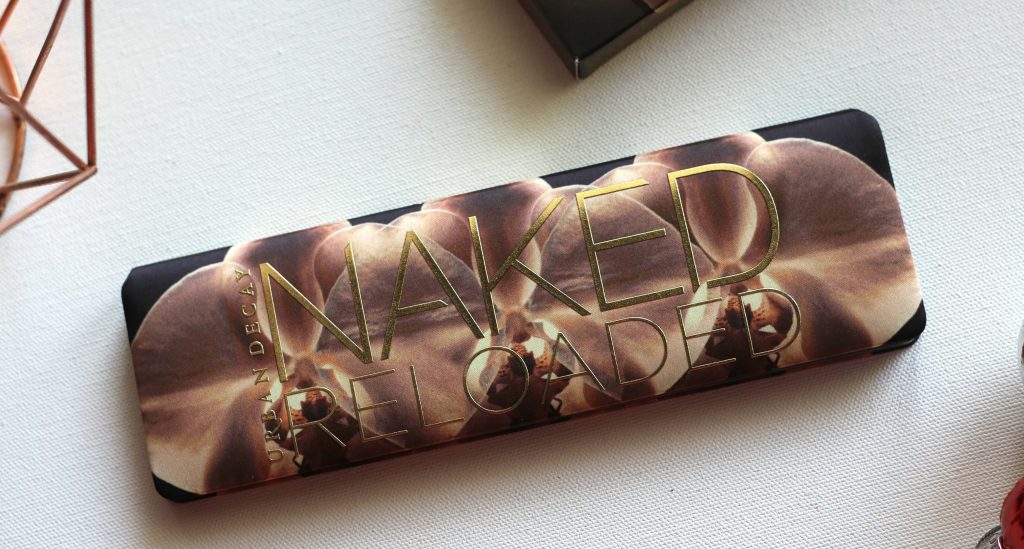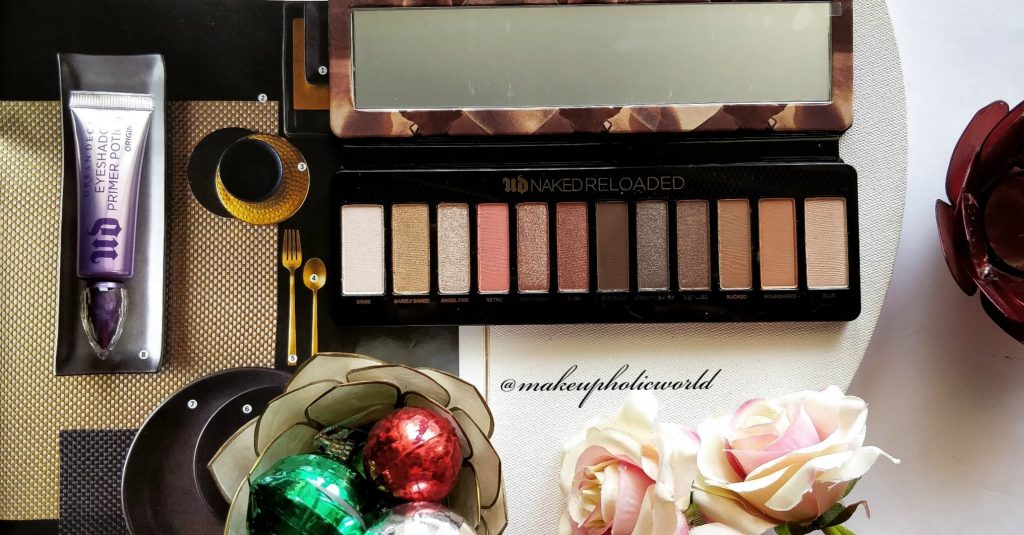 This Palette Contains:
– 2 x 0.49 oz/ 1.4 g Eyeshadows in Blur (light nude matte), Bribe (warm ivory matte)
– 2 x 0.045 oz/ 1.3 g Eyeshadows in Barely Baked (soft gold metallic), Retro (bright peach matte)
– 8 x 0.038 oz/ 1.1 g Eyeshadows in Angel Fire (pale rose-gold with iridescent micro-shimmer), Reputation (deep rose-gold with iridescent micro-shimmer), Burn (copper-burgundy metallic), End Game (chocolate brown matte), Dreamweaver (cool brown with iridescent 3D sparkle), Distilled (bronze metallic), Bucked (warm brown matte), Boundaries (warm terracotta matte)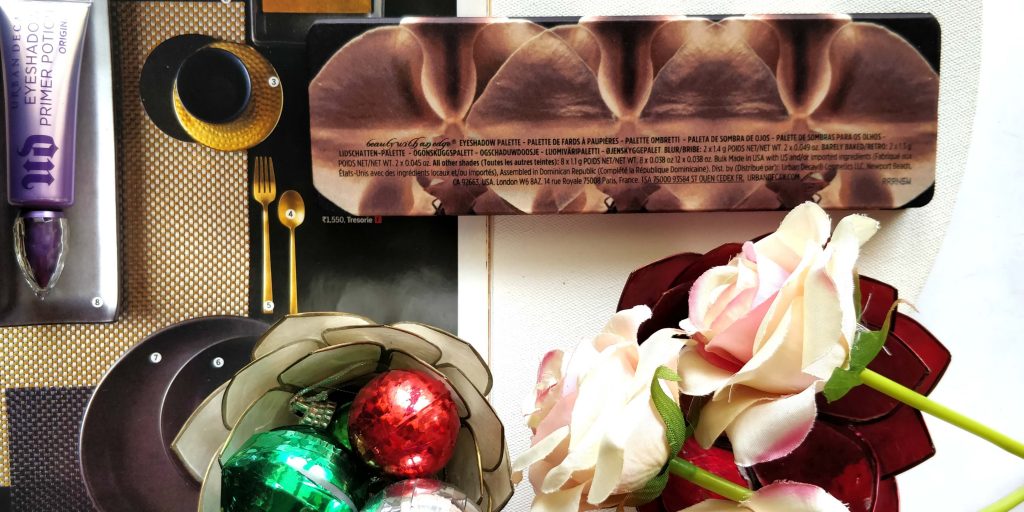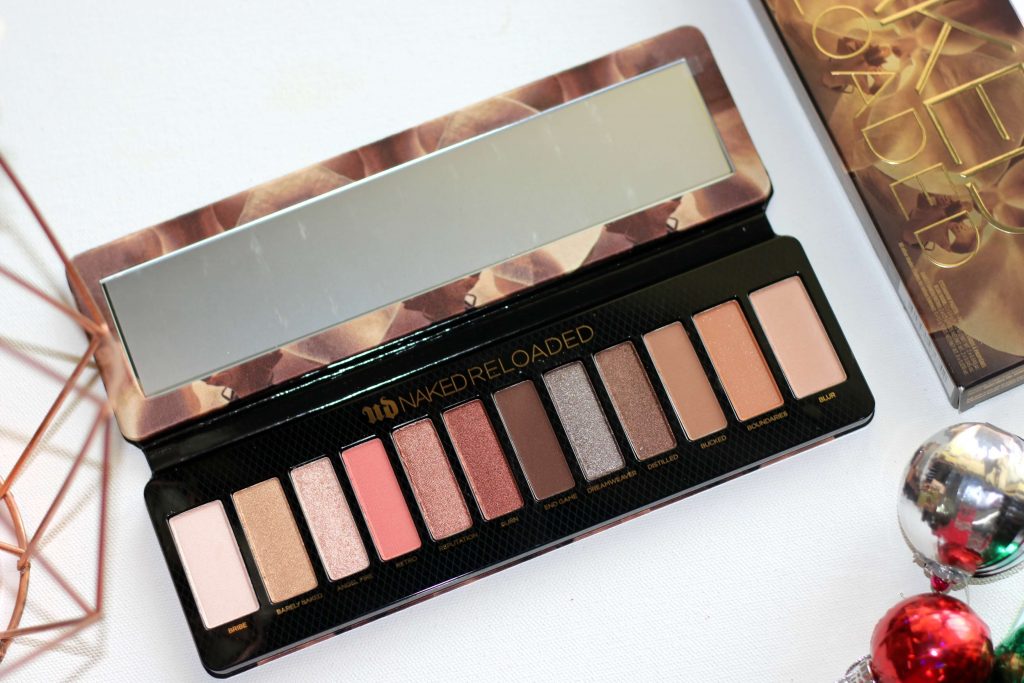 Naked Reloaded features four outer pans that are bigger than the rest; It's for the shades you'll use the most. With silky mattes, metallics, and micro-shimmers, this eyeshadow palette has the nudes you'll always need, all in one place. There's a pop of a bright peach that stands out among the warm and cool silky mattes, metallics, and iridescent micro-shimmers.
Naked Reloaded has more medium toned warm browns and fewer cooler, darker shades like taupes. Urban Decay Naked Reloaded Eyeshadow Palette arrives in a soft, brown padded compact featuring brown orchids featured on the front. The palette is made in the USA. It has a full-size mirror and 12 eyeshadows but does not come with a brush nor an eyeliner. 4 pans are larger.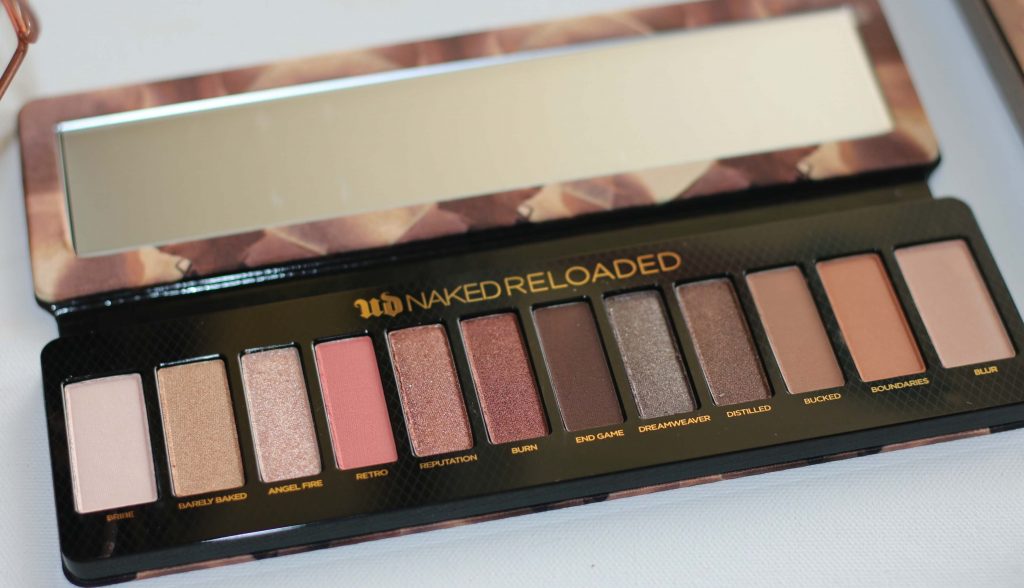 Coming onto the Quality of the eyeshadows. I always except best pigmentation and longevity from Urban Decay eye shadows. Shades in this palette didn't disappoint me either. Shades – 'Angel Fire' and ' Dream Weaver' had glitter fallouts and appeared chunky when applied or blended. Both swatched on arm beautifully though. 'Blur', 'Bucked', 'Boundaries', 'Burn', 'End Game' are all my favorite shades. I can see myself using and hitting the pan for these shades.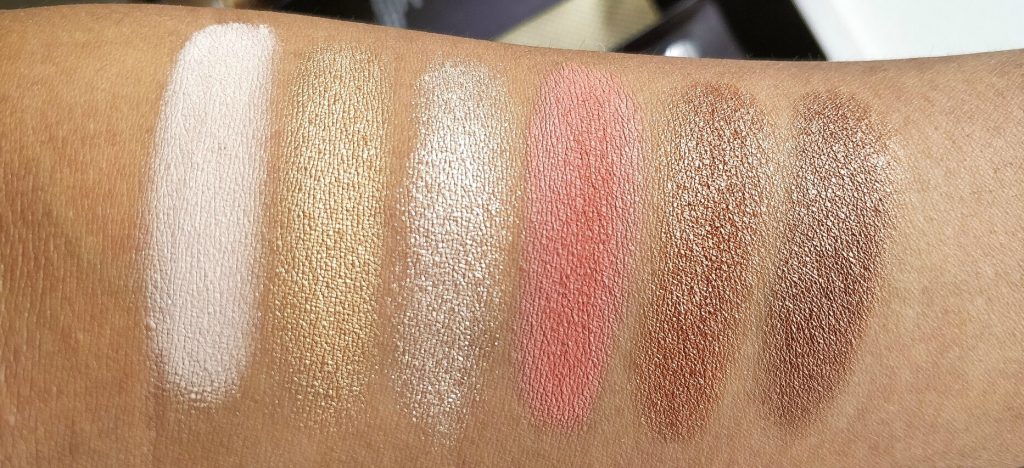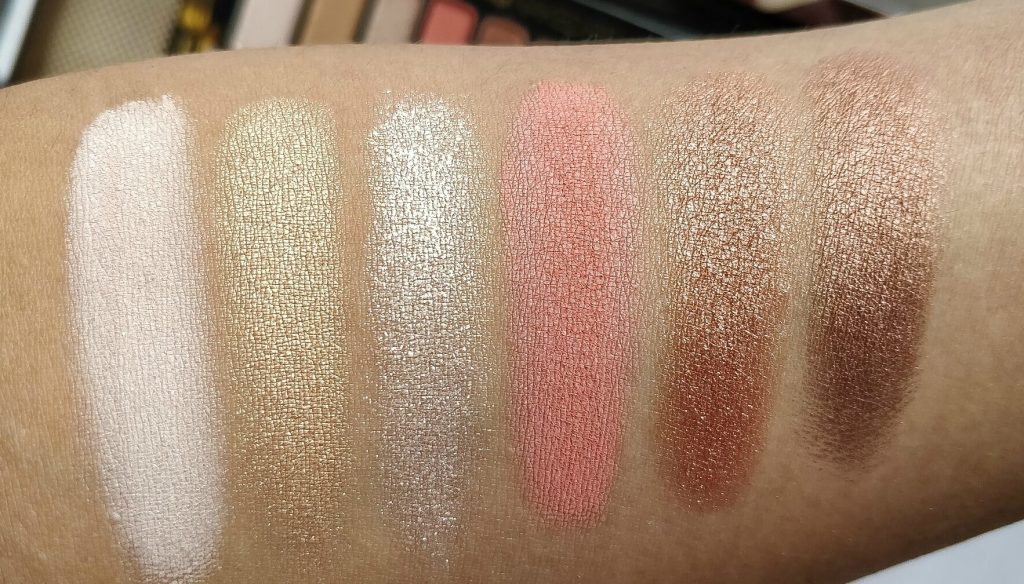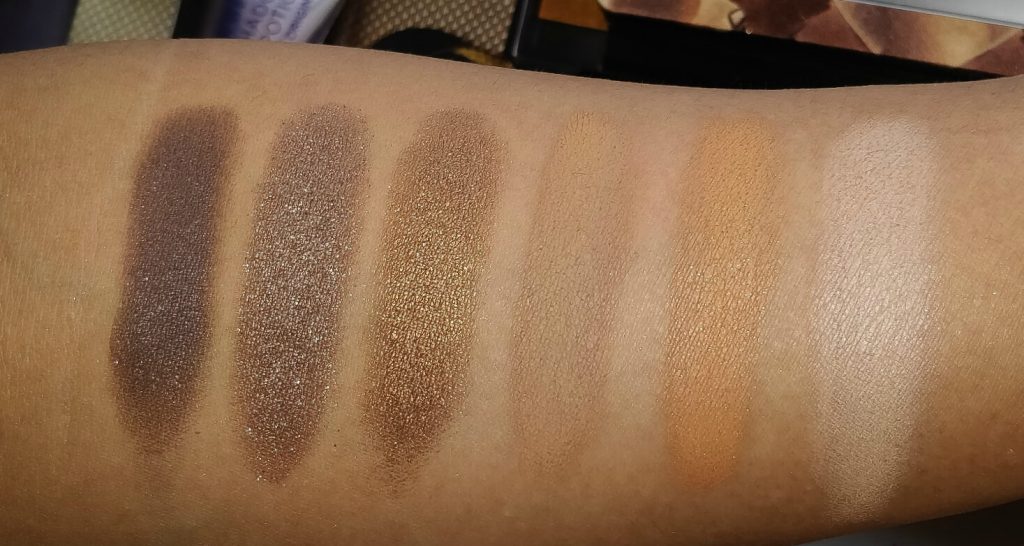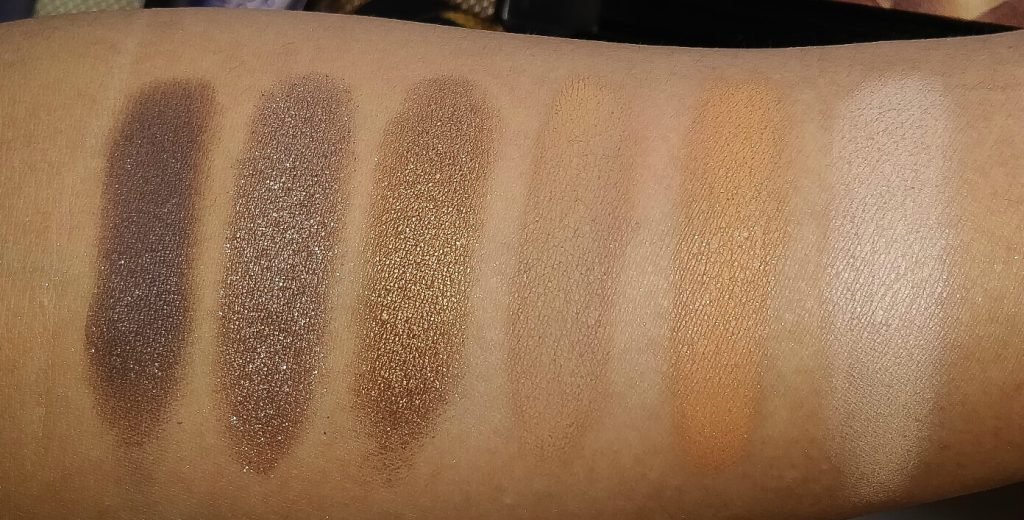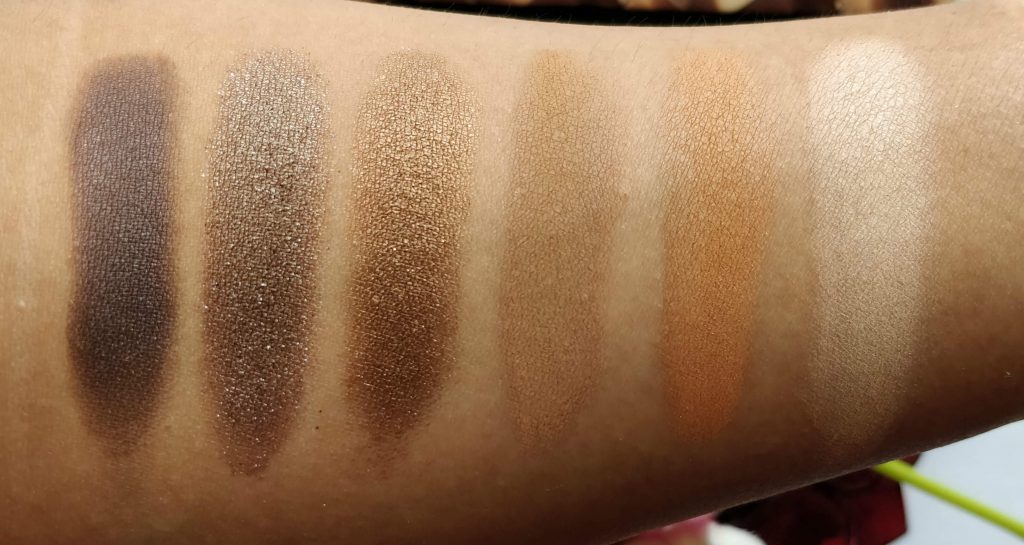 I used the lovely Reloaded Palette to create this eye look in this picture below.
Overall, I like Urban Decay Naked Reloaded Eyeshadow Palette. Beautiful light weight eyeshadow palette that contains all new shades for Spring 2019. This palette retails for $44 and comes with no additional brush/liner like other UD palettes. Pigmentation and Formula of the shades are awesome. Applies buttery, feels smooth, and silky and easy to blend and apply as well. Shades – 'Angel Fire' and ' Dream Weaver' had glitter fallouts and appeared chunky when applied or blended. 'Angel Fire' & 'Dream Weaver' appeared to be chunky, messy when blended or try to apply and didn't adhere well to my lids. On contrary – 'Blur', 'Bucked', 'Boundaries', 'Burn', 'End Game' are some of the fabulous shades. I can see myself using and hitting the pan for these shades. This palette is perfect to create a variety of looks – Be it nude, natural or smokey brown. Free of sulfates SLS and SLES, parabens, and phthalates. This product is also cruelty-free
Availability
Urban Decay Naked Reloaded Eyeshadow Palette retails for $44 and is available at Urban Decay stores and Urban Decay online and Sephora online 
** Product sent by the brand. However my opinion is honest and unbiased as always